Do you want to learn how to optimize your WooCommerce store for more conversions? Improving your eCommerce shop in ways that will encourage more people to make purchases is one of the best ways to grow your business and become a success.
In this article, we'll show you some of the best ways to optimize WooCommerce for higher conversion rates.
What Is Conversion Rate Optimization?
Conversion rate optimization (CRO) is the process of convincing more people on your website to take action.
For example, you might want people to sign up for your newsletter, request a free consultation or ask for a quote, or, in the case of your WooCommerce shop, make a purchase.
But the thing is, many people don't know that CRO is a complex concept that involves customers at many different stages of the buying process.
In fact, conversion rate optimization can apply to people in the following phases of the purchase process:
Discovery: those who are learning about your products and services and want to know what your brand is all about.
Choosing: those taking the next step towards making a purchase; typically people visiting your website's landing page.
Purchasing: those that have taken the final step and made a purchase from your eCommerce store.
During these stages, people like to do things like compare products, shop around for better prices, and take their time making final decisions.
That's why, if you want to boost your sales and generate more revenue, optimizing your WooCommerce store for higher conversions helps move the buying process along faster.
Now let's take a look at some eCommerce conversion rate optimization tips you can apply to all 3 stages of the buying process to get more site visitors to finalize transactions in your WooCommerce shop.
1. Track Customer Behavior
One of the best ways to optimize the WooCommerce sales funnel, and target customers at all stages of the buying process, is to track your customers' behavior on your website in Google Analytics using MonsterInsights:
Lastly, to make informed decisions about optimizing your WooCommerce store for more conversions, check out our helpful guide on how to enable WooCommerce Google Analytics conversion tracking.
2. Redesign Home and Landing Pages
Sometimes, an entire redesign of your WooCommerce shop's home and landing pages are needed to get an increase in conversions.
It's important to consider your customers' pain points when to comes to the products you sell. But it's also just as important to consider pain points experienced during the actual buying process as well.
This ensures you convince customers that your product is the solution to their problem, and that buying it is simple.
Here's a look at some of the most helpful design tips for boosting eCommerce conversions:
Use large, bold imagery to grab your site visitors' attention and showcase what you have to offer
Always brand your home and landing pages with a custom logo or company name so visitors know where they're at
Use contrasting colors on your call to action buttons so they stand out and site visitors can easily find them
Concentrate on providing value propositions that customers can't resist
Add social proof to lend credibility to your brand and what you're selling, by using testimonials or social proof notifications.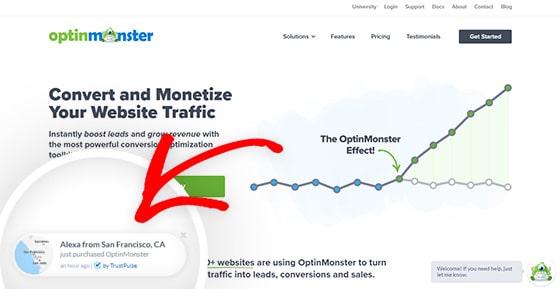 And always A/B test any design changes you make to your WooCommerce shop. This will show you what design changes are helping your conversions rates the most.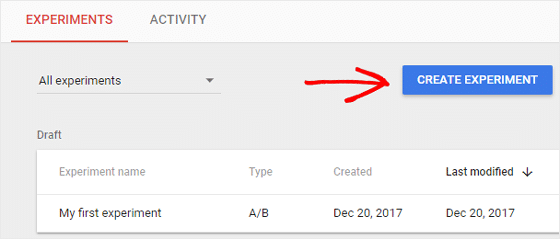 Luckily, you can use MonsterInsights and the Google Optimize addon to conduct free A/B tests on your WooCommerce site. If you need help with this step, check out this step-by-step tutorial on how to set up Google Optimize in WordPress the easy way.
And, if you need help with what to test, check out this great roundup of A/B testing ideas designed to increase conversions.
3. Make your WooCommerce Shop Searchable
It's not enough to optimize your site for SEO so people can find your online shop in search results.
In fact, you should take it one step further and make finding products in your online shop easy for potential customers by adding a prominent search bar to your site, like Nike does: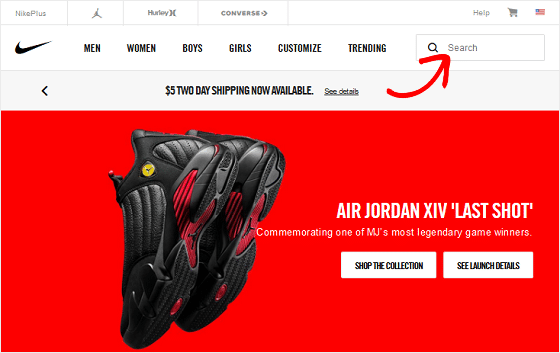 After all, nearly 30% of site visitors use an internal search bar once they land on an eCommerce website. In addition, those performing site searches are twice as likely to convert. Plus, they're more likely to return to your WooCommerce store to make a purchase.
Follow these best practices to guarantee the ultimate user experience:
Make search available within product pages
Enable autocomplete and autocorrect to make suggestions and account for spelling mistakes
Provide a way to perform multilingual searches
Enable saved searches so those in the choosing stage can come back and remember what they viewed
And, if you really want to optimize WooCommerce for higher conversions, and find out what people are searching for while on your website, configure your eCommerce site with Google Search Console.
Then, from your WordPress dashboard, you can see exactly what terms site visitors are entering into your store's search bar.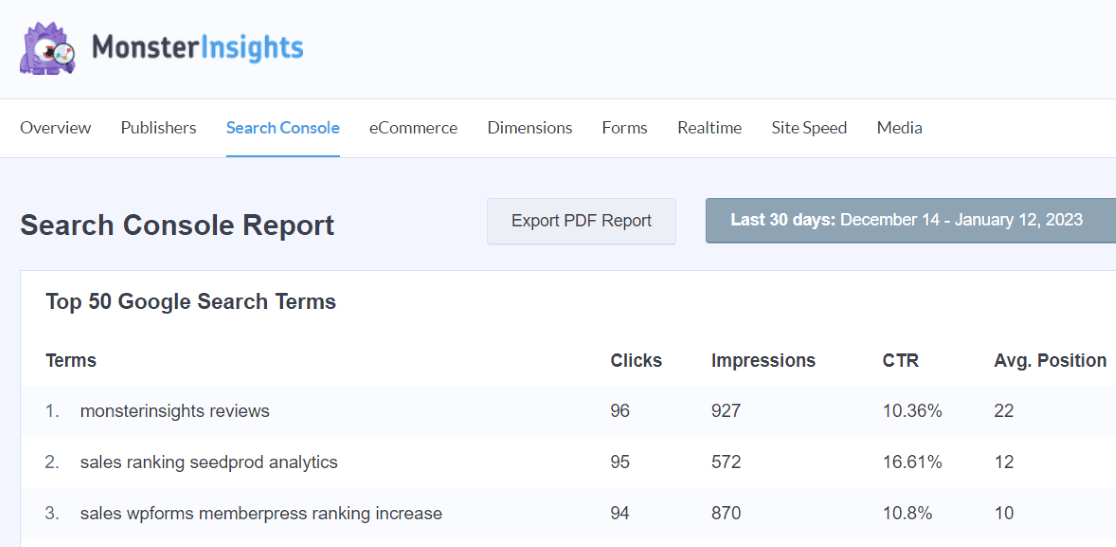 This will give you insight into whether your WooCommerce store has what people are looking for, will help you create better blog content, and will let you know whether you're driving the right type of organic traffic to your shop from search results.
And there you have it! Three surefire ways to optimize WooCommerce for higher conversion rates so you can boost sales and make more money online.
If you're looking for more ways to increase your WooCommerce shop's conversions, and want more people to visit your online shop, be sure to check out this article on proven ways to drive more traffic to your online shop. Then see our roundup of the best WooCommerce plugins to grow your online store.
And don't forget to follow us on Twitter and Facebook for more helpful Google Analytics tips.