Are you wondering how your newsletter subscribers found you? Did they read a blog post and decide to sign up, or did they click on your signup link in your Twitter bio?
By identifying the source of your visitors, you can learn how to get more email subscribers. And with MonsterInsights, you can easily track form submissions and discover the referral source from which your newsletter subscribers arrive.
In this article, we'll show you how to track form submission in Google Analytics and discover where your newsletter subscribers are coming from.
Why Should You Track Your Email Subscribers Source
Your email list is the biggest asset of your online business. When a visitor fills out a form on your site, they're taking the next step in their customer journey.
That's why it's so crucial that your newsletter campaigns are optimized for conversions. And the best way to do that is to find out where they're coming from.
Below are a few benefits of tracking where your email subscribers come from and signup for your newsletter.
It tells you how well your list building campaigns are performing
You can discover more details about your subscribers like their referral traffic source and their conversion path
You can also compare different list building campaigns to learn which one is bringing more signups
With that, are you ready to learn about the source of your email subscribers? Read on to find out…
How to Track Where Your Email Subscribers Are Coming From?
When it comes to tracing the source of your email subscribers, you can use multiple ways. Here are a few that you can use to get started.
Track Form Submissions in Google Analytics
Google Analytics doesn't allow you to track conversions of your email signup forms out of the box. To track conversions of your forms, you need to manually set up Google Analytics custom event tracking on all of your forms.
But that requires advanced knowledge of Google Analytics and unless you're an analytics expert, it's easier said than done.
This is where you need a WordPress plugin like MonsterInsights. It lets you add Google Analytics to WordPress website in an instant. And using the plugin, you can set up advanced tracking with a click of a button.
Using MonsterInsights Forms addon, you can easily track form conversions in WordPress. The addon allows you to gather conversion data of your signup forms even if you're not a developer or an Analytics expert.
All you have to do is install and activate the addon. It just works without further configuration.
Once the addon is active, you can view your form conversion reports in your dashboard by going to Insights » Reports » Forms.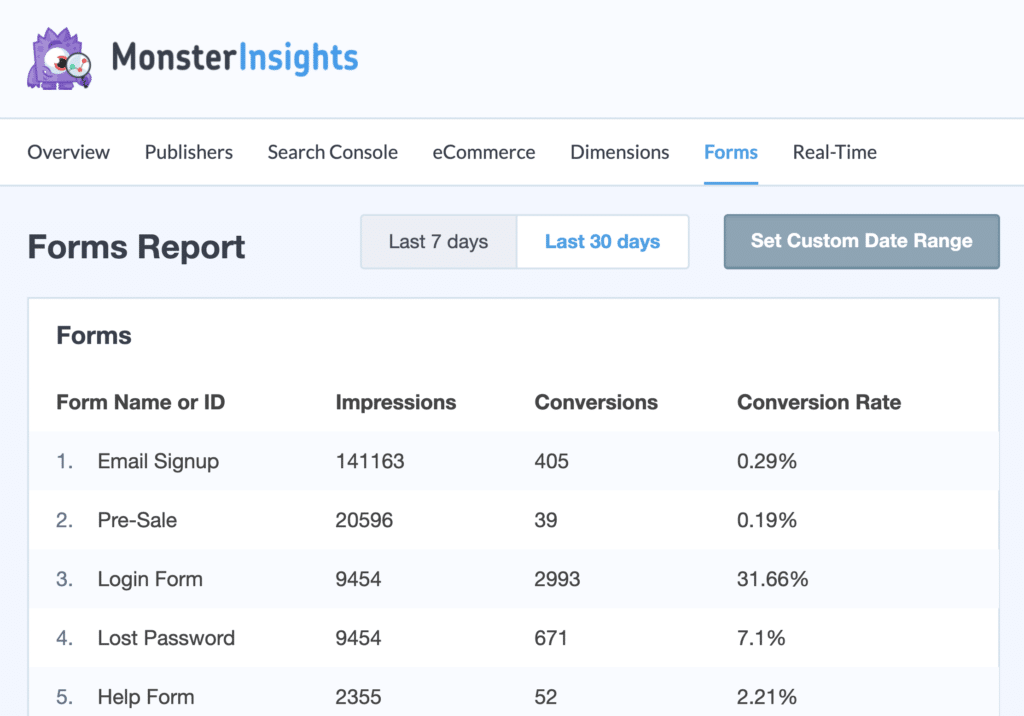 The report shows impressions, conversions, and conversion rates for each form. Using the data, you can see which form worked best in getting more email subscribers.
For instance, did the contact us form worked well or a signup form in the sidebar performed better. Thanks to MonsterInsights, you can exactly see which form converted more, so you can promote that form to boost your email list.
Here are a few more benefits of using MonsterInsights Forms addon:
The Forms addon works with any WordPress forms plugin, whether it be WPForms, Gravity Forms, etc.
Setting up the Forms addon can be a big time saver. You don't need to mess with code to set it up on all of your signup forms. For that reason, it is the best choice for bloggers and small businesses.
No additional settings or configuration required. Upon activation, it works out of the box.
View Form Submissions Report in Google Analytics
Along with MonsterInsights, you can also view your forms report in Google Analytics. To find the conversion report, you need to look at the events tab in your by navigating to Behavior » Events » Overview.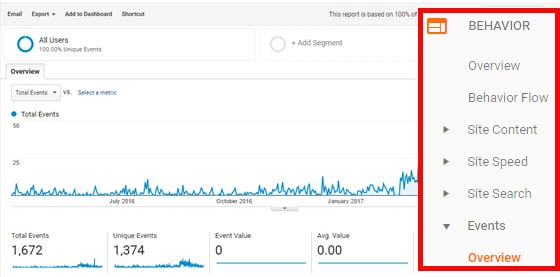 If you're using the MonsterInsights Forms addon, you can click on your form under Event Category for more details.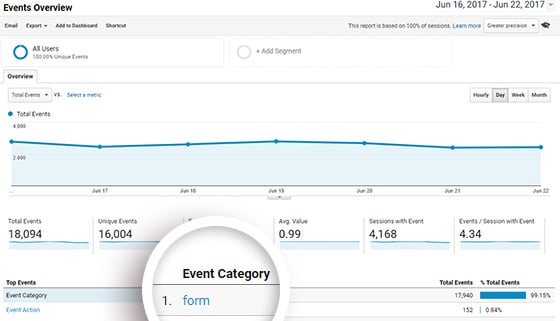 If you're using OptinMonster and have connected it to Google Analytics, you'll see your individual campaigns listed here. Click on the name of the campaign you'd like to see data for.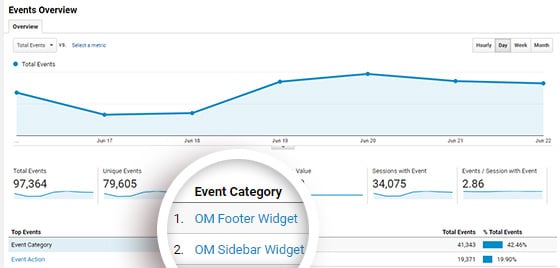 To find how your subscribers arrive at your site, you can choose Source / Medium as the secondary dimension.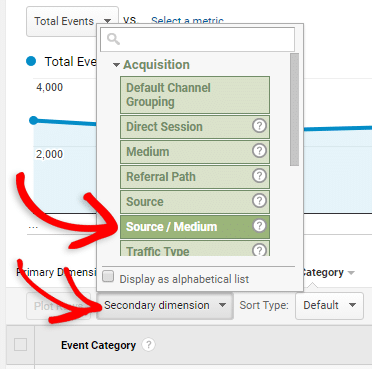 Then you'll see a list of your top traffic sources.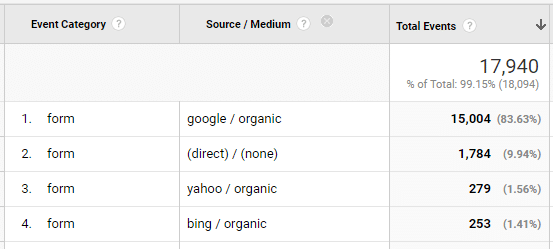 Track Top Referral Sources
Another way you can find out where your email subscribers are coming from is by tracking your referral sources.
These are other webpages that have a link to your website. When a user clicks on that link and lands on your site, Google Analytics categorizes the visitor as referral traffic.
Now, it's important to know which of these sources are sending in the most visitors, because many of them might be signing up to your email list.
This is where MonsterInsights again comes in handy. It automatically tracks your top referral sources and shows you a report in your WordPress dashboard.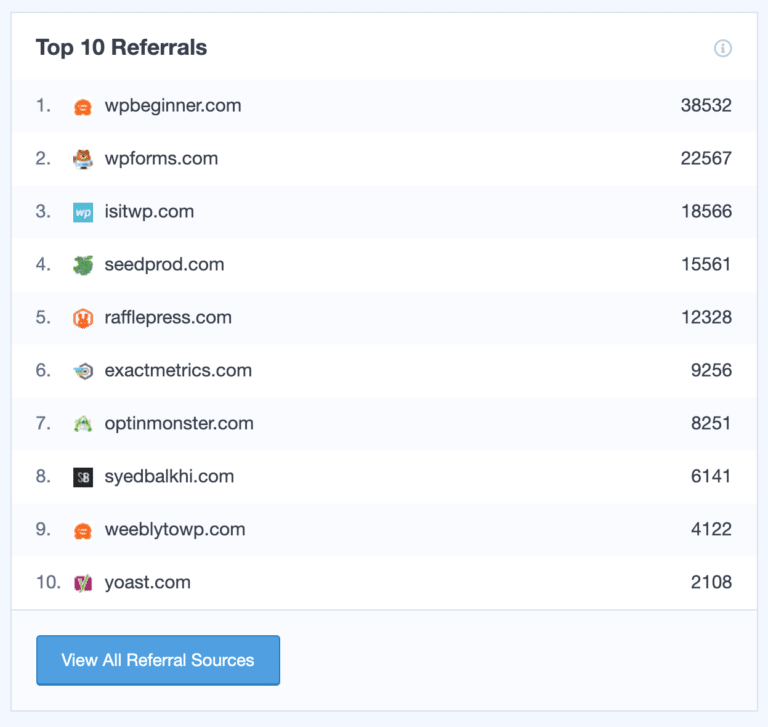 Using the data, you can create personalized campaigns for users from each of these sources. That way, you can get even more email subscribers.
Track Top Countries That Drive Traffic
Besides referral traffic, you can also find out which region sends the most traffic to your website. Visitors from these regions can then signup for your email list.
And you easily uncover this through MonsterInsights. In its Overview report, you can see the Top 10 Countries report.
Since these regions drive the most traffic, you can use geomarketing and create optins like a lightbox popup in different regional languages. These popups will then be shown to visitors from a particular location.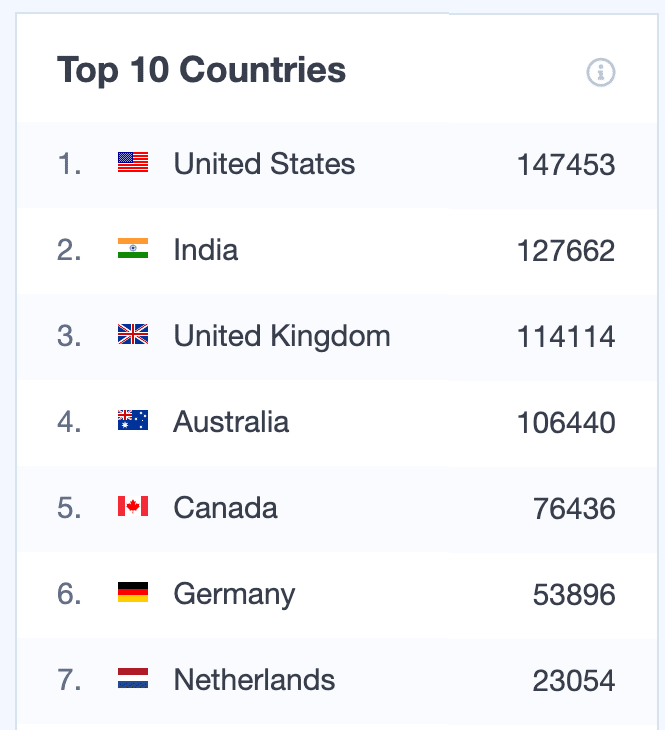 That's it!
We hope this guide helped you get some insights on tracking your newsletter form submissions.
If you enjoyed this article, you may also want to read how to find your most profitable email campaigns, and how to grow your email list more quickly.
And don't forget to follow us on Twitter and Facebook for more Google Analytics tutorials.