Want to create an attractive coming soon page for your website? There are some amazing WordPress coming soon plugins that let you build beautiful pre-launch pages in an instant.
With a coming soon page, you can build hype, attract visitors, collects emails, and more, even before your website goes live.
In this article, we'll show you how to create a coming soon page in WordPress using a user-friendly plugin like SeedProd.
Why Do You Need a Coming Soon Page?
There are many benefits of using a coming soon page for your WordPress website. You can get a head start while your website is under construction.
Here's why you should create a coming soon page:
Generate Leads – You can capture leads before launching your website by collecting emails of visitors through a coming soon page. You can enter a launch date and ask a visitor to sign up for your email list to be the first to know when your website launches.
Create Buzz – Coming soon pages are an excellent way of creating hype about your upcoming website. And when it's time to launch, you can use all the hype to your advantage and drive traffic.
Boost Social Followers – In your pre-launch page, you can add your social media profiles and ask visitors to follow and like your page, as it helps to build a social following.
Test Your Idea – If you're looking for feedback on your upcoming product, then coming soon pages can help you test your idea. Add product details and ask visitors to register for a first-look. If you get more registrations, then it means users are interested in your idea.
Build Brand Awareness – Just like creating buzz, you're also creating a brand. And coming soon pages help promote brand awareness among users.
With that, you may ask, what is the best coming soon plugin to use? Let's find out…
Which WordPress Coming Soon Plugin Should You Use?
When it comes to selecting a tool for creating coming soon pages, you'll find many WordPress plugins. But we recommend using SeedProd, as it's the best WordPress coming soon plugin.
SeedProd is 100% FREE and offers exciting features. It has a powerful real-time page builder, and you can design amazing pre-launch pages using its wide range of customization options.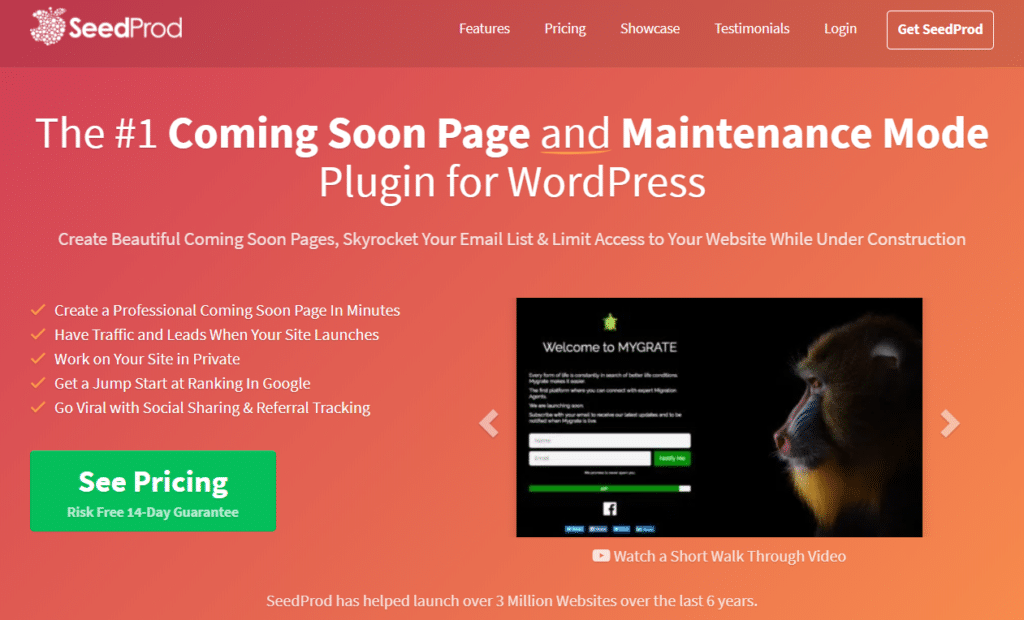 But if you're looking for more advanced customization options, then you might want to upgrade to their Pro version.
Here're some fascinating features you'll find in SeedProd's premium version:
Easy integration with email marketing tools like Drip and Mailchimp
Offers 500,000+ background images, 750+ Google fonts, and 50+ themes
Built-in contact form to capture leads
Use it email autoresponder, countdown timer, and progress bar
Control who can view your website
Add social icons and share buttons to promote your page
Cool addons like landing page addon, custom login page addon, and more
Ready to create a coming soon page in WordPress? Let's start…
How to Build a Coming Soon Page?
Creating a coming soon page is easy with SeedProd. All you need to do is follow our 5 simple steps.
For our tutorial, we'll first show you its free version and then how you can use it's premium version's real-time page builder.
Step 1: Install and Activate SeedProd WordPress Plugin
The first thing you'll need to do is add SeedProd WordPress plugin to your website. Head over to Plugins, then click Add New and search SeedProd.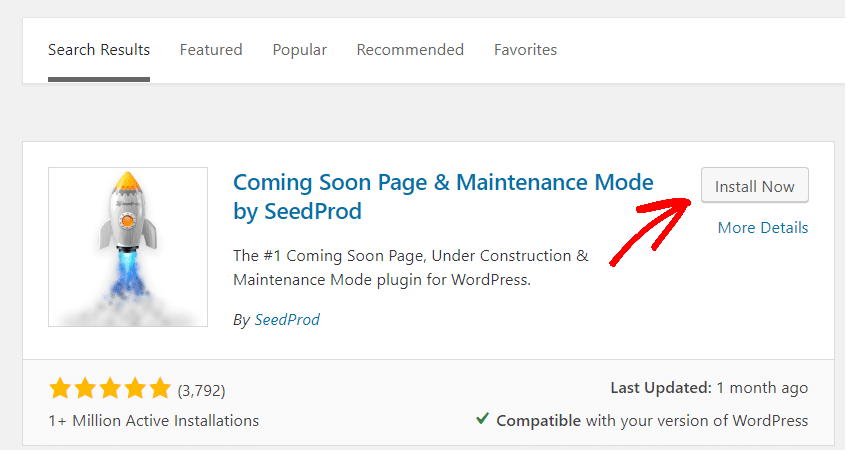 Click Install Now and then Activate the plugin. You should now see SeedProd plugin in your WordPress dashboard.
Step 2: Change the Content Settings
Once your plugin is active, go to SeedProd » Settings. Then under the Content tab, click on Enable Coming Soon Mode and hit Save All Changes.
Now anyone who visits your website will be redirected to your coming soon page. You'll still be able to access your website after logging in.
And if you select Enable Maintenance Mode option, then it will tell the search engines that your site is temporarily unavailable.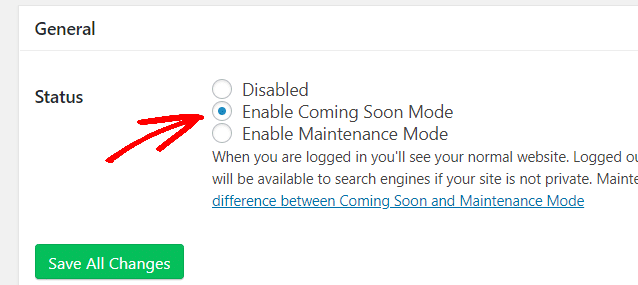 As you scroll down, you'll find more options.
You can change your page settings and add a logo, headline, create a custom message, and show if the coming soon page is powered by SeedProd.
Another powerful feature of SeedProd is that you can add forms and giveaways. Just click on them in the message option and add them on your coming soon page.

Next, you can edit the header of your coming soon page. You can add a favicon, enter an SEO title, meta description, and Google Analytics tracking code to see how users interact with your page.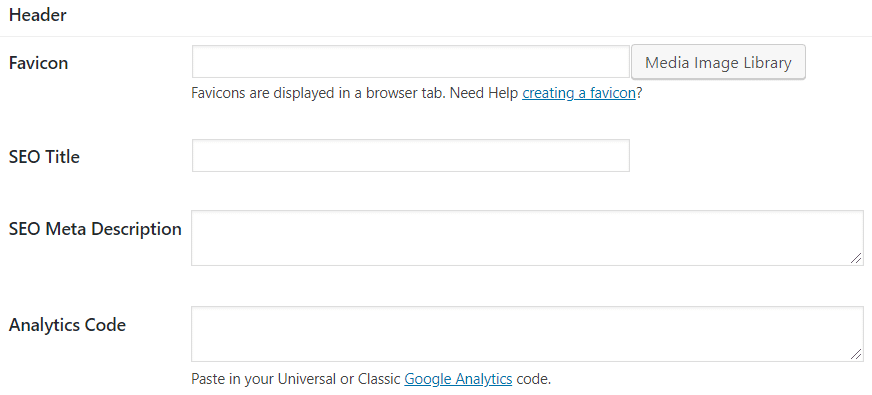 Click Save All Changes once you're done.
Step 3: Customize the Design of Your Coming Soon Page
SeedProd gives you lots of design options to create a beautiful coming soon page. You can change the background color and add an image of your choice.
Other options let you make the background responsive so that it fills the entire screen. You can also edit the size of the background, make the image dim so that the headline stands out, and change its position.

There are more customization settings if you scroll down in the design tab. For instance, you can change the width of the content and make it appear in a box.
You can also play around with the text color, link color, headline color, and change the font of your message.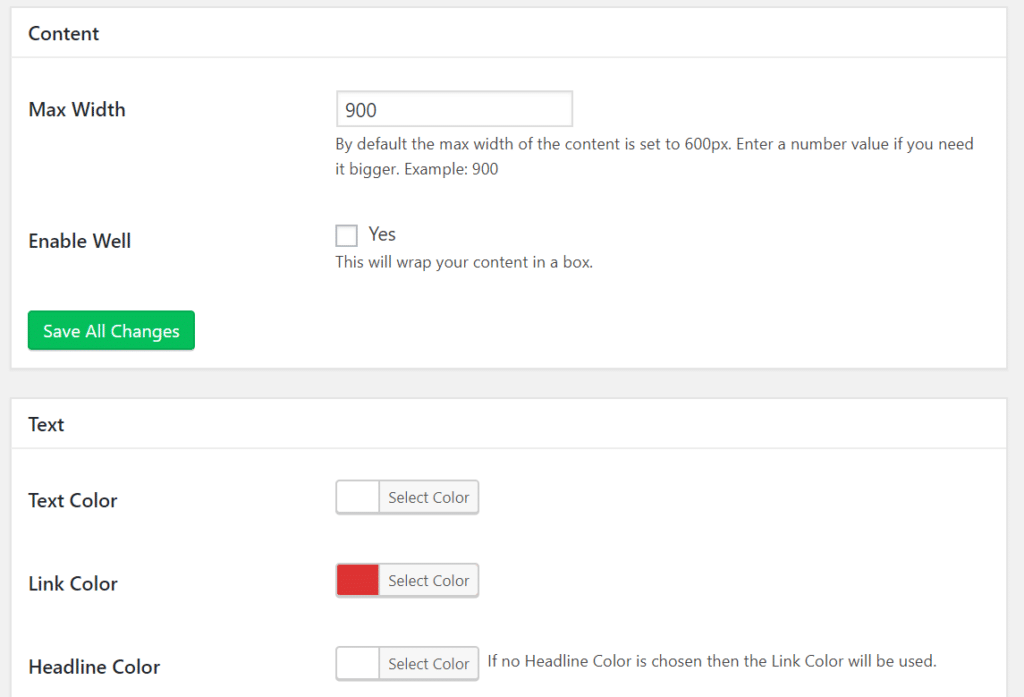 There is also a field for entering custom CSS. You can add your styling by simply copy and paste the CSS code.
Once you're done changing the design, click Save All Changes.
Step 4: Enter Advanced Settings
SeedProd offers different advanced settings that let you add more depth to your coming soon page.
For instance, it excludes URLs with login, admin, dashboard, and account. But you can even disable these pages from advanced setting options.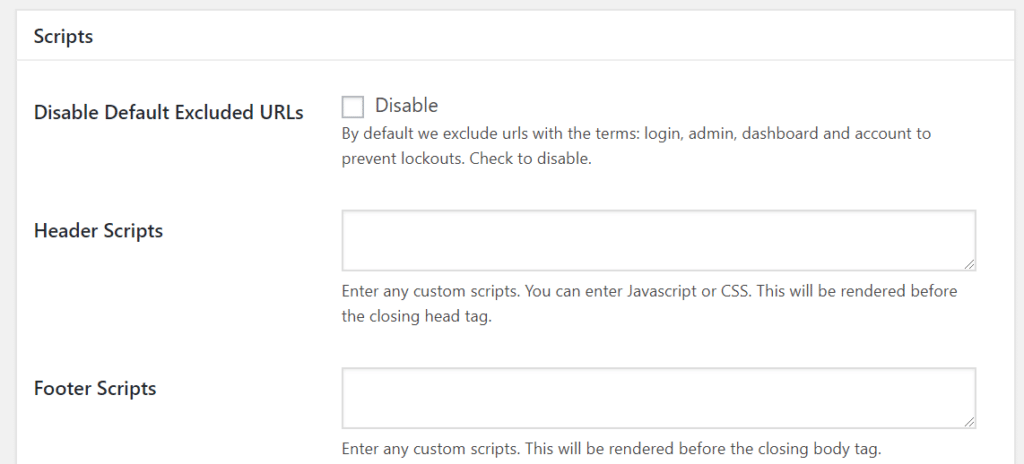 If you have a custom CSS or JavaScript for your header and footer, then enter the code and SeedProd will show it on your pre-launch page.
You can even enter a custom HTML and replace the entire template offered by the plugin.
Step 5: Live Preview Your Coming Soon Page
After you've completed all your design changes, entered the content you want to appear on your page, and edited advanced settings, it's time to preview your coming soon page.
Click on Live Preview tab from SeedProd WordPress plugin, and it will show you how your pre-launch page will look like in real-time.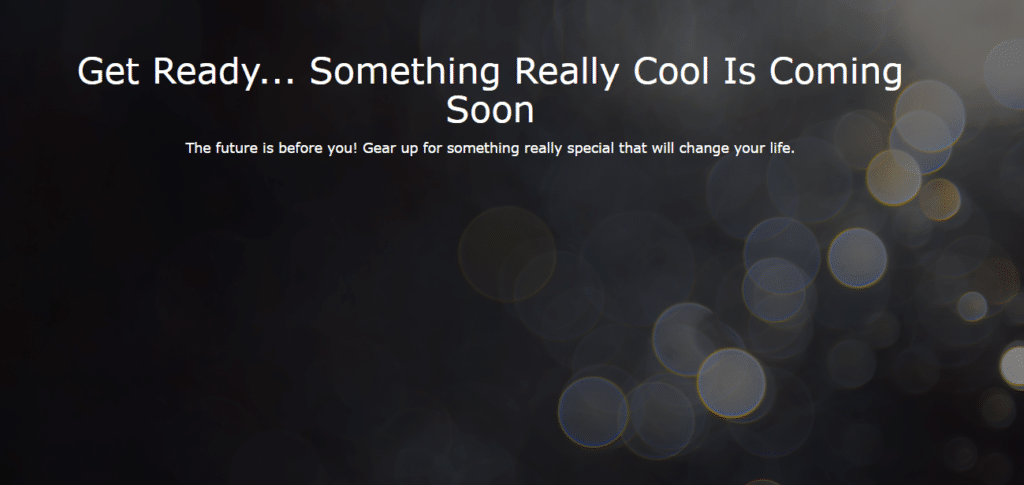 You can then make final edits to the page and then take it live.
Use SeedProd Real-Time Page Builder
If you subscribe to SeedProd's Pro plan, you get access to its real-time page builder. Using this tool, you can drag and drop items to create an attractive coming soon page.
It offers more customization options and unlocks themes, images, and Google fonts for your page.
To access the real-time builder, go to Settings » Coming Soon Pro and then click on Edit Coming Soon/Maintenance Page.
Next, select a theme you want to use for your maintenance or coming soon page. The page builder will then give you multiple options for customization. You can edit it the way you want.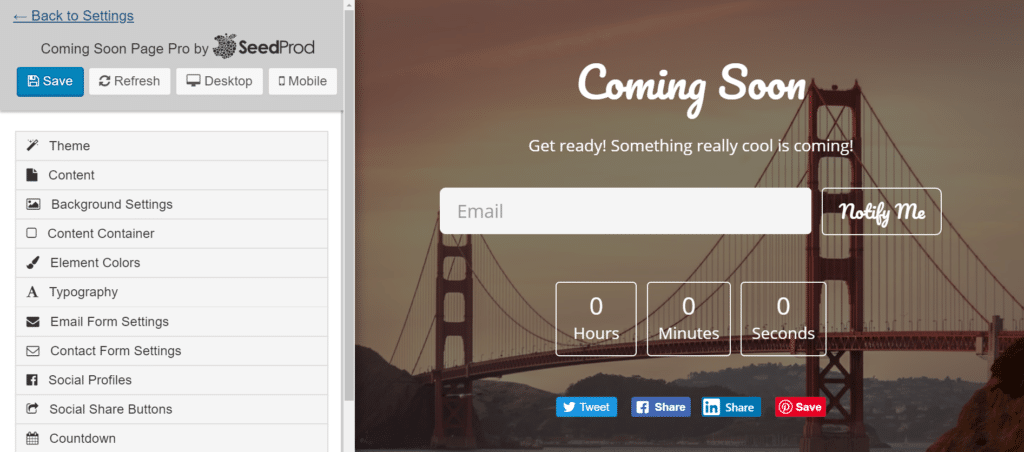 For instance, you can enter your own content, headline, and also change their order. The page builder also lets you change the background image.
In the premium version, you get access to Unsplash's picture library. There are over 500,000 images to choose from. And with Google fonts, you can make your headlines stand out using its typography option.
Other features that you'll find for customization include social profiles, social share buttons, progress bar, and a countdown timer. These options help you share your coming soon page and create buzz in the market.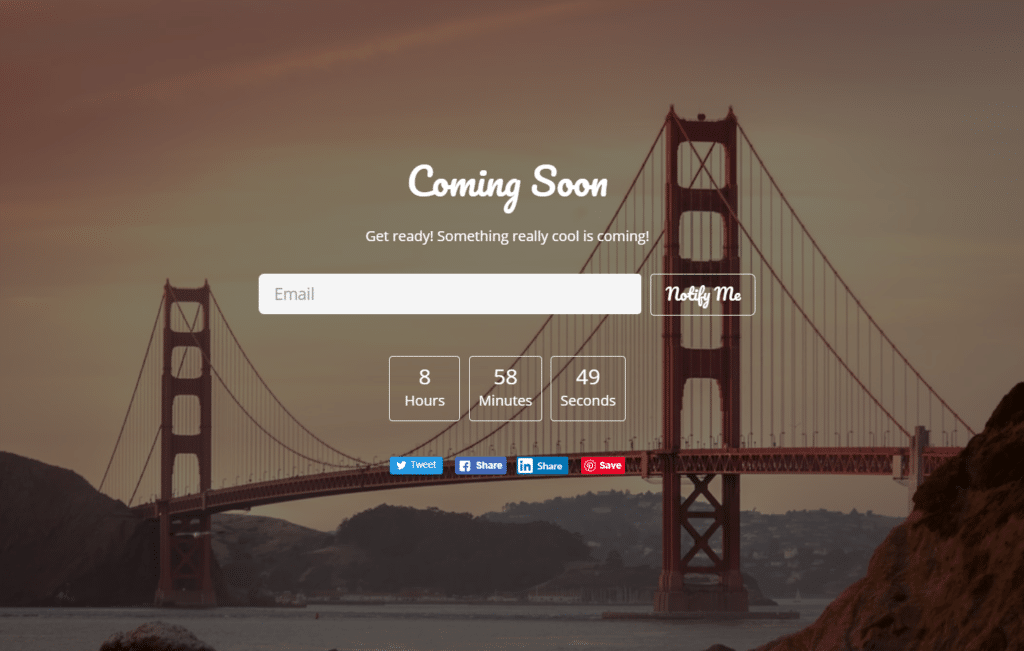 And that's it.
With SeedProd, you can build attractive coming soon pages in an instant. It will boost your social followers, collect leads, grow your email list, create brand awareness, and get a head start before your website launches.
We hope you liked our article on how to create a coming soon page in WordPress. You might also want to check out our guide on the best WordPress landing page plugins and tracking links and button clicks in WordPress.
Don't forget to follow us on Twitter and Facebook for more WordPress and Google Analytics tutorials.