Want to learn some easy ways to access Google Analytics data using different displays? Being able to visualize your site's data in multiple ways will give you better insight into what's happening on your website and how people are behaving as they engage with your site's content.
In this article, we'll show you how to analyze Google Analytics data using the table displays found in your Google Analytics account.
How to Access Google Analytics Data in a Visual Way
You can access Google Analytics data is a visual way clicking on the one of five table display buttons found in many of your Google Analytics reports.

Don't be surprised if you didn't know those were there. A lot of people don't. And even if you did know they were there, chances are you haven't used them very often.
But you may be asking yourself, why use those buttons? After all the default table display gives you everything you need to know about your website and its activity.
Well, here's some reasons why:
See data in a more visual way, which is easier to understand
View which metrics are performing the best, without distractions from other non-related numbers
Watch how metrics change up and down, or see numbers as percentages
Compare specific data to your site as a whole
Easily detect trends that are happening on your site among site visitors
As you can see, there's more to analyzing Google Analytics data than just looking at the standard table of numbers.
Let's take a look at each of the display buttons and see how they can help you get data from Google Analytics and help you make better data-driven decisions.
1. Data View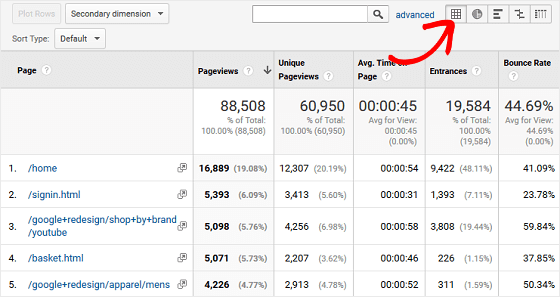 The Data View in Google Analytics is the standard view you'll see when checking out any data in a Google Analytics report. It's easy to understand at first glance since it displays the data in organized tables, complete with columns for the different metrics.
Every Google Analytics report has two types of data in the data view: dimensions and metrics, which are the numbers related to each dimension.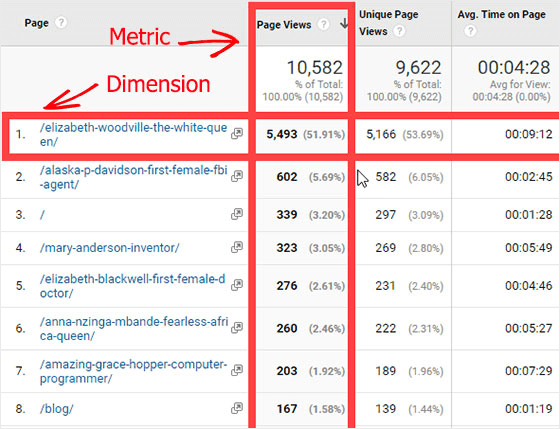 Dimension examples include page, region, gender, and traffic sources. Metrics examples include pageviews, bounce rate, and average time on a page.
Change the dimension in the data view by clicking on any of the available Primary Dimensions. Next, add a secondary dimension by clicking on the Secondary Dimension dropdown menu and selecting one from the list.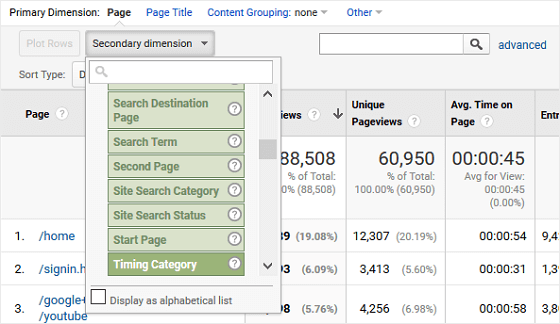 If you want, you can also create your own custom dimensions using MonsterInsights, the best Google Analytics plugin on the market today, and the Custom Dimensions addon.
For example help with this step, so you can see more data than ever before in the data view in Google Analytics, check out our helpful guide to using custom dimensions in Google Analytics.
2. Percentage View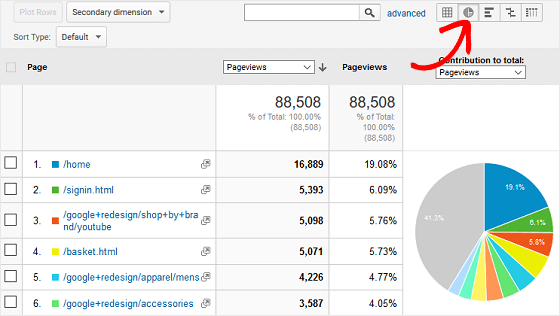 The Percentage View, sometimes known as the Pie Chart View, is perfect for those who still want to only glance quickly at their Google Analytics data, but in a very visual and easy to understand way.
In fact, in the percentage view, you only look at one metric at a time. This is the best way to see which page, or product item if you run an eCommerce shop, is performing the best on your website.
For example, choose the dimension you want to analyze, and then pick from the following metrics:
Pageviews
Unique Pageviews
Average Time on Page
Entrances
Bounce Rate
Percent Exit
Page Value
Take a look at our example. We'll choose the unique pageviews metric and see how each page stacks up against total pageviews: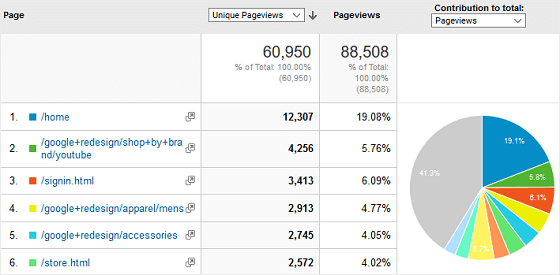 Don't forget, you can choose both the primary and secondary dimensions depending on which metric you want to view.
In addition, if you like being able to see your Google Analytics data in a visual way, it's helpful to know that MonsterInsights gives you this chance, right from your WordPress dashboard.
For example, check out metrics such as New vs. Returning Visitors and Device Breakdown in the Overview Report: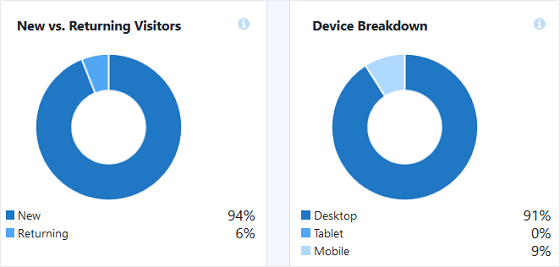 And, if you like to see a smaller number of metrics at once that mean a lot to the success of your site, check out this visual display of sessions and pageviews, complete with percentages, also found in the Overview Report: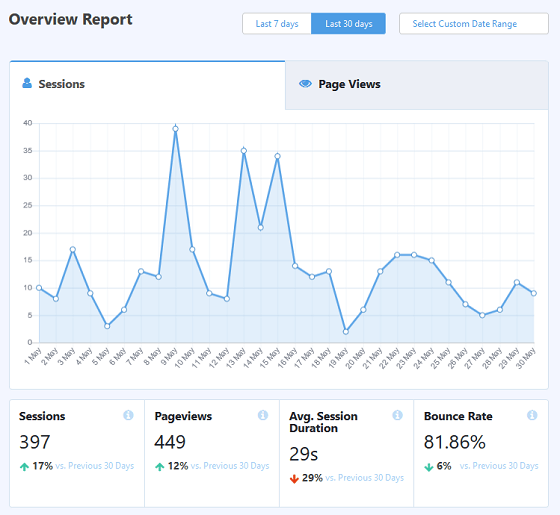 3. Performance View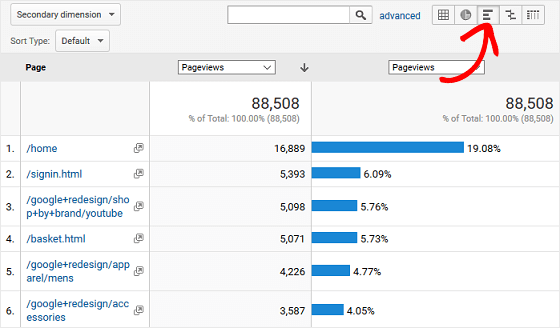 The Performance View is another great way to visualize important Google Analytics data without becoming overwhelmed with too many numbers.
This view also shows data in the form of percentages. But instead of using a pie chart to compare the primary dimension, it uses a bar graph, which some people prefer.
In addition, you get a numerical metric to complement the percentage, which helps when trying to compare data. And, like with all other Google Analytics views, you can define a secondary dimension to get even more information about what's happening on your website.
For example, we'll choose the primary dimension Page, the secondary dimension Age, and the metric Pageviews.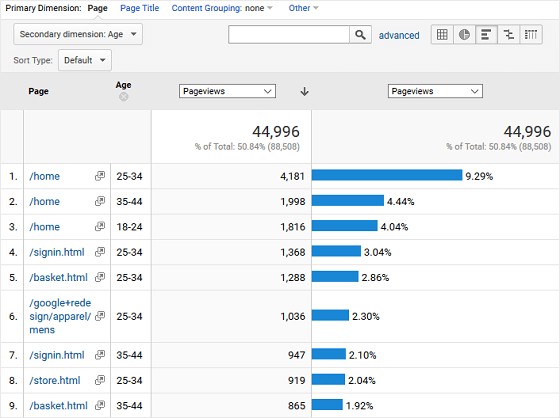 Notice you can see the breakdown of web pages, complete with age groups, the number of pageviews, and the percentage of pageviews when compared to the site as a whole.
4. Comparison View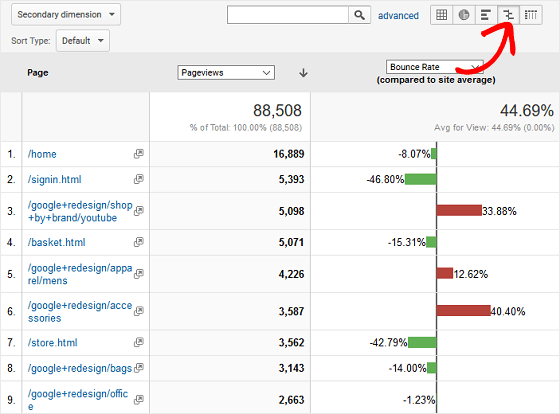 The Comparison View is a good option when you want to compare specific Google Analytics metrics against the site average.
Take a look at our example. We'll change things up a bit and set the primary dimension to Page Title, and set the two metrics to Pageviews and Average Time on Page: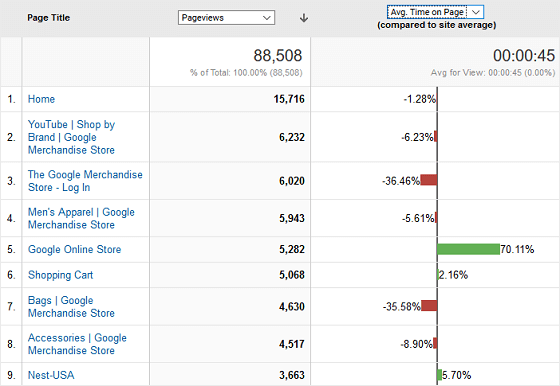 Here you'll see the following data:
Page titles on your website
Total number of pageviews for the entire website, near the top
Number of pageviews for each web page
Average time on pages for the entire website, near the top
Average time on each web page of your website, as compared to the entire website
In our example, the green color shows the percentage above the average time on each page for the entire website. In other words, this is a very popular page because people are spending more time on it when compared to the site's average.
And the red color shows the percentage below the average time on each page for the entire website. In other words, this means these pages aren't as popular when compared to the site's average.
Pivot View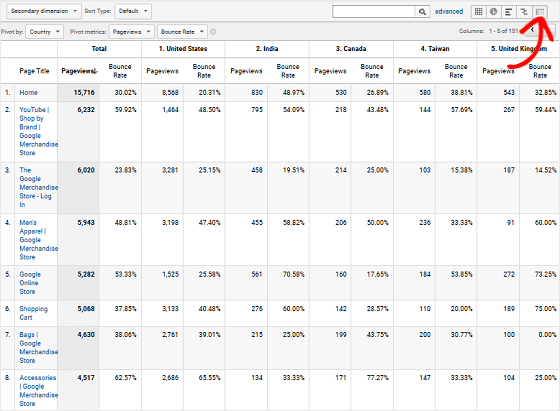 The Pivot View is used to determine trends that are happening on your website using many metrics at once.
For instance, let's say you want to see how your website's pages perform in terms of pageviews and bounce rate, across the globe.
Simply set the primary dimension to Page Title, the Pivot by to "Country", and the Pivot metrics to "Pageviews" and "Bounce Rate."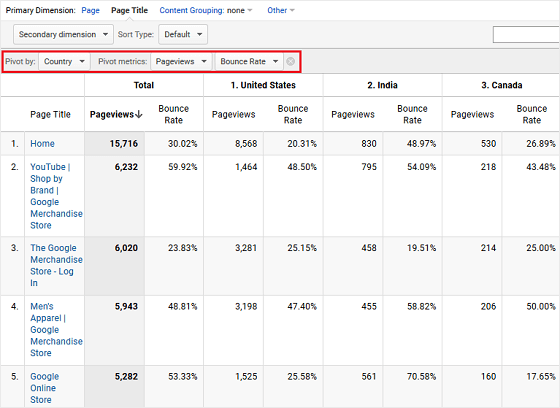 From there, you'll be able to see which geographic location is visiting your site the most. You'll also see which regions are leaving your site the most.
And the great thing about this Google Analytics view is that you can experiment with Pivots and Pivot Metrics to get insight into a bunch of data you may not even know existed.
And there you have it! You now know how to access Google Analytics data that's always been there, but in very different views. This way you can make more improvements to your site and continue to grow your business or your following.
And if you really want succeed, and make money online, be sure to check out this helpful guide on how to build a profitable affiliate website using WordPress.
And don't forget to follow us on Twitter and Facebook for more helpful Google Analytics tips.