Want to learn about some of the most popular, ready-made, custom dashboards you can import into your Google Analytics account? By importing custom dashboards, you save time and effort, while still being able get a quick glance at your website's data.
In this article, we'll show you some Google Analytics custom dashboards that you can easily add to your Google Analytics account.
Why Import Custom Google Analytics Dashboards?
In the past, we've discussed what a Google Analytics dashboard is and how to create a custom dashboard from scratch to add to your Google Analytics account.
And, while custom-made dashboards are very important for making data-driven decisions based on the behavior of your site visitors, sometimes life gets in the way and creating dashboards from scratch isn't a priority.
Or, you may not even know what data to include in your custom-made dashboard. And, if you don't know which data to include, it doesn't matter how much time you spend creating the "perfect" one. If you don't add data that is helpful to you, you'll never achieve your goals or grow your business.
That's why using a custom Google Analytics dashboard, that's already been expertly designed by someone who knows which data should be included, can not only save you time, but give you a look into the data that will help you make the most improvements to your site.
So, let's take a look at some of the best Google Analytics custom dashboards there are.
1. Mobile eCommerce Dashboard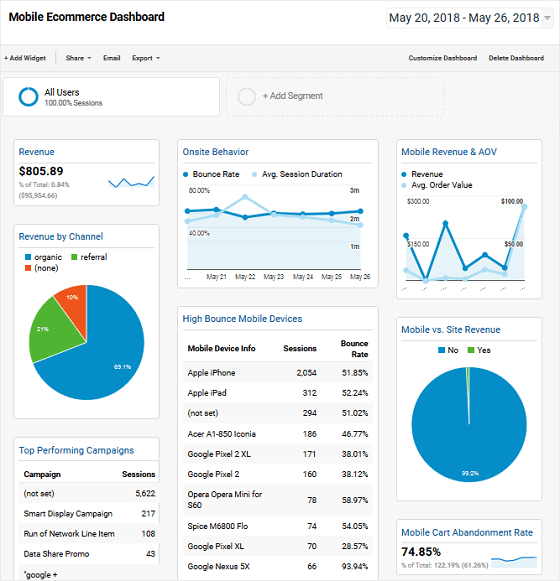 With 80% of people preferring to use their mobile phones to look up product reviews, compare prices, or find similar competitors, it's a good idea to use this custom Google Analytics dashboard to monitor all mobile activity on your website.
See helpful data such as:
Total mobile revenue
Cart abandonment rates
Top mobile content
Organic mobile keywords
In addition, you can compare this data using MonsterInsights, the best Google Analytics plugin on the market today, as well as the eCommerce addon, to get information about your eCommerce site as a whole.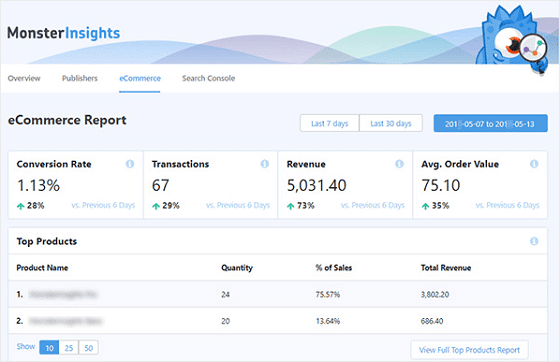 For example, you can check out data like conversion rates, number of transactions, total site revenue, and top products. Plus, you can view the total products added and removed from carts to see how your mobile site matches up to your eCommerce site as a whole.
Import the Mobile eCommerce Dashboard Here
2. Site Performance Dashboard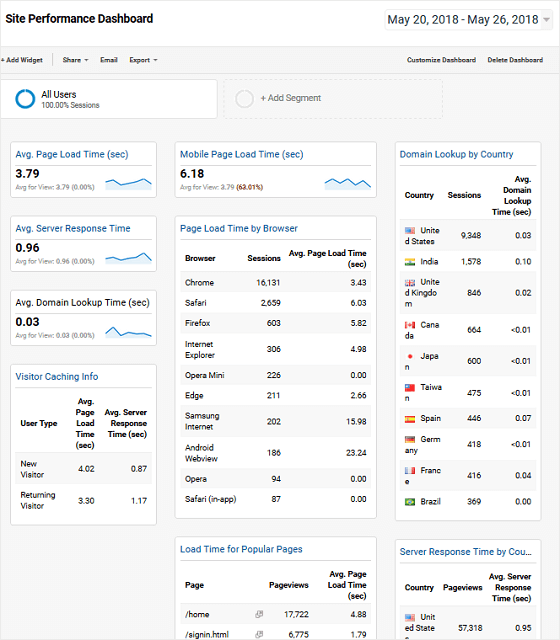 Knowing how well your website is performing at any given time is crucial to your success whether you run an eCommerce shop or have started a WordPress blog to share your ideas with your loyal followers.
If you import the Site Performance Dashboard, you'll be able to identify potential problems with your site's speed and performance, and make changes so the user experience on your website is always at its best.
You can see metrics like average page load time, domain lookup by country, visitor caching, and the server response times.
Import the Site Performance Dashboard Here
3. Blogger Dashboard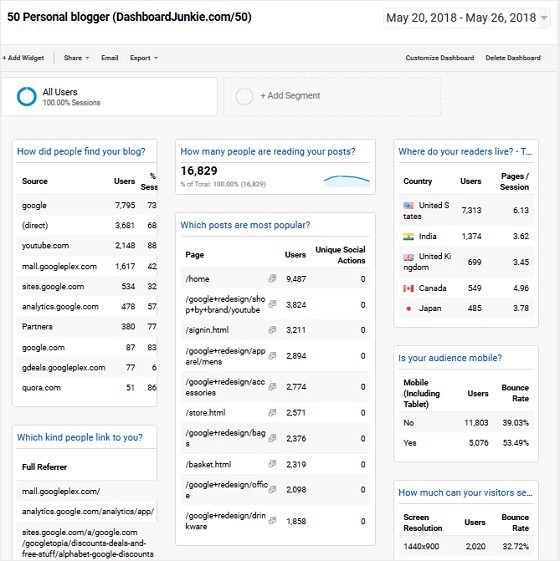 If you have a blog on your website and want to get a quick view of important data that relates solely to the activity that happens on your blog, check out this ready-made Google Analytics custom dashboard.
For example, see key metrics such as:
The percentage of new visitors
The location of site visitors
Your most popular blog posts
Search terms that are used to find your blog
And, if you're using MonsterInsights, you can always go to the Publishers Report in your WordPress dashboard to see your site's top landing pages, exit pages, and outbound links.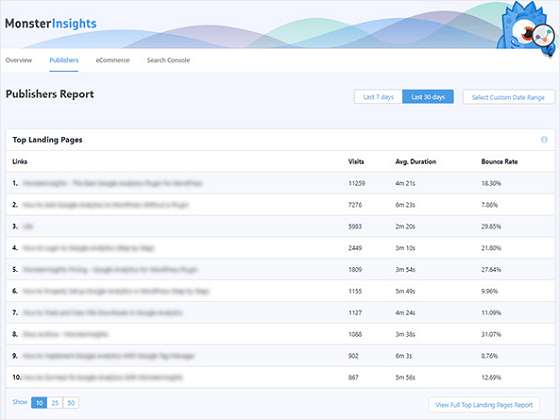 Not to mention, the general Overview Report in MonsterInsights will show you your top posts. This makes it even easier to see the important data needed to improve your blog content and drive more traffic to your site.
For help with creating better site content, check out our guide on how to get brilliant blog post ideas from Google Analytics.
Import the Blogger Dashboard Here
4. SEO Dashboard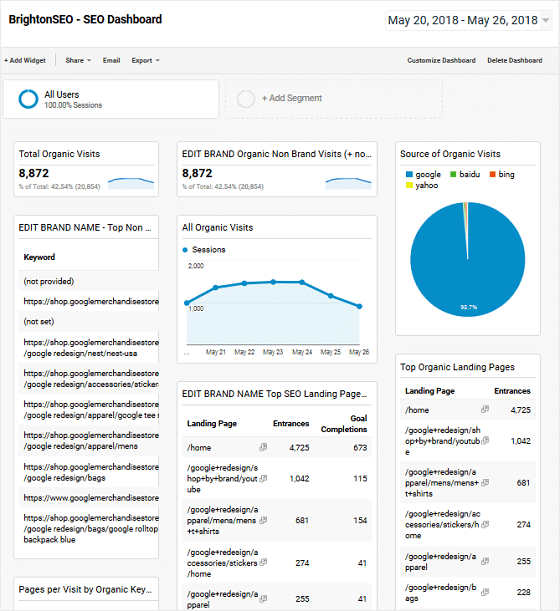 You know how important SEO (search engine optimization) is to your website and, ultimately, its success. After all, unless you're driving traffic to your site, it won't matter what kind of content you have.
And, just focusing on SEO ranking factors isn't going to cut it. You need to consistently monitor your Google Analytics data so you can optimize your site for higher search rankings.
Luckily, with this easy-to-understand custom Google Analytics dashboard, you can see data like total number of organic visits, the top landing pages organic traffic visits, top organic keywords, and the highest performing keywords based on your goals (if you've set up goals in your Google Analytics account).
In addition, if you connect Google Search Console to Google Analytics, you can see exactly how Google is seeing and ranking your website, as well as monitor spam issues, see if mobile users are visiting your site, and even delete or hide content from Google if you want to.
And, don't forget to check out the Search Console Report in your WordPress dashboard to see your website's top Google search terms.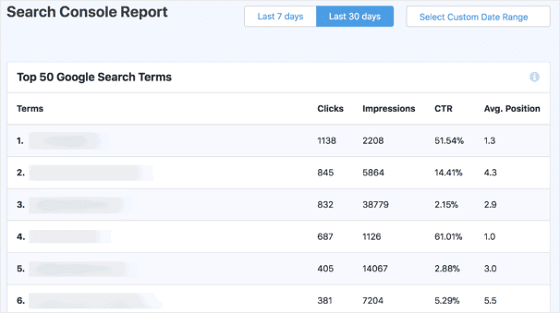 5. PPC Dashboard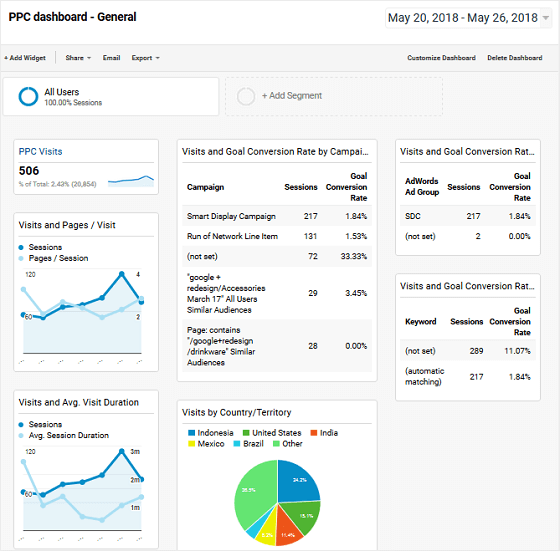 If run a lot of pay-per-click campaigns, such as the ones you can do with Google AdWords, this is the custom dashboard for you.
With this Google Analytics custom dashboard, you can see metrics like:
Number of PPC visits
Visits and pages/visit
Visits by country/territory
Average visit duration
Knowing this information, you'll be able to better see which PPC campaigns are working. That way, you'll maximize the campaigns that generate you money, and stop wasting money on campaigns people aren't interested in.
And there you have it! Five custom Google Analytics dashboards you can import into your Google Analytics account so you can make better data-driven decisions.
If you want to find out even more ways to grow your business or your blog following, be sure to check out our quick tips for maximizing data analysis in Google Analytics.
And don't forget to follow us on Twitter and Facebook for more helpful Google Analytics tips.