Are you looking for the best WordPress file upload plugins? Whether you're looking for a WordPress plugin to upload PDF files or other kinds of files, we're glad you're here. There is no direct way of uploading files on WordPress without a plugin.
But with the right plugin for uploading files, you can create forms that will easily receive file attachments from your users. And you can even accept more file types that are outside the WordPress limits on your site.
In this article, we'll show you the best WordPress file upload plugins, so you can get documents, PDFs, spreadsheets, and all sorts of content from your visitors.
Benefits of Using a WordPress File Upload Plugin
When you use a WordPress file upload plugin, you can get more information from your visitors and better understand their behavior. You can even improve your site's user experience by facilitating your audience's needs.
Here are some situations where you can use a WordPress file upload plugin to accept documents:
Improve Customer Support – You can get more information about your user's problems and quickly fix them by accepting screenshots or other documents of the issue
Accept Guest Posts – Through a file upload plugin, you can ask your users to submit guest posts to your website
Collect User-Generated Content – You can allow your visitors to submit videos, audio, images, or any other content through a file upload option
Get Resumes and Cover Letters – If you have a job board on your website, you can allow users to upload their resumes and cover letters through the plugin
Receive Quotes from Clients – File upload plugins make it easier to receive quotes from different clients in the form of spreadsheets, PDFs, and other formats
Allow Picture Upload for Giveaways – You can allow users to easily upload pictures for contests and giveaways through a file upload plugin
As you can see, file upload plugins make it super simple to accept file uploads on your WordPress site.
But which plugin should you choose? Here's a look at the best WordPress file upload plugins, including free and premium options.
Our Favorite File Upload Plugins for WordPress
WPForms is the best WordPress forms plugin you can use today. Using the plugin, you can create file upload forms to accept media from your visitors. And in each form, you can adjust which file types users can submit.
WPForms offers a simple drag and drop builder, which makes it very easy to build and customize the forms of your choice.
It even offers pre-built templates, so you can start adding forms to your website in no time. And it's compatible with MonsterInsights, so you can easily track your form submissions in WordPress.
WPForms also offers lots of other features that make it the best WordPress file upload plugin:
Mobile responsive form templates
Easy drag and drop builder
Accept file uploads with AJAX forms without refresh
Choose from different form templates
Accepts payments through your forms
Spam protection
Easily embed forms anywhere on your WordPress site
Enable smart conditional logic
Easy integration with marketing platforms
Pricing: WPForms prices start from $49.50 per year.
File Upload Type by WPForms is a free WordPress file upload plugin that lets you accept additional file types on your website with just a click of a button. While some website owners just need a WordPress plugin to upload PDF files, others need to be able to allow users to upload more file types.
By default, users can upload only certain file types on WordPress. And if someone uploads a file type outside the allowed extensions, WordPress will show a warning message saying: Sorry, this file type is not permitted for security reasons.
To overcome this issue, you can use the File Upload Types plugin, which expands the file types WordPress will allow users to upload. It will work with other file upload plugins, but of course is built to go along with WPForms.
Here are some key features of File Upload Type by WPForms:
Accept files types that WordPress doesn't support natively
Supports extensions like .zip, .xml, .csv, .ai, .cad, and more
Compatible with WPForms
Easy to use plugin
Manage an internal file extension whitelist
Pricing: File Upload Type by WPForms is free.
Get started with File Upload Type now!
WordPress File Upload is a simple, free plugin that you can use to allow file uploads on your website. The plugin offers a shortcode that you can use to enable file upload on multiple pages and posts, or accept files from your site's sidebar.
Users can submit images, posts, videos, audio, and types of files on your website through the plugin. WordPress File Upload also lets you view all the downloaded files in your dashboard. You can even manage and organize all the uploads.
More features of WordPress File Upload include:
Simple integration using a shortcode
Get email notifications for file uploads
Manage and organize files from your dashboard
Assign a storage location for uploaded files
Offers filters and actions for before and after file upload
Supports multiple languages
GDPR compliant
Pricing: WordPress File Upload is free.
Get started with WordPress File Upload now!
Formidable Forms is one of the best advanced form builder plugins for WordPress. If you need to build really custom forms that use advanced conditional logic or have other advanced features, Formidable Forms is an awesome plugin to pick.
Build forms that accept file uploads, accept payments, include calculations, have dynamic fields, and much more.
More Formidable Forms features include:
Drag and drop form builder
Transform entries into front-end content with Integrated Views
Tons of form templates to get you started
Repeater fields
Calculated fields
Polls, surveys, and quizzes
Pricing: Formidable Forms starts at $39.50 per year.
Get started with Formidable Forms now!
Customer Upload Files for WooCommerce is a file upload plugin specifically for WooCommerce users. It's a good solution for when you need to allow customers of your WooCommerce store to upload specifications or other custom requirements.
Customer Upload Files for WooCommerce features include:
Add upload button to cart, product, or checkout page
There's a notes field a customer can fill out for each file
You can determine the file type and size you'll accept
You can allow single or multiple files uploaded
Pricing: Customer Upload Files for WooCommerce is $49 per year.
Get started with Customer Upload Files for WooCommerce now!
BONUS: Track Form Submissions & More with MonsterInsights
MonsterInsights is the best Google Analytics plugin for WordPress. It allows you to easily connect your WordPress site with Google Analytics so you can view all the data that matters most right in your WordPress dashboard.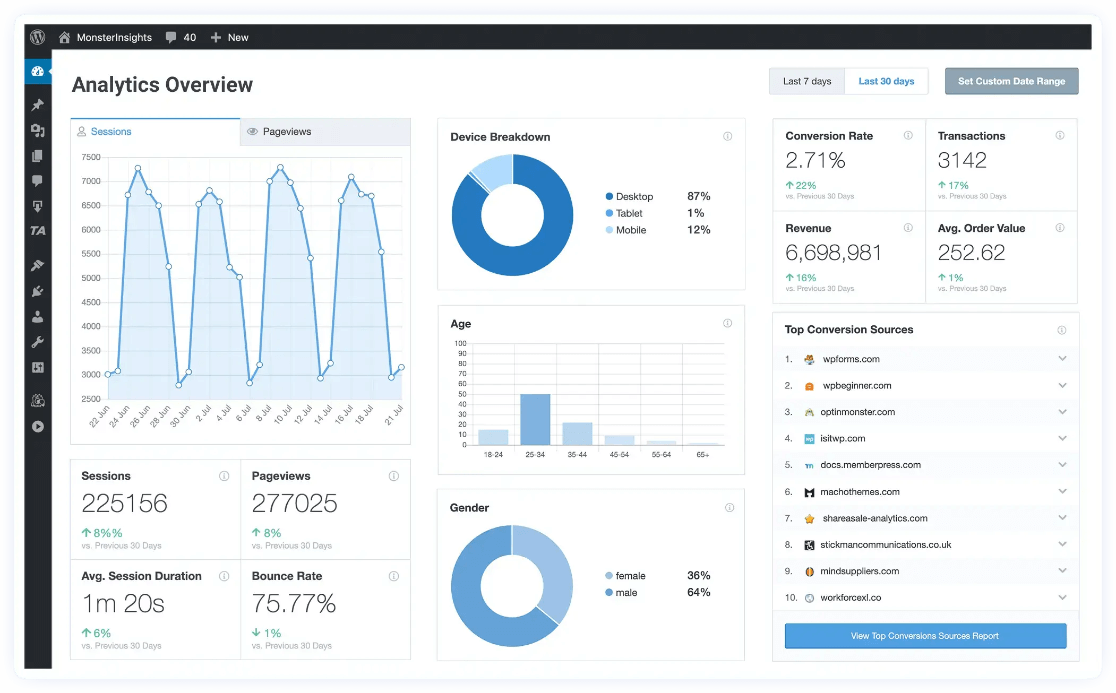 Plus, with the click of a button, you can set up sophisticated tracking features such as form tracking, event tracking, file download tracking, eCommerce tracking, custom dimension tracking, outbound link tracking, and more.
So, using MonsterInsights, you can track all your form submissions with just a couple clicks. Get more data about how your forms are doing, whether they're file upload forms or not.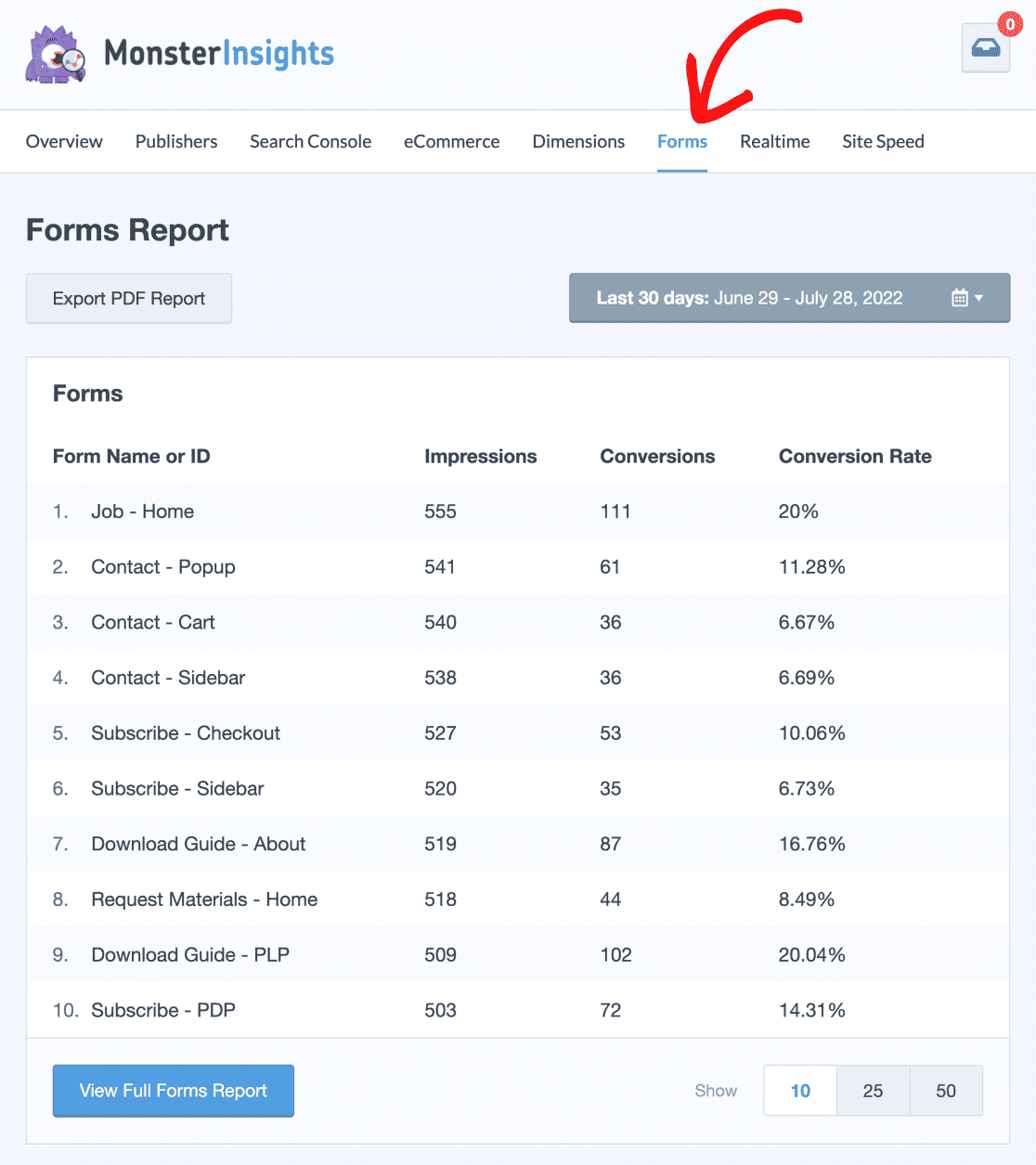 Besides form tracking, MonsterInsights also offers other features and benefits that make it very easy to use Google Analytics, including:
Add Google Analytics to WordPress without coding
View Analytics data in WordPress with dashboard reports
Automatically Track outbound links, affiliate links, mailto links, etc.
Speed up your WordPress website with a Site Speed report
Display your best content with Popular Posts
Set up custom dimensions to track popular authors, post types, tags, etc.
Pricing: MonsterInsights prices start from $99.50 per year.
Our Recommendation
To sum everything up, if you want to set up file uploads on your site, then WPForms is the best plugin for the job.
It's the leading forms plugin for WordPress and offers multiple form templates to use. Thanks to its drag and drop builder, you can customize your forms in a matter of minutes and integrate them with other marketing services as well.
Then, if you need to extend the file types your visitors are able to upload, install File Upload Types by WPForms.
And that's it!
We hope you liked our article on the best WordPress file upload plugins. If you enjoyed this post, you can also check out our list of the Best WordPress Plugins to Download Now (Many FREE).
And don't forget to follow us on Twitter, Facebook and YouTube for more helpful reviews, tutorials, and Google Analytics tips.