Ready to master Google Analytics 4 with a little help from MonsterInsights? GA4 is an incredibly powerful analytics tool, but for many people, it comes with a big learning curve. To help you be successful with the transition to GA4 and make it a lot easier to use, we've added multiple new reports to the MonsterInsights dashboard!
Now, without opening your Google Analytics account at all, you'll be able to access more of your data, notice more trends, make the right marketing decisions, and ultimately grow your business without having to learn a new analytics platform.
Let's take a look at all the new reports we've added in MonsterInsights 8.18.
New Google Analytics 4 Reports in WordPress
With MonsterInsights 8.18, you'll be able to access new and updated reports right inside your WordPress dashboard for:
Top landing pages with more metrics
All top pages with more metrics
Source/Medium
Tech used by your visitors
Coupons used
Top campaigns
Plus, we've added an expanded navigation to make it super easy to find the report you're looking for: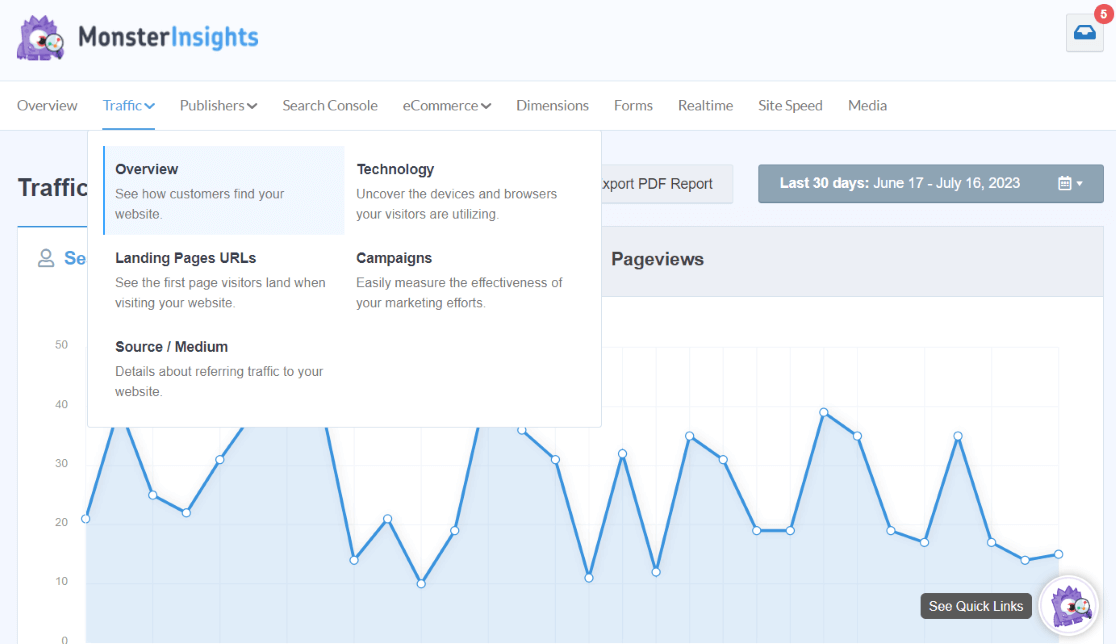 Let's check out each new and updated report you'll find in MonsterInsights 8.18!
Landing Page Details
Want to know which pages your users are landing on when they visit your site? We've added an expanded landing pages report so you can get a really clear idea of where your traffic is landing.
Now, you'll see your top landing pages with metrics like sessions, engaged sessions, pages per session, purchases, and more. Easily see at-a-glance which landing pages are performing well, and which ones might be due for an update.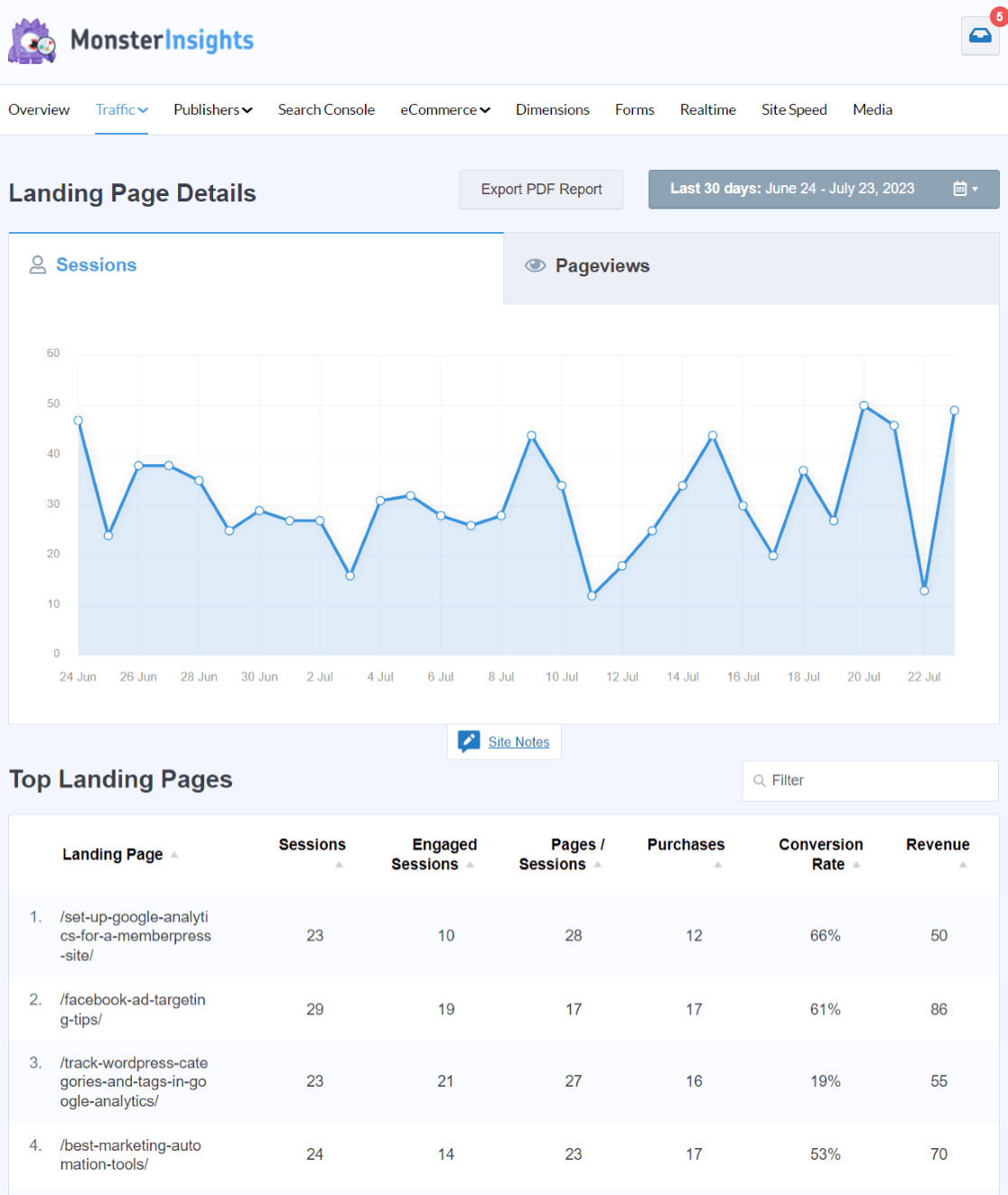 Top Pages
Just like our updated landing pages report, we've updated the overall top pages report to give you more information about your pages. You'll see views, engaged sessions, new sessions, and bounce rate.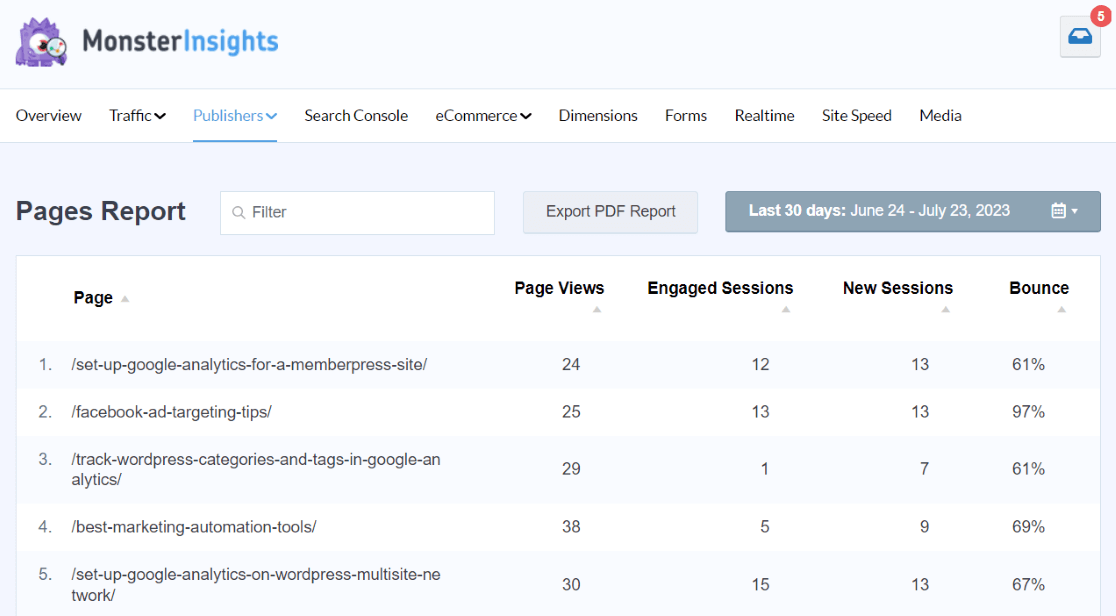 Source/Medium
How are your visitors finding your website? Are they clicking on your site through a Google search, through a link on social media, through a link from someone else's website, or some other way?
Now, you can find out right inside your MonsterInsights dashboard! Our new Source/Medium report shows the top channels your users used to get to your website. This includes organic, direct, referral, organic social, and more.
Not only will you see where you traffic came from, but you'll see at-a-glance which channels were the most engaged, which resulted in the most conversions or sales, and more.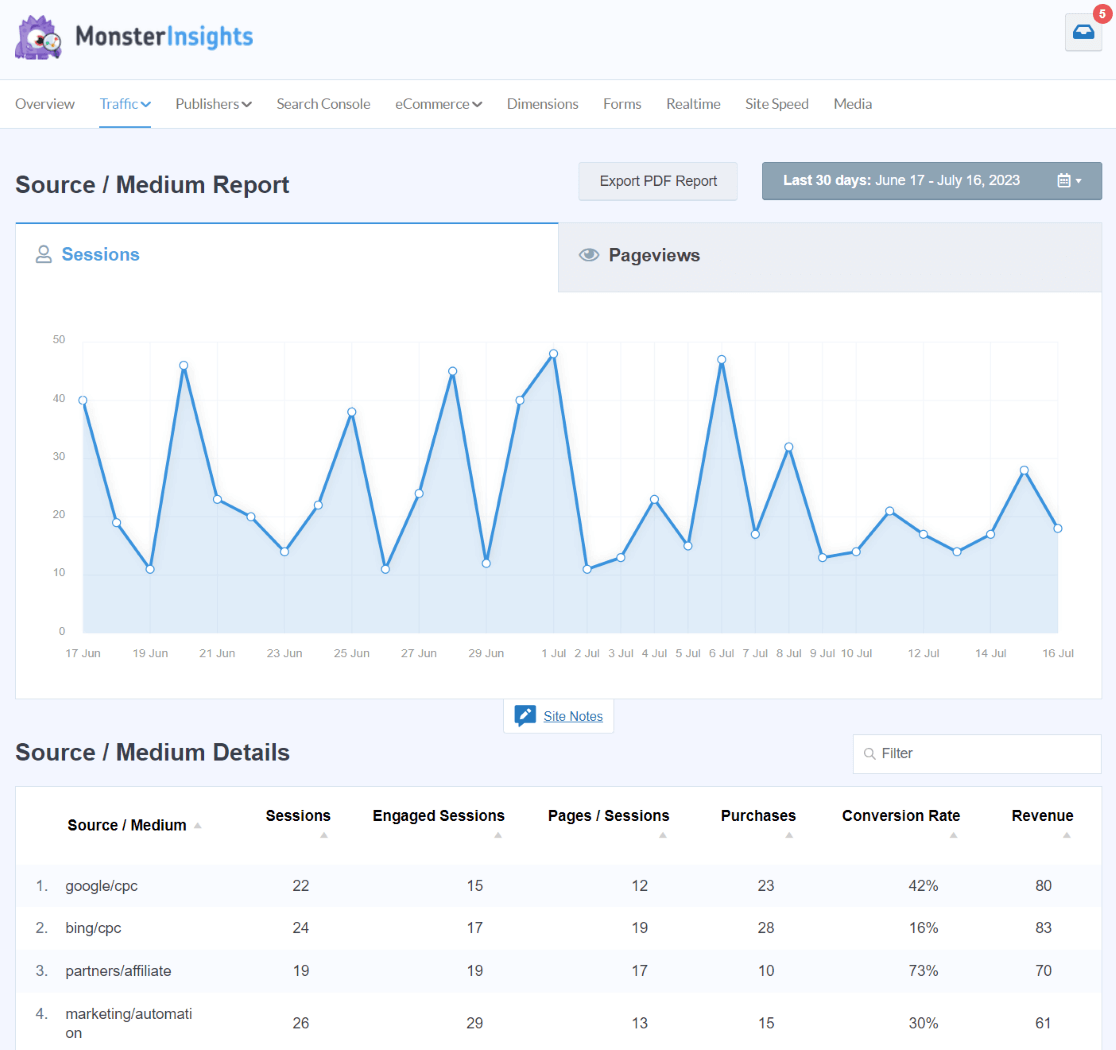 Tech
What browsers and devices were used to access your website? This data is crucial to understanding your users, and you can use it to make sure you're testing your site on the top devices it's being accessed from.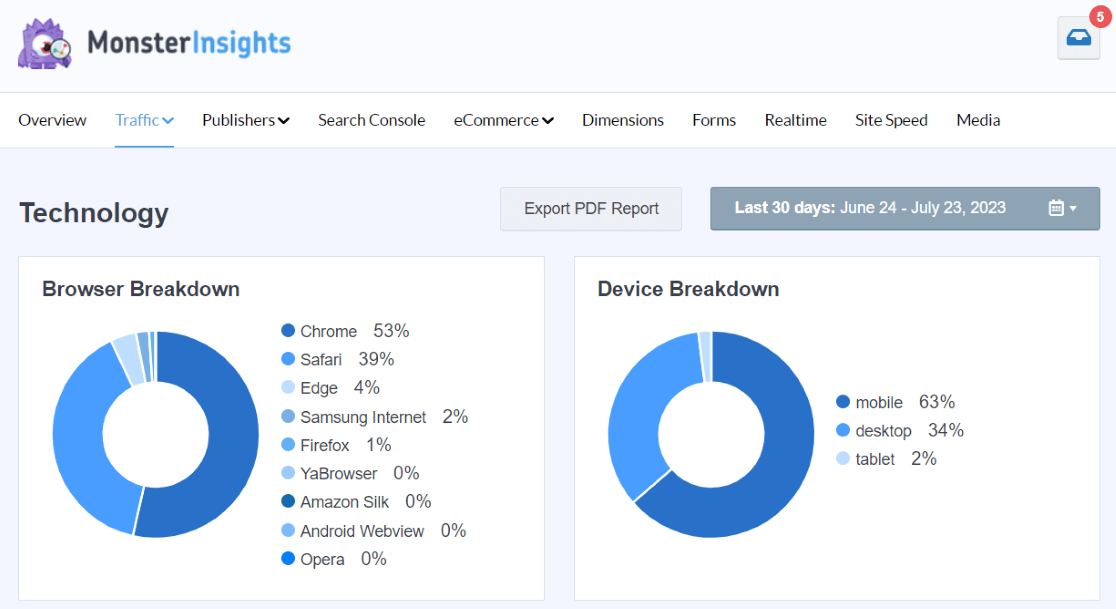 Coupons
Do you use coupon codes for your eCommerce store? If so, you'll be excited to find out that you can now access a Coupons report right inside your MonsterInsights eCommerce dashboard! Open it up to quickly see which coupon codes are getting used, how many transactions they were used for, what revenue was generated from those transactions, and more.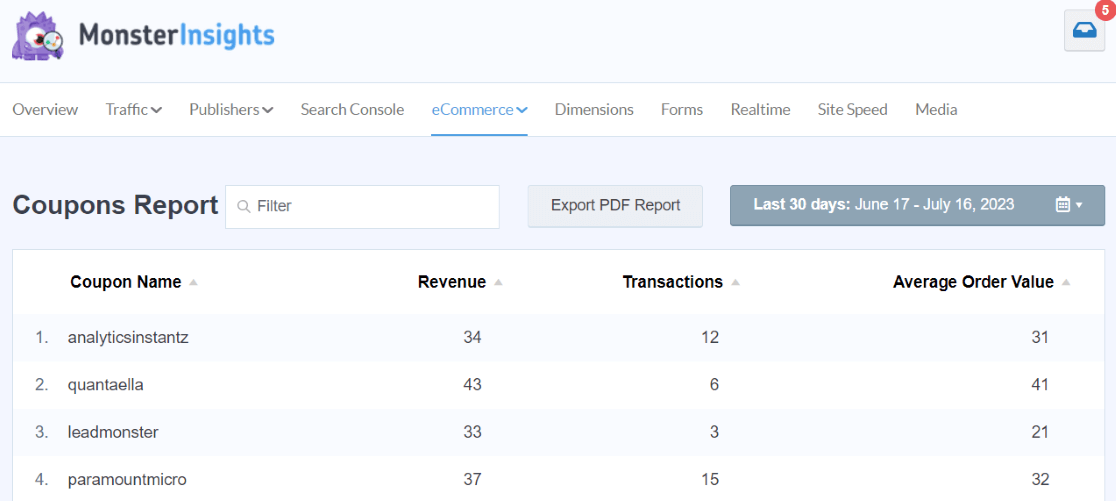 Top Campaigns
One of the reports that's a little difficult to find in Google Analytics 4 is campaigns. So, we created a Campaigns report right inside the MonsterInsights dashboard! Access it any time to see not only how many sessions you have from each campaign, but also how engaged those visitors were, how many conversions they completed, and more.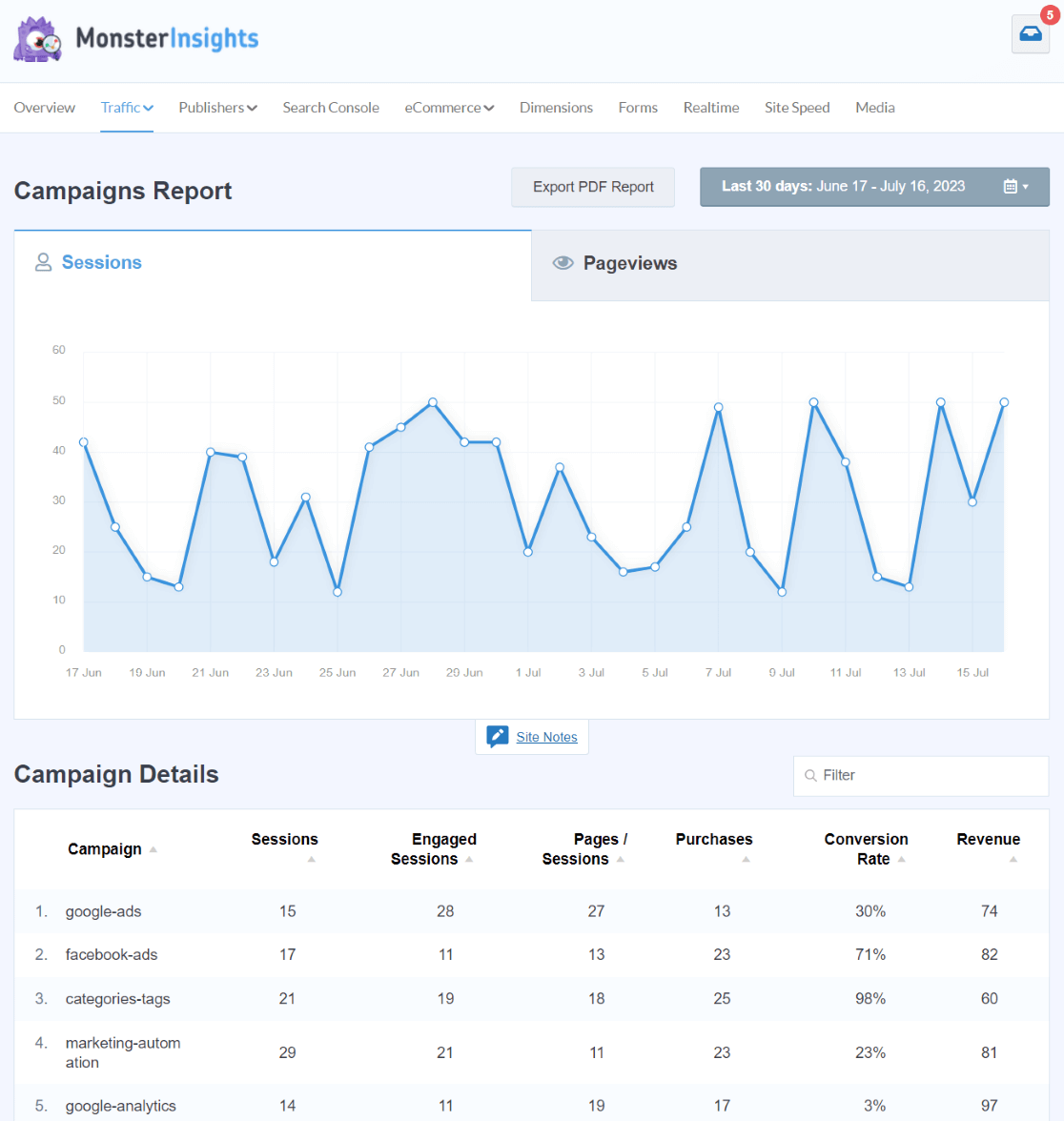 We know transitioning to GA4 has been confusing for many Analytics users. That's why we've built these reports and made them easily accessible right inside your WordPress dashboard.
We hope you love our new dashboard reports and find them super helpful in your day-to-day monitoring of your website and marketing campaign planning. As always, please let us know if you have a great idea for a new feature!
Not using MonsterInsights yet? What are you waiting for?
And don't forget to follow us on Twitter, Facebook and YouTube for more announcements, tutorials, and helpful Google Analytics tips.