Are you looking for Matomo alternatives to track your website visitors and see how they use your website?
Matomo, previously known as Piwik, is an open-source web analytics tool that offers similar features to Google Analytics and gives you control of your data. While it is a popular platform, other options offer more features and are easy to use.
In this article, we'll go through some of the best Matomi alternatives so that you can select the right tool for your business.
Why Do You Need a Matomo Alternative?
Many people consider Matomo to be a great alternative to Google Analytics, especially the paid version (Analytics 360). Matomo powers a million websites in over 190 countries, and you can choose from 2 different hosting options: cloud and on-premise.
What makes this tool a preferable choice of the paid version of Google Analytics is that there are no data sampling restrictions, and it lets you control your data.
So, if you have a large website that gets a lot of traffic, you don't have to worry about data sampling and accurately measure your site's performance. And with data control, you get 100%cownership of your data, and no other third-party can use it.
But as popular as the Matomo is, it does lack in a few areas. For instance, the tool isn't user-friendly, and it takes time to get used to its interface. And when it comes to installing it on your site, you'll need to edit the code to enter the tracking code.
That being said, let's look at some of the best Matomo alternatives.
MonsterInsights is the best Google Analytics plugin on WordPress. It's an excellent alternative to Matomo, as you can set up Google Analytics without editing code and set up advanced tracking in just a few clicks.
Plus, MonsterInsights makes it super easy to use Analytics and get data that matters for your business. You don't have to navigate through the complex report in Google Analytics to find the data you need to make decisions.
With MonsterInsights reports, you can view your site's performance inside your WordPress dashboard. Besides that, you get outbound link tracking, affiliate link clicks, file downloads, mailto link clicks, and much more right out of the box.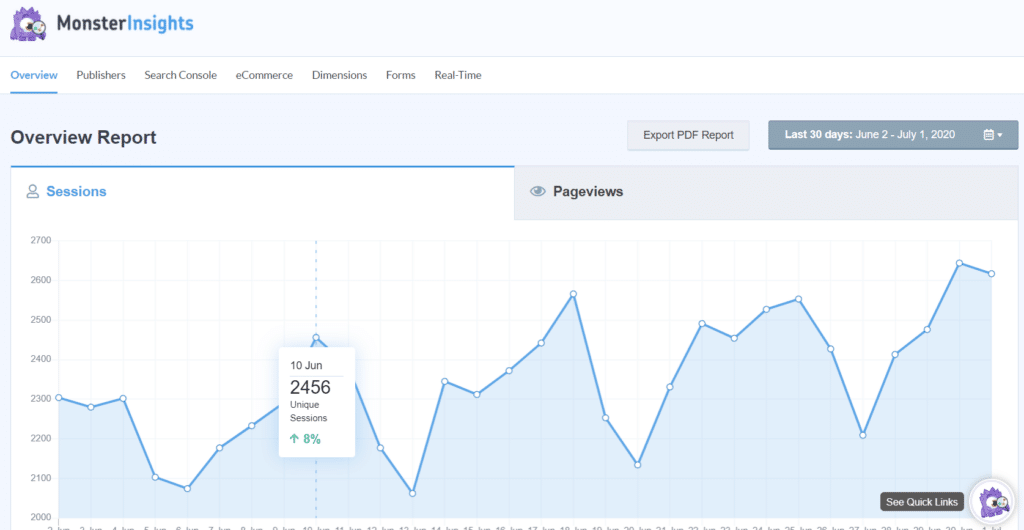 And if you want to track additional information like most popular authors, post type, category, and tags, then MonsterInsights can help you out with its Dimensions addon. You don't need a tag manager or touch a single line of code to set up custom dimensions.
That's not all. Using the eCommerce addon, you can track WooCommerce, Easy Digital Downloads, MemberPress, and other online store performance.
Key features of MonsterInsights:
Make Google Analytics GDPR compliant with a click of a button
Track eCommerce performance and grow your revenue
Get contextual insights inside your WordPress admin area
Display popular posts and products anywhere on your site
Send weekly performance summaries to your clients
Conduct experiments by setting up split tests
Track search engine queries to increase your organic traffic
Find out which form is converting more on your site
Analyze your headlines to get more clicks
Google Analytics is the next Matomo alternative on our list. It's by far the most comprehensive analytics tool you can use for free.
Google Analytics helps you see how people interact with your website, which pages they view, which channel they use to find your website, which device they use, and much more.
That said, setting up Google Analytics can be tricky for beginners. Plus, there's a learning curve to finding the right report and extracting the data you need. This is where WordPress plugins like MonsterInsights can help you out.
Key Features of Google Analytics:
Track your most valuable customers
Segment visitors into different groups
Measure site speed
Set up eCommerce conversion tracking
Easy integration with other Google services
Analytify is the next Matomo alternative on our list and is another Google Analytics WordPress plugin. Just like MonsterInsights, it lets you set up Analytics on your website and display reports in your admin area.
The plugin is easy to use and helps you configure Google Analytics without editing code. It even lets you publish stats on the frontend of your website and use it for advertising purposes.
Analytify offers easy to understand reports, which give you a basic overview of how your site is performing. But if you're looking to set up advanced tracking and get detailed reports, then you're better off with MonsterInsights. Check out our detailed comparison of MonsterInsights vs. Analytify.
Key Features of Analytify: 
Simple installation and easy to use
Clean and simple reports
Enhanced eCommerce addon for WooCommerce & Easy Digital Downloads
View your top traffic countries and cities
Find out which device people use to visit your site
Display performance stats on the frontend
Track marketing campaigns and see real-time stats
Enhanced Ecommerce Google Analytics Plugin for WooCommerce is an excellent alternative for Matomo if you have a WooCommerce store.
The plugin helps you track your eCommerce store's performance and grow your revenue. The best part is that it is free to use and super easy to setup. You won't need to hire a developer or edit code to get started.
With the plugin, you get to track your customer's demographics, such as age, gender, interests, devices, and more. Plus, you can use it to see how visitors behave on your website and which page they view before purchasing.
Plus, you get to track your traffic sources that generate conversions and revenue. That way, you can focus more on channels that will bring more sales.
Key features of Enhanced Ecommerce Google Analytics Plugin:
Quick and easy setup process
Enable 4 eCommerce reports in Google Analytics
Measure product impressions, clicks, and add to cart events
Google Analytics opt-out feature
 Anonymize IP to comply with data regulation laws
Better understand the checkout behavior of users
WP Google Analytics Events is a Matomo alternative that lets you fire Google Analytics events without writing code.
It's excellent for beginners who want to set up additional tracking on their website. You won't have to manually set up event tracking using Tag Manager or hire a developer.
With the plugin, you can easily track videos, call-to-action (CTA) button clicks, banner ads, email link clicks, telephone link clicks, file downloads, and much more.
Key features of WP Google Analytics Events:
Set up Google Analytics events in just a few clicks
compare CTA button performance
See how far people scroll your webpage
Track contact form submissions
Track YouTube and Vimeo videos with its Pro version
Adobe Analytics is the last Matomo alternative on our list. It's an analytics solution that turns customer interactions into insights so that you can grow your business.
The web analytics tool helps you map your customer's journey and get interactive reports and dashboards. You can integrate Adobe Analytics with your WordPress site, but you'll have to enter a code.
Adobe Analytics is a powerful analytics platform that helps you capture data from the web, email campaigns, mobile devices, client-server applications, and other sources. You can then use this data to create different segments in real-time.
That said, the tool isn't that user-friendly. You'll need some time to get used to its interface and navigate to different options to set up reporting the way you want.
Key features of Adobe Analytics:
Collect data from multiple channels
Setup custom variables for tracking
Real-time segmentation of online data
Integration with CRM and other enterprise data solutions
Use Adobe Data Warehouse for storage, data processing, and reporting
What is the Best Matomo Alternative?
With so many analytic tools available, the best Matomo alternative is MonsterInsights. That's because it lets you use the power of Google Analytics while making it super easy to set it up and find the data you need.
MonsterInsights automatically sets up advanced tracking for you, like file downloads and outbound link clicks right out of the box. And with its powerful addons, you can track eCommerce performance, form conversions, and much more.
Plus, the plugin is easy to use and brings your Google Analytics reports inside your WordPress dashboard.
And that's it!
We hope you liked our article on the best Matomo alternative. If you want, you can also go through our post on the best WordPress plugins.
Don't forget to follow us on Twitter and Facebook for more helpful Google Analytics tips.