Ever wonder which affiliate is giving you the most sales on your WordPress website? If you can gather data about your top-performing affiliates, you can strengthen your partnership and increase your revenue.
And to view these affiliates, you can use Google Analytics. But using Analytics can be overwhelming. Plus, you'd have to tweak the tracking code to track your links properly. This could be difficult if you're not a developer or an Analytics expert.
So, is there an easier way?
Thanks to plugins like MonsterInsights, you can get insights about your best affiliate partners inside your WordPress dashboard.
In this article, we'll show you how to see your top-performing affiliate links in WordPress. Let's begin…
What Can You Do by Viewing Top Affiliate Links?
By tracking your affiliate links in WordPress and finding out which affiliate converts best, you can easily maximize your revenue. Here's how…
Increase Visibility of Your Top Performing Affiliates
For starters, you can promote your best affiliate more on your website. And a simple way of doing that is to increase its visibility.
One way of doing that is by promoting it in a floating bar and displaying it on your high-traffic pages. A floating bar shows special deals, discounts, or important messages.
They can appear in the header or footer of your site and stay visible as a visitor scrolls through the page. You can even add a countdown timer to create urgency and get more people to convert.

Find New Content Ideas
If you're getting a lot of conversions from a particular post for an affiliate, you can find similar topics and cover them on your website.
This will help you find new content ideas, create new opportunities to promote your top affiliates and make more money.
Optimize Your Existing Pages & Boost Conversions
On the flip side, you can also find out pages where your affiliates links are placed but aren't converting well.
It could be possible that the solution you're offering isn't what your visitors are looking for.
So, for such pages, you can optimize them and replace the low performing affiliate links with top-performing links. And you can even A/B test different partners to see which one converts the best.
With that, are you ready to learn how to view affiliate links on your website?
Video Tutorial
Don't want to watch the video? Follow our step by step written tutorial below…
How to View Affiliate Links in WordPress?
The simplest way of viewing your top affiliate links in WordPress is through MonsterInsights. It's the best Google Analytics WordPress plugin you can get your hands on.
With the plugin, you can track link clicks in an instant, as you don't have to modify any code. Plus, MonsterInsights makes it super simple to use Google Analytics.
You can connect Analytics with your site without coding. And you can set up advanced tracking like file downloads, eCommerce tracking, form conversions, outbound link tracking, and more automatically.
Step 1: Install and Activate MonsterInsights Plugin
The first step to viewing your best affiliate links is by setting up MonsterInsights on your WordPress website.
You can start by downloading the setup files from your Account area and uploading it on your website. Here's a step by step tutorial on how to install MonsterInsights plugin.
Once you've installed and activated the plugin, the next thing to do is connect your add Google Analytics to WordPress. MonsterInsights makes this process very easy, as its setup wizard will guide you along the way and analytics will be running on your site in no time.
Step 2: Set Up Affiliate Link Tracking in MonsterInsights
After successfully configuring MonsterInsights and adding Google Analytics to your site, the next step is to set up affiliate link tracking.
And to do that, go to your WordPress dashboard and then navigate to Insights » Settings » Publisher. Scroll down and go to Affiliate Links.
Here you'll have to enter two fields, Path and Label.
Path helps Google Analytics to differentiate your affiliate links from other links on your website. Now, if you're using a link management plugin like Pretty Links, then your URL would contain prefixes such as /refer/, /go/, or /recommend/ (https://example.com/refer/affiliate-link).
You can add these prefixes under Path so MonsterInsights tracks these links as affiliate links.
On the other hand, Label helps Google Analytics track the source of the click. You can add affiliate or aff under Label and they'll be added at the end of your URLs in Analytics.
This way, MonsterInsights sets up WordPress event tracking automatically when you install it on your website. So, when you define the path and label for your affiliate links, it will detect them and start tracking.
Step 3: View Top Performing Affiliate Link Report
Once you've entered the details in MonsterInsights, the plugin will now start to track your affiliate links.
And now for the part you've been waiting for…
To view your top-performing affiliate links in WordPress, go to Insights » Reports » Publishers. Then navigate to Top Affiliate Links report.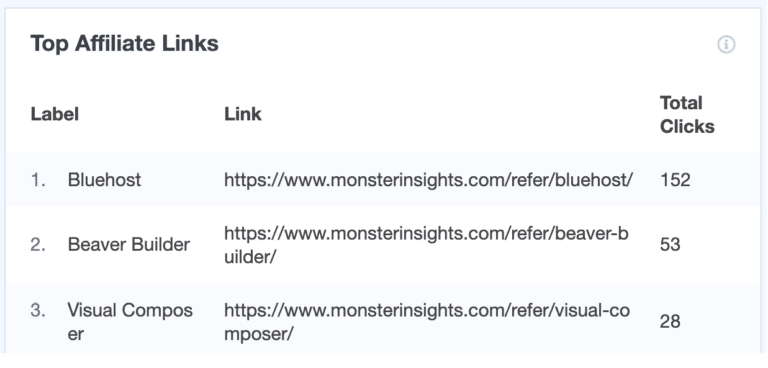 You can now view which affiliate link works best on your website and how many clicks it gets. This way you can easily identify your high converting partners and promote them more on your website.
Now, what if you want to see these links in Google Analytics as well?
View Top Performing Affiliate Links in Google Analytics
While MonsterInsights shows your affiliate links in your dashboard, you can also find your reports in Google Analytics.
To view your affiliate links, login to your account, and then go to Behavior » Events » Top Events.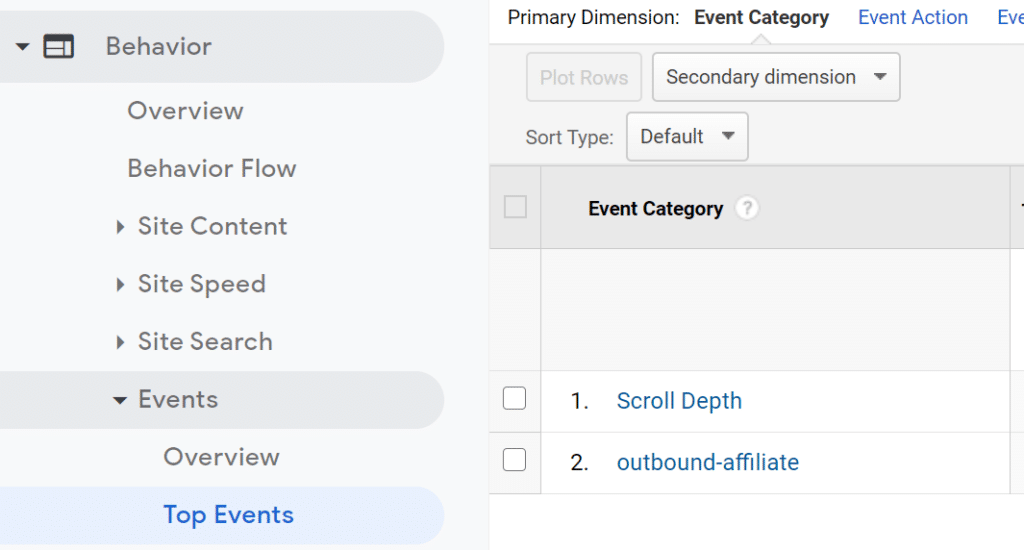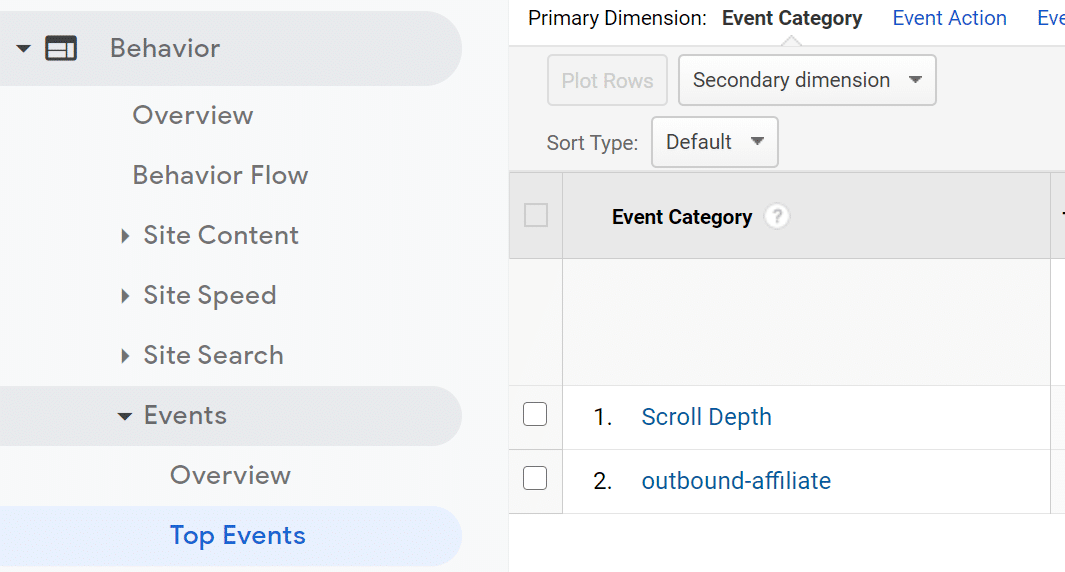 You can then click on outbound-affiliate to see all your links and the total events they generated. To dig deeper into the data, you can use secondary dimensions to find the source of your traffic.
And there you have it!
By looking at your best affiliate partners, you can strengthen your relationship, promote them more on your website, and find new opportunities to increase your revenue.
We hope that you liked our article on how to see your top-performing affiliate links in WordPress. You can also check out our post on beginners' guide to Google Analytics for WordPress.
And don't forget to follow us on Twitter and Facebook for more Google Analytics tutorials.