Do you want to set up ThirstyAffiliates click tracking but don't know how to get started?
By setting up tracking in Google Analytics, you get to see which affiliate links get the most clicks. So, you can easily grow your revenue and promote the right affiliate.
In this article, we'll show you how to set up ThirstyAffiliates click tracking using an easy way. Let's start…
Why Track ThirstyAffiliates Link Clicks?
ThirstyAffiliates is one of the best WordPress plugins for managing your affiliate links. You can organize, edit, and cloak long affiliate links into more readable links. And using the plugin, you can automatically insert links in your content.
But why should you track ThirstyAffiliates link clicks?
Here are a few reasons why:
Find Top Performing Affiliates – If you have multiple affiliate links, then you can find out which performs the best, so you can promote it across your website
Identify Most Converting Landing Pages – See which landing page converts and which does, so you can replicate the design, headline, call to action (CTA), and other elements
Right Placement of Affiliate Links – Through tracking, you get to optimize your affiliate links and place them where they'd get a lot of clicks
Now, are you ready to set up ThirstyAffiliates click tracking?
How to Track ThirstyAffiliates in Google Analytics
Google Analytics is a powerful analytic tool to track affiliate link clicks in WordPress. But when it comes to setting up the tracking, things aren't as simple as you might think.
That's because you'd have to edit code on your website. Now, if you're not a developer then, it means hiring a professional. This would require additional investment, which can be difficult if you're running on a budget.
Or you can use Google Tag Manager to set up ThirstyAffiliates click tracking. But Tag Manager has a steep learning curve and is prone to errors. Plus, even if you get tracking to work, there's no guarantee that the data you're recording is accurate.
So, is there a simpler way?
Fortunately, with MonsterInsights, you can easily set up advanced tracking in Google Analytics and automatically track ThirstyAffiliates clicks.
Step 1: Install MonsterInsights on Your WordPress Site
MonsterInsights is the best WordPress plugin for Google Analytics. You can use it to set up Google Analytics on your WordPress website without any coding.
Not only that, but you get features like file download tracking, outbound link tracking, affiliate link clicks, and more right out of the box. And you can ensure Google Analytics GDPR compliance with just a few clicks.
Simply install and activate the WordPress plugin on your website and connect Google Analytics with your website.
Step 2: Set Up ThirstyAffiliates Link Tracking
Once MonsterInsights is up and running, the next thing you'll need to do is configure ThirstyAffiliates link tracking.
To do that, go to Insights » Settings and then click on the Publisher tab. Now scroll down to Affiliate Links to define the Path and Label for your links.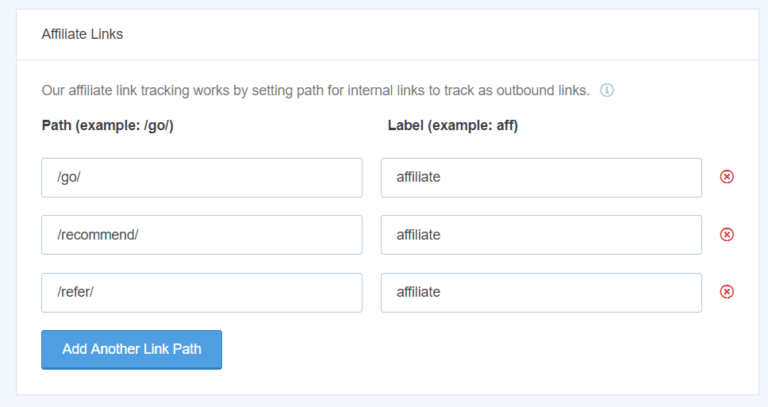 Why do you need to add these fields?
Well, adding a path helps Google Analytics from differentiating your affiliate links from other links on your website. So, in ThirstyAffiliates, you can cloak your complex links into more readable links. And it does that by adding a prefix like recommend, refer, or go.
When you add this to MonsterInsights, it sets a path for your affiliate link clicks, which you can see in Google Analytics.
And as for labels, it helps you see where the click came from. For instance, if you add affiliate or aff as a label, you can immediately identify that a visitor clicked on an affiliate link.
After entering the path and label, click Save.
Step 3: View Affiliate Links Report in WordPress
MonsterInsights will now start to track your ThirstyAffiliates link clicks and you can see the report inside your WordPress dashboard. But do note that you'll need MonsterInsights Plus or higher plan to view the report.
Just navigate to Insights » Reports » Publishers. Then scroll down to Top Affiliate Links and you can see all your ThirstyAffiliates links.
And for each link, you can see the total clicks. This way you can find out which affiliate is performing, and which isn't.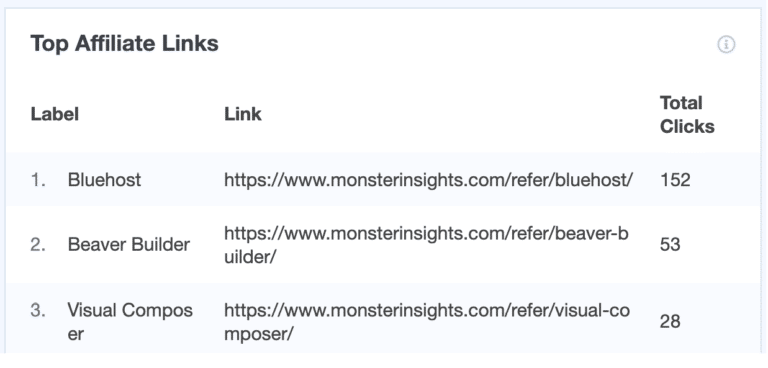 Now, what if you want to see your ThirstyAffiliates clicks in Google Analytics?
How to View ThirstyAffiliates Clicks in Google Analytics
Want to see which of your site pages a user was on when he clicked your ThirstyAffiliate links? To do that, we'll build a custom exploration report in Google Analytics.
If you've never built a custom exploration report before or need a refresher, you can check out our tutorial on How to Create a Custom GA4 Exploration Report.
To start, head to the Explorations tab in Google Analytics, then click to create a Blank report:

Then, click the plus sign in the Dimensions box: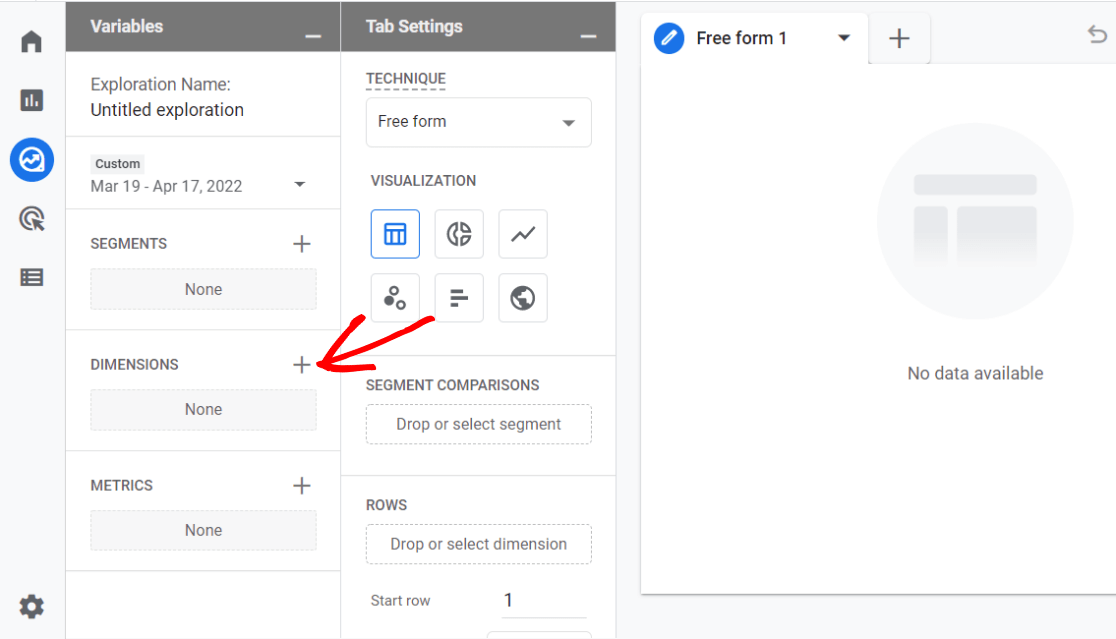 Search for and import the following dimensions:
Is affiliate link
Link text
Page title
Event name
Affiliate label
Now, click the plus sign in the Metrics box and add and import:
Next, click and drag Link text, Affiliate label, and Page title from the Dimensions box over to Rows.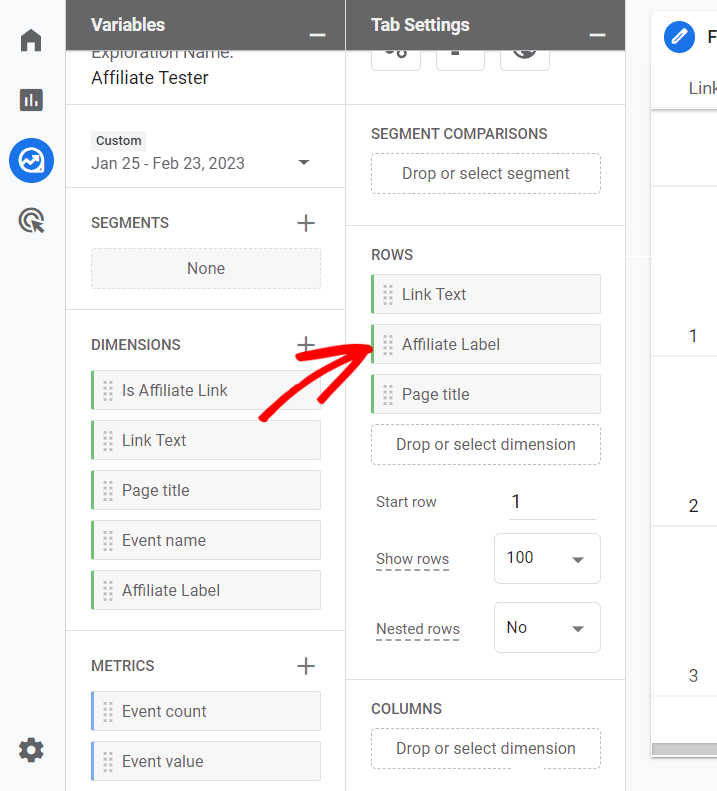 Also drag Event count from Metrics to Values.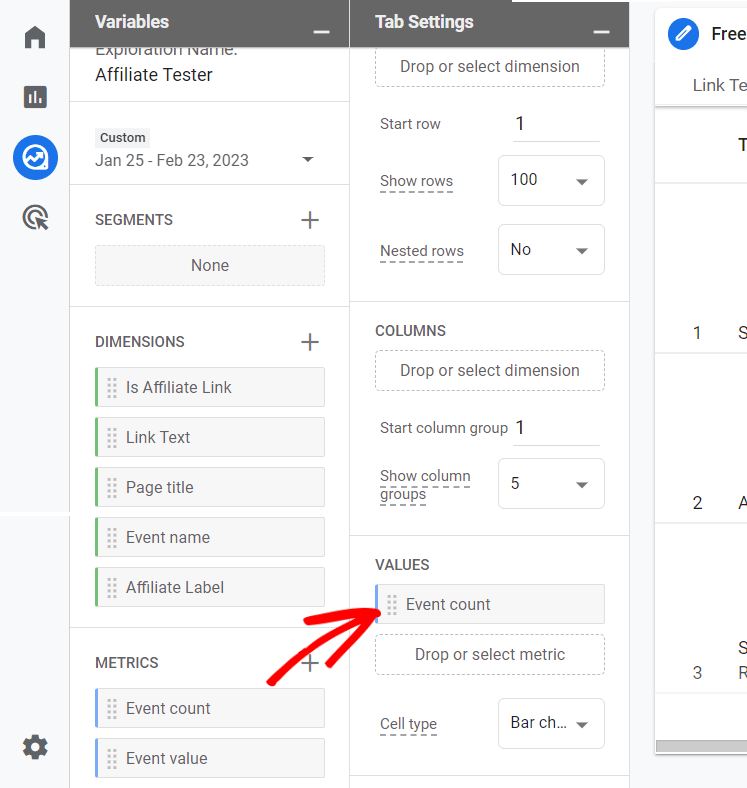 Finally, we need to add some filters for the report to work correctly. Click and drag Is affiliate link from dimensions to filters, choose exactly matches and true, and click Apply: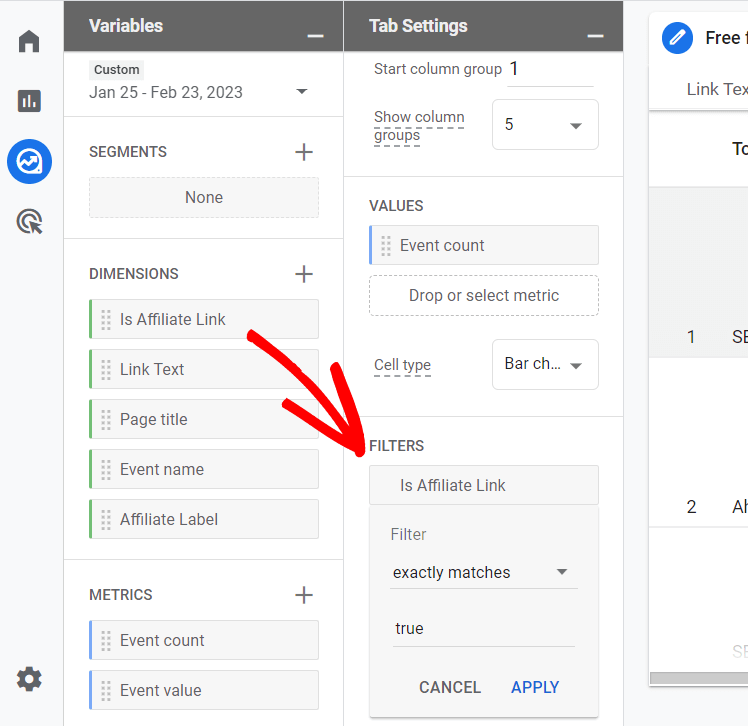 Then, click and drag Event name from dimensions to filters and choose exactly matches and click: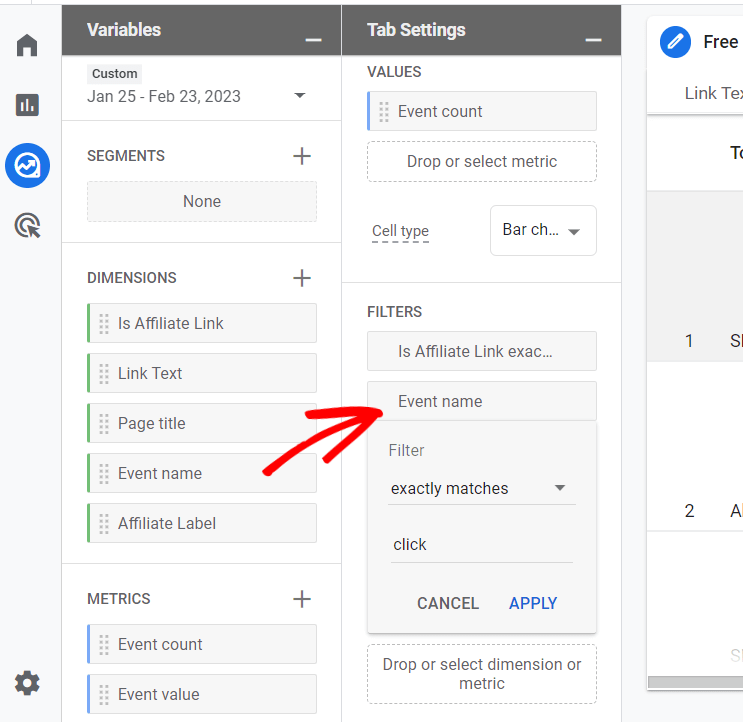 That's it! You've built your custom affiliate link report and you can now see which links got clicked on which pages on your site. Keep in mind, Event count = clicks.
With that, you've made it to the end of the tutorial.
MonsterInsights makes it super easy to set up ThirstyAffiliates link tracking in WordPress.
We hope you liked our article on how to set up ThirstyAffiliates click tracking. If you found this post useful, do check out our beginners guide to Google Analytics.
Not using MonsterInsights yet? What are you waiting for?
And don't forget to follow us on Twitter, Facebook and YouTube for more helpful Google Analytics tips.