Are you looking for a way to track Pretty Links in Google Analytics? By setting up link tracking, you get to know how people interact with your website.
But using Google Analytics isn't that easy, especially if you're trying to track Pretty Links. That's because you'll have to edit code on your site and learn how to use Analytics to find the data that you need.
This can be time-consuming and you might require the help of a professional. But what if we told you there's an easier way.
In this article, we'll explain how to set up Google Analytics for Pretty Links tracking using a simple method.
Let's start with…
Why Integrate Pretty Links with Google Analytics?
Pretty Links is one of the best WordPress plugins to manage and organize links on your website. You can cloak your long and ugly URLs into more readable and shareable links using the plugin.
And with Pretty Links Pro, you get more features like site-wide link replacement, group links into categories, set up redirects, import and export links, and much more.
By integrating Pretty Links with Google Analytics, you can do so much more. For instance, you can…
Identify Top Performing Affiliates – If you use affiliate marketing to monetize your website, then tracking affiliate links in Analytics can help you see which affiliate is performing the best
Better Understand Your Visitors – Link tracking can help you understand your user's behavior and see how they interact with different links on your site
Split Test Different Links for Conversions – You can split test different links for conversions and view the results of your experiments in Google Analytics
Optimize Your Campaigns – By tracking the URLs shorten by Pretty Links, you can measure the performance of your campaigns and optimize them for better results
Now that you know the benefits of tracking Pretty Links, let's see how you can integrate it with Google Analytics.
How to Track Pretty Links in Google Analytics
When it comes to setting up Pretty Links tracking in Google Analytics, the easiest way is through MonsterInsights.
MonsterInsights is the best WordPress plugin for Google Analytics. It offers advanced tracking features and lets you set up Analytics on your site in just a few clicks. Plus, you don't have to touch a single line of code.
And the best part about using MonsterInsigths is that its affiliate link tracking feature works right out of the box with Pretty Links. You don't have to perform any additional set up in Google Analytics to track your links.
To get started, just follow these steps.
Step 1: Install and Activate MonsterInsights
The first step you'll need to perform is to install the MonsterInsights WordPress plugin on your website.
MonsterInsights offers both free and premium versions. For setting up Pretty Links tracking, you can simply install and activate the free version.
But for more advanced features such as viewing Google Analytics reports inside your WordPress dashboard, tracking form conversions, eCommerce store tracking, and more, we recommend using MonsterInsights Pro.
Step 2: Set Up Google Analytics on Your WordPress Website
Once you've activated the plugin, next you'll have to add Google Analytics to your WordPress site.
To help you out, you can follow our detailed tutorial on how to properly set up Google Analytics in WordPress.
With MonsterInsights, you don't have to worry about inserting the tracking code. Its setup wizard will guide you in every step and help you add Google Analytics to your WordPress website.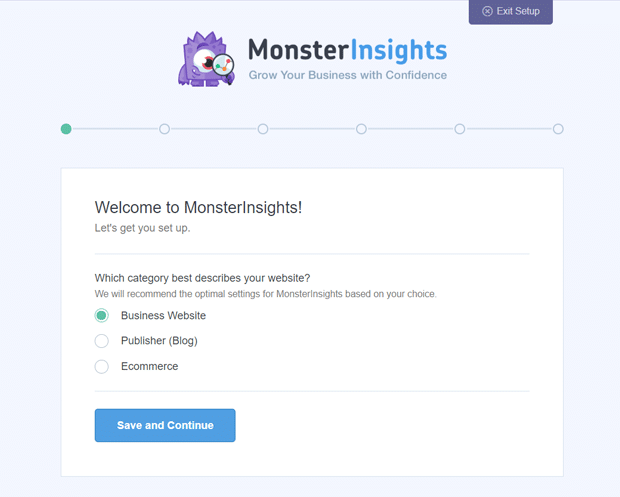 Step 3: Set Up Affiliate Link Tracking in MonsterInsights
Now that the best WordPress Analytics plugin is up and running on your site, you'll have set up your Pretty Links path and label in MonsterInsights.
To do that, go to Insights » Settings » Publisher and the navigate to Affiliate Links. If you're using the setup wizard, then MonsterInsights will ask you to set up your affiliate links when completing the configuration process.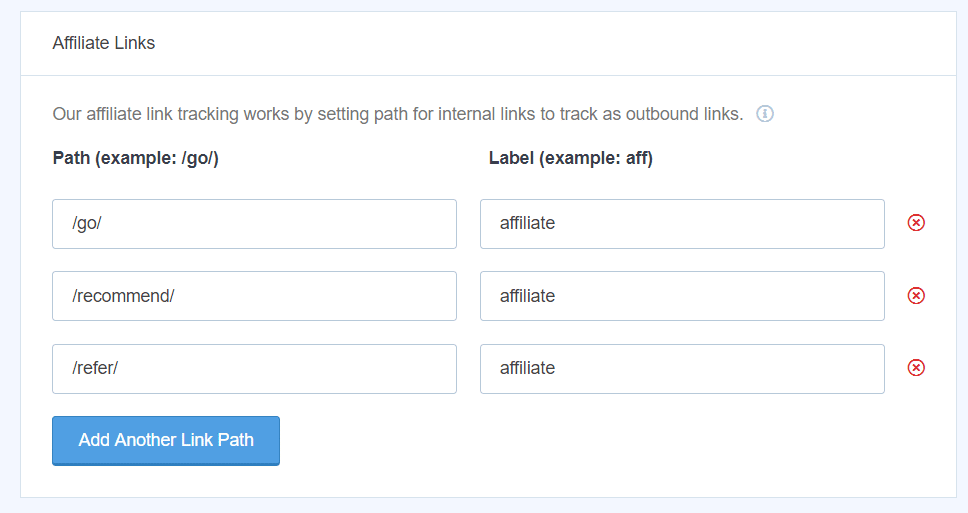 Under the Path field, you can enter the prefix you used in Pretty Links when shortening your URL, such as /go/ or /refer/. This helps you differentiate your link from other external links.
As for Label, you can use it to see where the click came from. For instance, you add aff for affiliate links, then they will appear as outbound-link-aff in Google Analytics. This shows that a visitor clicked an affiliate link that was shorten using Pretty Links.
When you're done with that, click Save Changes at the top and your Pretty Links will start to track in Google Analytics.
That said, do you want to learn how to view your reports and see how your links are performing?
How to View Pretty Links Analytics in WordPress
With MonsterInsights, you get to view your Pretty Links inside your WordPress dashboard through its affiliate links report.
It makes it super easy to get the data you need for decision making. You don't have to worry about navigating through Google Analytics to find the right report.
To view the report, navigate to Insights » Reports » Publishers and then see the Top Affiliate Links report.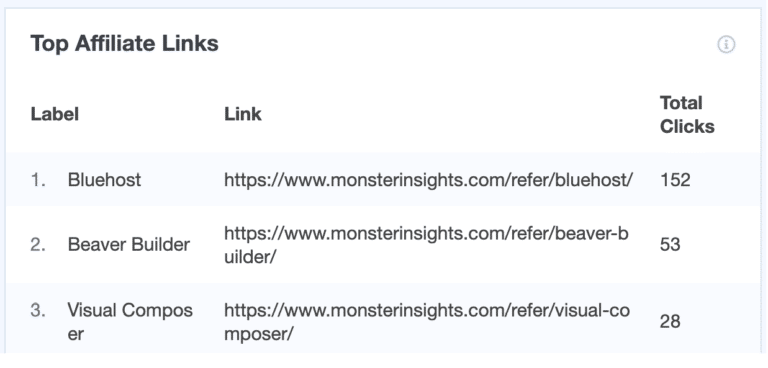 You can even see your Pretty Links reports in Google Analytics. Simply click the View All Affiliate Links Report button in MonsterInsights.
And that's it!
We hope you liked our article on how to set up Google Analytics for Pretty Links tracking. If you found this post to be helpful, then do check out our guide on how to track user engagement in WordPress.
Also, don't forget to follow us on Twitter and Facebook for more Google Analytics tutorials.