Wondering how to add affiliate links in WordPress? If you've got a blog with a decent number of daily visitors, you can earn plenty of referral income with affiliate marketing; but you have to be smart when choosing the tools to turn your blog into a successful affiliate marketing site.
In this article, we'll show you how to add and organize affiliate links in WordPress using ThirstyAffiliates. Then, in the last section of the article, we'll show how to properly track your affiliate links to grow your affiliate marketing.
Using ThirstyAffiliates to Add and Organize Affiliate Links in WordPress
ThirstyAffiliates is the best affiliate management and cloaking plugin for WordPress. It helps you to cloak your affiliate links and add them into your blog posts with ease. You can also organize your affiliate links by categories and add automatic keywords so that affiliate management in WordPress will be really easy.
In general, affiliate links are long and look ugly that are hard to remember. Most affiliate links look like this:
http://example.com/products/?product_id=123&affiliate_id
ThirstyAffiliates helps you to cloak such affiliate links to make them short and branded URLs as shown below:
http://www.yoursite.com/recommends/productname
As you grow as an affiliate marketer, you're likely to use the same affiliate link on tons of different blog posts. With ThirstyAffiliates, you can store all your affiliate links in one place in your WordPress backend and use them whenever you need. Plus, it has a fully functional search option to help you search for links by the link title.
In addition to proper management of affiliate links, cloaking also helps you to prevent commission theft. By using cloaked links, you can add an additional layer of click tracking to ensure you are getting paid for every sale you refer.
Now, let's go ahead and see how to add affiliate links in WordPress step-by-step.
Step 1: Install ThirstyAffiliates and Configure Settings
First of all, go to the ThirstyAffiliates website and buy a subscription plan. Then, go ahead and install the plugin in WordPress.
After the plugin is activated on your site, go to ThirstyAffiliates » Settings from your WordPress dashboard. This will open the General tab in ThirstyAffiliate Settings.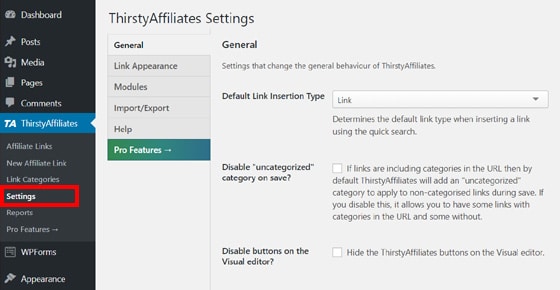 Now, you can review all the settings and change the settings if you want to. At the end, don't forget to click the Save Changes button.
Second tab in ThirstyAffiliates settings is Link Appearance. It allows you to configure settings that affect the behavior and appearance or your affiliate links. You can configure some of the important settings from there.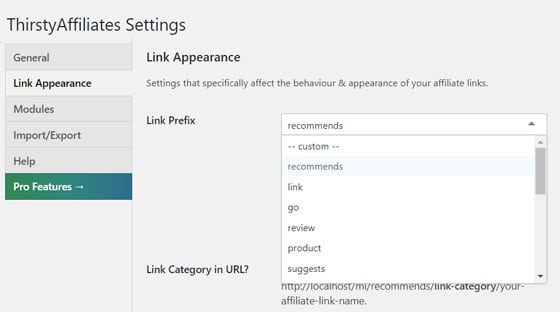 First, you can choose a link prefix that will be used in your cloaked links before your affiliate ID. The plugin, by default, has /recommends/ set up which you can replace with any of the available prefixes such as recommends, fly, proceed, goto, etc. Also, you can choose custom to add a new prefix.
Next, you can choose whether you want to show a link category in your affiliate URL or not. Then, you can choose link redirect type, use no follow on links, and open links in new window.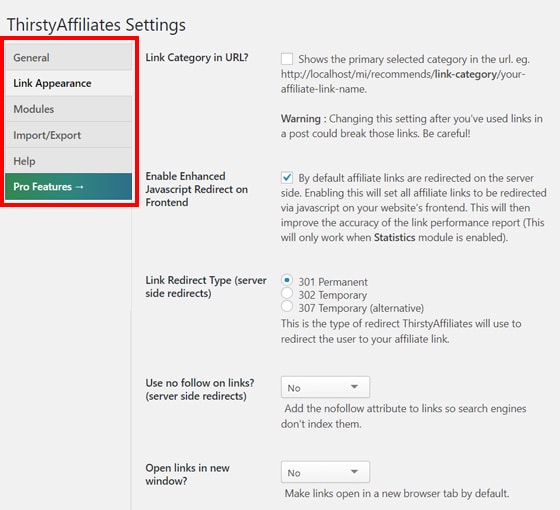 Review all the settings, make the necessary changes, and then, click Save Changes button.
The third tab in ThirstAffiliates Settings is Modules.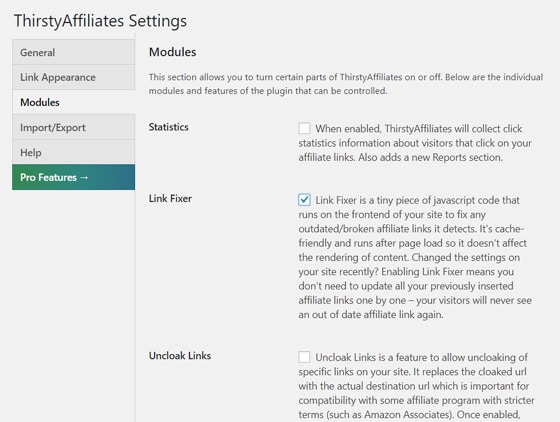 From this page, you can enable ThirstyAffiliates statistics that collects data about your users who click your affiliate links. If it's enabled, it shows reports; however, the module slows down your site. So we recommend using MonsterInsights for tracking your affiliate links.
The Link Fixer will help you to fix any outdated / broken affiliate links on your site. Uncloak Links will allow you to uncloak specific links or categories to make it compatible with some affiliate programs with stricter terms (such as Amazon Associates).
The fourth tab Import/Export provides you with options to export ThirstyAffiliates settings and import settings from other WordPress sites.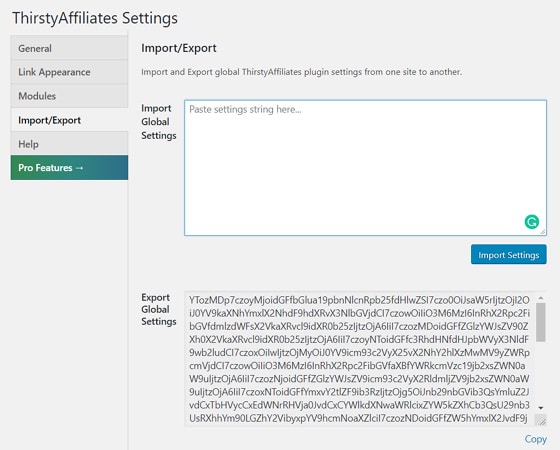 After you choose the options, make sure to click the Save Changes button.
Step 2: Add Link Categories and New Affiliate Links
After you've configured the settings, you're now ready to create link categories.
To add link categories, go to ThirstyAffiliates » Link Categories from your WordPress dashboard.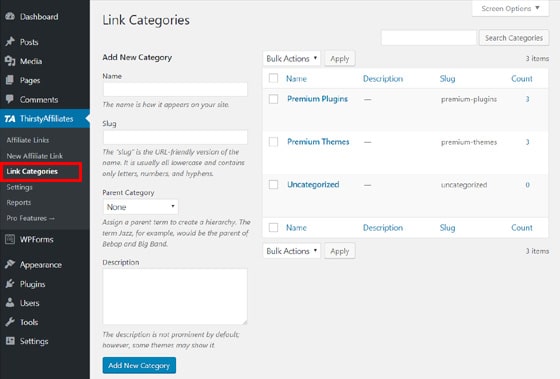 Now, give a name to your new link category, set a slug, and add a description. Then, click the Add New Category button.
After you create sufficient categories for your links, you can go ahead and add your links.
To add a new affiliate link, you'll need to go to ThirstyAffiliates » New Affiliate Link from your WordPress dashboard.
Now, you can easily add affiliate links.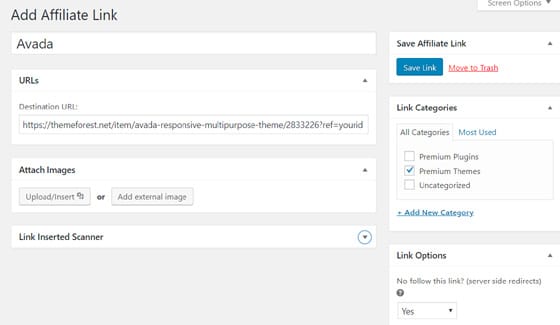 In the first field, give a name to your link. You can use the product's name so that it'll be easy to search and embed in posts.
Next, you'll need to add the original affiliate link in the Destination URL field.
Then, you can attach images as well. This is useful for website owners who want to display affiliate links with images in sidebars. You can also add autolink keywords for your affiliate link if you're using ThirstyAffiliates' paid version.
In the right panel, you can choose a link category. As you scroll down, you can find link options. You'll see the options as you configured in the Link Appearance as we discussed above. Review them, and click the Save Link button.
That's it. Now, you can repeat the same process to add more affiliate links.
Step 3: Adding Affiliate Links in WordPress Posts and Pages
Once you've added affiliate links in ThirstyAffiliates, now you can add the cloaked affiliate links in your posts and pages.
ThirstyAffiliates makes the process of adding links really easy as it adds an icon in your post editor to embed affiliate links.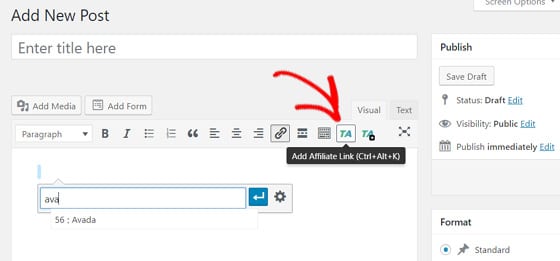 As you click on the link, it'll open the search box where you can type your affiliate link name. Then, you can select and add on your post.
It also has another icon, Quick Add Affiliate Link, that you can use to add a new affiliate link and embed it in your post.

When you click on the icon, a popup box will appear. You can add a new affiliate link and then embed it in the post.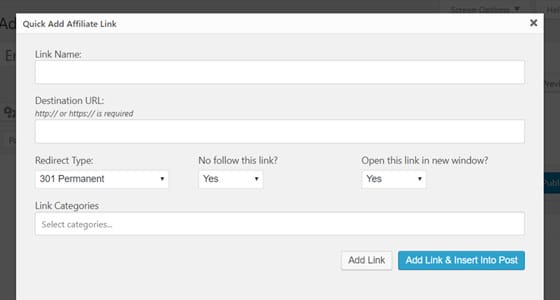 That's it. Now, you can publish your post and check if your affiliate links are working.
How to Properly Track Your Affiliate Links
ThirstyAffilites comes with a Statistics module that tracks the affiliate clicks on your site; however, it'll slow down your website because it uses your website's resources.
So, we recommend you use MonsterInsights to track your affiliate links. Since it uses event-based tracking from Google Analytics, it won't affect your website speed. Plus, the reports from Google Analytics are more reliable than any other services.
Now, let's see how to enable affiliate tracking in WordPress using MonsterInsights.
Affiliate Links Tracking with MonsterInsights
MonsterInsights makes affiliate links tracking for ThirstAffiliates fully automatic and effortless. Now you don't need to do a single thing to set up affiliate tracking in WordPress.
When the MonsterInsights plugin is installed on your site, it'll automatically detect if you're using ThirstyAffiliates and track all your affiliate links. Use any prefix (/refer/, /recommends/ or /out/), the plugin will do its job.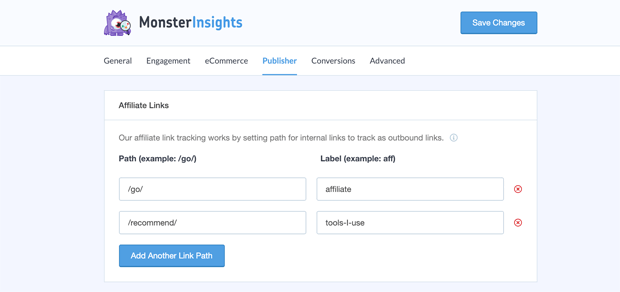 The automatic affiliate tracking feature empowers anyone to manage affiliate tracking without having to hire a developer. Also, you can save plenty of time and reduce all the possible setup errors.
Best of all, you can view your affiliate tracking reports right in your WordPress dashboard. Just visit Insights » Reports » Publishers from your admin panel to view the reports.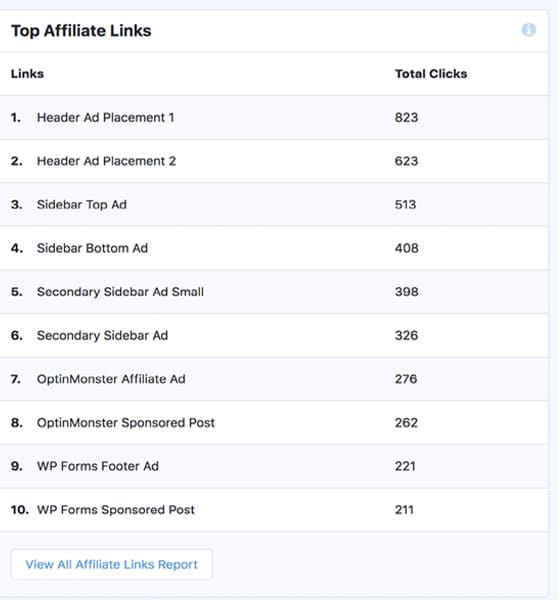 You can always click the View All Affiliate Links Report to view more reports in Google Analytics.
If you want detailed instructions, here's our complete guide on setting up affiliate links tracking.
We hope this article helped you to learn how to add affiliate links in WordPress and to properly track them.
You might also want to check out our guide on how to check the number of visitors for your WordPress site.
Also, don't forget to follow us on Twitter and Facebook for more Google Analytics tutorials.