Keyword research is the foundation of every good SEO strategy. If you want to get relevant organic traffic, you absolutely must do some keyword research to determine what your audience is searching for. To do that, you'll want to take advantage of the best free keyword generator tools out there.
There are loads of free keyword generators that you can use. However, many of them are pretty limited unless you pay for the full version. So, we searched for and tested a whole bunch of keyword tools to give you a list of the best ones out there that you can actually make use of for free.
A Few Keyword Research Tips
Whether you're new to keyword research or you've done it before, you probably know that it can get a little bit overwhelming. There are so many tools, so many potential topics, so many keywords…and where do you start?
Before you dive into using the tools on our list, here are a few keyword research tips to start with:
Make a list of categories you want to cover. For instance, you might have your main, primary keywords, then different keywords based on the products or services you have to offer.
Think about the problems your business or brand solves for your customers. What will those customers be searching when looking for answers?
Focus on the keywords that you think are the most profitable first, then spread out from there.
For a full tutorial on performing keyword research, check out How to Do Keyword Research for SEO: Quick-Start Guide.
Alright, let's move on to our list of tools!
Our Favorite Free Keyword Generator Tools
Ready to find your new favorite free keyword tool? Let's go!
WPBeginner's Free Keyword Generator is a free keyword tool that not only gives you TONS of ideas, but is totally free with zero limits! This is a rare find in a world of freemium keyword generators that require you to pay to keep using them once you've hit a limit.
Plus, it's incredibly simple to use, generates a huge list of keywords, and organizes them in helpful ways.
When you enter a keyword to analyze, you'll get results in 3 section: alphabetical, by preposition, and questions. You can also download a spreadsheet of all of your results.
For example, in the Alphabet boxes, you'll get keyword ideas organized by letter: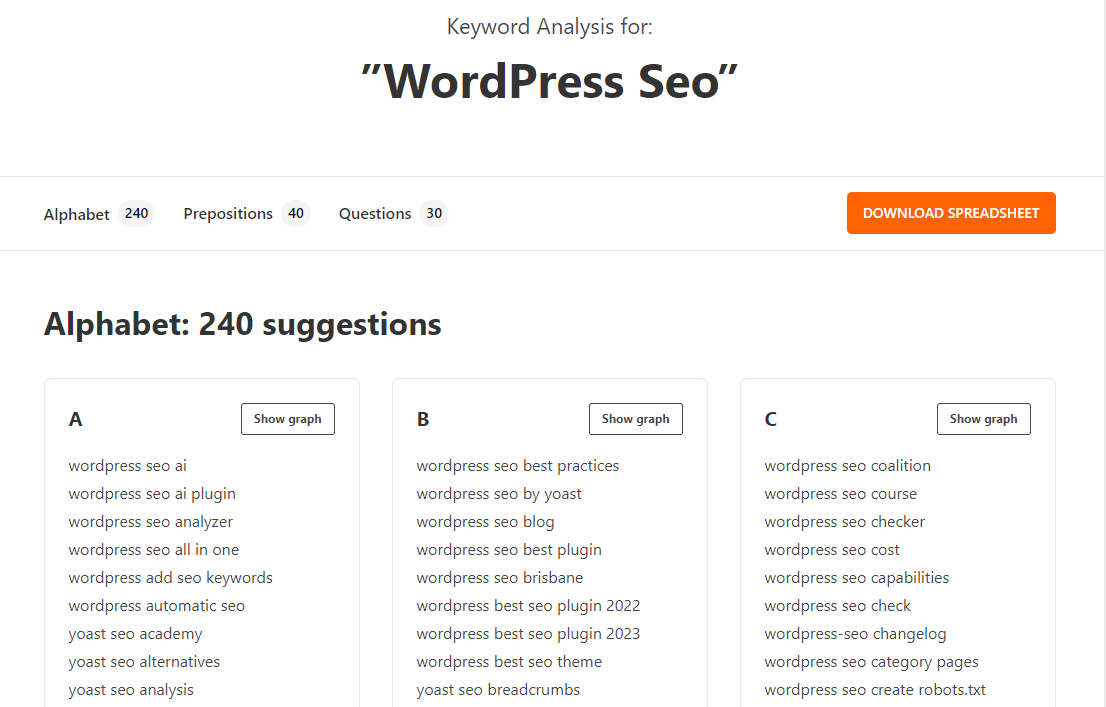 The preposition keyword suggestions will have words in them like with, for, in, can, and to. The question suggestions all start with question words like is, are, what, and how.
In the keyword analysis we ran on "WordPress SEO," we got 310 keyword suggestions. That's a huge number of ideas, all for free!
Ready to start finding all the keywords that'll expand your audience, bring in more visits, and ultimately make you more money?
Get started with WPBeginner's Free Keyword Generator now.
The popularity of using AI tools for keyword research, blog topic research, and many other marketing tactics is on the rise. That's because it can really quickly help you get some answers and inspiration on just about anything.
When researching keywords using ChatGPT or your AI of choice, what's really helpful is asking it to break down keyword ideas based on user persona, a specific audience, or even by long-tail vs. short.
To start your research, you can begin a prompt that'll give you a wide range of keywords on different sub-topics related to your subject, like "What are the top 25 keywords about the topic "WordPress SEO"?"
To narrow down your keywords, you can use prompts like:
What are the 25 most popular keywords that contain "WordPress SEO"?
What questions do people ask about "WordPress SEO"?
What are the top long-tail keywords containing "WordPress SEO"?
For the topic of "WordPress SEO" what are the top keywords containing the word "best"?
There are so many ways to use AI for keyword research.
Although the free version of Semrush is limited, we still had to include it at #3 in our list because of its power. Plug in any keyword to find its search volume, how difficult it'll be to rank for, and more.
Semrush is also an amazing keyword generator tool. Once you plug in your keyword, it'll give you variations, questions, and related keywords, all with their search volumes, too.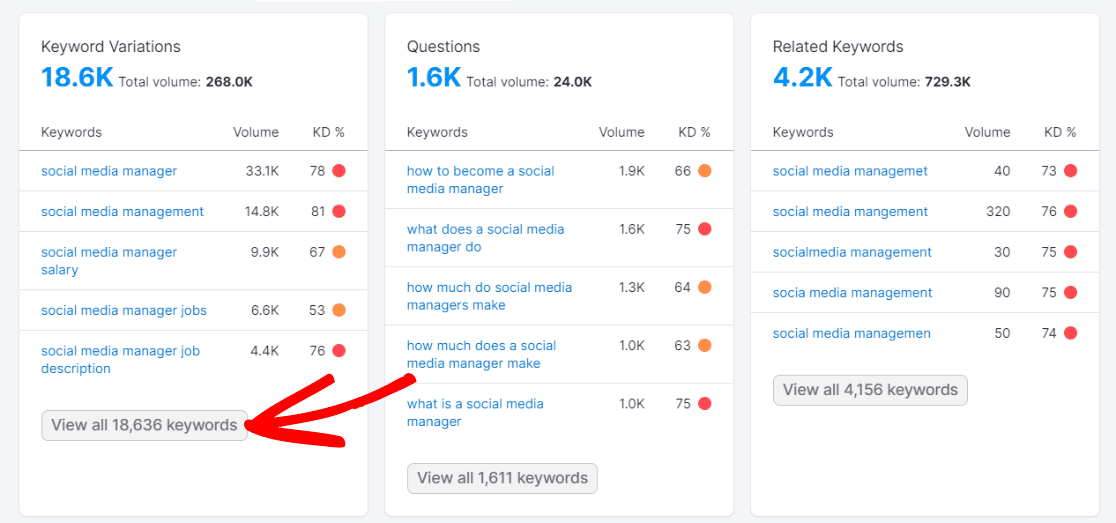 Or, you can use their Keyword Magic Tool, which takes your keyword and finds all the keywords that are directly related. It also categorizes them in the sidebar, so you can click on a category to see that group: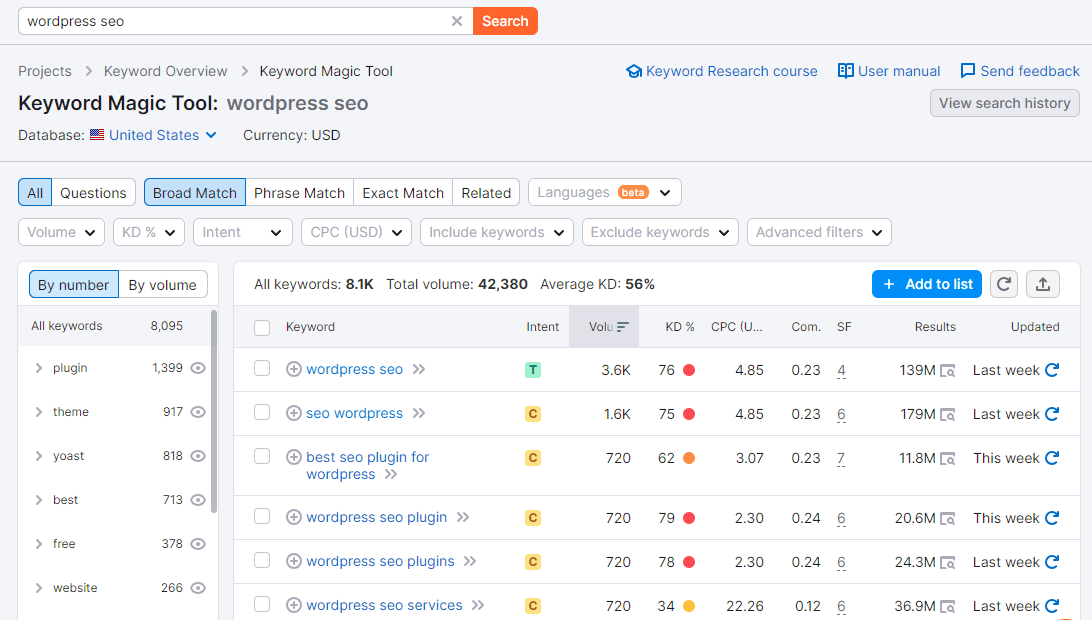 Want to know which keywords your competitors are ranking for? It can tell you that as well.
For a tutorial on how to get set up with the free version of Semrush and use its different features, check out How to Spy on Your Competitors Using Semrush.
Did you know that you can use Google as a keyword generator tool? You can grab keyword ideas right from the very place where you want to be ranking.
First, you can use the autocomplete feature (pictured above) to check out what topics and keywords are popular for your subject. Just start typing and watch as Google tries to predict what you're going to type.
Second, try expanding a few questions in the People also ask dropdowns after running a search for your keyword phrase. The more you open, the more will populate. You can often find a couple keyword and topic ideas here!

Some queries will also have a newer box of results called Things to know. You can expand the answers and click the More button to gather ideas from there, too.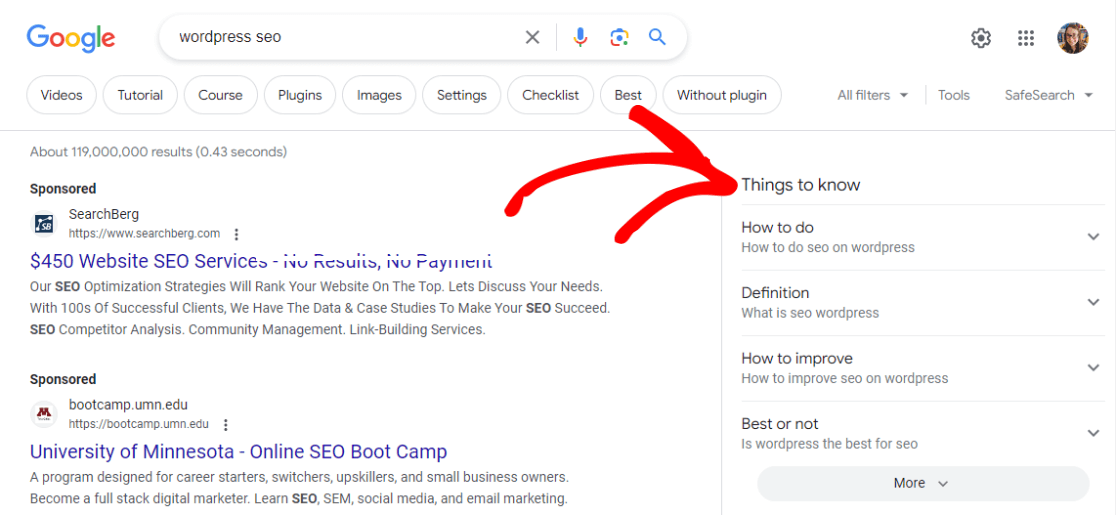 Finally, head to the bottom of the page (or just until you scroll far enough) to find a list of Related searches that might provide you with even more ideas.
Use Google search as a free keyword generator tool today.
Ahrefs' Free Keyword Generator is another powerful tool to use when doing keyword research. Although the free version is limited, you can still get 100 keywords and 50 questions for each term you enter.
What sets Ahrefs apart is the ability to look at different platforms within the same tool. You can search keywords on Google, Bing, YouTube, or Amazon.
Plus, you'll get search volume data for each keyword, even in the free version of the tool.
If you're ready to purchase an amazing SEO tool and get full access to the Free Keyword Generator, Ahrefs is an awesome one we recommend!
Get started with Ahref's Free Keyword Generator now.
WordStream is another popular free keyword tool that'll work to provide you with ideas for what keywords and topics to use on your site.
What sets this one apart, though, is that you can plug in a URL (like a competitor's website) to get ideas based on what they're using.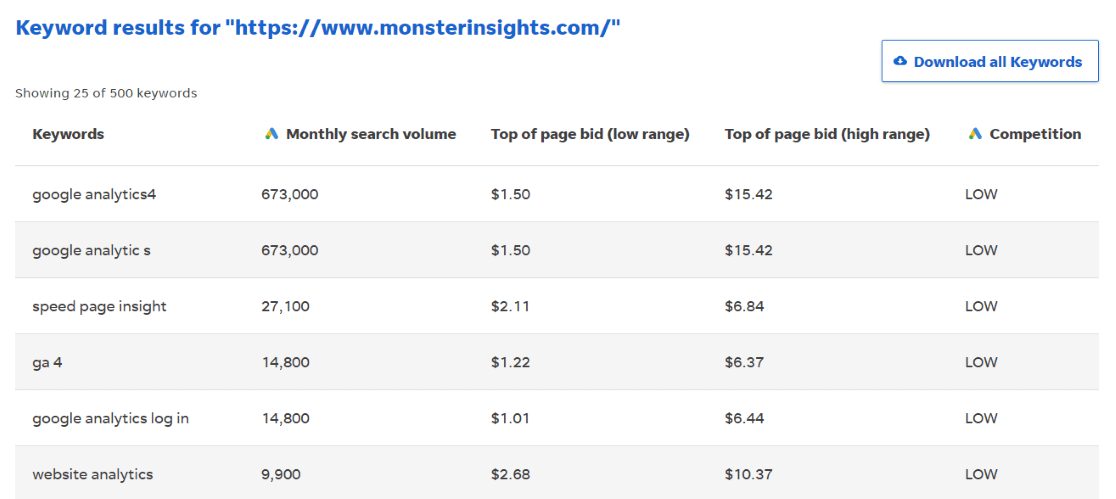 Although the results are focused mostly on Google Ads with bids and competition data, you also get the monthly search volume for each term.
This really is a great tool to try if you want to see what your competitors are ranking for and using on their own websites.
Get started with WordStream now.
What we like the most about Ryan Robinson's Free Keyword Research Tool is the ability to toggle between two tabs: Explorer and Ideas.
Just enter a keyword to get ideas (with search volume and difficulty to rank estimates) in a list. Or, toggle over to the Ideas column to get ideas based on prepositions and question words.
Although the toggle is nice, the drawback to this tool is that there's no way to export the data to save it in a spreadsheet.
That's our list!
There are a ton of free keyword generator tools out there, all with different degrees of what you'll get for free. A few more that didn't make our list but are worth mentioning are Wordtracker, keywordtool.io, and Ubersuggest.
If you're using WordPress, don't forget to install MonsterInsights to see your keyword ranking data from Google Search Console right inside your WordPress dashboard: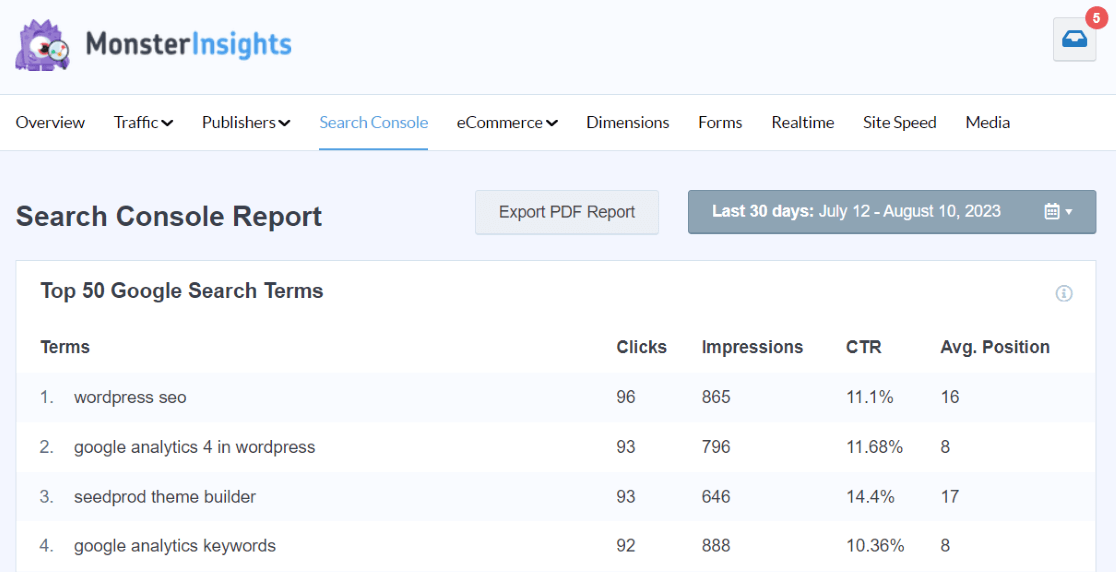 Want to learn more about keywords? Check out:
6 Best Keyword Research Tools to Skyrocket Your SEO
How to See Google Analytics Keywords for Your Website
What Is a Focus Keyword? Plus 2 Step-by-Step Examples
How to Track Organic Keywords in Google Analytics + WordPress
Not using MonsterInsights yet? What are you waiting for?
And don't forget to follow us on Twitter, Facebook and YouTube for more helpful reviews and Google Analytics tips.