Do you have Vimeo videos embedded on your website? If you do, we'll bet you'd love to track them in Google Analytics to see how many people are watching them.
If you could track your Vimeo videos in Google Analytics, you could see how many of your visitors are clicking play, how much of each video they're watching, and how many visitors are even seeing the video in the first place.
Well, with the right tool, you can do all of that with a few clicks! In this article, we'll go over how to use MonsterInsights to track your Vimeo videos with Google Analytics on your WordPress site.
Why Track Vimeo Videos Embedded on WordPress?
There are quite a few benefits of tracking your Vimeo videos when they're embedded on your website. Mostly, you can gather data that can help you improve your website and your user engagement.
Here are a few ways make the most of video tracking:
How many impressions does your video have? If not as many of your site visitors are seeing your video as you'd like, you can try moving it to a different location.
How many people are clicking play? If this number is low, you could try repositioning the video on your site, changing the thumbnail, or adding a few more words to tell visitors what they'll find in your video and compel them to click play.
How many people are watching at least half of the video? If this number is low, maybe your video is too long, or visitors are seeing as much as they need to see to make a decision.
Use your video tracking data to make better videos, put them in the right places on your site, and engage your users even more.
After you've set up video tracking, make sure to also look into running A/B tests to make it even easier to see what's working and what's not!
Let's get started with the tutorial.
How to Set Up Vimeo Video Tracking in Google Analytics
The easiest way of tracking your Vimeo videos in Google Analytics is with MonsterInsights. It's the best Google Analytics WordPress plugin, and it makes using Analytics so much easier.
Besides quick and easy video tracking setup, MonsterInsights can help you set up ecommerce tracking with a few clicks, show you how many people are seeing and submitting your forms, track outbound link clicks and scroll depth, help you with GDPR compliance, and much more.
But, back to video tracking! Follow these steps to set up Vimeo video tracking with zero coding.
Subscribe to our YouTube Channel
Step 1: Install and Activate MonsterInsights
First, you'll need to install MonsterInsights on your WordPress website. MonsterInsights allows you to set up video tracking in WordPress with just a few clicks – no need to modify your Google Analytics code.
To get video analytics, grab MonsterInsights at the Plus level or above, then download the plugin from your Account page.
Next, upload the plugin on your WordPress website by going to Plugins » Add New » Upload Plugin and then click the Install Now button.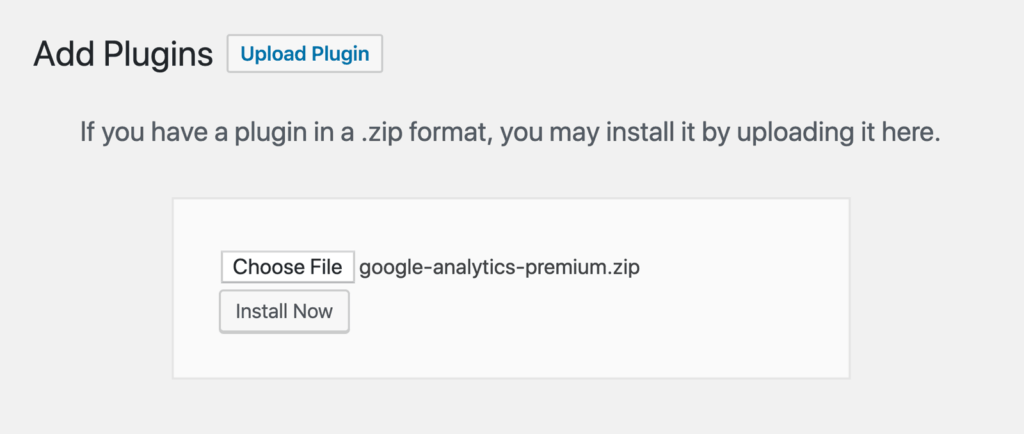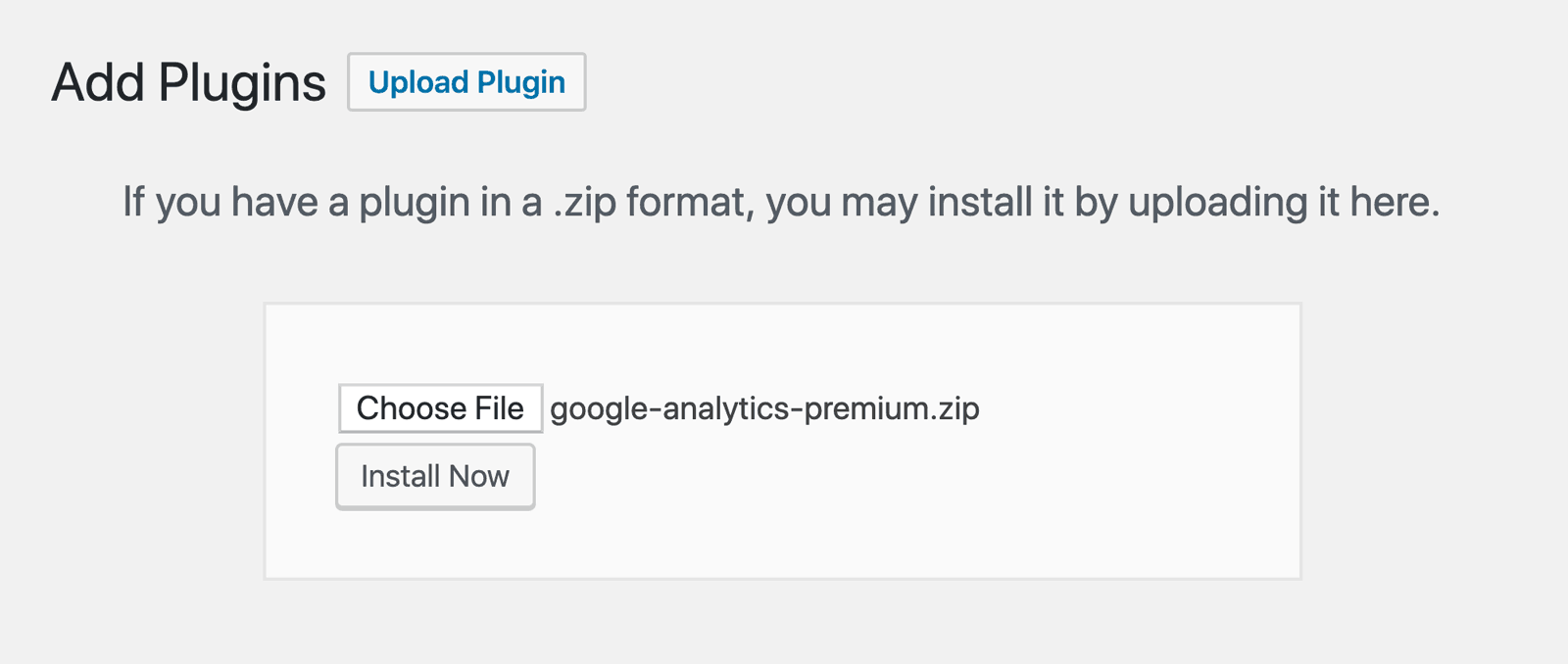 Now, activate MonsterInsights by clicking the Activate Plugin button.

After installing and activating the plugin, you'll need to connect it with Google Analytics. The MonsterInsights setup wizard makes it super simple to add Google Analytics tracking code to your website.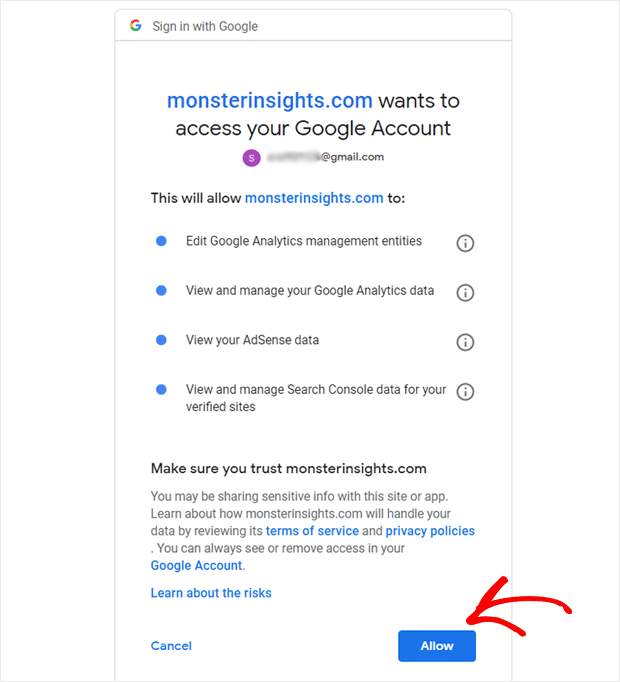 For more details on how to get set up, read our step-by-step guide on how to set up Google Analytics on your WordPress website properly.
Step 2: Install the Media Addon
To install the addon, visit the Insights » Addons page in your WordPress dashboard. Then, click Install under the Media addon.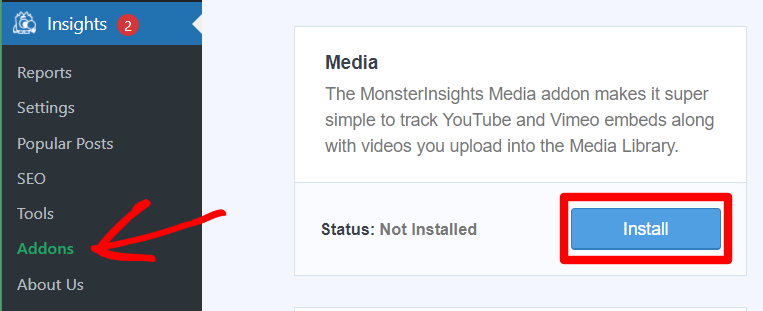 Step 3: Turn on Vimeo Video Tracking
Now, it's time to turn on video tracking for the type of videos you have on your site. To do that, navigate to Insights » Settings » Publisher. Scroll down to the Media Tracking box.

Now, click the button to Enable tracking for embedded Vimeo videos.
Step 4: Find Your Data in Google Analytics
Once you've given it a few days for video data to be gathered, you can look at how your Vimeo videos are performing in Google Analytics.
To view the reports, log in to your Google Analytics account and then go to Behavior » Events » Top Events.
Now, you'll see an Event Category called one of these:
video-vimeo
video-youtube
video-html
Here's an example of an embedded Vimeo video tracking event: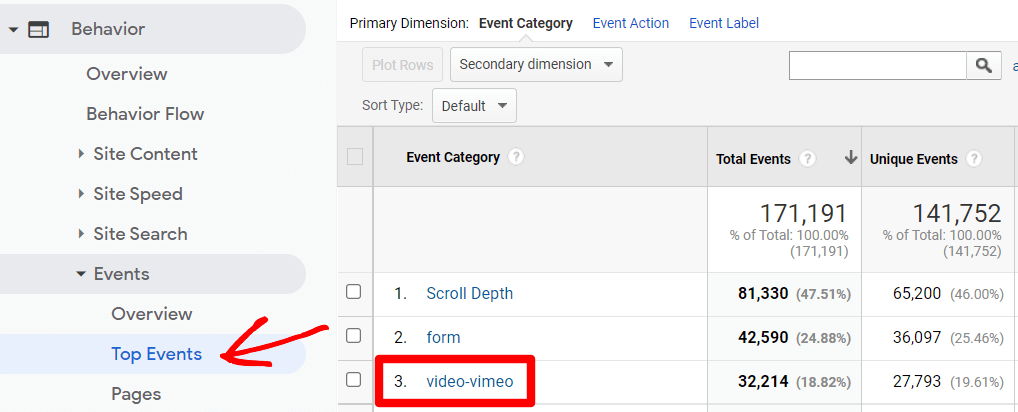 Click into the Event Category.
Now, you'll see a list of your events. Impression means your video was seen, 0 means the viewer pressed play but didn't make it to 25%, 25 means they made it to 25%, then 50, 75, and 100 all mean the watchers made it to that percentage.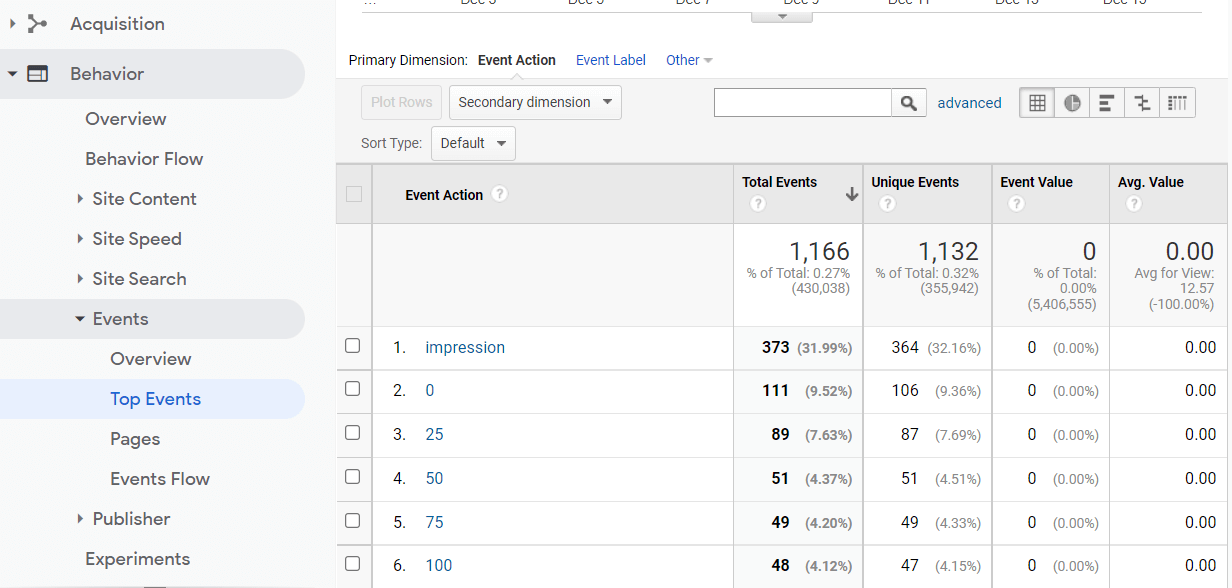 Now, you can add these events to any other report in Google Analytics to see extra data about your video watchers.
With your video events available to add to any report, you can see which videos are performing well, and which aren't.
You can now easily see which videos your audience likes and how you can improve their engagement through tracking.
We hope you liked our article on how to track Vimeo videos in Google Analytics. If you found this post useful, then take a look at our guide on How to Track SEO Rankings with Google Analytics.
And don't forget to follow us on Twitter, Facebook and YouTube for more helpful Google Analytics tips.