Do you want to know how your Vimeo videos are performing on your website? Vimeo is a popular video platform where you can create, host, and share high-quality media content.
And the best part about Vimeo is that you can embed your videos onto your WordPress website. But how do you know which videos your visitors like the most?
This is where you need to set up tracking for your Vimeo videos. If you have a Vimeo Business or Premium account, then you can easily integrate it with Google Analytics.
In this article, we'll show you how to track Vimeo videos in Google Analytics step-by-step. Let's get started…
Why Should You Track Your Vimeo Videos?
You might wonder, why is it important to track videos on WordPress site?
By tracking videos, you get a lot of insights about your user's behavior. For instance, you get to know how many people play, pause, and reload your videos.
This is helpful in finding out your most popular videos, so you can create more content around similar topics.
Tracking Vimeo videos also help you see how long someone views a video. Do they watch 25%, 50%, 75%, or watch all the way till 100%.
You can then use this information to optimize your content. You can make your videos more engaging, so people watch until the end.
With that, are you ready to learn how to track Vimeo videos in Google Analytics?
How to Set Up Vimeo Video Tracking in Google Analytics?
Before we start with the tutorial, do note that you'll need to have Vimeo Business or Premium account to access the tracking code.
Besides that, you'll also need MonsterInsights, which is the best Google Analytics WordPress plugin. It makes using Analytics so much easier and you can get your data inside your WordPress dashboard.
Once that's sorted, just follow these steps…
Step 1: Access Vimeo Tracking Script
To start, go to Vimeo and log-in to your account. Then head over to Settings and then select the Marketing tab.
Now scroll down and you'll see a tracking code under Google Analytics. Copy this code, as we'll use in the next step.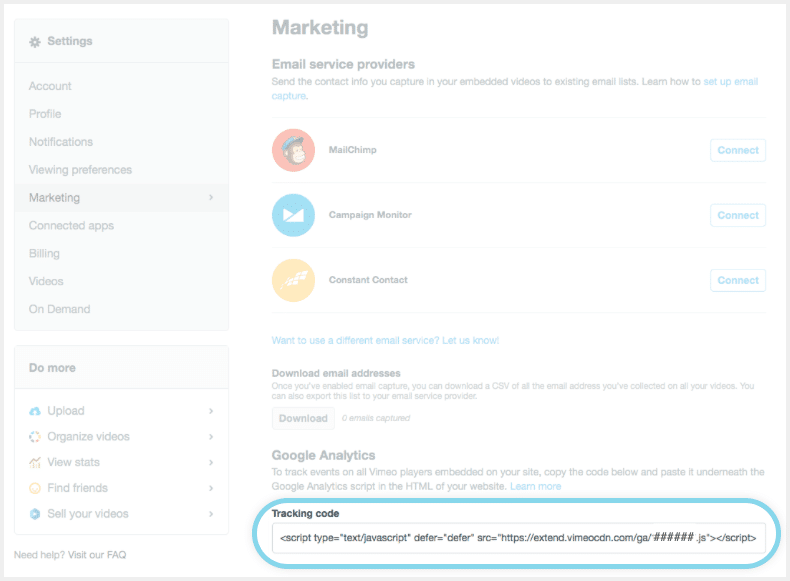 Step 2: Add Vimeo Tracking Code to Your Website
Once you've copied the tracking script from Vimeo's member's area, its time to add it to your website.
Now, you can enter the code on a specific page where you've embedded your Vimeo videos or on your entire website.
This might look complicated and difficult, but it's not.
We suggest that you use the free WordPress plugin, Insert Headers and Footers. It makes it super easy to insert code on your website while ensuring your tracking works accurately.
To start, go to your WordPress dashboard and navigate to Plugins and then click Add New. Now, in the search bar, enter Insert Headers and Footers and then click Install Now. Wait for a few seconds and then click Activate.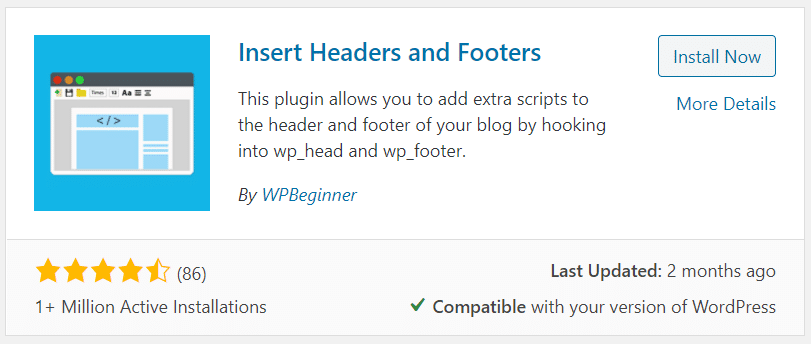 Once the plugin is active, go to Settings and then Insert Headers and Footers.
Next, enter the Vimeo tracking code you copied in the first step and paste it in the Scripts in Header section.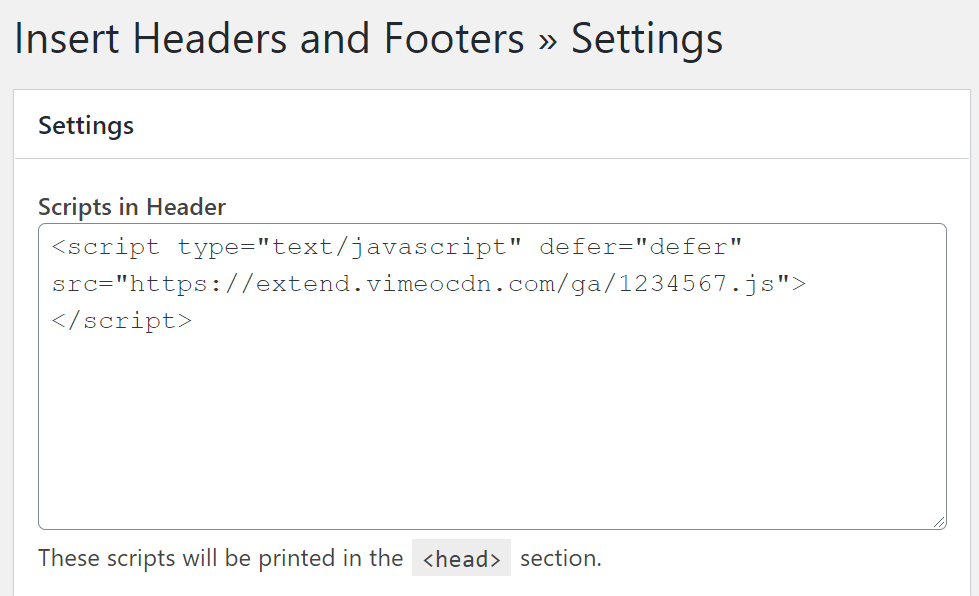 After adding the code, click Save.
And if you want to get reports in your dashboard and easily understand different reports, then you can take the help of a WordPress plugin like MonsterInsights.
Step 3: Enable MonsterInsights Compatibility Mode
MonsterInsights helps close the gap between Vimeo and Google Analytics. But to get insights about how people are interacting with your videos, you need to enable MonsterInsights compatibility mode.
That's because, it allows MonsterInsights to work with tools like Vimeo code, which doesn't use Google's universal method of looking up Google Analytics code.
You can enable the compatibility mode from MonsterInsights setting. However, you'll need to have the Plus Plan or higher to enable the mode.
To view the settings, go to your WordPress dashboard and then go to Insights » Settings » Engagement. Now scroll down and click on Enable _gaTracker compatibility.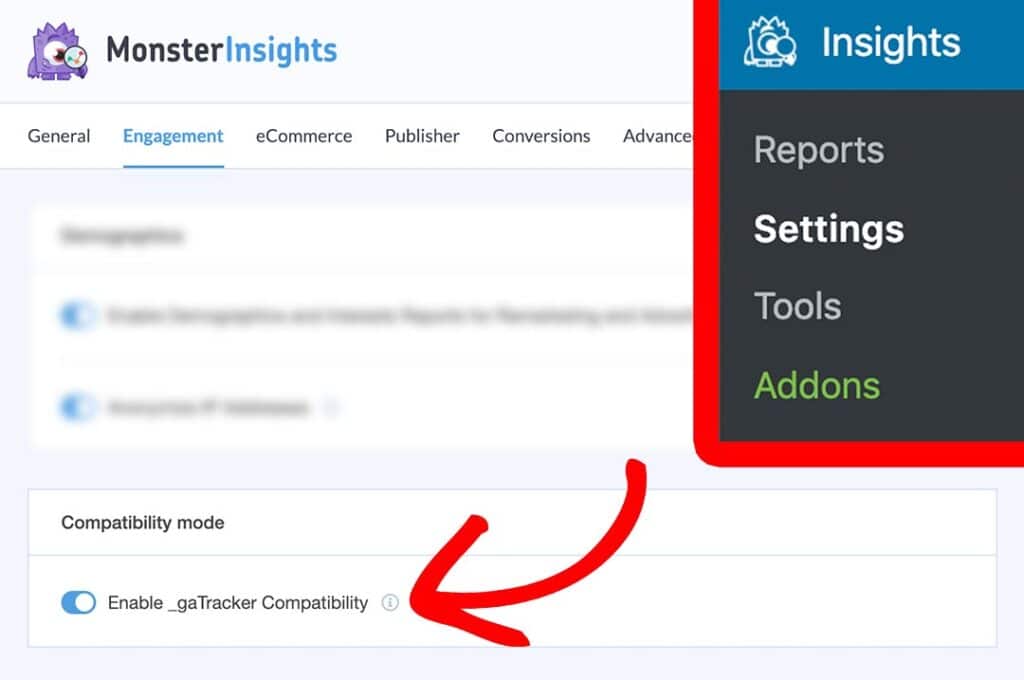 MonsterInsights will help you track Vimeo videos as events in Google Analytics. So, you can see who watches your videos and for how long.
Step 4: View Your Vimeo Video Reports
Now that your Vimeo Google Analytics tracking is ready, you can view the reports to get insights about your user's behavior.
And to start, you can look at the real-time report to see how many people are active in your videos. With MonsterInsights, you can see the real-time report in your dashboard and don't have to leave your website.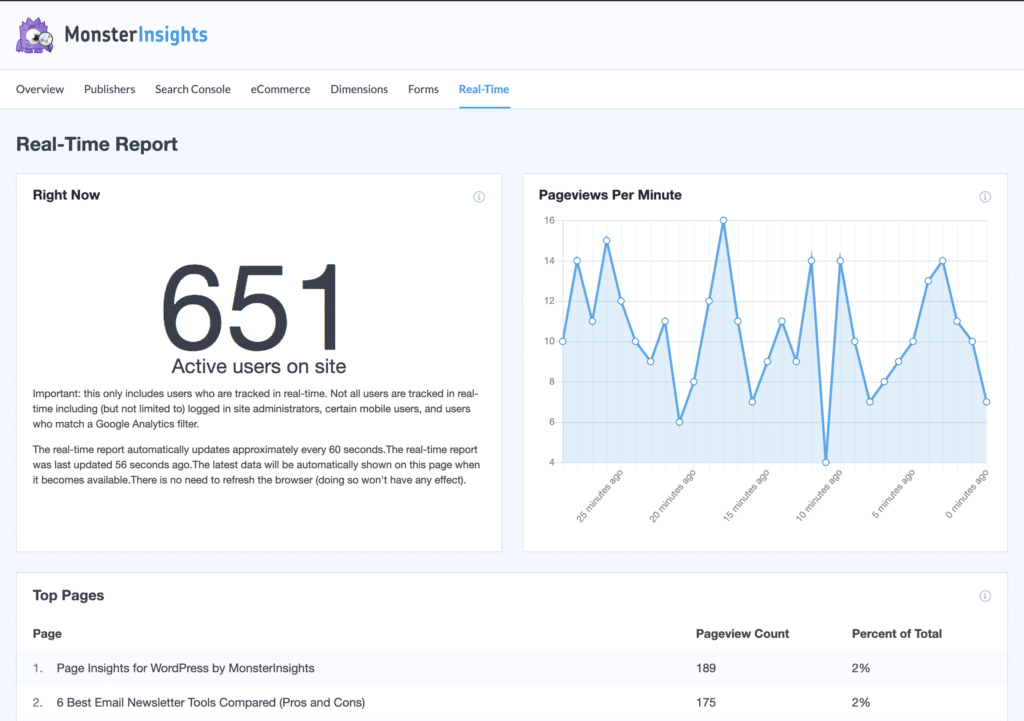 For more detailed reports, you can view the Events report in Google Analytics.
To access the report, login to your Google Analytics account. Then from the options on your left, go to Behavior » Events » Top Events and the select Vimeo Videos.
You can then view how many people play, paused, reloaded, and watched your video till 25%, 50%, 75%, or 100%.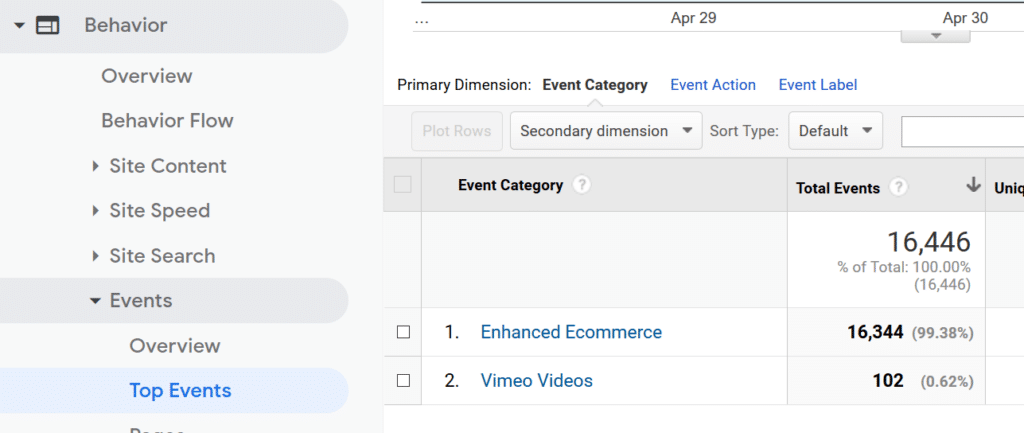 And that's it!
You can now easily see which videos your audience likes and how you can improve their engagement through tracking.
We hope you liked our article on how to track Vimeo videos in Google Analytics. If you found this post useful, then take a look at our guide on how to track user engagement in WordPress using Google Analytics.
Also, don't forget to follow us on Twitter and Facebook for more useful WordPress tutorials.