Are you looking for a way to see how many people submit forms on your WordPress website? Google Analytics allows users to track form submissions by setting up goals.
It helps you see the performance of different forms, understand your visitors better by uncovering how they interact with your site, and find out which form gets the most conversions.
But it can be tricky to set up goals in Google Analytics, especially for beginners. Fortunately, there's a simple way.
In this article, we'll show you how to set up goal on form submit in Google Analytics using 2 different ways. You can skip ahead to any section you're interested in.
Why Should You Track Form Submissions?
Many businesses use forms to allow visitors to contact them through a contact form, resolve queries, get feedback from customers with surveys and net promoter score (NPS), and capture leads with signup forms.
But if they don't track these forms, there's no way of telling how they're performing.
That's why it's important to set up form tracking in Google Analytics. You get to see which form gets a lot of submissions. Plus, it helps in filtering forms that secure high-quality leads and easily convert visitors into paying customers.
Form tracking can even help in identifying top lead conversion sources. You can find out exactly where your visitors come from and submit a form on your site. This helps in focusing your marketing efforts on sources that bring results and also open up partnership opportunities.
Another benefit of identifying your high converting forms is that you can replicate them across the website. And also highlight pages that result in high form conversions.
That said, let's see how to set up goals for form submission in Google Analytics.
Track Form Submission Using MonsterInsights
MonsterInsights is the best Google Analytics plugin for WordPress. It helps you set up Google Analytics on your site without editing code or hiring a developer.
Plus, the plugin offers a powerful addon that automatically tracks form submissions in Google Analytics. There's no need to manually set up goals for each form or change the tracking code. MonsterInsights takes care of it for you!
To get started, all you have to do is download and install the MonsterInsights plugin on your site. Next, connect Google Analytics using its step-by-step setup wizard.
Once that's done, go to Insights » Addons and navigate to Forms. Click Activate so that MonsterInsights can track all your forms on your site. Do note that you'll need a MonsterInsights Pro plan to use the addon.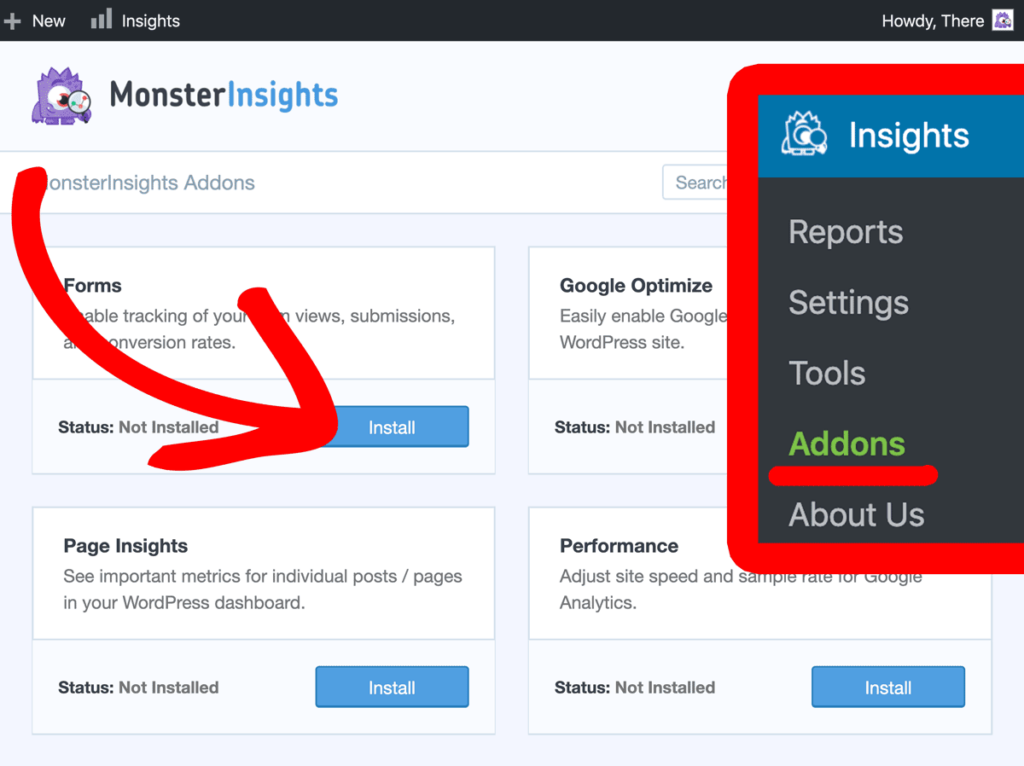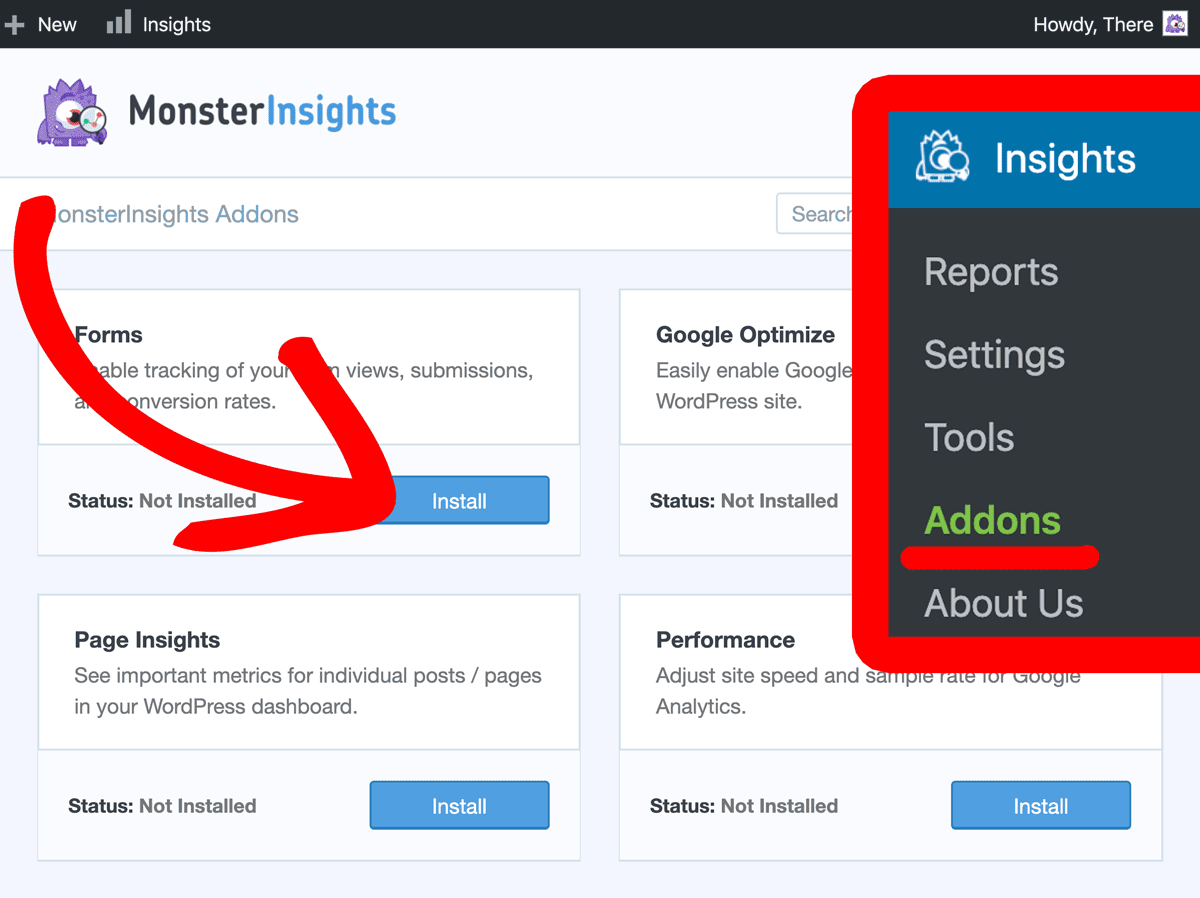 The best thing about using MonsterInsights is that it brings important Google Analytics in one place, and you can view them inside the WordPress admin area. This includes the form performance report, which you can see by going to Insights » Reports and clicking the Forms tab.
The report shows top-performing forms and the total number of impressions, conversions, and conversion rates for each form.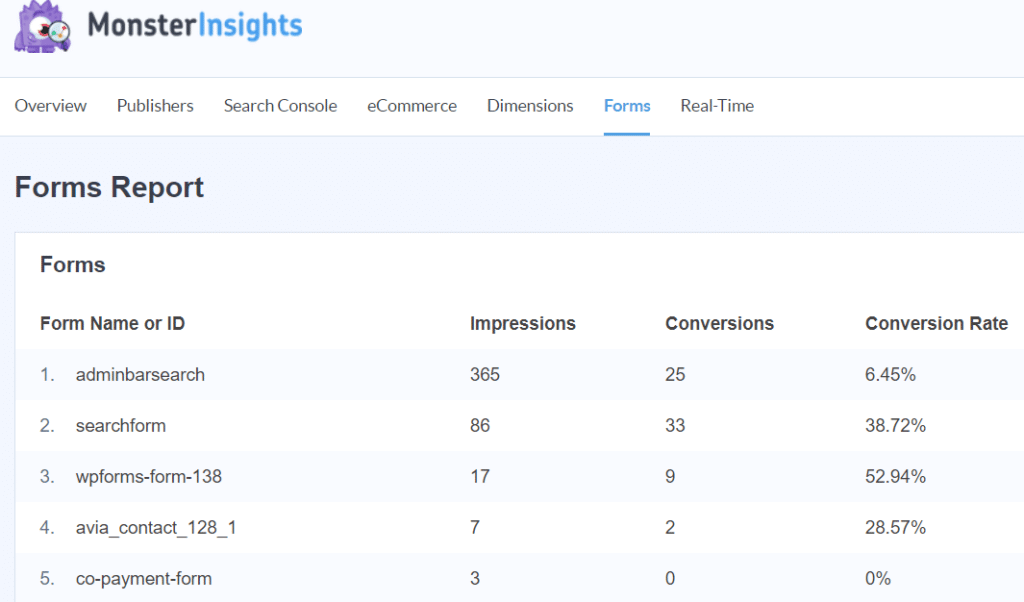 While using MonsterInsights is the easy way, if you want to learn how to create goals in Google Analytics to track form submissions, then check out our next section.
Set Up Goal in Google Analytics to Track Form Submits
To set up goals in Google Analytics, just follow these steps.
Step 1: First, log in to your account and select the website or property on which you wish to track form submissions.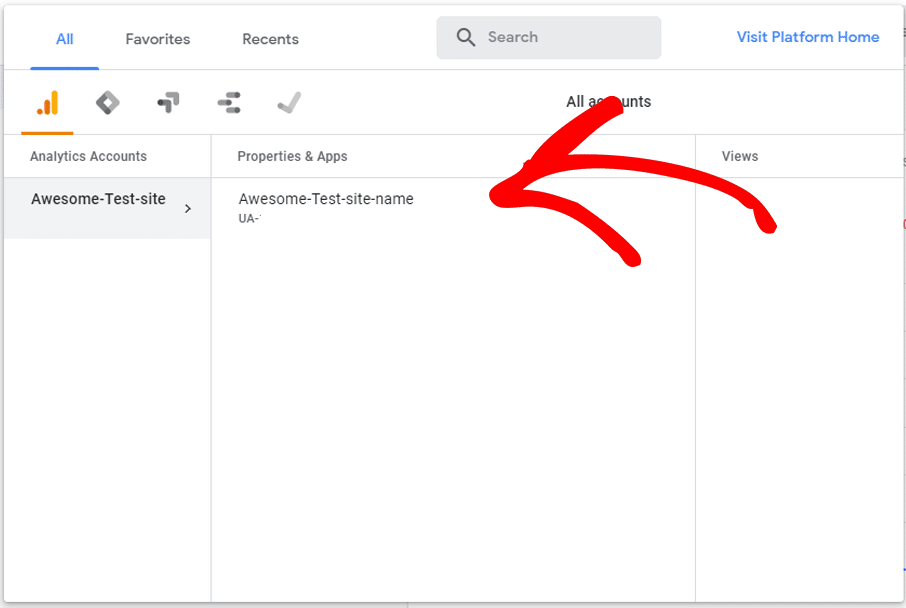 Step 2: Click on Admin.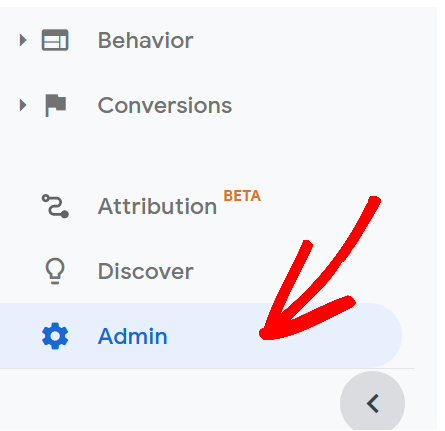 Step 3: After that, navigate to Goals, which is located under the View column.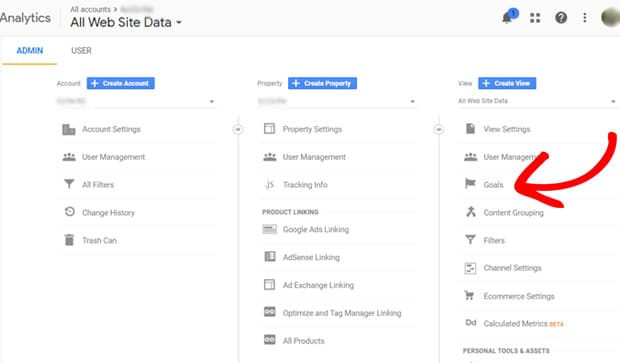 Step 4: Click on the + New Goal button.

Step 5: Google Analytics will then show you different templates for getting started under Goal setup. Select the Custom option and click Continue.

Step 6: In the next step, you'll have to enter the goal description. Give a name to your goal and select a goal type. For tracking form submissions, select Event as the goal type and click Continue.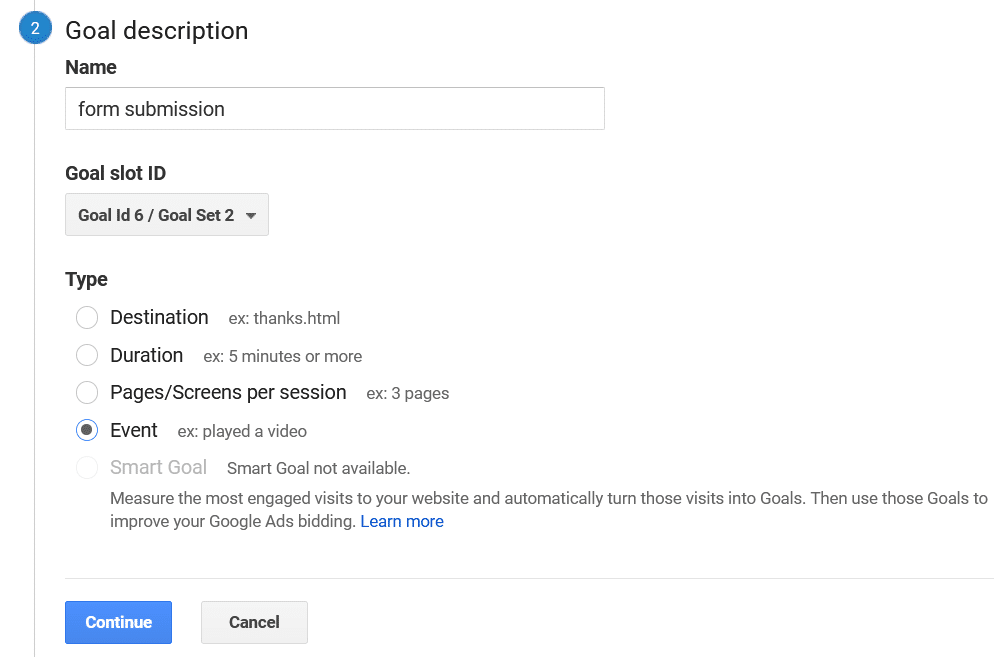 Step 7: Now, enter the goal details in Google Analytics. You can enter form for category and conversion for action. As for the label, enter the form ID. For instance, if you're using WPForms, the form ID will like wpforms-12345.
Google Analytics also gives the option to assign a monetary value to your form submissions. You can leave this field blank if you don't want to enter a value.
Once this is done, click the Verify this Goal button. Google Analytics will show how the goal would have converted using the past 7 days data on your website. Click Save after you're satisfied with the settings.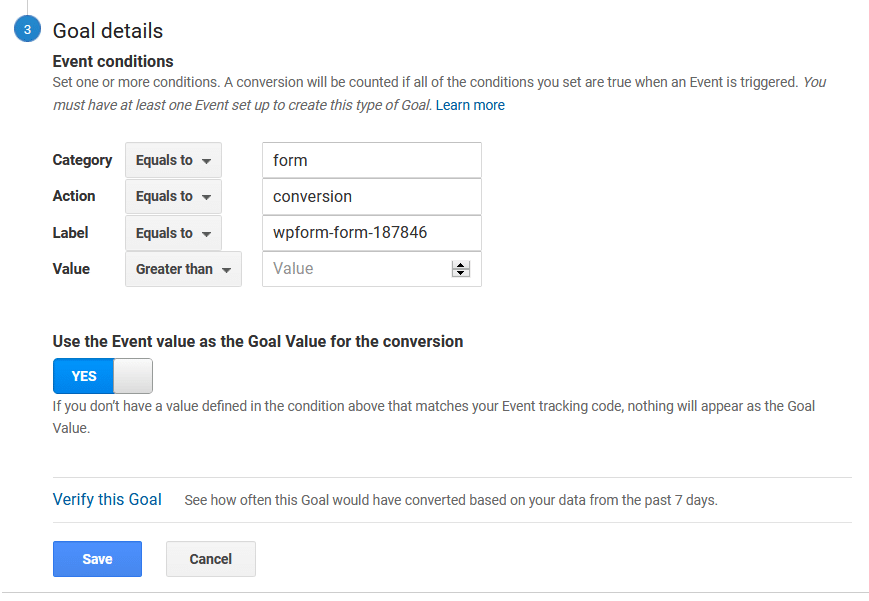 You've successfully created a goal in Google Analytics.
View Form Submission Goal in Google Analytics
Now that you've set up a goal for tracking forms in Google Analytics, the next thing to do is look at the report.
Go to Behavior » Events » Top Events and click on the form under Event Category.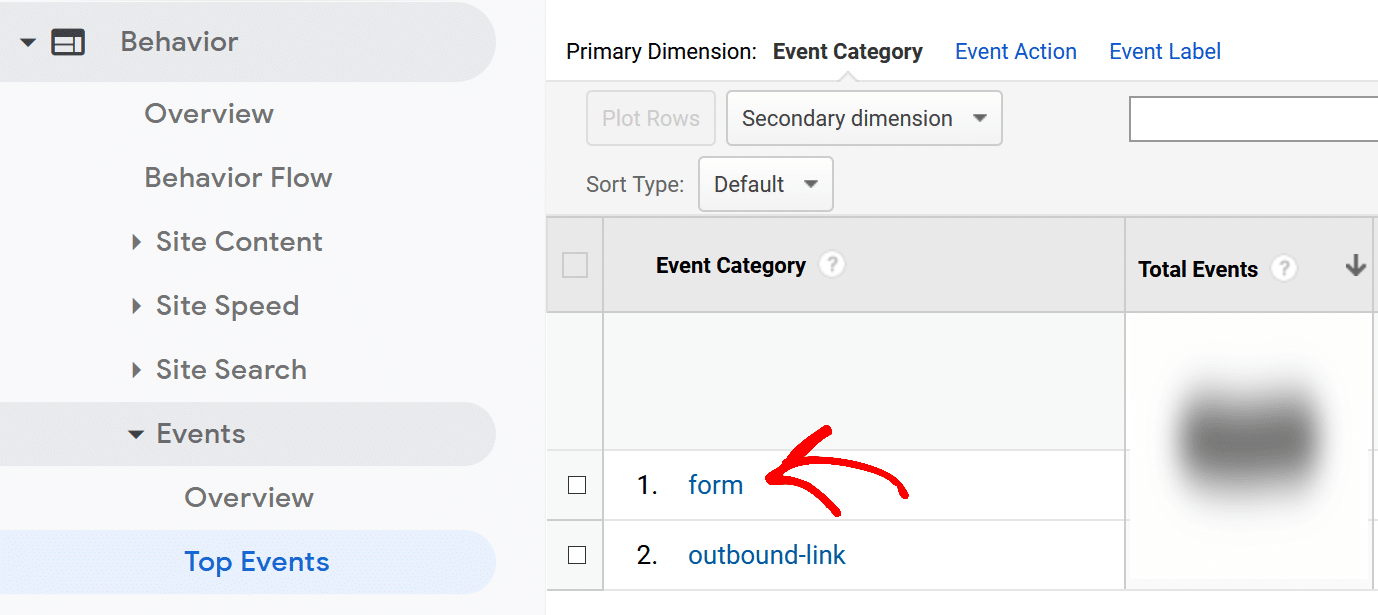 Google Analytics will then show impressions and conversions for your form. Click on either of the options to see how each form is performing on your website.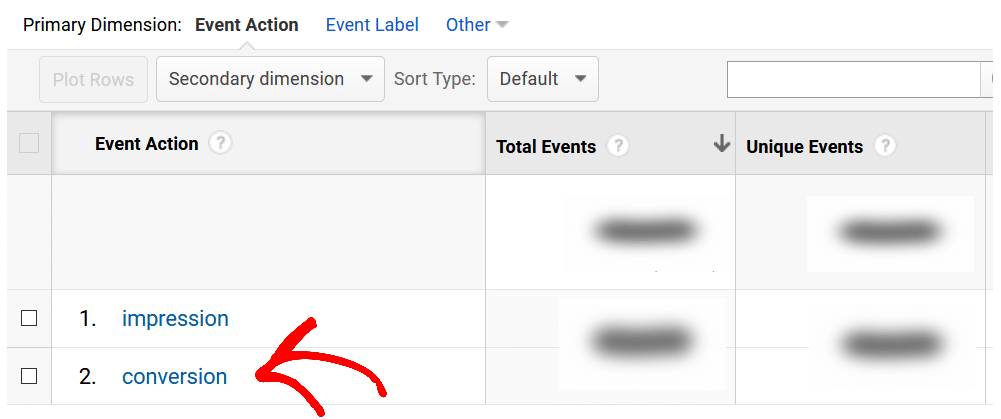 And that's it!
We hope you liked our article on how to set up goal on form submit in Google Analytics. If you want, you can also go through our guide on how to track user engagement in WordPress using Google Analytics.
And don't forget to follow us on Twitter and Facebook for more Google Analytics tutorials.