Were you looking to run a successful giveaway and came across RafflePress? Looking for a RafflePress review to find out if it's the best WordPress giveaway plugin for the job?
Running giveaways on your WordPress website is easy with a giveaway tool like RafflePress. But is it really the best giveaway plugin available?
In this RafflePress review, we'll look at the key features that make the plugin one of the best viral giveaway plugins for WordPress.
What is RafflePress?
RafflePress is the best giveaway plugin for WordPress. It makes it easy for business owners to create a giveaway on their websites using a WordPress plugin.
It was founded by Syed Balkhi of WPBeginner and John Turner from SeedProd. They found that many giveaway apps and plugins were buggy, slow, and hard to use. So they set out with the goal to make a WordPress giveaway plugin that's both simple and powerful.
Besides creating powerful giveaways, RafflePress has tons of features to grow your email list, social media followers, website traffic, and more.
RafflePress Review: 16 Top Features
Here are some of the best and most useful features we found when reviewing RafflePress:
1. Easy Giveaways with No Coding Required
RafflePress is, hands down, one of the easiest giveaway plugins to use. If you're just a beginner, you can still create stunning giveaway contests in WordPress with no coding required.
With the drag and drop giveaway builder, creating your contest is as simple as pointing and clicking. Plus, you can see any changes you make to your giveaway widget in real-time with the live preview.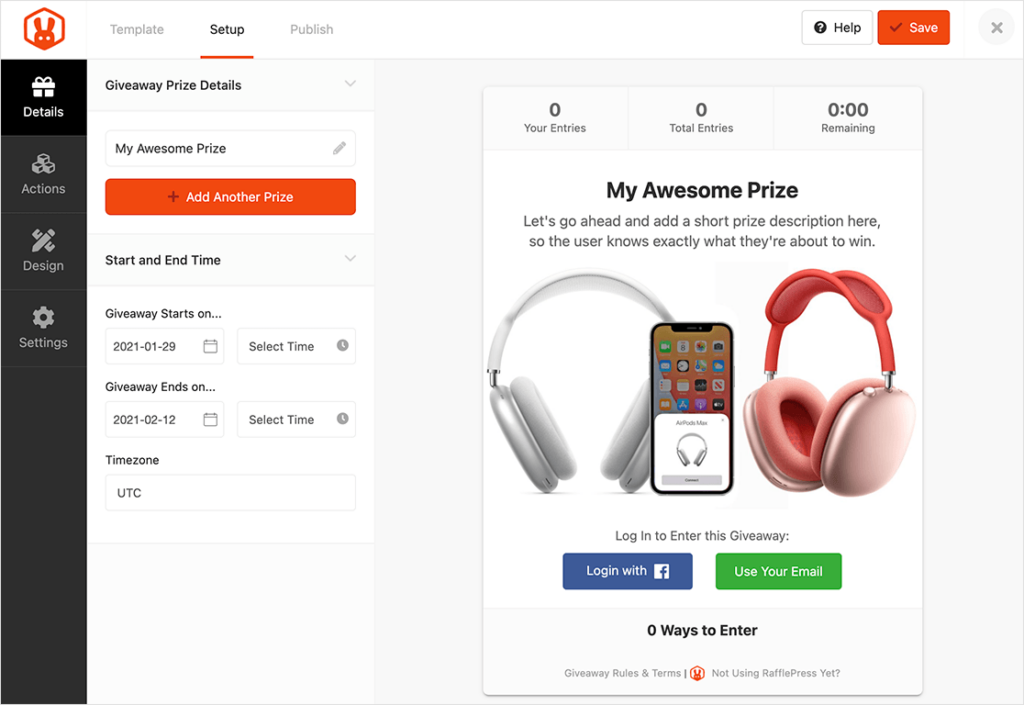 Finding your way around RafflePress is also super easy. The interface is clean, minimal, and labeled clearly, so you know where everything is at a glance.
You can also check out our guide on how to create a viral giveaway on your WordPress site using RafflePress.
2. Goal Focused Giveaway Templates
RafflePress comes with a variety of giveaway templates to make building your contest as easy as possible. Each template is focused on a specific marketing goal such as:
Getting more social media followers
Pre-launch campaigns
And more.
Instead of creating giveaways from scratch, the giveaway templates come pre-loaded with giveaway entry options designed to help you meet your goals.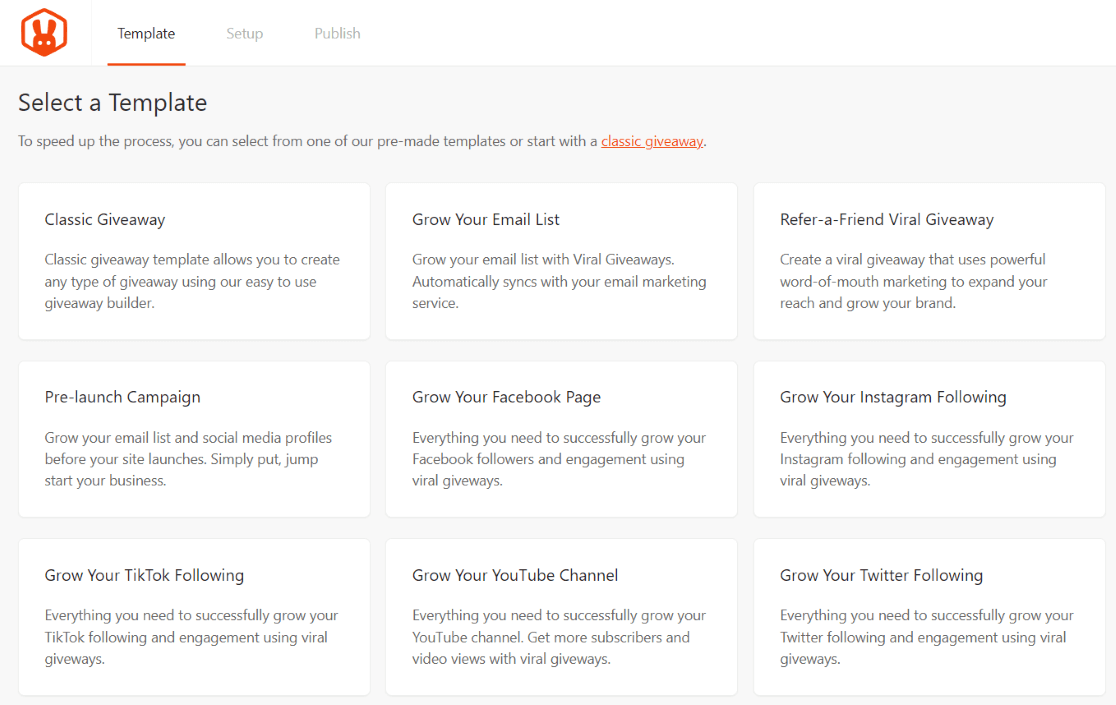 For instance, if your goal is to grow your YouTube channel, the YouTube template will include entry actions (actions people can take to gain an entry to your contest) to visit your YouTube channel, watch a video, and so on.
All of these templates are available to use right after you install RafflePress.
3. Easily Grow Your Email List
Every smart business owner should make an effort to grow their email list. It puts your message right in front of people who are interested in your products and services. This makes it much easier to convert your target audience into paying customers.
Growing your email list with a giveaway is easy with RafflePress. The Grow Your Email List giveaway template automatically adds an option to subscribe to your newsletter to enter your contest.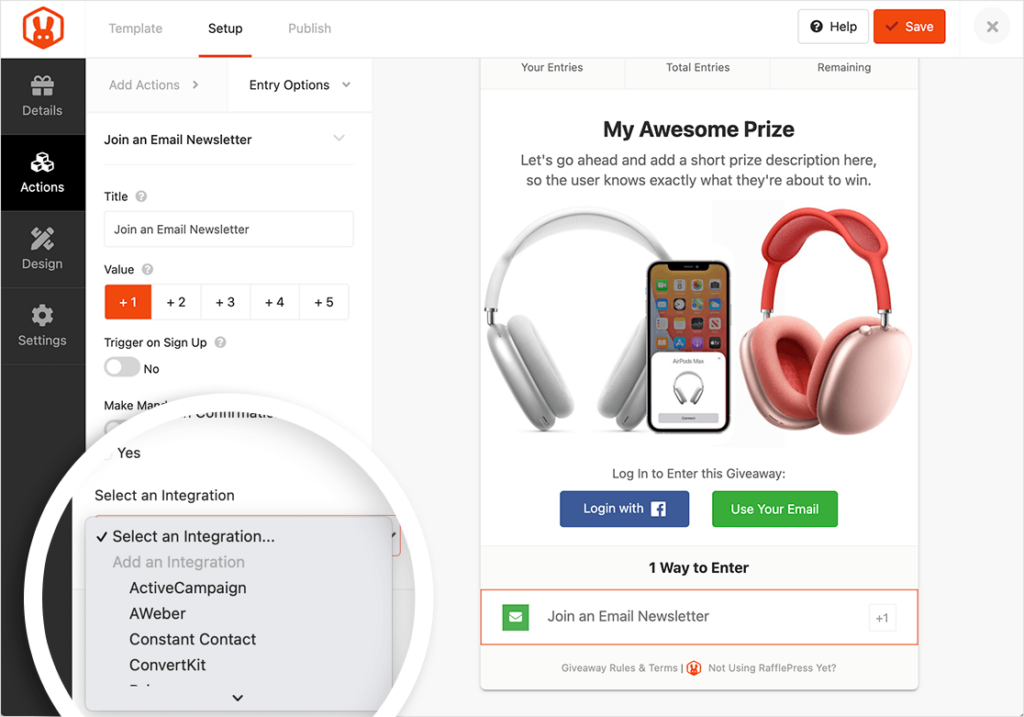 You can link the action to popular email marketing services and even make the action mandatory. This means users have to enter their email addresses before they can unlock any bonus entries.
4. Boost Your Social Media Followers
Besides growing your list, RafflePress is also an excellent choice for getting more social media followers.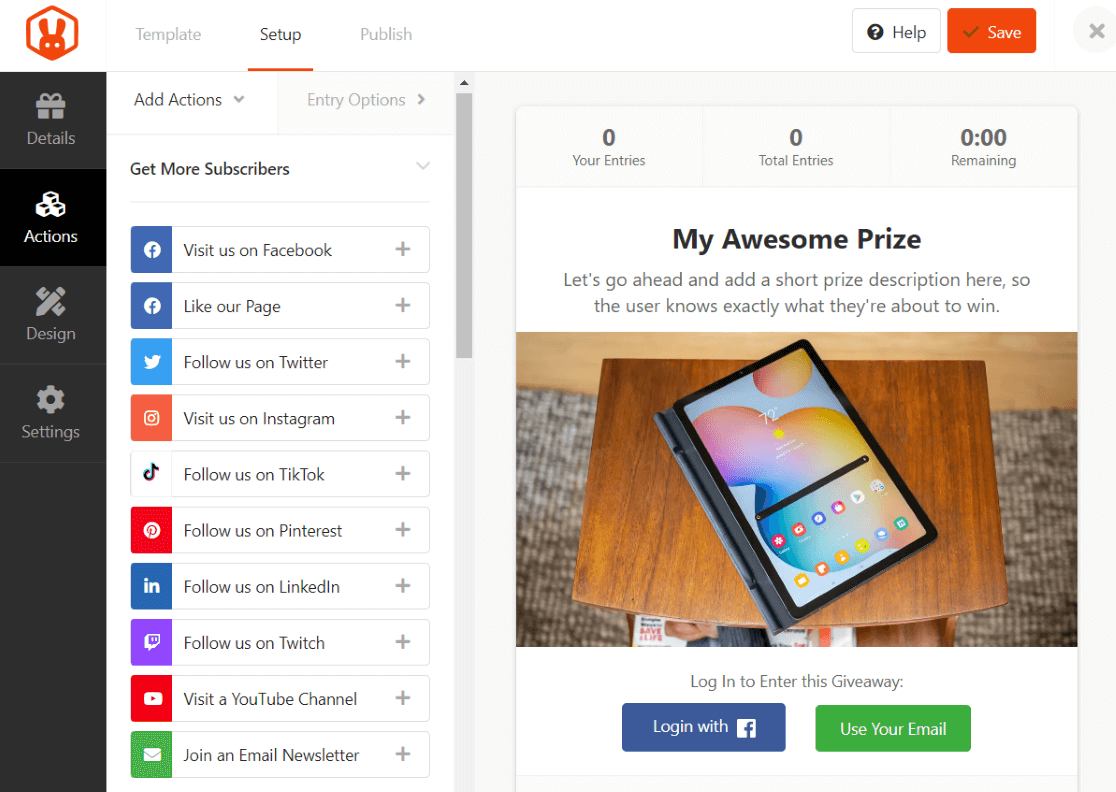 It includes giveaway actions to:
Visit your Facebook page
Follow your Twitter profile
Visit your Instagram profile
Follow you on TikTok
Follow you on Pinterest
Follow you on Twitch
Follow your LinkedIn account
Visit your YouTube channel
It's also possible to ask visitors to watch videos on your profiles and post a social media message.
You can add as many giveaway actions as you like and make performing specific actions worth more entries. As a result, you'll quickly see your follower count grow on those channels.
5. WordPress Photo Contests
Running a photo contest is often a messy business. Whether you host it on Instagram, Facebook, or Twitter, you have to keep tabs on entries manually.
RafflePress's Submit a Photo giveaway action makes the entire process easier. Just host your photo contest on your WordPress website and share the giveaway URL on social media.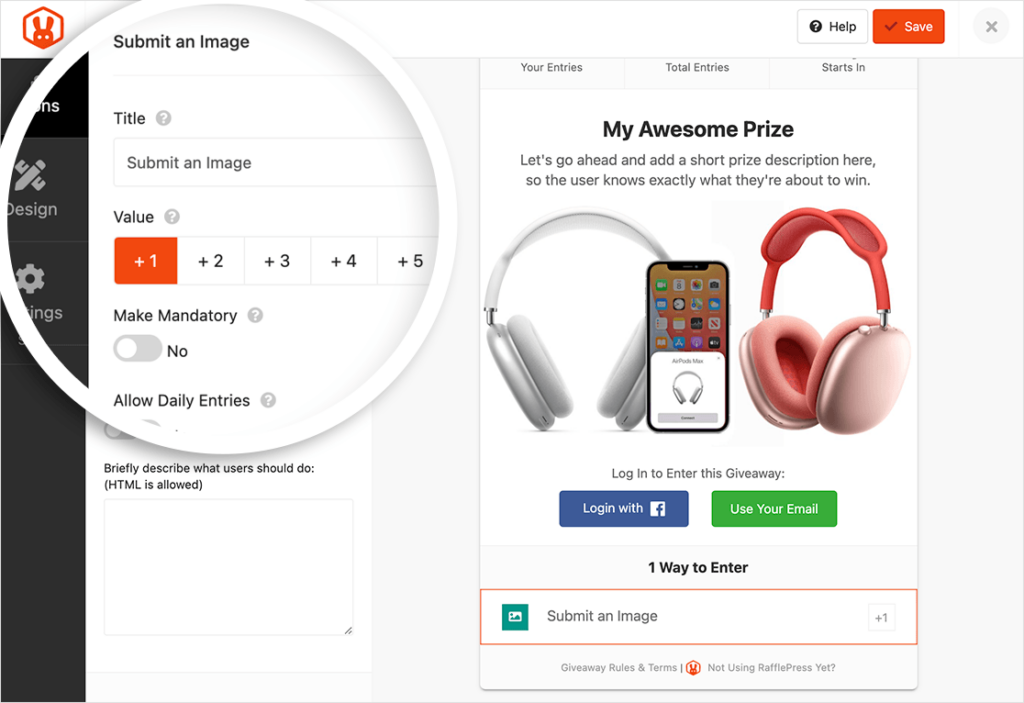 Users can then upload their photos to your WordPress website, where you can see all the entries in one place.
6. Easy Word of Mouth Marketing
Getting your giveaway to go viral is often hit and miss. Sometimes no matter how hard you promote it, your contest won't take off.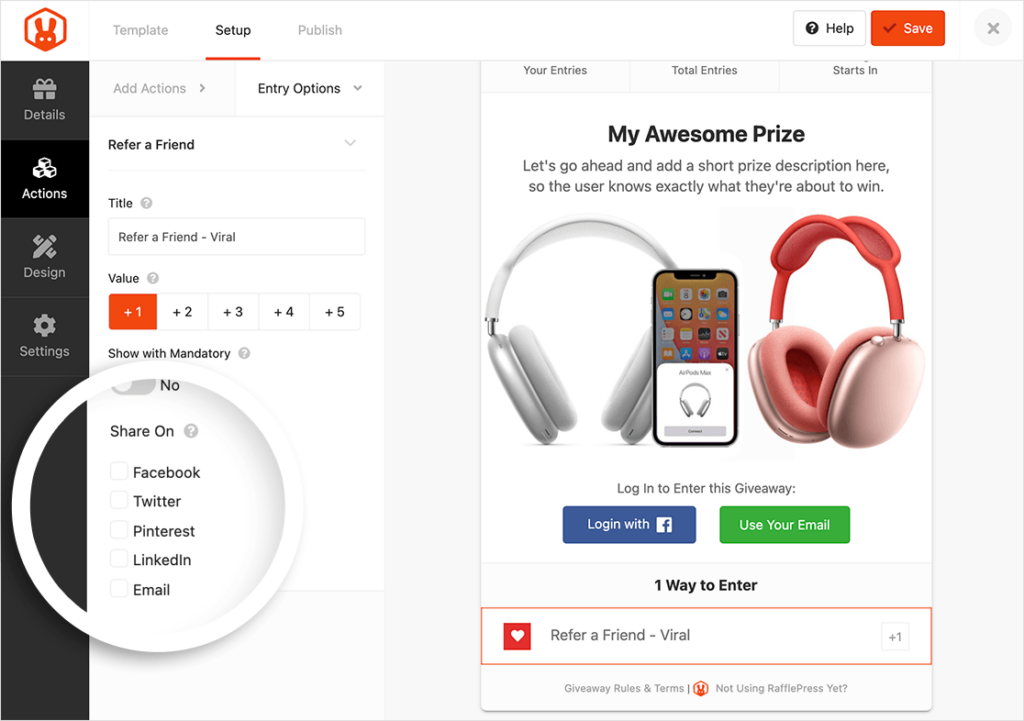 The viral refer-a-friend action in RafflePress is the best way to give your giveaway the boost it needs. The action uses word-of-mouth marketing tactics to encourage viral sharing.
It works like this:
User A enters your giveaway
A shares the contest with the refer-a-friend action
User B sees the message and enters the giveaway
B shares the contest with the refer-a-friend action
User C sees the message and enters the giveaway
C shares the contest with the refer-a-friend action
And so on
The more people that enter your contest, the more people will see it and take part. As a result, you'll not only achieve tons of entries, but you'll also expose your brand to a broader audience.
7. Boost Your Blog Engagement
Giveaways are a fantastic way to drive targeted traffic to your blog and engage with your audience. It also offers a fun way to thank your blog followers for their loyalty.
RafflePress includes several giveaway actions that make engaging your blog audience super-easy.
For instance, the Leave a Comment giveaway action is ideal for encouraging more people to comment on your blog posts. This allows you to start valuable conversations with your audience and make your blog look popular, something people consider before subscribing.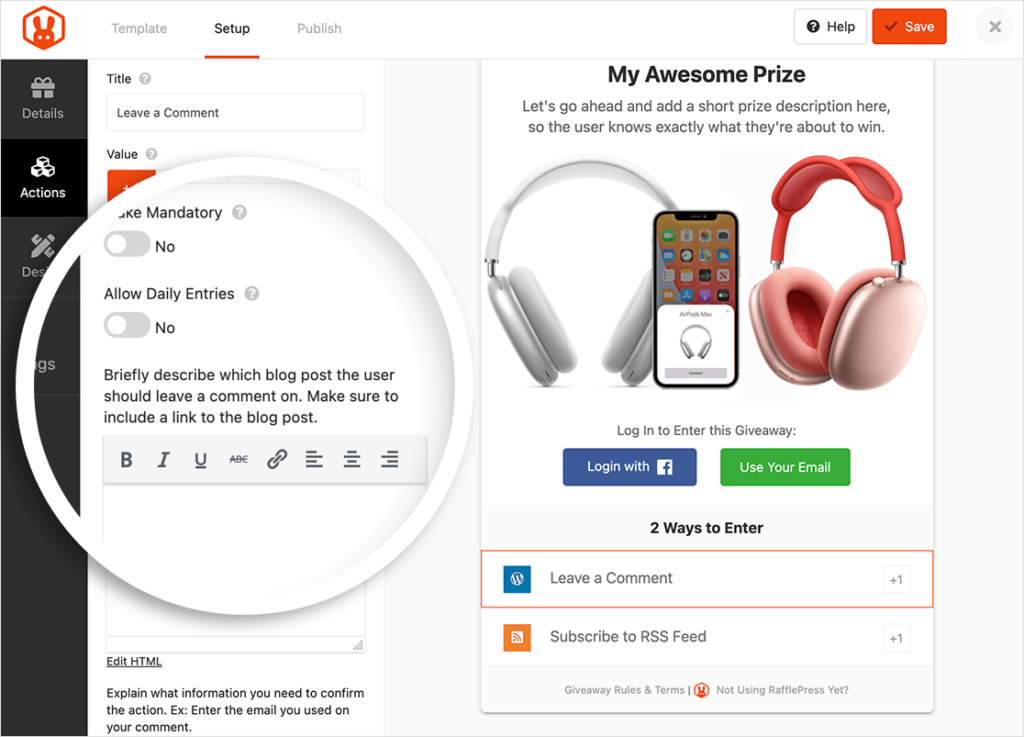 You can also use the Subscribe to RSS Feed action in your giveaways. This will help subscribers know when you've published a new post, sending traffic to your blog to read your content.
8. Makes Contests Easy to Enter
No one wants to spend ages filling in giveaway forms. People are busy and don't have time to waste.
The great thing about almost all of the giveaway actions in RafflePress, is they're designed to be effortless for people to enter.

At most, it takes 1-2 clicks, then your website visitors can get back to their busy schedules.
9. Straightforward Giveaway Design
A generic-looking giveaway doesn't really inspire people to take action. Yet, a well-designed and branded giveaway can spark curiosity and excitement.
RafflePress has various design settings you can implement with a few clicks to help your contests look more inviting. You can customize the giveaway widget layout, fonts, button colors, and more.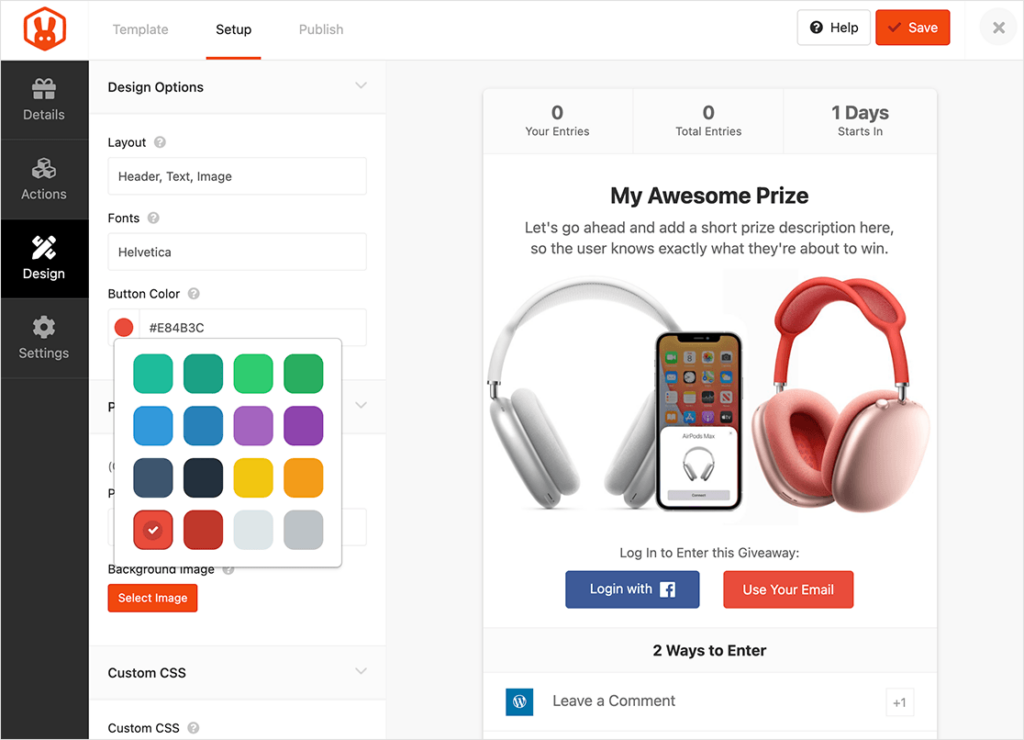 And the best thing is you won't need a designer to do it for you. The design controls are all point and click, so anyone of any ability can customize their contest fuss-free.
10. Laser-Focused Giveaway Landing Pages
Publishing your giveaway in a blog post or on a generic WordPress page can have mixed results. Since there's so much going on, your users can get distracted easily.
To solve that problem, you can publish your contest on a standalone giveaway landing page with RafflePress. All the page will have is your giveaway widget, removing any other distractions and focusing users' attention on entering your contest.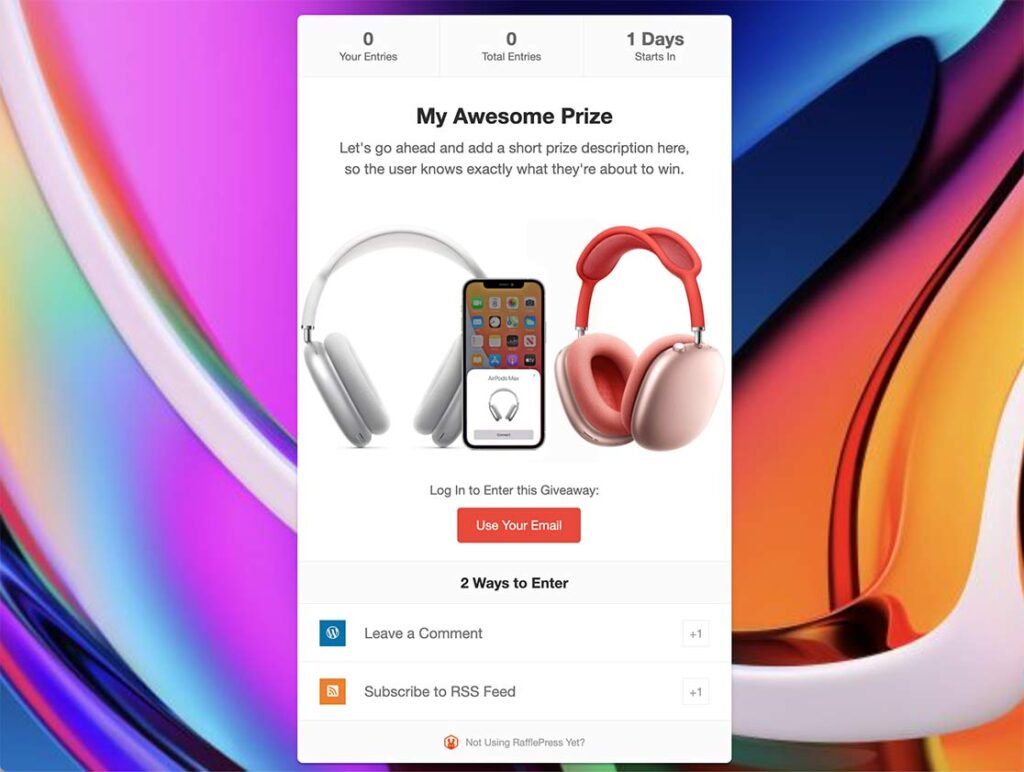 You can customize the landing page with a custom color or custom background image in the design tab.
For more detail, check out our post on how to create a landing page in WordPress.
11. Automatically Generate Contest Rules
Every giveaway should have a clear set of rules, terms, and conditions. Contest guidelines keep your giveaway fair, legal and explain what qualifies as a correct entry.
RafflePress's giveaway rules generator removes the need to write your rules manually. Instead, you can answer a few questions and generate your rules automatically.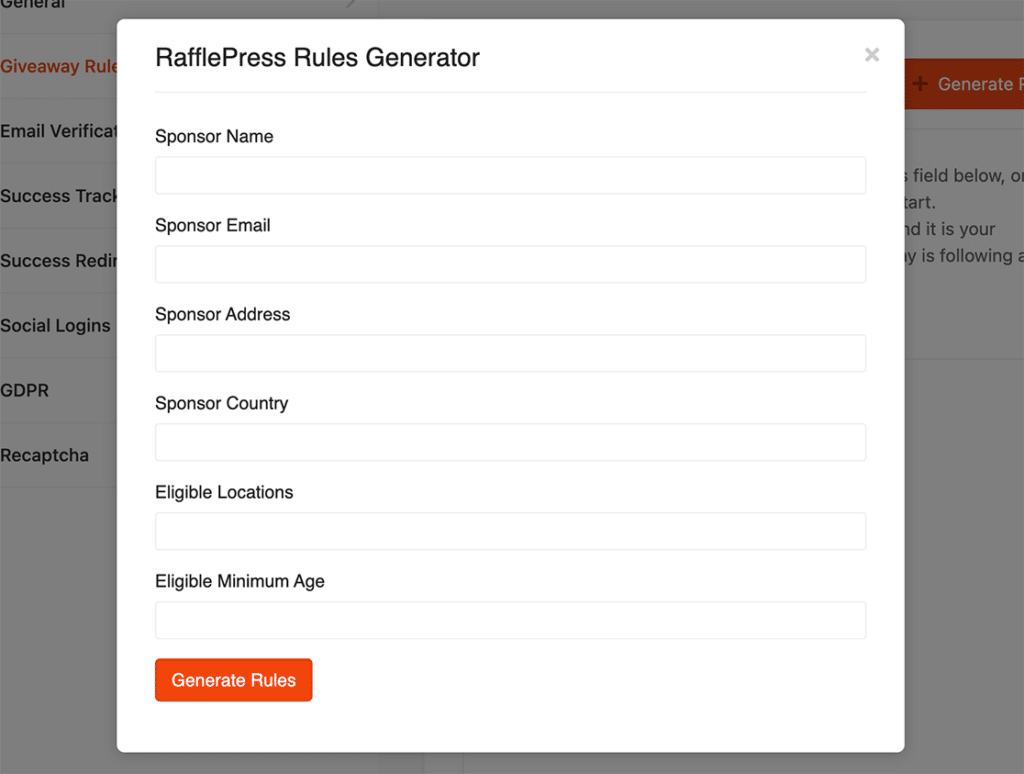 Then, your terms and conditions are added to your giveaway widget so that users can click and view them.
12. Connects to Popular Email Marketing Services
If you're running a giveaway to grow your email list or want people to subscribe to your newsletter as a bonus entry, you'll need to connect RafflePress to your mailing list.
Doing so is super easy. Just select an integration from a list of popular email marketing services, authorize the connection, and you're done!
RafflePress integrates with the following popular email marketing providers:
ActiveCampaign
AWeber
ConvertKit
And more
If you don't use the providers on the list, you can connect to a service with Zapier. That way, you can link your giveaways with thousands of web apps to make running your online business easier.
13. Track and Retarget Participants
An important feature many people overlook is the ability to track your giveaway performance and serve retargeting ads to giveaway participants.
RafflePress's success tracking area allows you to enter your Google Analytics tracking script to keep tabs on your giveaway's performance.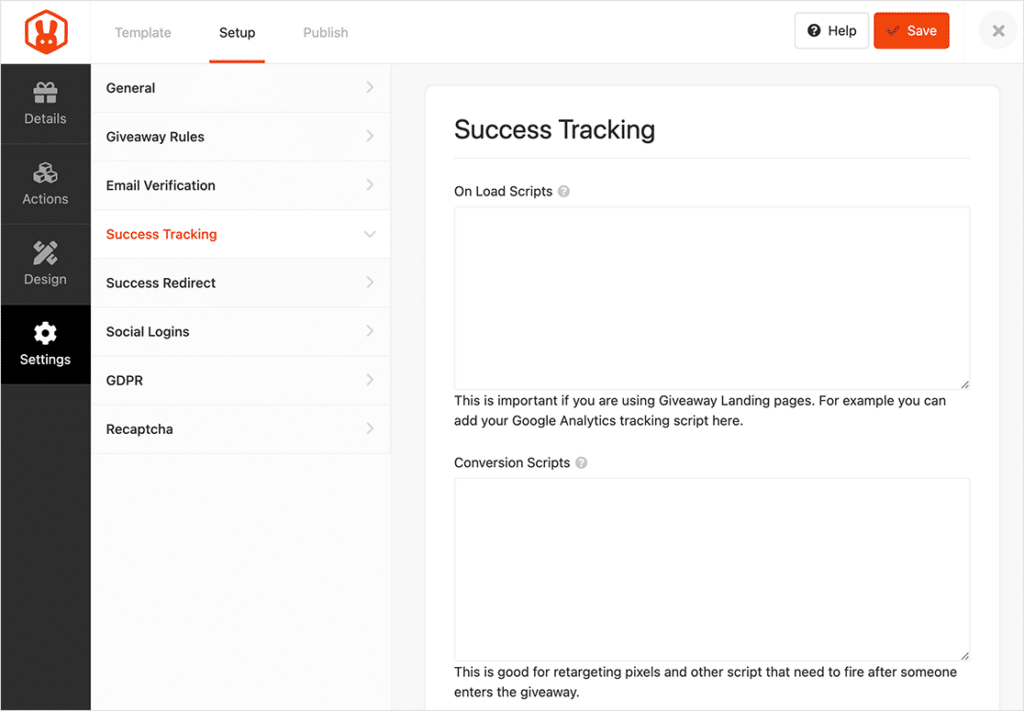 You can also enter scripts like your Facebook tracking pixel to retarget users after entering your giveaway.
14. Protect Giveaways from Spam Entries
A major obstacle for any giveaway is the amount of spam they generate. Let's face it, where there's a freebie, spam often follows. This is frustrating because it prevents real participants from getting a fair shot at winning and fills your list with users not interested in your brand.
To combat this, you can use RafflePress's Invisible Recaptcha setting, which only shows a Recaptcha when there's suspicious activity.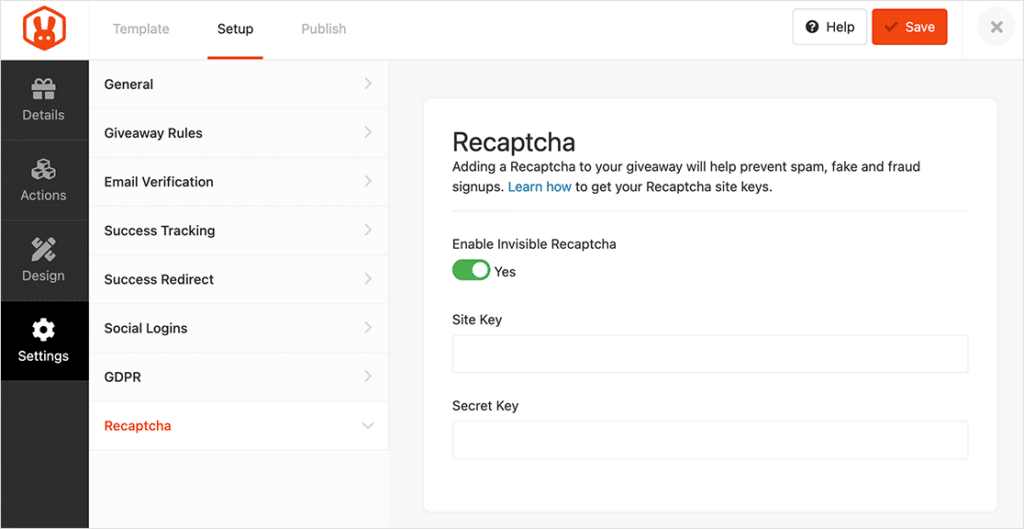 You can also verify entries by email to ensure participants are genuine users.
15. View Contest Entries In Your WordPress Dashboard
Do you really want to scour every single social media platform for possible giveaway entries? No one has time for that, and it's not always the most accurate solution.
Luckily, you won't have to do that with RafflePress. When anyone enters your giveaway, you'll see who they are, how many entries they earned, the actions they took, and more, right inside your WordPress dashboard.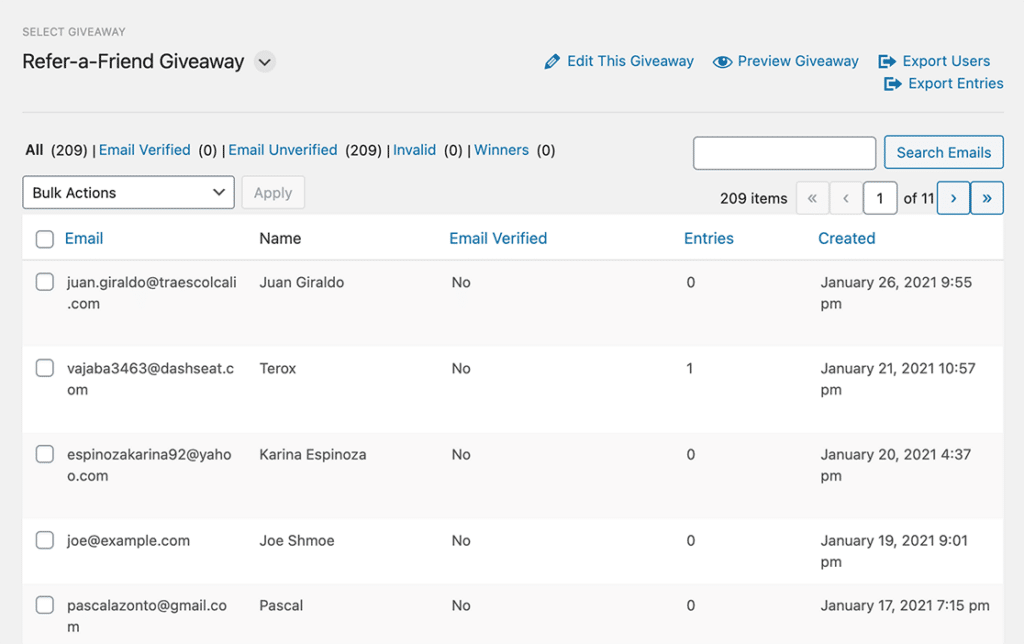 Keeping everything in 1 place not only saves valuable time but also ensures everything is recorded accurately.
16. Draw Giveaway Winners Randomly
One of the most popular ways to choose a giveaway winner is to pick one at random. But how do you do that if all your entries are spread over various platforms?
The solution is easy.
RafflePress has a built-in winner picker that allows you to select 1 or multiple winners randomly. It also provides the ability to email the winner by clicking a link right inside WordPress.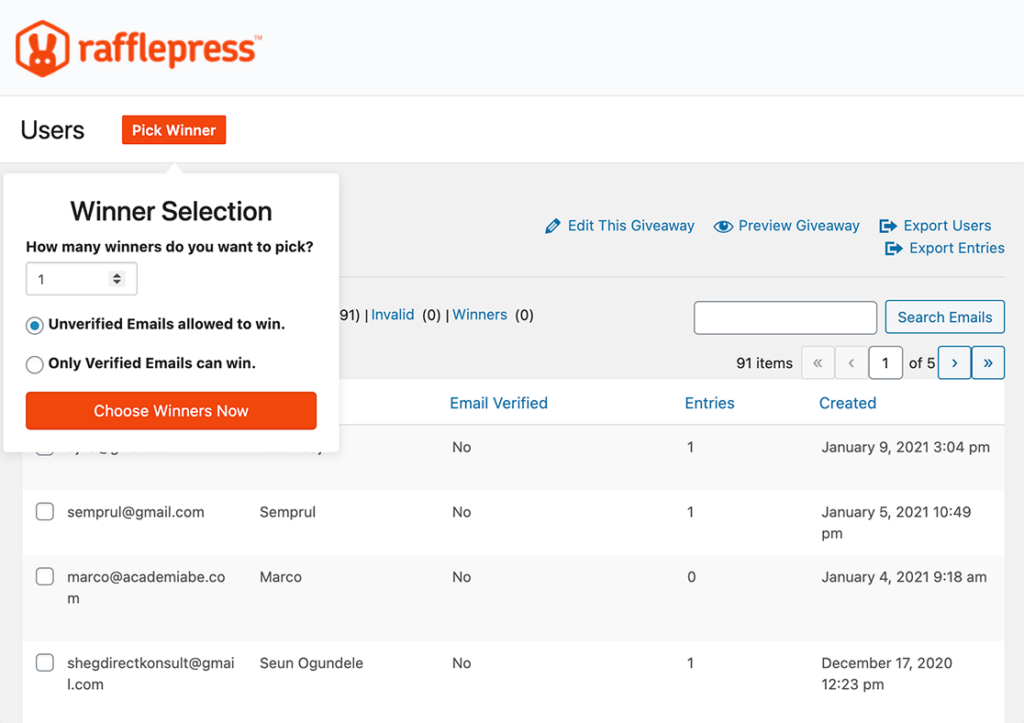 Bonus: 100% Responsive and Mobile Friendly
Another fantastic thing about RafflePress is it's lightweight and 100% mobile-friendly. Every giveaway you create adapts seamlessly to any screen size.
So whether your audience visits by mobile phone, tablet, laptop, or desktop, your giveaway will still look and perform as expected.
How Much Does RafflePress Cost?
By now, you're probably wondering about RafflePress's pricing. The great news is RafflePress is available for a variety of business sizes.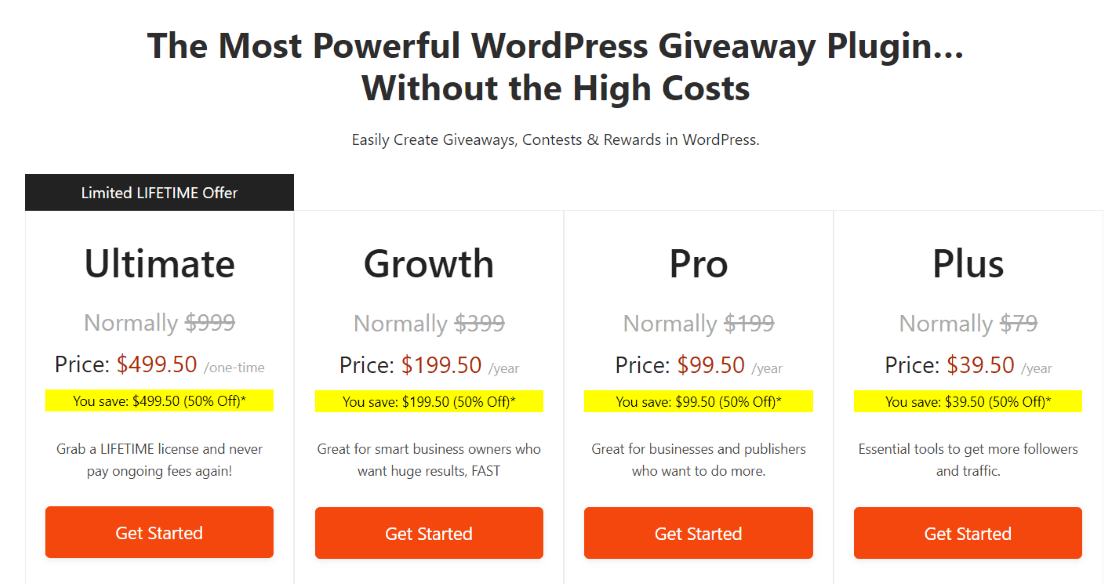 Don't have room in your budget for a premium giveaway plugin? Don't worry. You can use RafflePress Lite at no cost at all.
The free version of RafflePress has everything you need to create a successful online contest. So you won't need to spend a single penny.
Yet, if you want to take advantage of RafflePress's full suite of powerful features, you'll want to get RafflePress Pro.
Here are the price points of the different paid versions of RafflePress:
Plus Plan – $39.50 per year
Pro Plan – $99.50 per year
Growth Plan – $199.50 per year
Ultimate – $499.50 one-time payment
RafflePress Review:
After exploring all of RafflePress's features, we can say that, without a doubt, RafflePress is the best WordPress giveaway plugin on the market.
It's super easy to use, beginner friendly and packed full of fantastic lead-generating features. This makes it the best solution for growing your email list, website traffic, and social media followers with viral giveaways and contests.
Ready to grow your business with viral WordPress giveaways?
Get Started with RafflePress Today!
Looking for more awesome WordPress plugins? Check out 45 Best WordPress Plugins (Most are FREE).
And don't forget to follow us on Twitter, Facebook and YouTube for more helpful reviews, tutorials, and Google Analytics tips.