Do you want to know how WPBeginner uses MonsterInsights to grow its business?
MonsterInsights is the number 1 Google Analytics plugin for WordPress. It makes it super easy to get insights about your website and enables advanced Google Analytics tracking without touching any code.
With MonsterInsights, business owners can make data-driven decisions and grow their business with confidence.
In this case study, we'll show you 6 ways the team at WPBeginner uses MonsterInsights to grow their business. But first, let's take a closer look at WPBeginner.
Meet WPBeginner – Largest Free Resource Site for WordPress
WPBeginner is a free resource website for WordPress beginners. It started back in 2009 by founder Syed Balkhi. It provides WordPress tutorials for bloggers, small businesses, and DIY website owners.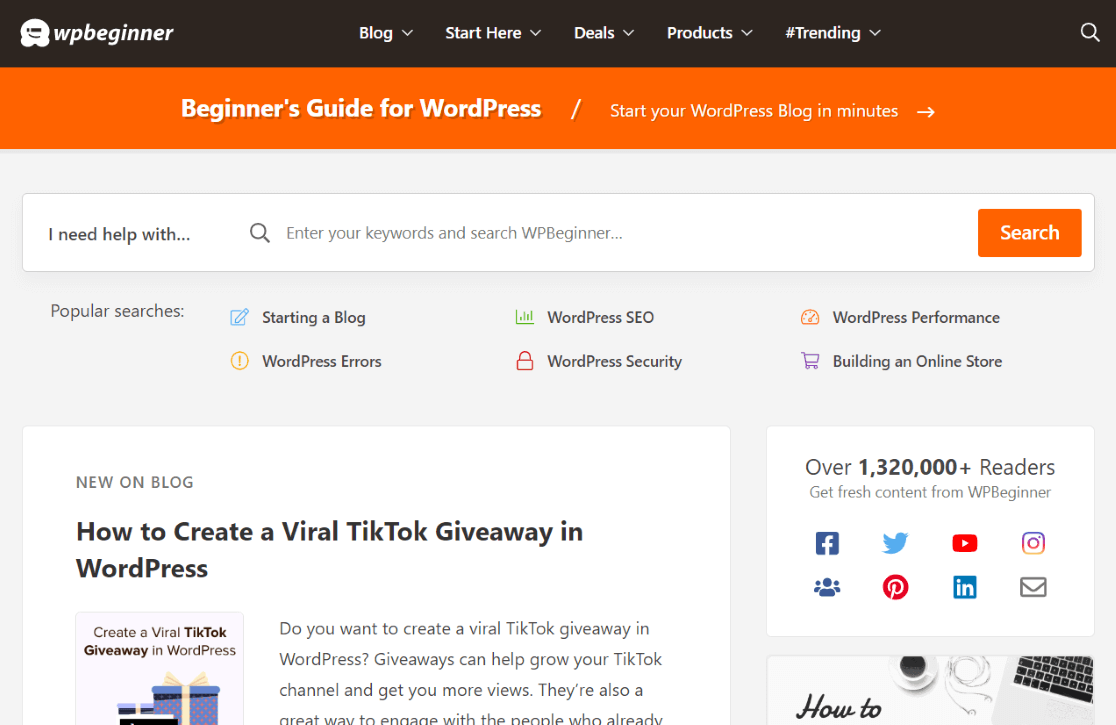 Since its launch in 2009, WPBeginner has grown into the largest free WordPress resource on the web. It has tutorials, theme and plugin showcases, a glossary, a YouTube channel, and much more.
As WPBeginner grew, Syed realized the importance of making informed decisions to scale safely and grow his business with confidence. That's why he started using MonsterInsights to get the stats that matter and make data-driven decisions to accelerate growth.
Here are 7 ways WPBeginner is using MonsterInsights to grow.
1. Identify New Opportunities with Publishers Report
The MonsterInsights Publishers report provides key metrics for any website that publishes content. You can use the report to find top-performing pages, identify new opportunities by discovering what content your audience is interested in, and get demographic data about your visitors.
For WPBeginner, one of the most important reports is the Outbound Link report. Since WPBeginner is an affiliate website, it uses the report to find untapped affiliate partnership opportunities.
By tracking which external links visitors click most often, WPBeginner can establish new partnerships by joining different affiliate programs or reaching out to potential partners.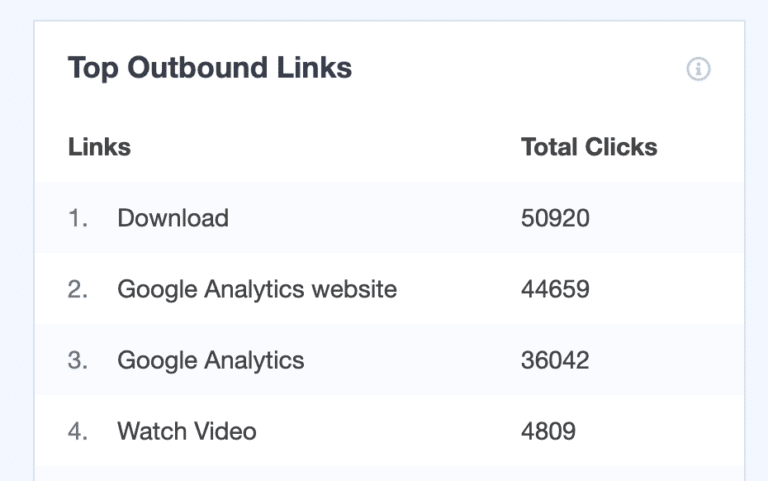 And with the Top Affiliate Links report, WPBeginner gains insights about conversion optimization by tracking affiliate links across the website.
The Top Affiliate Links report shows best performing affiliates and the clicks they generate. WPBeginner uses this information to see which affiliates to promote more and which affiliates need improvement.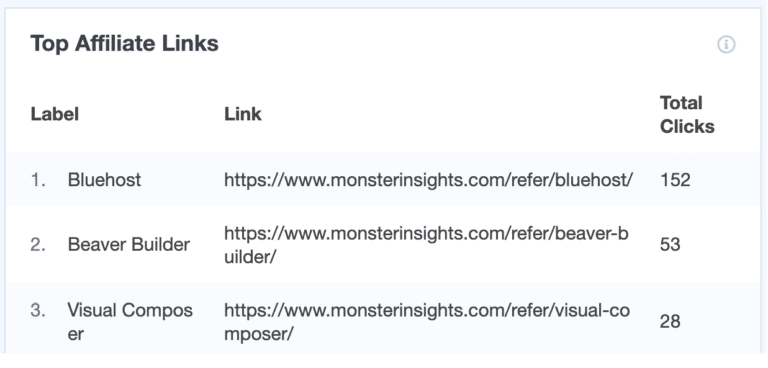 2. Show Offers at the Right Time with Scroll Depth Tracking
Unlike default Google Analytics code, MonsterInsights automatically enables scroll depth tracking on websites.
It shows how far a user scrolls on your website so that you can place a call-to-action (CTA) in the right place and display offers at the right time.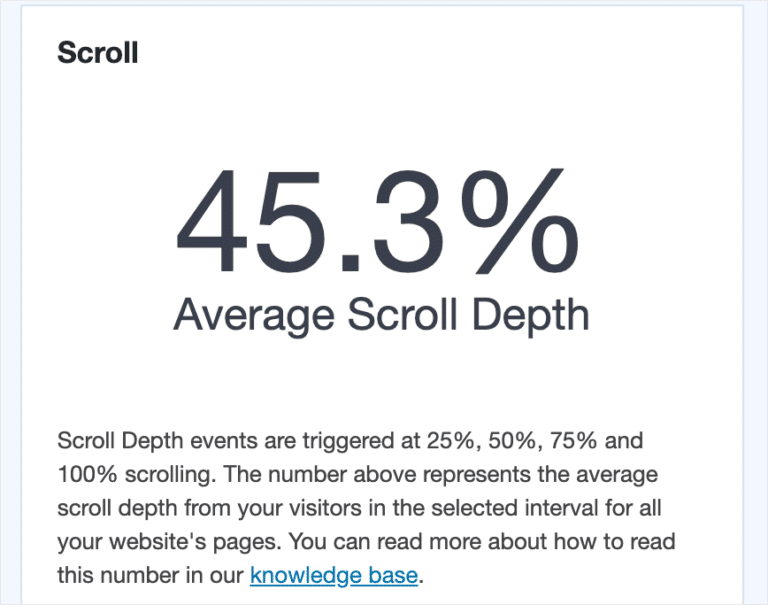 The WPBeginner team uses scroll depth tracking to show its slide-in scroll box popups.
What's a scroll box popup?
As a user scrolls through your website, it triggers a popup after a certain scroll depth. WPBeginner promotes its Facebook group in the scroll box, so visitors can connect with the website via social platforms and get exclusive content and giveaways.
To create a scroll box, WPBeginner uses OptinMonster. It's the best WordPress plugin for conversion optimization, generating leads, and boosting sales.
One of the top features of OptinMonster is that it lets you create a slide-in scroll box campaign to display a customized popup after a user reaches a certain scroll depth.
3. Find Top Performing Categories with Custom Dimensions
WPBeginner has several posts that are grouped into different categories. And to understand which post category performs the best, it uses MonsterInsights Custom Dimensions report.
Let's say WPBeginner wants to know which category generates the most traffic. Is it from news, tutorials, opinion pieces, or showcase articles?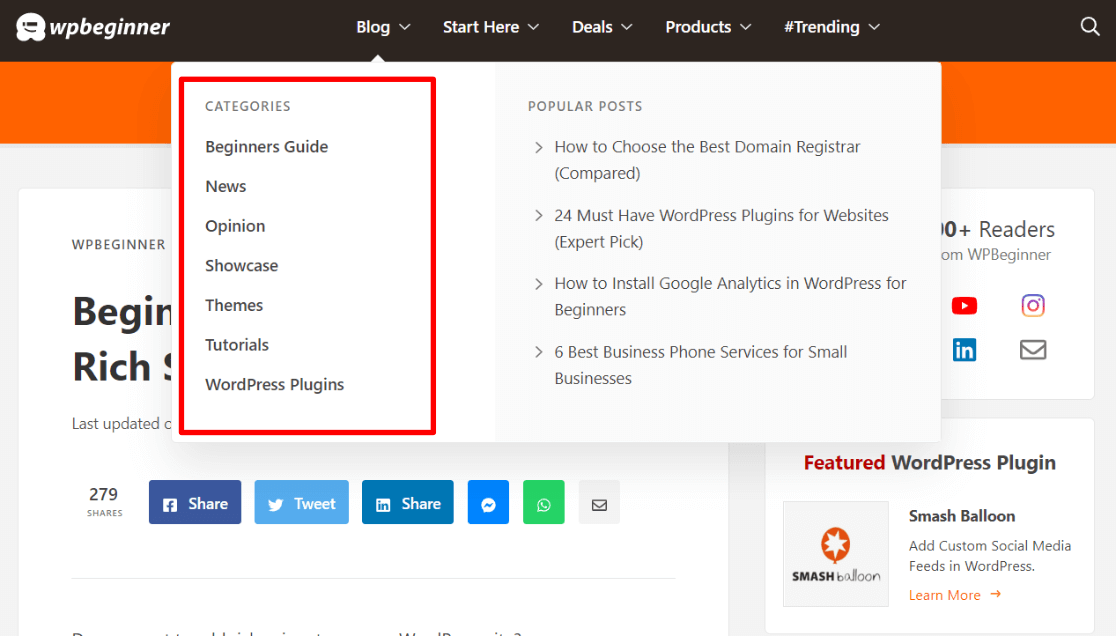 With the help of the MonsterInsights Custom Dimensions report, the WPBeginner team can see which categories perform the best. This way, they can direct their focus to promoting the blog post type that brings in the most traffic.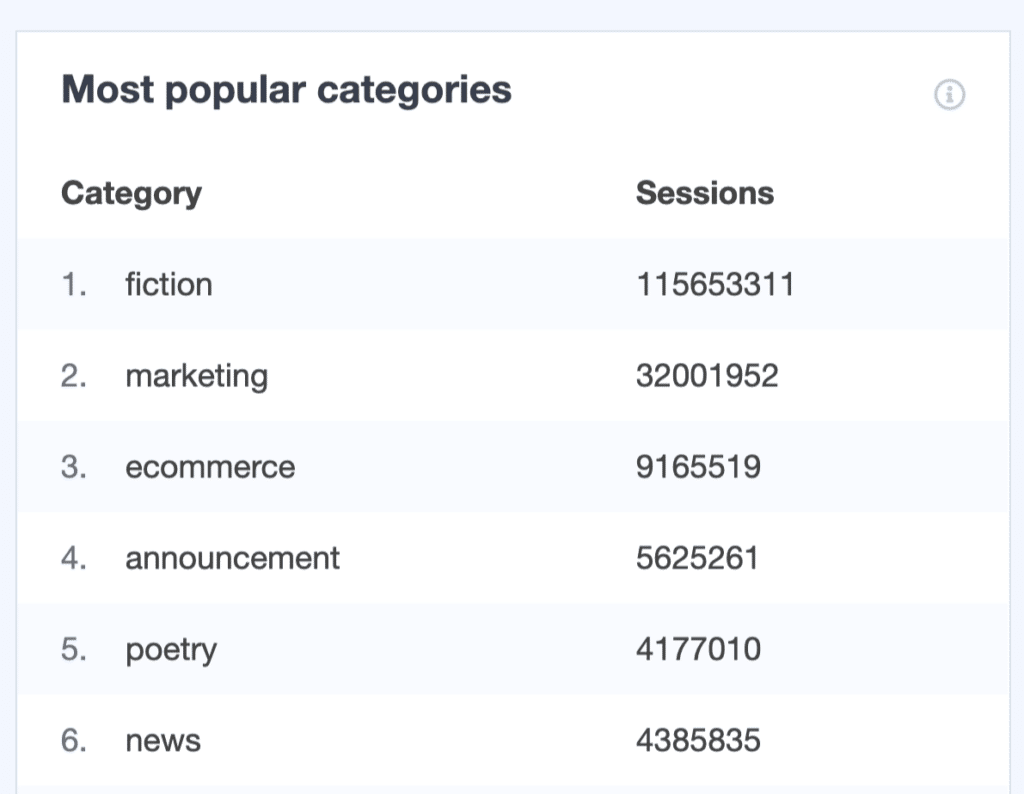 The custom dimensions report isn't just the top category. By setting up other dimensions, you can see your popular authors, the best time to publish content, popular tags and more. We recommend that you go through our complete guide on custom dimensions.
4. Track Keyword Performance with the Search Console Report
Search engine optimization is important to WPBeginner, since it's a content-driven website. To see keyword performance, WPBeginner uses the MonsterInsights Search Console report.
Using the report, you can see keywords that rank high on Google and bring in organic traffic. For each keyword, you can see clicks, impressions, click-through-rate (CTR), and average position.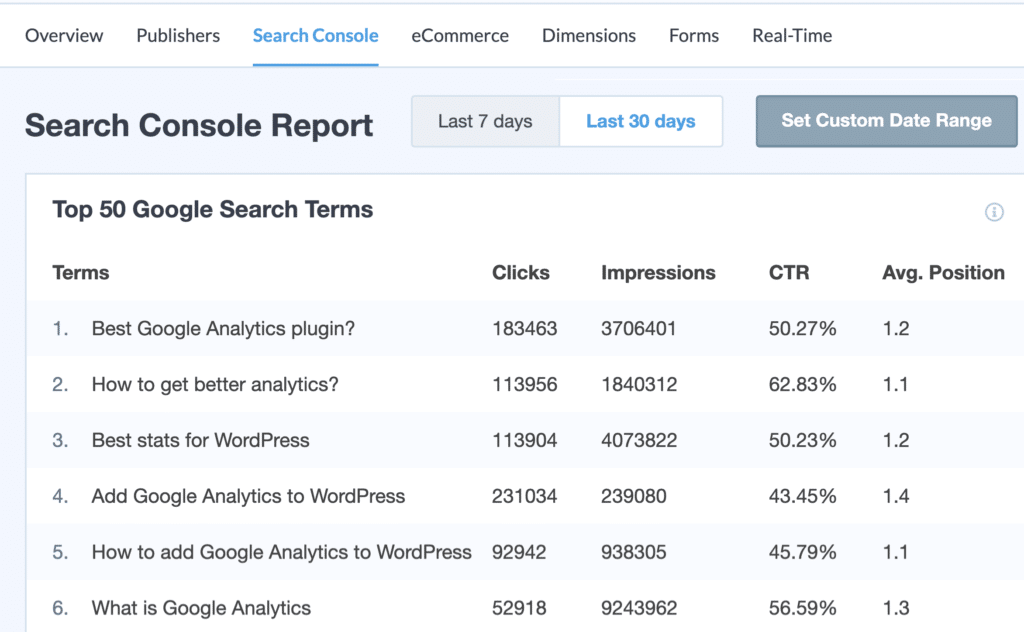 The report also helps in identifying other keyword opportunities for the website. For example, WPBeginner can use keyword research tools to find similar keywords to rank for and grow their traffic.
5. Track Form Conversions with the Forms Report
The WPBeginner team uses multiple forms on their website to grow their email list, conduct surveys, and get new blog post ideas. To track the performance of each form, they use the MonsterInsights Form Conversion Tracking addon, which automatically integrates with WPForms and all the other popular WordPress form plugins.
With the help of the Forms report, WPBeginner can track conversion rates and impressions for each form. So, if a form is not doing well in terms of conversions, the team can make changes to boost its performance.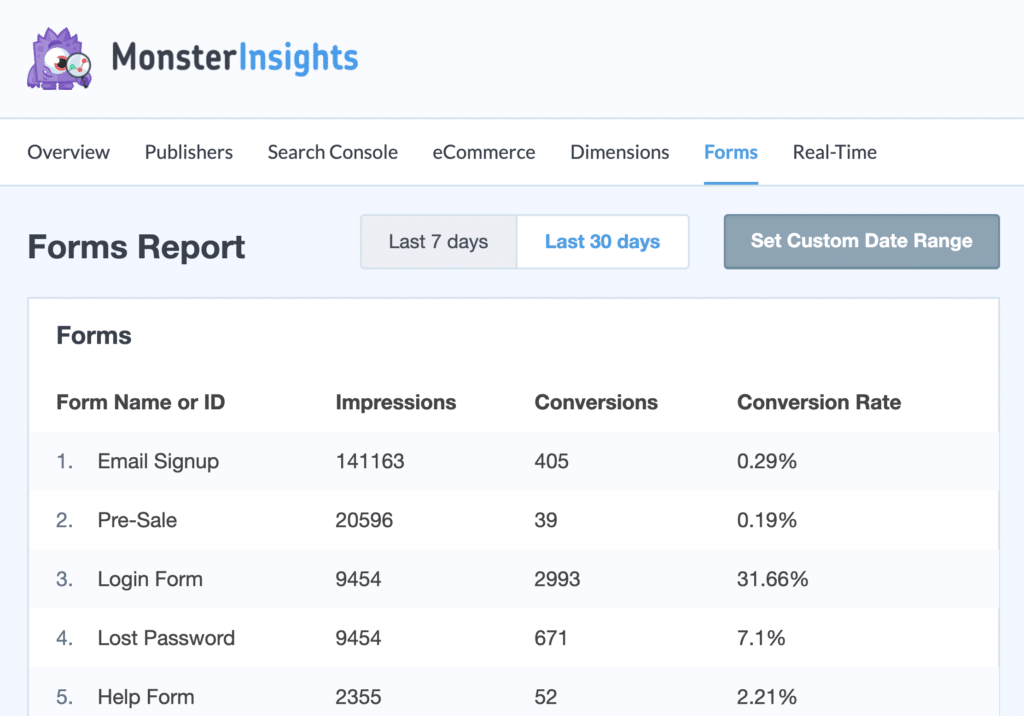 6. Uncover New Content Ideas with the Top Landing Pages Report
WPBeginner provides free resources to help users starting with WordPress. So, when they plan their content, it's important to discover what information new WordPress users need the most.
To help uncover new topics, the WPBeginner uses several MonsterInsights reports. With the help of the Top Landing Pages report, they can see the posts that are performing well. Based on the data, they can create similar content to help visitors.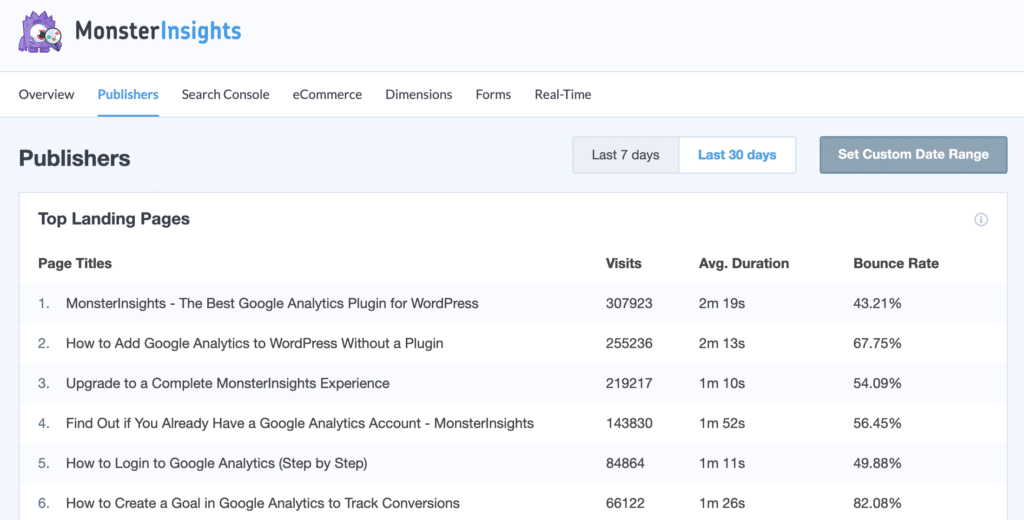 Another way the WPBeginner team uses MonsterInsights to find content ideas is through the demographics reports, which shows you the top interests of your readers.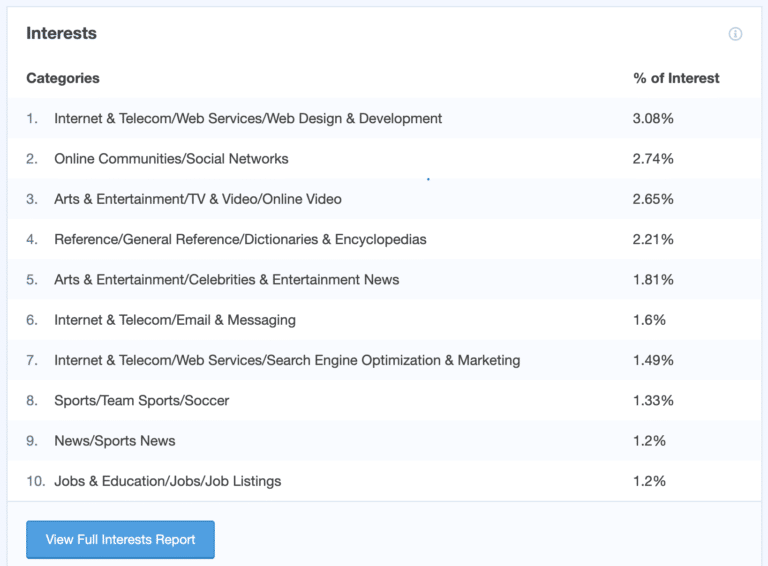 Using these two reports in combination, WPBeginner keeps on delivering content that solves problems of WordPress users, while boosting the site's performance.
7. See Which Videos Visitors Are Watching
WPBeginner embeds helpful YouTube videos into their content so that visitors can choose to watch the video instead of read through the tutorial. With the MonsterInsights media report, the WPBeginner team can easily see which videos visitors are watching, when they're clicking the pause button, and more.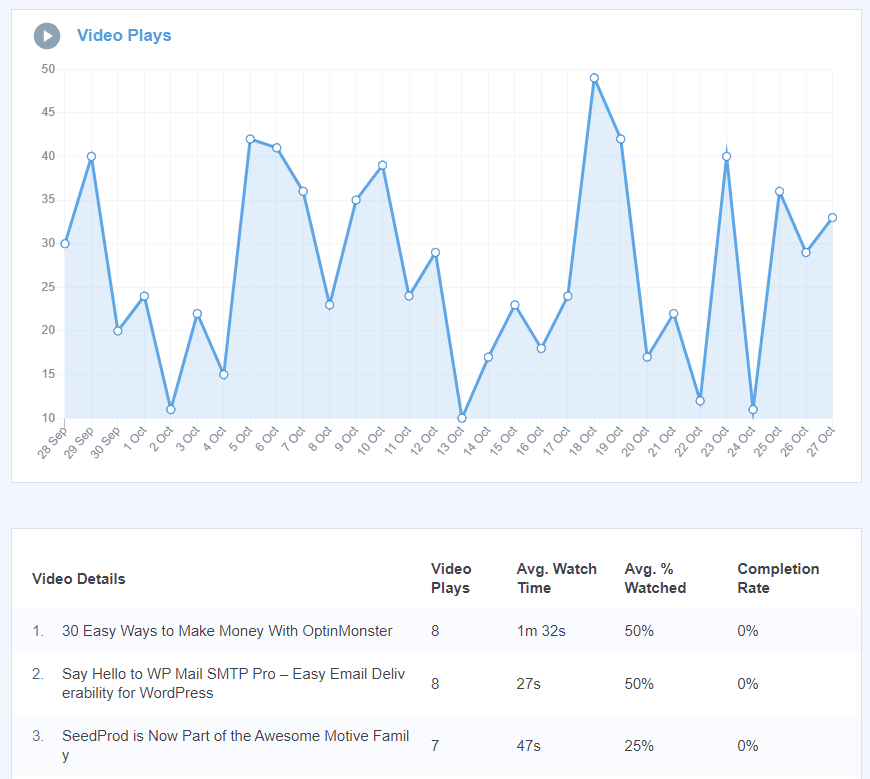 With this report, the WPBeginner team can see which videos are performing the best, and work to improve the ones that have a low watch time.
And there you have it!
MonsterInsights is an important part of WPBeginner. It contributes towards driving traffic to the website, finding new partnership opportunities, tracking performance, identifying new content ideas, and much more.
We hope you like our case study on how WPBeginner uses MonsterInsights to grow their business. Next, you can also check out our article on ways to make more money from your existing website traffic.
Not using MonsterInsights yet? What are you waiting for?
And don't forget to follow us on Twitter, Facebook and YouTube for more helpful Google Analytics tips.