Over the last several months, you've likely received several emails about the General Data Protection Regulation (GDPR) from companies like Google, MailChimp, and countless others.
That's because this new regulation contains some major changes to data privacy and individual rights for people in the European Union (EU), and it affects websites / businesses around the world.
A lot of you have been emailing us asking about how MonsterInsights will comply with the new GDPR rules. Today, we're excited to announce the launch of our new EU Compliance Addon.
The goal of this addon is to help you comply with the latest EU regulations, like GDPR, by automatically performing configuration changes and integration with compatible plugins and services.
MonsterInsights' EU Compliance Addon
Once you install and activate the EU Compliance Addon for MonsterInsights, it automatically does the following:
Anonymize IP address
Disable UserID tracking
Disable dimensions for UserID and author tracking
Filter IP addresses on measurement protocol hits
Remove UserID from eCommerce hits
On top of that, MonsterInsights is now compatible with both CookieBot and the popular Cookie Notice plugin for WordPress.
If you're using one of those two plugins, then MonsterInsights will automatically integrate and wait to track a user until consent is given.
While the settings page is available in the Tracking tab, everything works out of the box automatically, and there's nothing to be configured.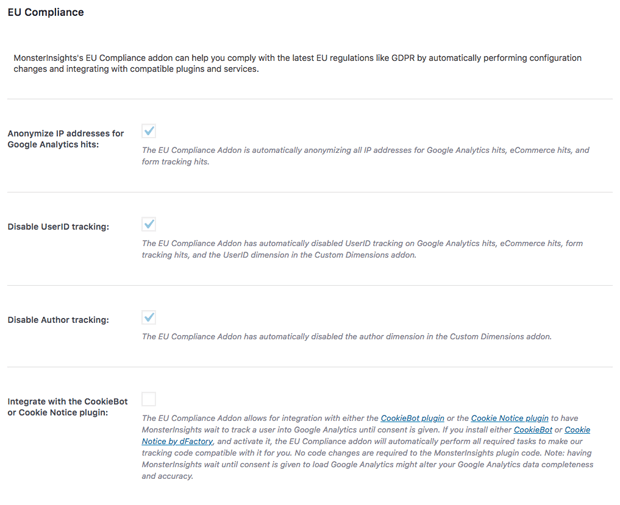 New Forms Report
We've also added a new Forms report with enhanced tracking for the WPForms plugin.
Our forms addon now integrates directly in the WPForms' PHP hook to provide more accurate conversion tracking.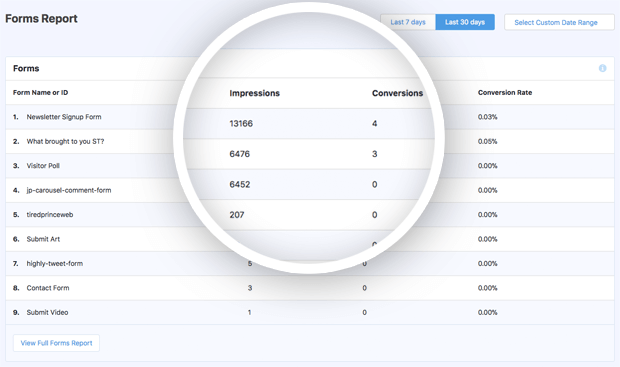 If you have any questions, please free to get in touch using our contact form.
As always, thank you for your continued support. We look forward to bringing you even more useful features in the near future!
Syed and the MonsterInsights team
Note: This addon is designed to automate some of the settings change required to be in compliance with various EU laws however due to the dynamic nature of websites, no plugin can offer 100% legal compliance. Please consult a specialist internet law attorney to determine if you are in compliance with all applicable laws for your jurisdictions and your use cases.
* We are not lawyers and nothing on this website should be considered legal advice.