Looking to optimize your website for conversions? To do that, you'll need to track conversions by setting up goals in Google Analytics.
In this tutorial, we'll show you how to go about adding goals to Google Analytics to track conversions using two different methods. First, we'll go over the process of setting up goals manually. The process can be confusing and difficult for beginners, so we'll also look at an easier way to track conversions: with MonsterInsights.
First, let's take a look at what goals are and why you might need them.
What are Goals in Google Analytics?
Google Analytics goals allow you to track specific user interactions on your site. These user interactions can be anything including form submissions, product purchases, visiting certain pages, and more.
When a website visitor performs the specific action that you've defined as a goal, Analytics records that as a conversion.
Let's take a look at or two different ways to track your website's conversions.
Two Ways to Track Conversions with Google Analytics:
Video Tutorial
Adding Goals to Google Analytics in 4 Steps
Once you know how to add Google Analytics to WordPress, you can set up goals in Google Analytics by following these steps:
Step 1: Sign in to your Google Analytics account
Head to https://analytics.google.com/analytics/web/ and select the website for which you'd like to create a new goal.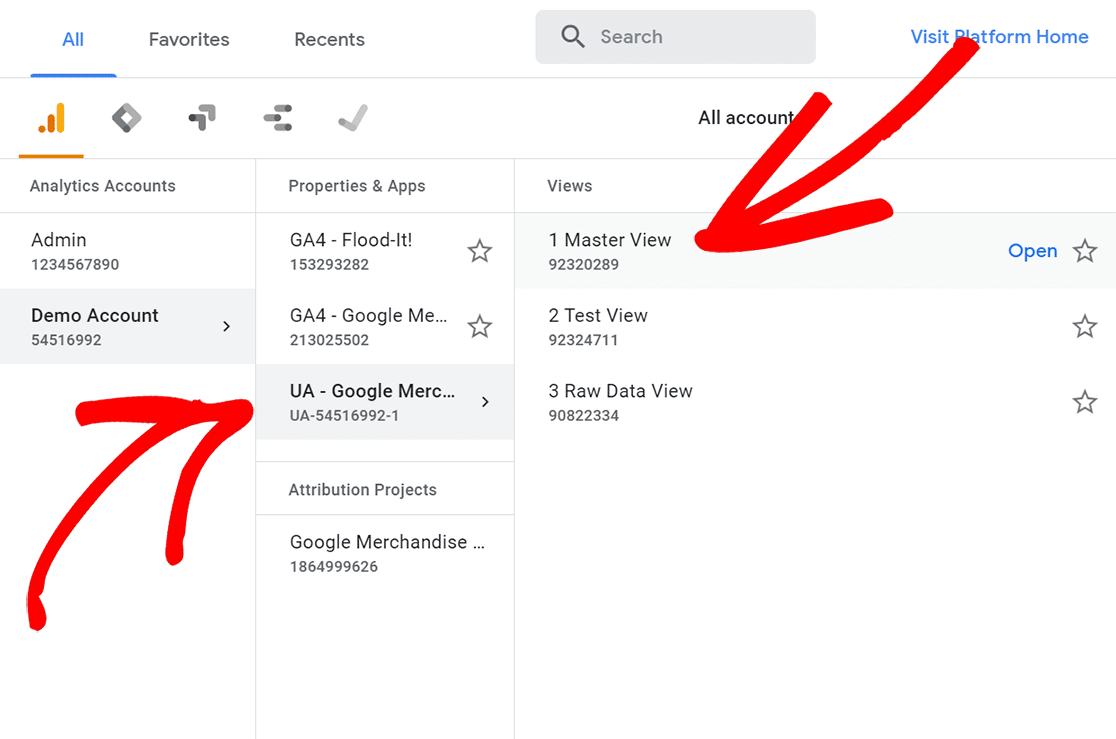 Step 2: Navigate to Admin » Goals
In the left panel, click the Admin cog, and in the View column, click Goals.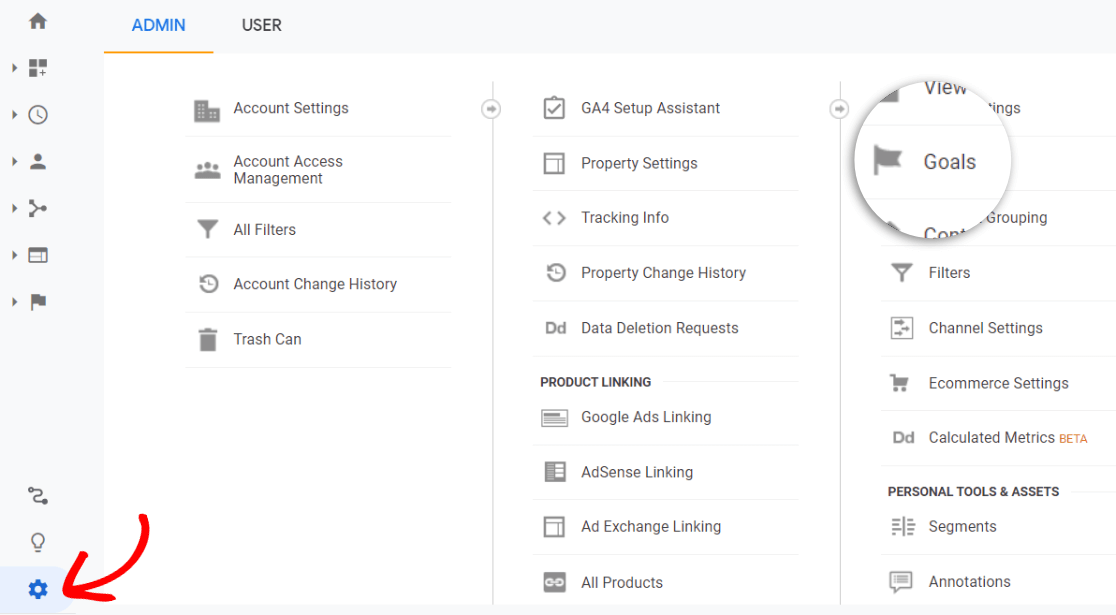 Step 3: Click the + New Goal Button
To create a new goal, click the +New Goal button.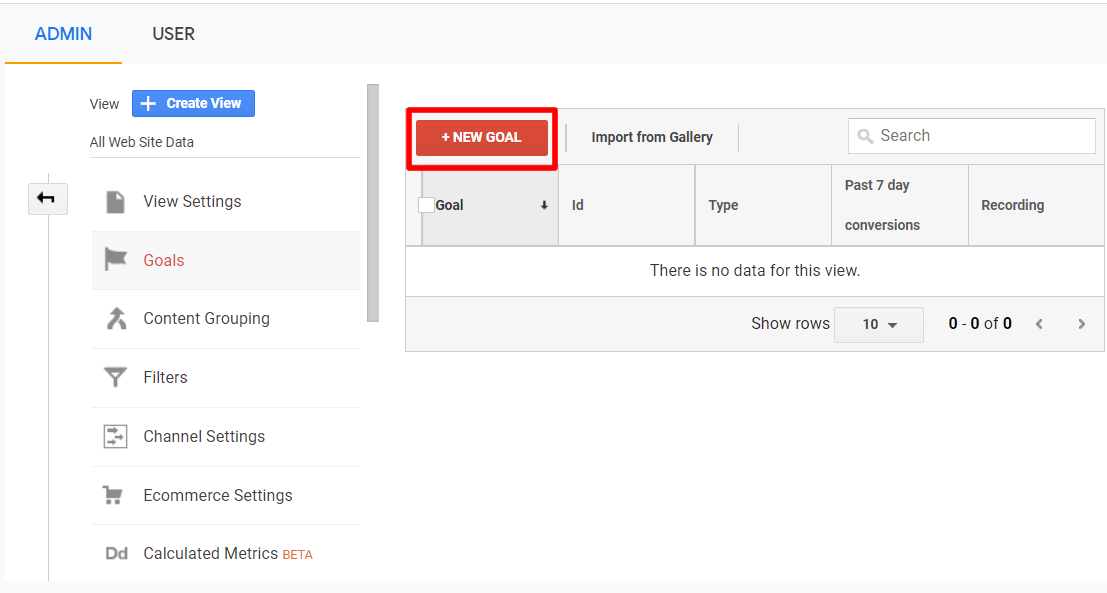 Step 4: Enter Goal Details
Now you'll be prompted to enter a description and the details of your goal. You can enter a suitable name and choose the right goal type.
Which Goals are Available in Google Analytics?
You'll see four goal types in Google Analytics. They are:
Destination: You can choose this goal type if you want to treat a pageview or screen view as a conversion.
Duration: You can measure user engagement by treating time spent on a page as a conversion.
Pages/Screens per session: This is another way to measure user engagement. You can measure the number of page views per session as a conversion.
Event: You can treat user interaction like button click, video play, form submission, ebook download as a conversion.
To dive deeper into the types of goals in Google Analytics, read 4 Types of Goals in Google Analytics: Crucial Data to Track Now.
For this example, we'll set up a goal for a newsletter signup. So, when you click the + New Goal button, you'll see a list of available goal templates and the Custom option. For this walkthrough, pick Custom.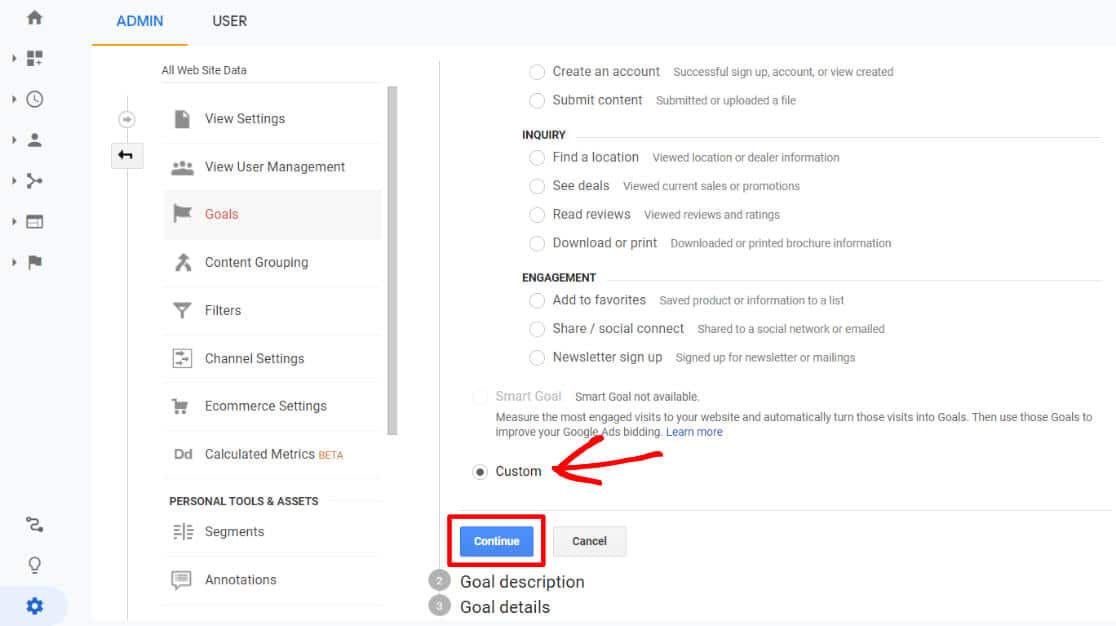 Click Continue.
Then, you can fill in a name for your goal, and choose the goal type. We're going to pretend we have a thank you page set up for when someone signs up for our newsletter, so we'll use a Destination goal.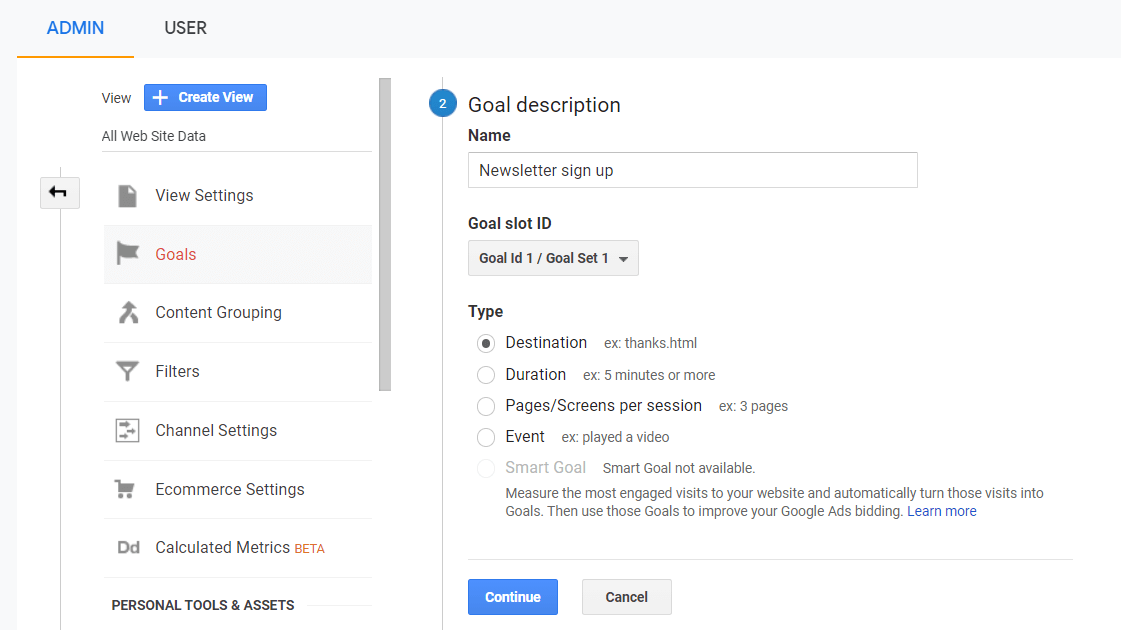 Now, click Continue.
Then, we'll fill in the page we want to count as a conversion (our thank you page), /thank-you. You can also turn on the Value option if you want to give your goal an approximate value for reporting purposes.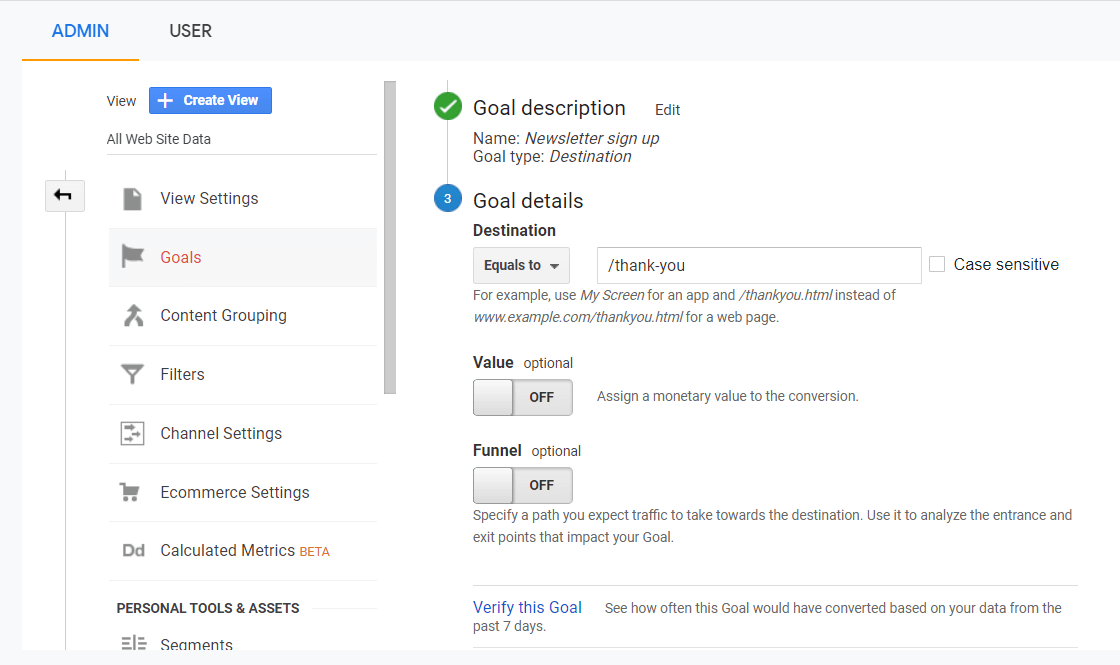 You can click on the Verify this Goal link if you want to measure how often this goal would have converted on your data from the past 7 days.
Once you've entered these details, click Save.
You've successfully created a goal in Google Analytics.
For a more in-depth walkthrough on creating all the different types of goals, head to the Google Analytics walkthrough.
How to Track Google Analytics Goals Using MonsterInsights
If your website is on WordPress, we have great news. Tracking a whole list of conversions, including form submits, is much easier with MonsterInsights!
MonsterInsights is the best Google Analytics WordPress plugin available. It allows easy event tracking and displays reports right in your dashboard.
This way you can make data-driven decisions, analyze which goals are performing better, and make appropriate changes.
One of the biggest advantages of using MonsterInsights is that you don't have to manually set up goals in Google Analytics. The plugin can set up and track multiple conversions for you, including:
eCommerce Sales
Form Submissions
Video Plays
Outbound Clicks
File Downloads
For example, let's take a quick look at how MonsterInsights tracks form submissions.
Easy Forms Tracking Addon
If you have several forms on your website, creating goals for each of them can be a difficult and time-taking task.
But using MonsterInsights Forms Tracking addon, you can track each form without messing with any code or going through the manual set up process of creating a goal.
The WordPress plugin tracks all the forms that are on your website and displays their impressions, conversions, and conversion rate in a simple report.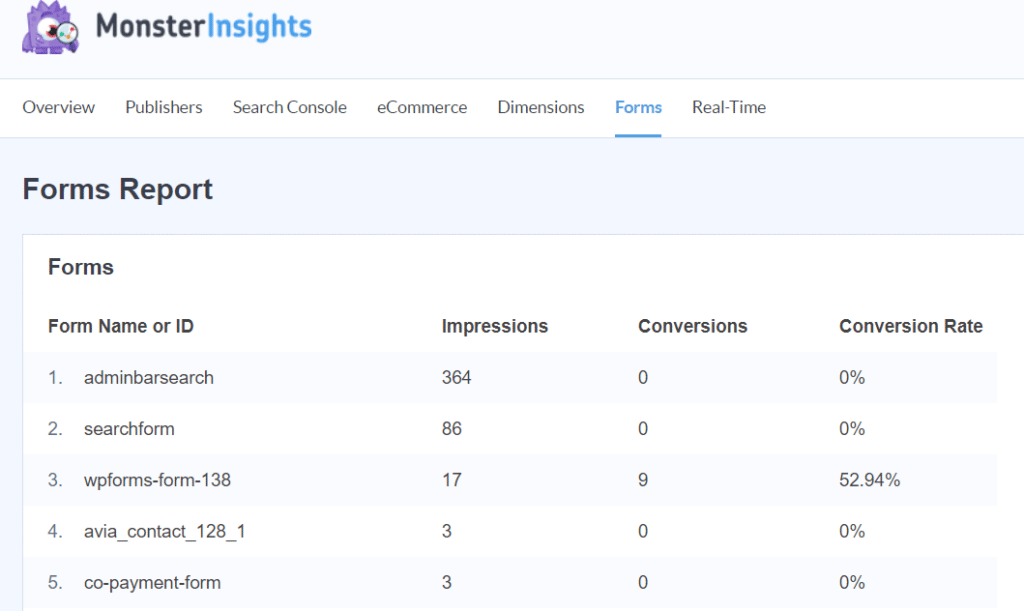 For more examples of what events and goals you can track with MonsterInsights, check out Your Ultimate Guide to MonsterInsights Dashboard Reports.
That's it!
We hope you enjoyed our article on how to create a goal in Google Analytics to track conversions. You might also want to check out our guide on tracking links and buttons in WordPress.
And don't forget to follow us on Twitter, Facebook and YouTube for more helpful Google Analytics tips.