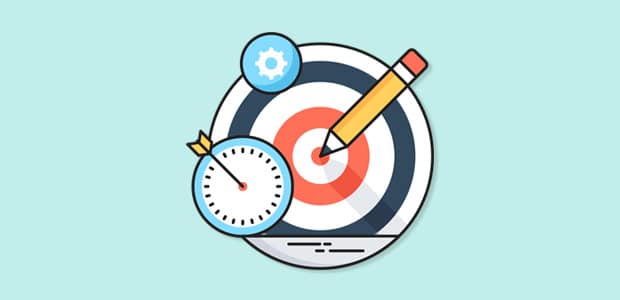 How to Create a Goal in Google Analytics to Track Conversions
Looking to optimize your website for conversions? To do that, first you'll need to track conversions by setting up a goal in Google Analytics. In this tutorial, we'll show you how to create a goal in Google Analytics.
What Are Goals in Google Analytics?
Goals in Google Analytics allow you to track specific user interactions on your site. These user interactions can be anything including form submissions, button clicks, ebook downloads, and more.
When a website visitor performs the specific action that you've defined as a goal, Analytics records that as a conversion.
Let's take a look at how to set up goals in Google Analytics.
How to Create a New Goal in Google Analytics
Sign into your Google Analytics account and select the website for which you'd like to create a new goal.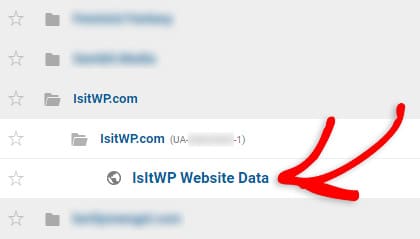 In the left panel, click Admin. Then in the View column, click Goals.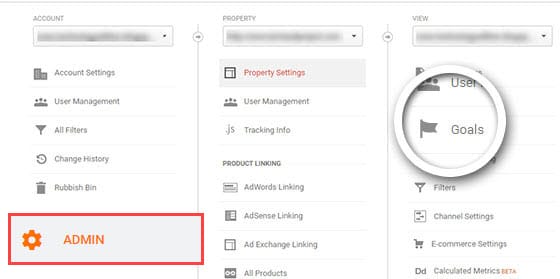 To create a new goal, click the +New Goal button.

Now you'll be prompted to enter a description and the details of your goal. You can enter a suitable name and choose the right goal type.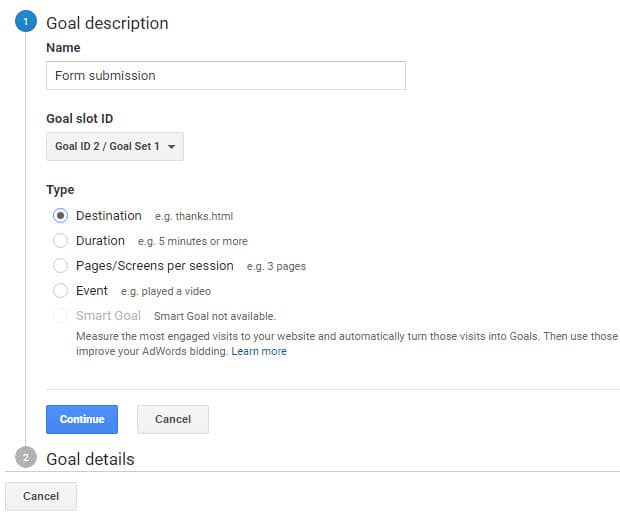 You'll see four different goal types to choose from. They are:
Destination: You can choose this goal type if you want to treat a pageview or screenview as a conversion.
Duration: You can measure user engagement by treating time spent on a page as a conversion.
Pages/Screens per session: This is another way to measure user engagement. You can measure the number of pageviews per session as a conversion.
Event: You can treat user interaction like button click, video play, ebook download as a conversion.
For the sake of an example, let's create a goal to track how many people are submitting your contact form. (If you're using the MonsterInsights Forms Addon, it will do this for you automatically – no need to follow the steps below.)
To do this manually, let's specify the name of your goal as Form submission, and choose the Destination type.
Bear in mind that you'll have to set a thank you page on your site that should be loaded when your form is being submitted. You can redirect visitors to a thank you page after submitting your form easily if you use a plugin like WPForms.
After you've chosen your options, click Continue.
Now you'll be asked to enter the destination URL. In our case, it's the thank you page URL. You can choose Equal to from the drop-down menu. Then enter only the URL slug of your thank you page by removing the domain name in the Destination field.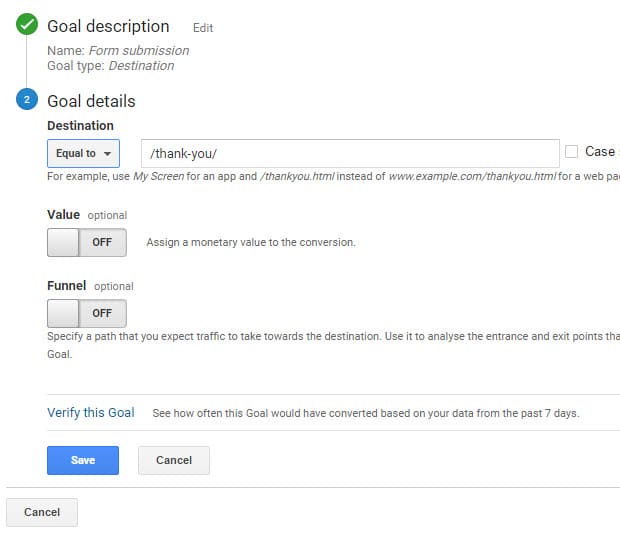 If needed, you can create a monetary value to the conversion. For example, if you're setting up the goal for tracking ecommerce transactions, you can specify the goal value to measure the revenue each transaction generates.
In our case, let's leave the Value option as it is.
As an optional choice, you can also turn on Funnel if needed. This is helpful if you're looking to direct your visitors to multiple pages to complete a conversion.
You can also click on the Verify this Goal link if you want to measure how often this goal would have converted on your data from the past 7 days.
Click Save.
That's it!
You've successfully created a goal in Google Analytics.
If you enjoyed this article, you may also want to check out these smart ways to increase your sales funnel conversion rate.