Would you like to get stats about your website traffic, and are wondering what's the best WordPress analytics plugin? Both Google Analytics and Jetpack WordPress Stats let you track your visitors and give you stats on your site traffic. But there are some big differences between the two – and making the wrong choice could have big repercussions for your site.
Let's take a head-to-head comparison on Jetpack Stats vs. Google Analytics, and see which one is better for your WordPress site.
An Overview of Google Analytics on WordPress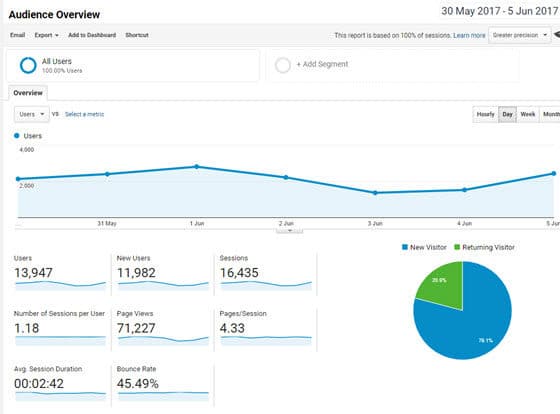 Google Analytics is the industry-standard solution for tracking your visitors' interactions with your website. It gives you incredibly detailed information on your visitors, and is the most comprehensive analytics tool in the market.
Google Analytics gives you all the detailed data you need in order to truly understand your audience, so you can improve your customer experience and boost revenue.
Pros
It's comprehensive: You'll find everything you need to know about your visitors whether you're a publisher, small business or an eCommerce site owner, etc. You'll find features like Enhanced eCommerce tracking, ads tracking, events tracking, and much more.
It provides easy to understand reports: It gives you a better understanding of your marketing impacts by providing easy to understand stats.
It's free: Google Analytics is a freemium service and offers solutions for websites of all sizes.
Cons
It can be tricky to set up manually: To set up Google Analytics on your site manually, you'll need to add a bit of code to every page. However, using a plugin like MonsterInsights makes it easy to set up Google Analytics in WordPress.
It can be overwhelming: As it offers incredibly detailed stats about your traffic, it can be overwhelming for beginners.
An Overview of Jetpack Site Stats
Jetpack WordPress Stats, also known as WordPress.com Stats, gives you quick stats about your website traffic at a glance in your WordPress dashboard. The Jetpack Stats comes bundled with the Jetpack plugin by Automattic, the company behind WordPress.com.
Pros
Quick stats at a glance: Jetpack Stats makes it easy to access your site traffic stats. You can see a basic report in your WordPress dashboard.
Not intimidating for beginners: If you just want basic stats about your traffic at a glance, Jetpack Stats could be the right solution. It gives you a few reports like Views by Country, Unique Views, etc.
It's free: Jetpack is also free to use on your WordPress site.
Cons
Only provides basic stats: Jetpack isn't anywhere near as comprehensive as Google Analytics. It gives you only a very basic overview of your traffic numbers, instead of in-depth insights into their behavior.
Available only with Jetpack: The stats feature is bundled with the huge Jetpack plugin. So, it can't be used separately. It might not be the right solution for you if you don't need other Jetpack features on your site.
Requires a WordPress.com account: You'll need to authenticate your site with WordPress.com to access Jetpack Stats.
Accuracy of Data: Google Analytics vs. Jetpack Stats
If you've ever used both analytics methods, you may have noticed there's a big difference between WordPress stats and Google Analytics. So which one is more accurate?
Google is a multi-million dollar company that has a lot of resources to put into developing their analytics, which are an important focus for their company. On the other hand, Jetpack is by Automattic, whose main focus is WordPress.com. Stats is just one module of Jetpack, so it's more of a side project for them.
In fact, even Jetpack.com uses Google Analytics to track their own traffic.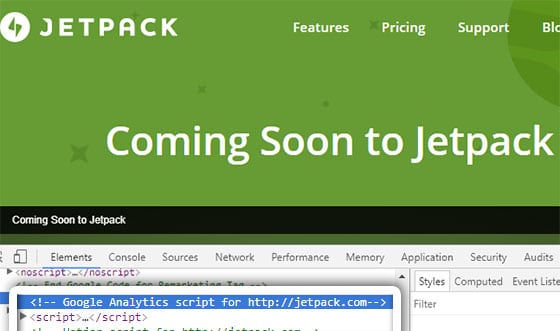 Without a doubt, Google Analytics is the most reliable tracking even for Jetpack itself.
Choosing Between Google Analytics and Jetpack
If you're a casual blogger who doesn't need more than general traffic stats, Jetpack Stats could be a good choice for you, especially if you want to use other Jetpack modules.
But if you need more in-depth data about your visitors and their behavior, you need Google Analytics.
The only downside to Google Analytics is that it can be a hassle to install on your site if you're not a developer, especially if you want to enable advanced tracking features and get more customer insights.
What if there's a WordPress plugin that makes complex Google Analytics features easy for WordPress users? What if you can get Google Analytics stats that matter to your business right in your WordPress dashboard without having to log in to your Analytics account?
The MonsterInsights plugin offers just that.
MonsterInsights allows you to leverage the full potential of all the powerful Google Analytics features without having you to be tech savvy. It takes the pain out of Analytics setup and makes it easier for WordPress users without touching any code.
Plus, it allows you to see your traffic stats at a glance in your WordPress dashboard – just like Jetpack Stats, only without all the downsides.
Let's take a look at some of the other major differences between Jetpack and MonsterInsights.
Jetpack Stats vs. Google Analytics with MonsterInsights
1. Basic Overview vs. Enhanced Features
Jetpack Stats gives you just a basic overview of your site's traffic whereas MonsterInsights allows you to take the full advantage of powerful Google Analytics features.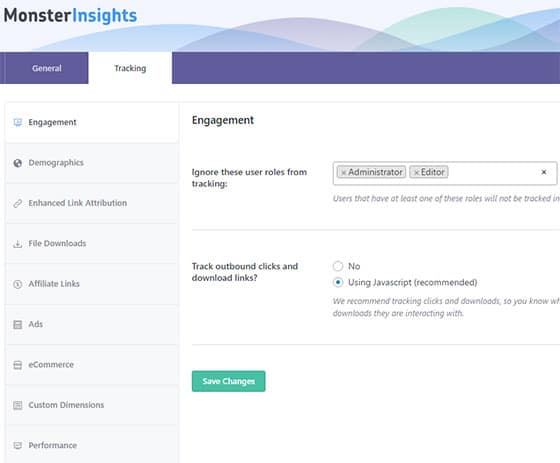 If you're an eCommerce shop owner, Jetpack doesn't provide you insights into shopping behavior of your customers. Whereas MonsterInsights Ecommerce Tracking gives you all the data you need on your WooCommerce or Easy Digital Downloads store.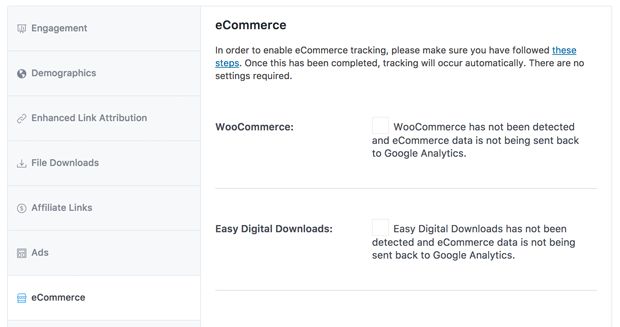 With just a few clicks, you can integrate Google Analytics Ecommerce tracking with your WordPress stores.
A few more enhanced features of MonsterInsights are:
Outbound links tracking: You can use Analytics Events to track clicks on links that take users to a website other than your own.
Affiliate tracking: If you're a publisher who relies on affiliate marketing, you can track clicks on your affiliate links.
Forms tracking: Optimizing your forms for conversion is an essential step to drive in more signups. With MonsterInsights forms tracking, you can easily track your form views and conversions without having to edit code.
And much more: Take a look at the complete feature list of MonsterInsights.
2. Bloated vs. Lightweight Plugin
WordPress Stats is combined with the Jetpack plugin as a module, along with many other features. That means that when you activate Jetpack Stats on your site, you also activate a bunch of other code that you just don't need, which can slow down your website.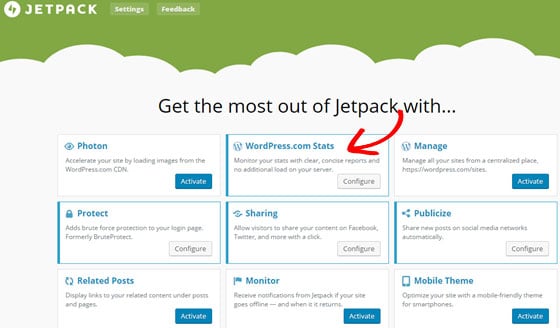 On the other hand, MonsterInsights focuses solely on analytics. The core plugin is lightweight, and comes with all the essential features you'll need for your site.
It pulls the most important stats from Google Analytics and displays it on your WordPress dashboard. More advanced features are also available as addons.
3. No Third-Party Account Required
To access Jetpack stats, you need to create a WordPress.com account and authenticate your site with it. For those who don't want to create a WordPress.com account, and share all your data to Automattic, the parent company of WordPress.com, it's impossible to use Jetpack Stats.
On the other hand, Google is sending you a lot of your traffic via search, so they already know about your visitors.
MonsterInsights simply connects your website with Google Analytics, so you don't need to create another account.
4. Privacy Policy
Google Analytics has privacy policies for every country but Jetpack doesn't. In fact, Jetpack is not compliant with many countries. For example, Germany has strict privacy policy laws and requires a separate German privacy policy, which Jetpack doesn't have.
As MonsterInsights adds Google Analytics tracking code to your site, you can track your traffic stats without worrying of privacy policy laws of different countries.
Start Tracking Shopping Behavior of Your Customers
With MonsterInsights, you can track eCommerce sales data of your online shop and analyze the revenue your website generates in Google Analytics. Tracking your eCommerce sales data also help you make data-driven decisions to generate more sales and revenue from your eCommerce store.
MonsterInsights also support Enhanced eCommerce tracking that gives you more detailed data about your customers than traditional eCommerce tracking.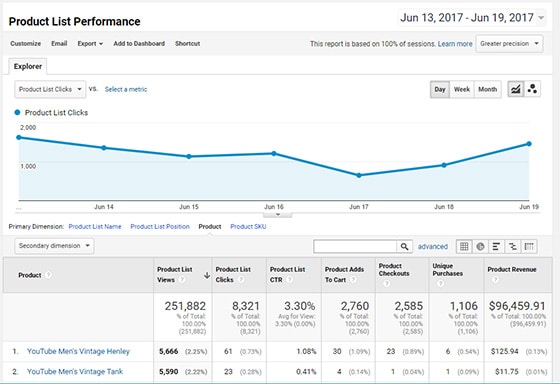 Below are a few reports you can find in Google Analytics if you enabled Enhanced eCommerce tracking on your site.
Product performance: Get statistics on how each product is performing including revenue, unique purchases, refund amount, shopping behavior, and more.
Internal promotions: Track the performance of your own coupon codes and sales to see what works.
Affiliate tracking: Determine who your top affiliates are and see their revenue, transactions, and average order amount.
For more details, you can read how to enable Google Analytics Enhanced eCommerce tracking.
We hope this guide helped you to understand the differences between Jetpack WordPress Stats and Google Analytics.
To get started with MonsterInsights, check out this guide on how to properly set up Google Analytics in WordPress. And don't forget to follow us on Twitter and Facebook for more Google Analytics tutorials.