Want to know the differences between Google Analytics goals and events? Knowing when to use goals, and when to use events, can help you get the most out of your Google Analytics data and improve your conversion rates.
In this article, we'll show you the key differences between Google Analytics goals and events so you can decide which type of data is more beneficial to the growth of your business.
Video Walkthrough
Google Analytics Goals vs. Events
You may not realize it, but there are distinct differences between Google Analytics goals and events. Each serves its own purpose in helping you analyze site visitor behavior on your website. And, each has the potential to help your business grow, just in different ways.
Not to mention, the data for each are found in different reports in your Google Analytics account. For example, goals are in the Conversions reports, and events are in the Behavior reports.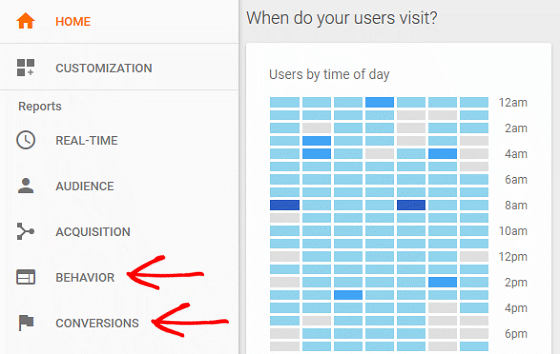 But the differences don't stop there.
Let's take a closer look.
Google Analytics Goals
Google Analytics goals are used to measure actions on your site that directly affect the success of your business. This success is often measured in terms of revenue.
For instance, you might measure the number of newsletter form conversions, purchases made from your eCommerce shop, or collection of new leads through your contact form.
To see a step-by-step guide, check out our tutorial on how to set up goals in Google Analytics.
For those that run a WordPress blog, Google Analytics goals can help you too. For example, create a goal that tracks pages per session, time spent on each page, or even scroll depth. All of these things, though they don't generate revenue, can help build your success as a blogger.
There are only 4 types of goals you can track in Google Analytics:
Destination
Duration
Pages per session
Events as goals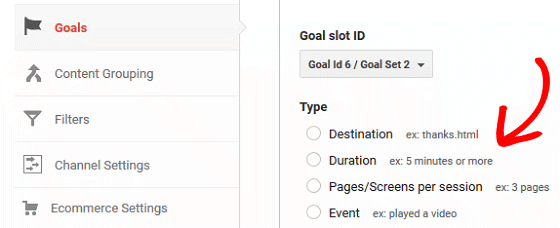 Google Analytics records conversion goals once per visit, no matter how many times a single site visitor completes the goal. In other words, if 1 site visitor fills out your newsletter signup form 2 times, using 2 different email addresses, it will only count as 1 goal conversion.
With goals you can assign an estimated monetary value to each conversion to show the impact your site visitors' actions have on your business.
You can also create funnels with each goal to show where site visitors are dropping off during the conversion process.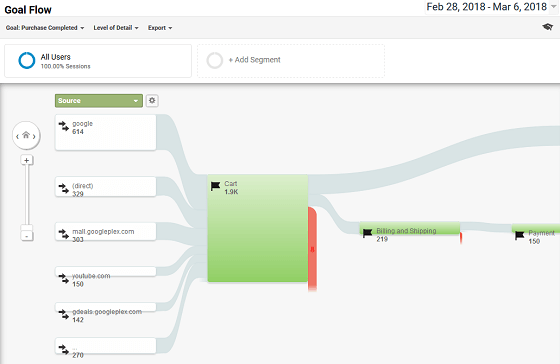 For example, if you notice there are a lot of customers leaving your site before completing their purchases, you can reduce shopping cart abandonment by doing things like making your site easier to navigate or offering free shipping.
In all, Google Analytics goals are used to track conversion data so you can understand whether your marketing efforts are paying off.
Google Analytics Events
Google Analytics custom events are different because they track simple interactions on your website that may or may not affect your bottom line. For instance, you might track file downloads such as PDFs, button clicks, outbound link clicks, or visitors watching video content on your site.
Events are recorded multiple times per visit, meaning that if your site visitor clicks the same button 5 times, Google Analytics will record that behavior 5 times. This is helpful for determining where site visitors are engaged, where they might be having trouble, and the places site visitors are not interested in.
You can track any kind of site behavior you want using events.
You can also see the flow of site visitor behavior in your Google Analytics account. Just navigate to Behavior » Events » Event Flow.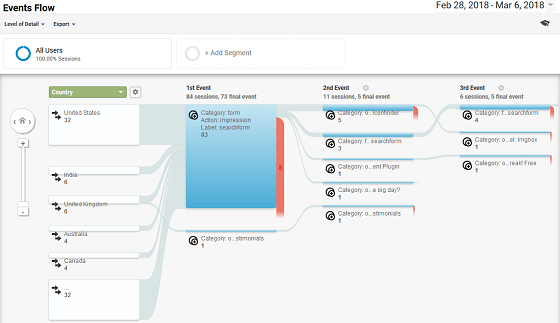 And, as if Google Analytics wasn't confusing enough, you should know there is a mix between goals and events called Event Goals.
If you want to track events on your website that will affect your business' success, create an event in Google Analytics that can also be tracked as a goal.
For instance, track PDF downloads of your pricing sheet or form conversions requesting a quote. This'll give you an idea whether site visitors are willing to pay for your services.
We hope this article helped you understand the differences between Google Analytics goals and events so you know which one to use when tracking site visitor behavior on your site.
If you're looking for other ways to boost your site's conversions, in addition to creating goals and events to track user behavior, check out our helpful list of A/B testing ideas designed to bring you positive results.
Better yet, if you want an even easier way to track site visitor behavior on your website, get started with the MonsterInsights plugin today and view the data that matters most to your business, right from your WordPress dashboard!
And don't forget to follow us on Twitter and Facebook for more helpful Google Analytics tips.