Are you wondering whether Google Analytics direct traffic is a good thing or not? Many people assume that direct traffic is 'skewed data' in Google Analytics and isn't helpful when it comes to making data-driven decisions.
In this article, we'll show you a different way to look at Google Analytics direct traffic and how to use it to your advantage.
What is Google Analytics Direct Traffic?
In the past, we've briefly discussed what direct traffic is. But, for those that aren't sure, here's a quick review.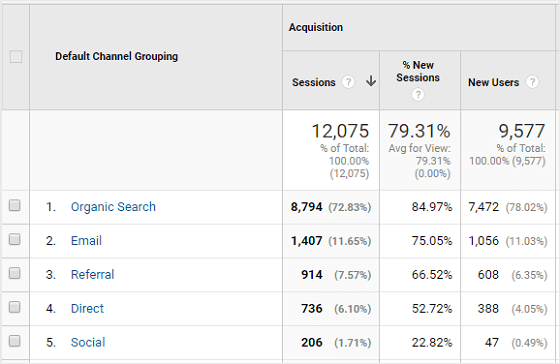 In Google Analytics, traffic is reported as direct when someone types a website URL into a browser or uses a browser bookmark to visit a website.
However, there's more to it than that. In fact, Google Analytics will report traffic as direct when there's no way to show where the traffic source came from.
Let's take a look at some of the most common reasons this happens, how you can avoid it, and why it might not be as bad as you think.
1. Secure Web Pages to Non-Secure Web Pages
Anytime someone goes from a secure web page (HTTPS) to a non-secure web page (HTTP), Google Analytics reports the traffic source as direct traffic instead of referral traffic.
However, other scenarios will still report as referral sources:
HTTP » HTTP
HTTPS » HTTPS
HTTP » HTTPS
If your website is not secured, and one of your major referral sources is, there's a good chance your direct traffic numbers will begin to rise. But don't worry, it's easy to fix this.
All you have to do is secure your website with an SSL certificate. Not only will this change your site's URL to an HTTPS, it will help fix any faulty direct traffic source reporting in Google Analytics.
Plus, having an SSL certificate installed onto your website will do the following:
Instill a sense of trust in your site visitors that their personal and financial information is safe
Make your site less vulnerable to hack attacks
Give you the chance to accept payments more securely
Protect user accounts that require a login
Secure your website's forms, and any information you collect
If you're looking for a free SSL certificate solution, check out this helpful tutorial on adding a free SSL in WordPress using Let's Encrypt.
And, if you do decide to make the change from HTTP to HTTPS, follow these step-by-step instructions on changing the protocol in Google Analytics to make sure tracking of all sources, including direct traffic, stays on the right track.
2. Missing Google Analytics Tracking Code
As helpful as Google Analytics is, and as good as it is at tracking traffic sources, it can be tricky to connect your WordPress site to Google Analytics.
If you don't put the right Google Analytics snippet on every web page and post on your website, or worse, it's missing entirely, Google Analytics won't be able to accurately track the traffic source. As a result, it will track all that traffic as direct traffic.
However, using MonsterInsights will stop this problem because setting up Google Analytics in WordPress is a cinch and fail proof.
In fact, you'll never have to worry about improper or missing snippets on your site again.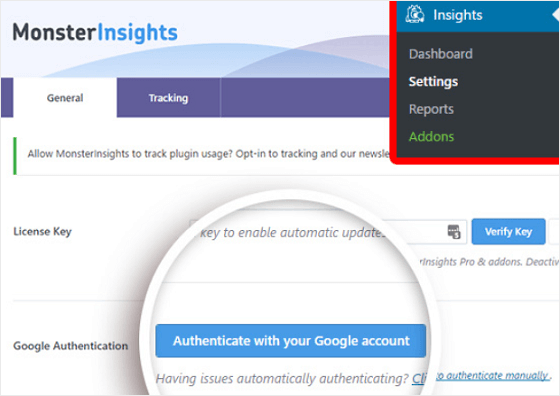 For help with this, check out these step-by-step instructions on setting up Google Analytics in WordPress using MonsterInsights.
3. Non-web Documents
Any time your site visitors visit your website from a non-web document, such as a Microsoft Word doc, a PDF, a slide deck, or even an app, Google Analytics doesn't report it as referral traffic.
Unfortunately, there isn't much you can do about this stripping of referral data. And, if you are used to finding referral traffic data in Google Analytics, you might notice that your sometimes your referral numbers are dropping and direct traffic numbers are increasing when you analyze your data.
This may happen if you've recently incentivized people to subscribe to your email list using a content upgrade, or launched an email marketing campaign encouraging people to check out your site's most popular blog content or eCommerce shop.
However, you can set up a one of four goal types in Google Analytics to help prevent this from happening when it comes to the following:
Form submissions
Button clicks from emails
eBook downloads
Account creations
And more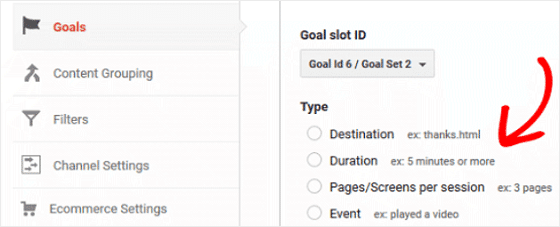 If you're not sure whether to set up a Google Analytics goal or event to track traffic sources that come up as direct traffic in Google Analytics, make sure to check out this helpful guide explaining the difference between goals and events.
4. Dark Social
You may not know or understand dark social, but it's important to know that a significant amount of your site's traffic might come from there. And, you guessed it! Google Analytics will mark it as direct traffic because it just can't quite figure out where it's coming from.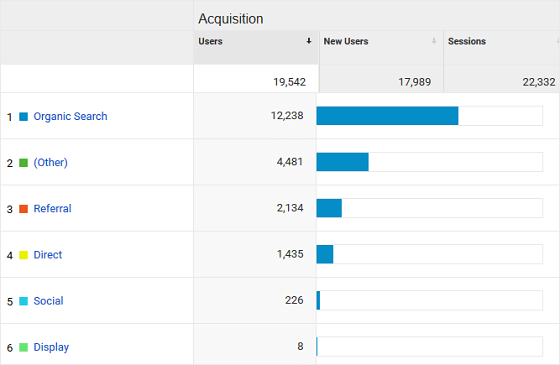 Dark social includes traffic sources such as email, Facebook, Skype, WhatsApp, and instant messaging. And it just so happens that 84% of consumers outbound share to these popular social network platforms from their favorite websites, such as yours.
And this means that people on those social platforms are linking back to your website when they see something they like, which is boosting your direct traffic data.
The good news about this is that if you can tap into this large pool of site traffic, you can build stronger relationships and nurture leads to build your business into a success.
Why Direct Traffic Is a Good Thing
Despite the problems Google Analytics gives website owners when it comes to direct traffic, there're actually some ways you can use it to your advantage to get better data and make better choices:
You can break down direct traffic into segments based on landing page, location, device, or eCommerce sales to see how direct traffic is behaving once on your site
Create custom alerts in Google Analytics to find out when direct traffic spikes, and other traffic sources dip, to see what on your website is causing people to visit your site more from places that may report as direct traffic
Use a contact form plugin, such as WPForms, to ask people on your form how they found your website, in an effort to dig through the direct traffic data Google Analytics is giving you
And that's just the beginning.
In the end, direct traffic is something all website owners need to deal with. But even though people think all direct traffic data is a bad thing, the truth is, it's not all bad. In fact, it can actually be really useful when it comes to making data-driven decisions for your business.
If you're looking for ways to boost organic traffic, and target a wider audience, check out our article that comes packed with helpful SEO tools for increasing search rankings.
And don't forget to follow us on Twitter and Facebook for more helpful Google Analytics tips.