Do you want to see how your visitors use your website in real-time? With Google Analytics real-time reports, you can see how many people are active on your site right now, what activities are they performing, where are they from, and lots more.
But what if you want to view these stats in your WordPress dashboard? This is where plugins like MonsterInsights can help you out.
In this article, we'll show you how to setup a real-time Google Analytics stats dashboard in WordPress. Let's get started…
Benefits of Using Real-Time Reports
Before we begin the tutorial, here are a few ways you can use Google Analytics real-time reports and get insights about your users:
Track Campaign Performance: You can see how your marketing campaigns are performing in real-time by looking at active users and where they're coming from
Find Best Time to Publish Blog Post: By tracking how many people are currently on your site at a given time, you can find out the best time to publish your content
Track Top Referral Traffic Sources: You can track which referral source is sending the most traffic to your website right now and which isn't
Identify Top Traffic Countries and Cities: Real-time reports help you see which country or city your visitors are from, so you can create region-specific marketing campaigns
Now, are you ready to learn how to set up Google Analytics real-time reports in WordPress dashboard?
Video Tutorial
Check out our simple video tutorial for all the steps. And if you want, you can read the written steps below.
How to View Google Analytics Real-Time Stats in WordPress?
To see real times stats dashboard, you'll need to install and activate MonsterInsights on your WordPress website. It's the best Google Analytics WordPress plugin.
You can use it to properly set up Google Analytics on your website, that too without coding. And it's more than just a plugin to add analytics.
With MonsterInsights, you can enable advanced tracking with a click of a button. For instance, you can track your…
Ecommerce store's performance
Form conversions
Cross-domain tracking
File downloads
… and more
Step 1: Signup and Download MonsterInsights WordPress Plugin
The first thing you'll need to do is signup for MonsterInsights. The real-time reports are available in MonsterInsights Plus and higher plans.
Once you've signed up, you can download the plugin from the member's area. Just log in and go to the Downloads area. Next, click on Download MonsterInsights and save the ZIP file on your PC.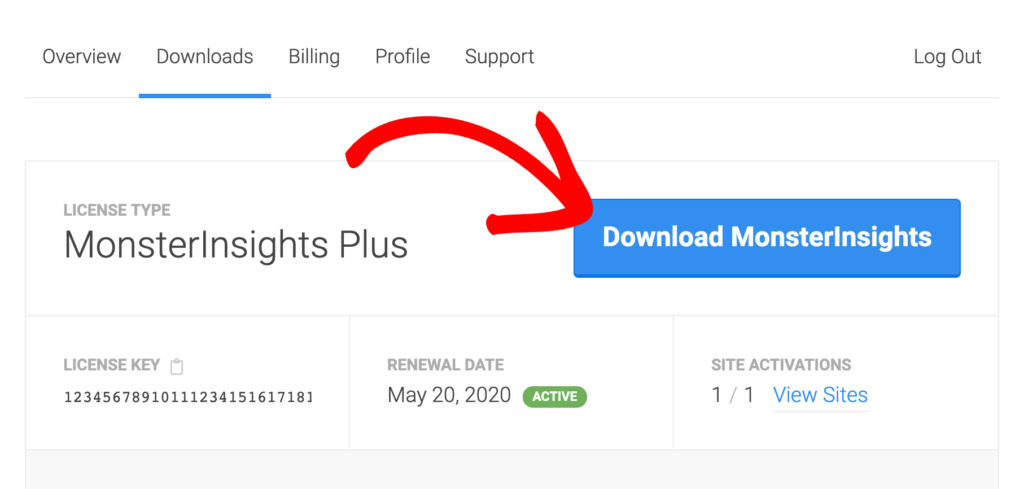 Step 2: Upload and Install MonsterInsights Plugin on Your WordPress Site
Now go back to your WordPress dashboard and go to Plugins » Add New and then click on Upload Plugin at the top.
Then click on Choose File and navigate to where you saved the ZIP file in the previous step and select it.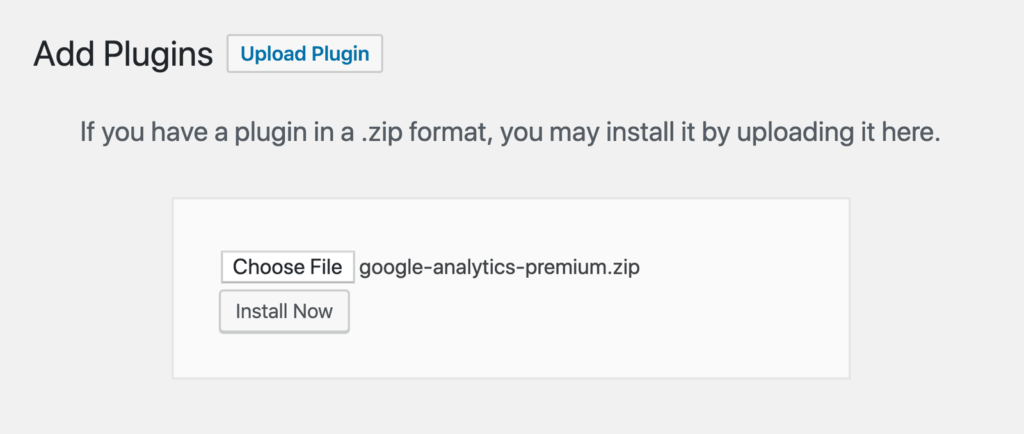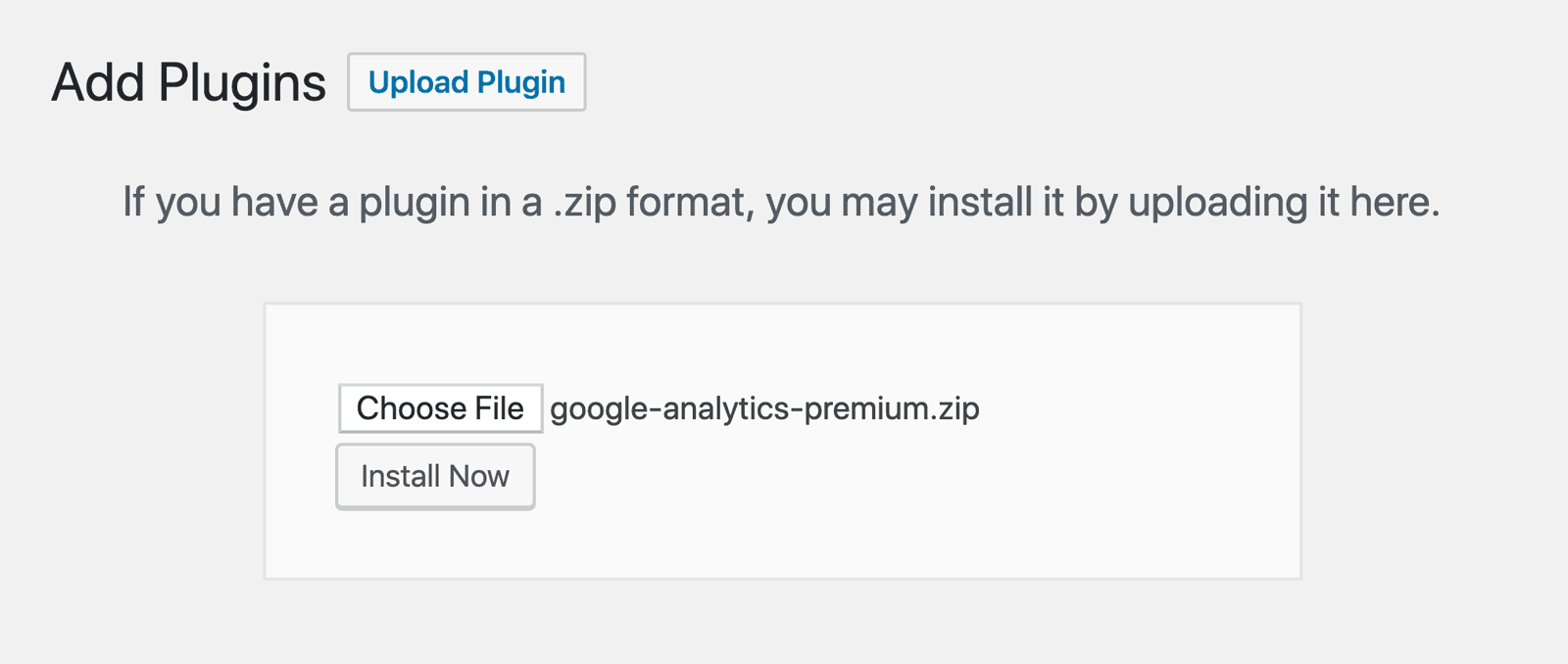 Once the plugin uploads, click on Install Now. You'll also have to activate the plugin after it's successfully installed.

You can now see MonsterInsights in your WordPress dashboard under Insights.
Step 3: Enter License Key and Follow the Wizard
Now that MonsterInsights is installed and activated on your website, you'll have to enter the license key to use the plugin.
You can find the license key in your My Account area under Downloads. Copy the key.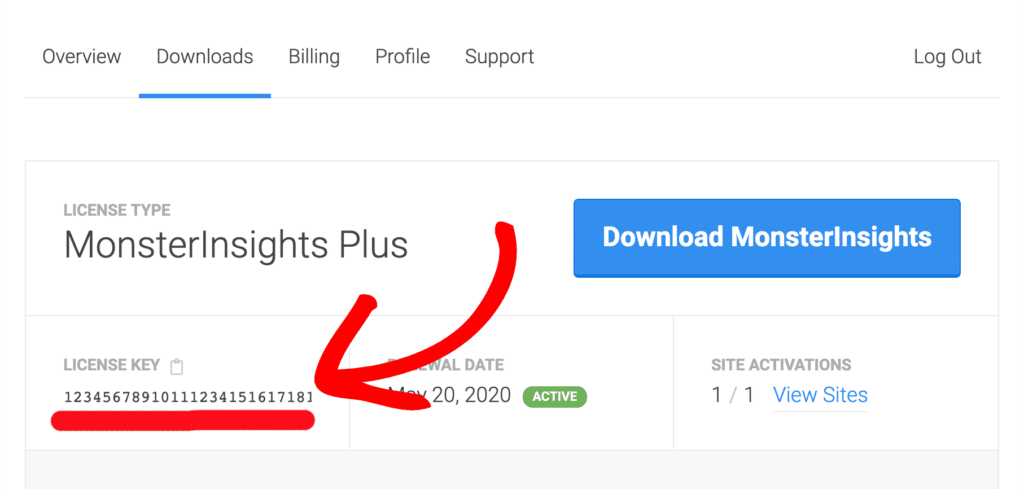 Next, go to Insights » Settings » General, then enter the license key and click Verify.
Once the verification is complete, click on Connect MonsterInsights. You can now follow the setup wizard to connect your Google Analytics account with your WordPress website.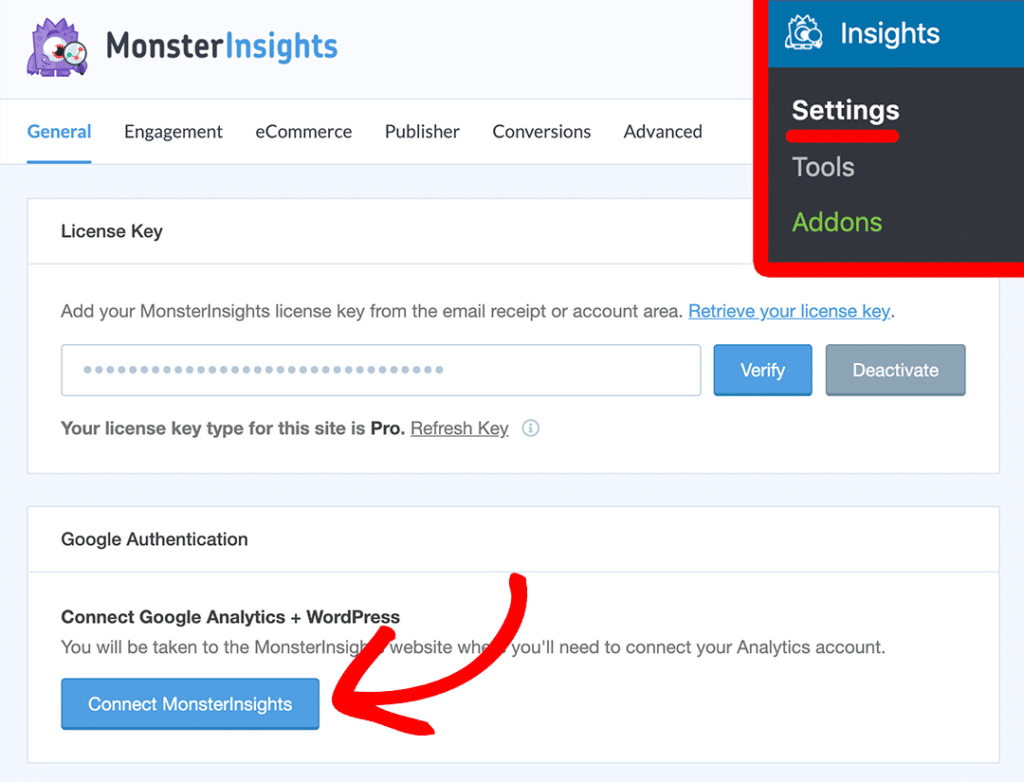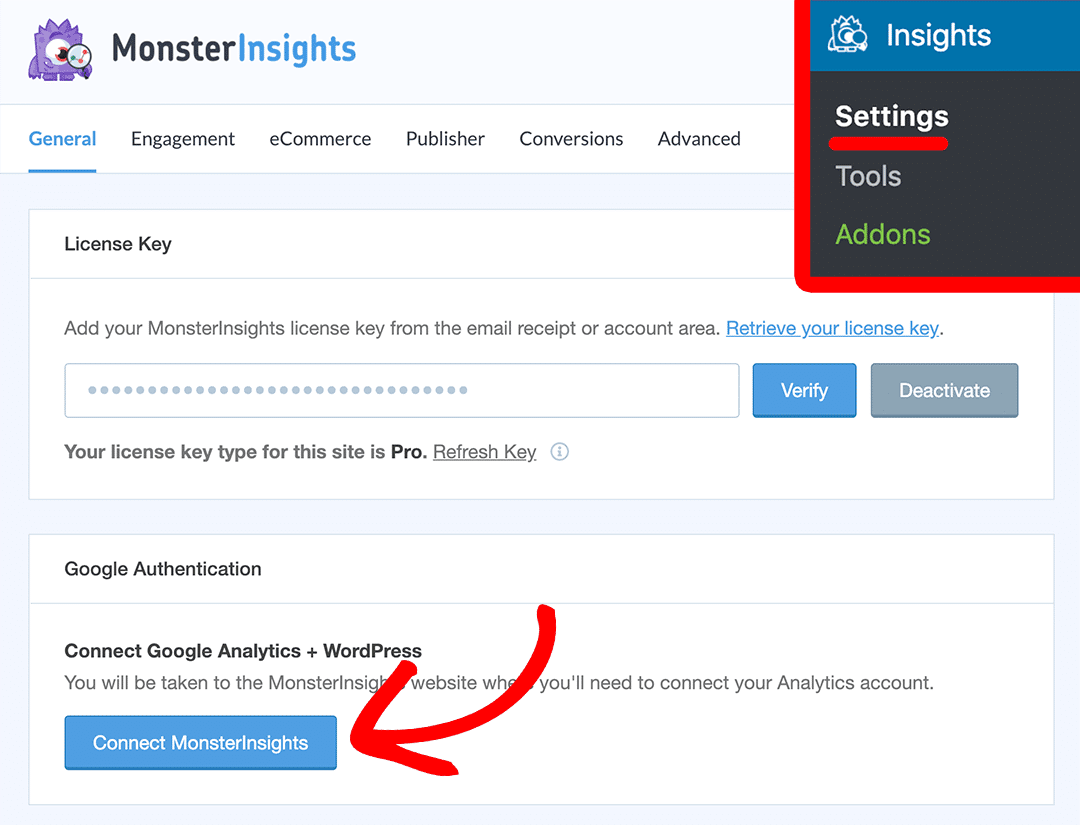 For more details, check our tutorial on how to install MonsterInsights Plugin.
Step 4: View Real-Time Google Analytics Reports in WordPress
After setting up MonsterInsights on your website, you can now view Google Analytics real-time stats in your dashboard.
And to do that, go to Insights » Reports » Real-Time.
The first report you'll see will be of Active users on site right now along with Pageviews Per Minute in the last 30 minutes.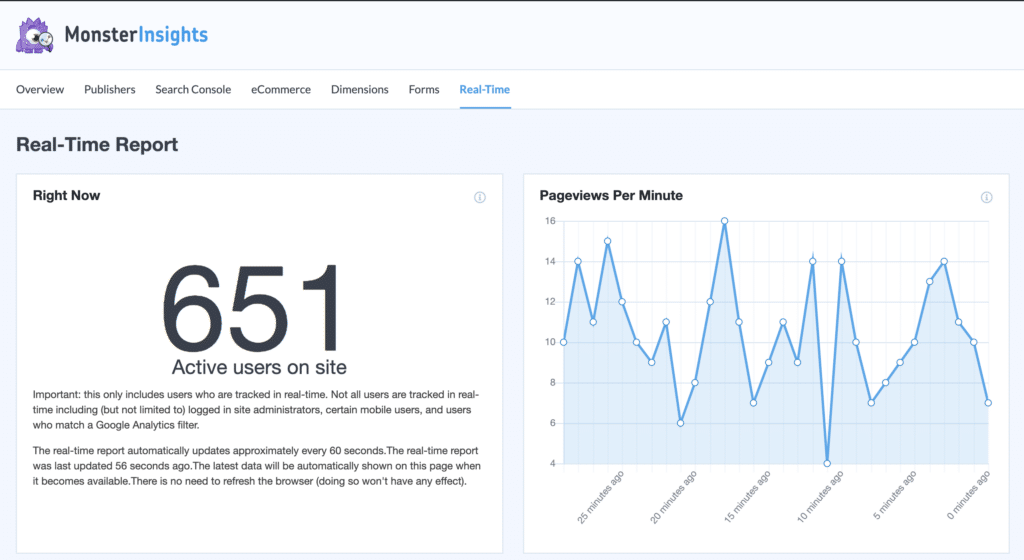 And if you scroll down, the next real-time report is of Top Pages. You can see the pageview count and percent of total pageviews for each post.
This helps you see how your pages are performing at that very instance and many people are visiting it.

You can also view see how much traffic different referral sources are driving in real-time using the Top Referral Traffic Source report.
It shows the source name, its URL path, campaign name, count, and percent. This report is extremely useful if you've just launched a new campaign and want to see how your marketing efforts are performing.
You can track each source you used for promotion and see which is attracting the most visitors.

And the last real-time stats you can see in WordPress is of Top Countries and Top Cities. This report shows you where your visitors are coming from.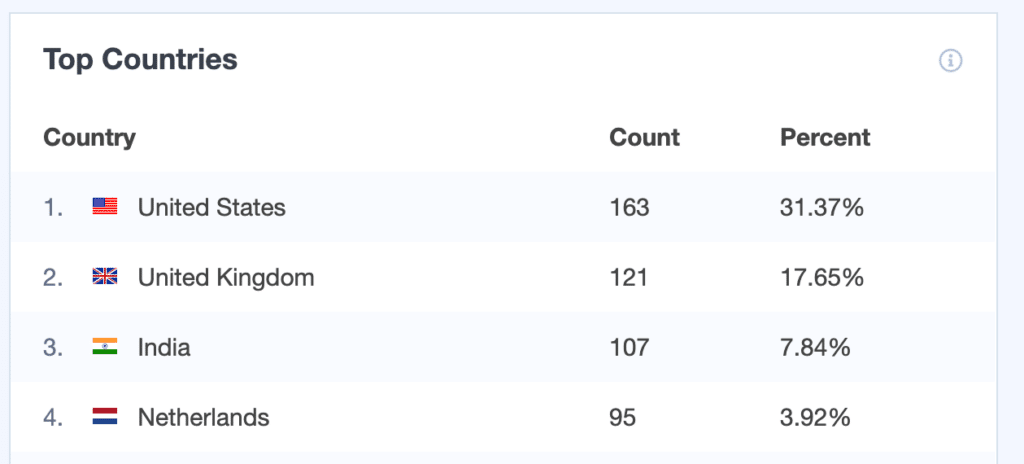 You can view their country, city, state/region, and count. The data from this report provide insights for creating region-specific content and also when to publish it.
For instance, you can see that people from the United Kingdom are visiting your site right now. so, you can create content for visitors from the UK and publish it at this time in the future for maximum engagement.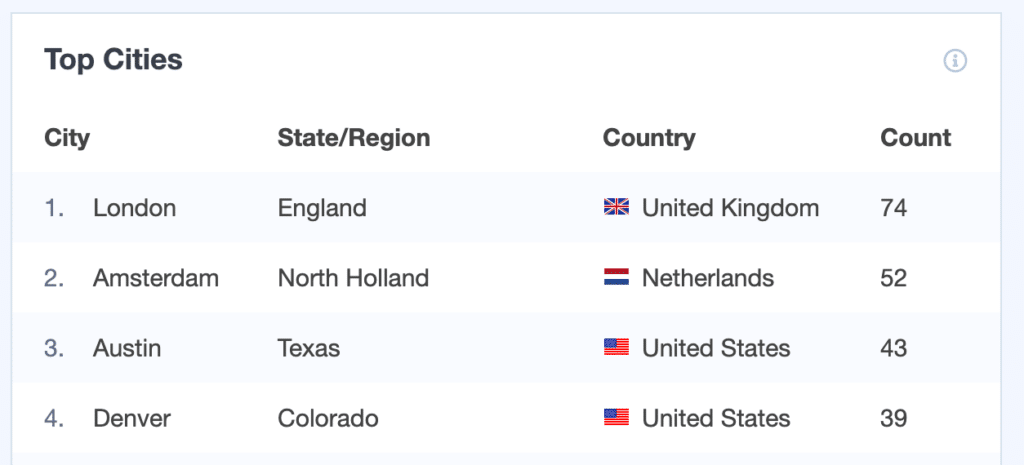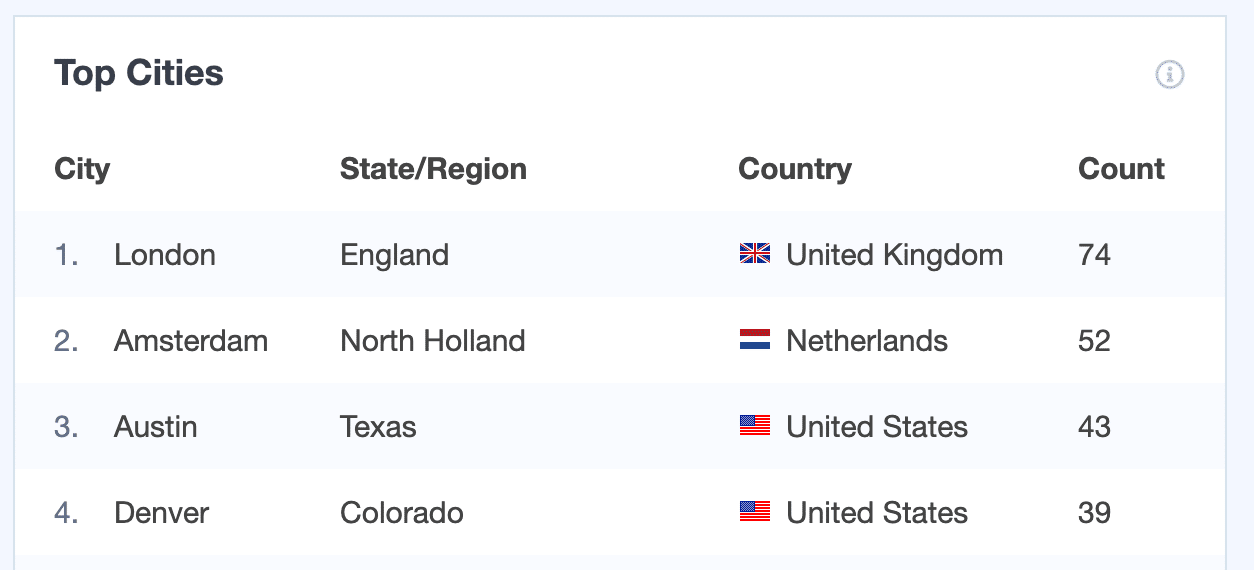 That's it!
You can now see real-time data of your website inside the WordPress dashboard and you don't even have to leave your site. Simply measure the performance of your campaigns in an instant and make changes on the go.
We hope you liked our article on how to setup a real-time Google Analytics stats dashboard in WordPress. If you want, you can also go through our ultimate guide on MonsterInsights dashboard reports.
And don't forget to subscribe to our newsletter and follow us on Twitter and Facebook for more helpful Google Analytics tutorials.