Do you want to know which call-to-action link from a blog post is getting the most clicks? With enhanced link attribution in Google Analytics, you can determine how users interact with your website in terms of buttons and links they click on your page. In this article, you can learn everything you need to know about enhanced link attribution in Google Analytics.
What is Enhanced Link Attribution?
Enhanced link attribution is a Google Analytics feature that differentiates between identical links on the same page. If you have 2 or more links to the same destination from one page, enhanced link attribution will show you which link is getting the most clicks. At a glance, you can determine which button on your landing page, which internal link, or which banner on your sidebar is generating the most leads.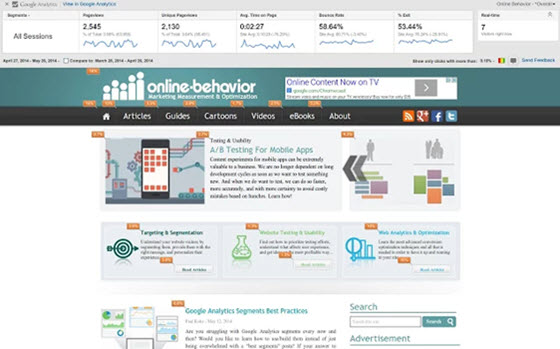 Below are a few benefits of enabling enhanced link attribution in Google Analytics.
You no longer need to manually add tracking code to every element of your site. Still, you can track click-through rates of different elements.
You can find the in-page analytics report while browsing your site and visually analyze the click-through rates of various elements.
The color map in the report lets you easily figure out the highly effective links and buttons on your web page.
How to Turn On Enhanced Link Attribution
To be able to set up enhanced link attribution tracking easily in WordPress, you'll need the MonsterInsights plugin.
Step 1: Enable Enhanced Link Attribution on Your Site
First off, install MonsterInsights on your site and properly authenticate it with Google Analytics.
Log into your WordPress dashboard and navigate to Insights » Settings » Tracking » Link Attribution. Then click the checkbox near Enable enhanced link attribution? to turn it on.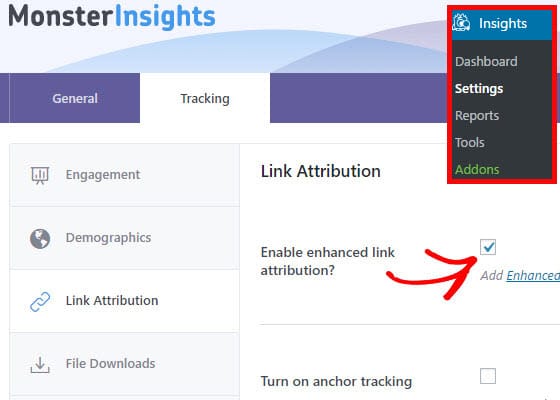 Step 2: Enable Enhanced Link Attribution in Google Analytics
Log into your Google Analytics profile, and select the website in which you'd like to turn the enhanced link attribution on.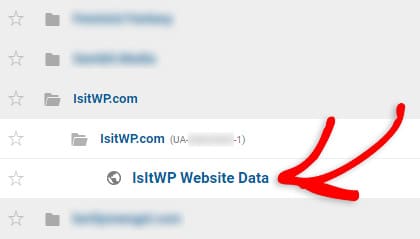 Now click Admin in the left taskbar.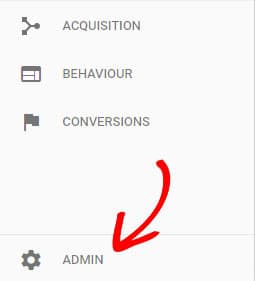 Under the Property column, click Property Settings.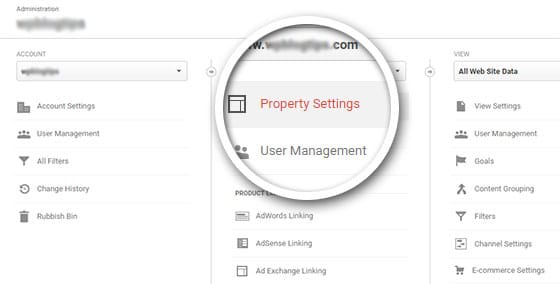 Now scroll down the page to find Use Enhanced Link Attribution and click the slider button to turn it from off to on.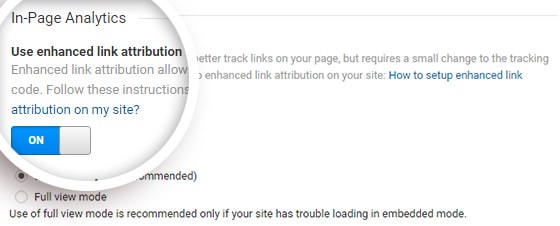 Then click Save at the bottom.
How to Find the Enhanced Link Attribution Report
Unlike most other reports, you can't find the enhanced link attribution report, also known as in-page analytics report, in Google Analytics. In order to access it, you need to enable a Chrome browser extension called In-Page Analytics.
Once you're on the browser plugin's page, click the Add to Chrome button and click the Add Extension button in the popup that appears.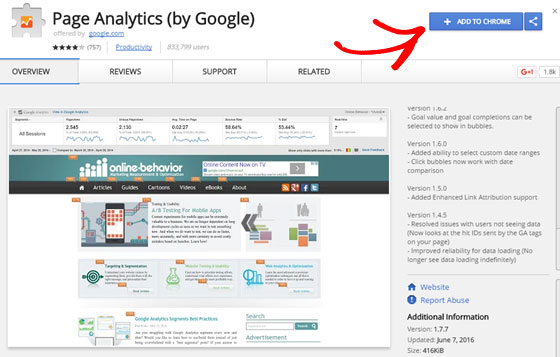 You'll see In-Page Analytics icon along with other browser extensions. Click on the icon to turn the extension on.

Keep in mind that you'll also have to make sure to log out from all other Google account if you're already logged into other accounts.
Analyzing Enhanced Link Attribution Report
In-page analytics report lets you visit any page on your site using the Chrome browser and shows you the click-through rates of various elements on each page.
You can also find a sticky bar on the top of your report that shows you some important data associated with that page you're in.
Below are a few things you can do with the sticky bar.
Choose a Segment and Analyze its Metrics

You can choose a segment like returning users, paid traffic, organic traffic, etc. along with 5 different metrics. You can compare different metrics based on the selected segment in your report.
Alongside, you can also find the real time stats of that specific page.
Set a Date Range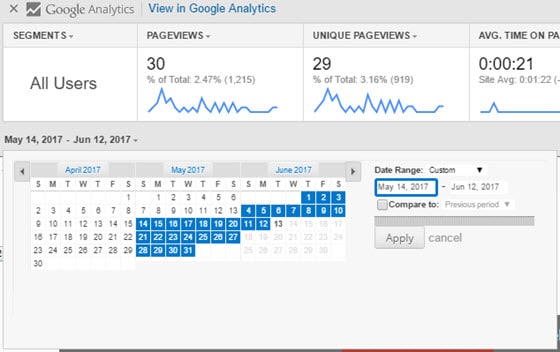 You can set a date range and compare the report with a specified previous period.
You can review the clicks you receive on each page, track which elements drive in most conversions, revenue generated by each element and compare it with other elements on the page.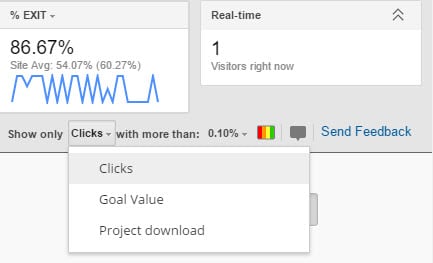 Color Map
The color map lets you easily find out the high converting elements on a page. You can toggle ON/OFF the bubbles and change the click thresholds.
When you set a threshold, you can weed out bubbles that are not highly efficient in terms of clicks or conversions from the report.
How to Use Enhanced Link Attribution Report to Boost Conversions
The in-page analytics report gives you a highly intuitive visual map with which you can analyze detailed navigation paths through your site and where people click on it.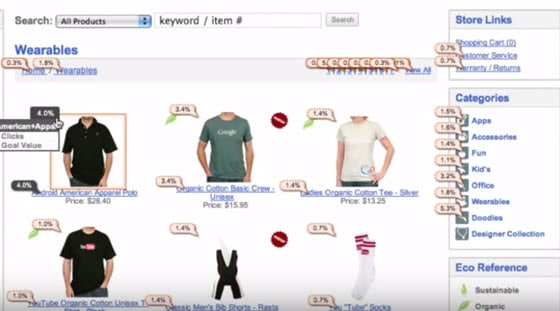 Let's take a look at a few actionable tips for optimizing your website for boosting conversions.
Above the fold vs. rest of the page: Compare the clicks you receive for your buttons and internal links above the fold of your most popular posts with the rest of the page. If a specific campaign is not performing the way you want on your popular post, you might want to relocate its position to boost conversions.
Optimize your buttons: If the CTA button such as Buy Now or Subscribe button on your site is not attracting enough clicks as much as other links on your site, you might want to optimize the copy and design of your buttons. You can also try removing those irrelevant links to drive in more clicks to your CTA.
Find the most optimal location for CTAs: The best thing about the visual map is it lets you easily compare different locations based on the clicks and sales you make. For example, you can look at the clicks you receive on top navigation menu, sidebar navigation, header elements and other campaigns. Make sure to place your important elements on highly effective locations.
We hope this guide helped you get some useful insights on optimizing your CTAs to boost conversions with the enhanced link attribution report.
If you liked this article, you might also want to read the beginners guide to custom dimensions so you can get even more analytics data from your WordPress site with MonsterInsights, the best WordPress analytics plugin available.
And don't forget to follow us on Twitter and Facebook for more Google Analytics tutorials.