Do you want to know which landing page converts the most customers or subscribers on your website?
Identifying the best converting content on your site gives you insights on optimization, so you can improve the results.
In this guide, we'll show you how to track landing pages conversions using two ways:
So let's start…
Method 1: Track Landing Page Conversions with MonsterInsights
MonsterInsights is one of the best Google Analytics WordPress plugins. It allows easy integration of Google Analytics on your website without any coding and displays reports in your dashboard.
In just a few clicks, you'll be able to see top pages or posts that are performing better than the rest. Then using this data, you can optimize landing pages that aren't doing so well and boost conversions.
To view the top landing pages in MonsterInsights, go to Insights and then click Reports from your WordPress dashboard. You will see an Overview Report. Scroll down and you'll see the top posts/pages of your website.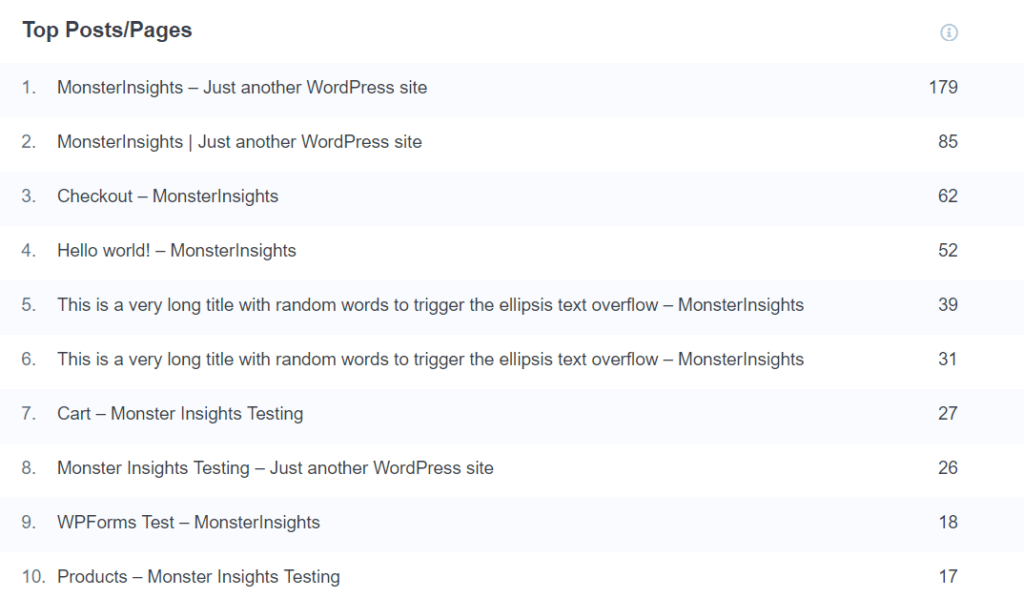 Now conversions can mean different things based on your website. If you have an eCommerce store, conversions would be the number of products bought by visitors.
And if you are running a blog website, then conversions could mean users subscribing to an email newsletter, downloading an eBook, or filling out a form.
This is where MonsterInsights makes the process of tracking conversions from landing pages simple, no matter the type of website.
How does it do that? Let's find out.
MonsterInsights eCommerce Tracking Addon
With MonsterInsights eCommerce addon, you can track landing page conversions of your online store. It is available in the Pro package and offers other exciting features along with eCommerce tracking like:
Create custom dimensions
Author tracking
Google optimize
Track SEO scores
Logged-in user tracking
Track form conversions
Track file downloads
Using the addon, you can view important eCommerce data at a glance. To view your store's performance, just click on eCommerce.
The report shows a quick view of your store's conversions, transactions, revenue, and average order value.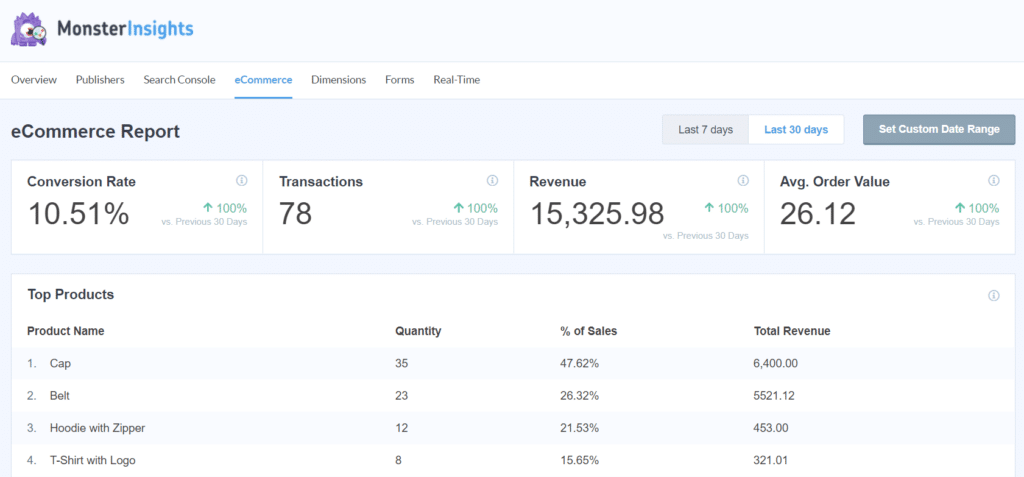 If you scroll down, you will see more reports about tracking conversions, like which sources bring in more visitors and how much do they contribute to your revenue.

Using this data, you can promote your store where it matters.
Track Form Conversions
Now if your website has different forms and you want to track their conversion rate, then MonsterInsights Form Tracking addon comes in handy. Do note that you'll need a Pro plan to use form addon.
It automates form tracking and you don't have to create tracking manually for each form in Google Analytics. MonsterInsights addon works with any WordPress form plugin, like WPForms.
To view the report, click on Forms and it'll give you the critical data like views (impressions) on your form and their conversions. You can optimize these forms using the data and generate more leads.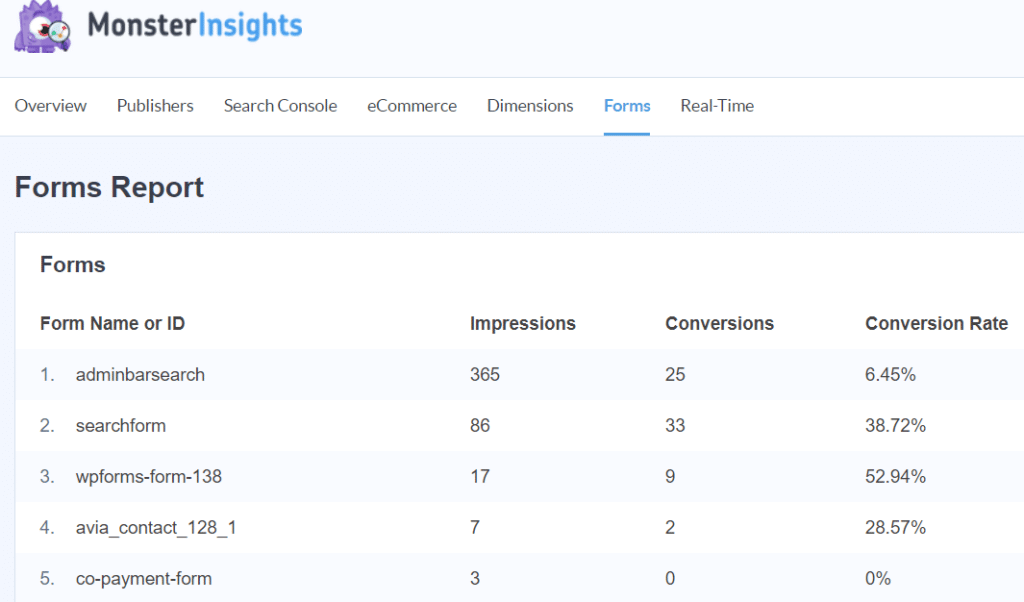 MonsterInsights makes tracking landing page conversions easy.
Now, are you ready to see how to manually track landing pages using Google Analytics?
Method 2: Tracking Landing Pages in Google Analytics
The landing page report in your Google Analytics account gives you important insights into the performance of your website.
Below are a few benefits of using Google Analytics landing pages reports:
What Pages Visitors Are Landing On
Not every visitor arrives at your homepage. If the first page (or in other words, the landing page) your visitors see on your site doesn't give what your first-time visitors want, you're likely to lose many conversions.
Once you figure out on what pages most of your visitors arrive on, whether it is a blog post, page or any custom post type, you can design landing pages to boost conversions.
This way, you can assure that your users have a good experience and better understand your products or services.
Which Blog Posts and Pages Drive More Conversions
You can sort the landing pages by the number of sales, revenue or conversions. This data can help you to learn what kind of content works best for your site.
Content that gets a lot of traffic, but low conversions, may not be worth investing your time in.
Optimize Landing Pages for Higher Conversions
How are your conversion rates in general? If they're lower than you hoped, you can focus your efforts on optimizing those particular pages, prioritizing those with the most traffic.
How to View the Landing Pages in Google Analytics
Before we get started, you'll have to set up Goals or eCommerce tracking in Google Analytics.
If you've already enabled any of them, you may log in to Google Analytics and select the website for which you'd like to see the high converting landing pages.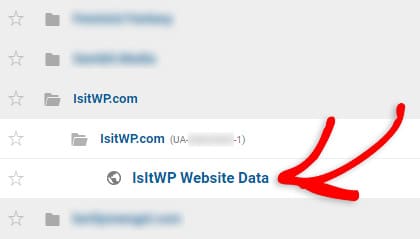 In the left panel, navigate to Behavior » Site Content » Landing Pages. You can now see your landing pages report that is sorted by popularity.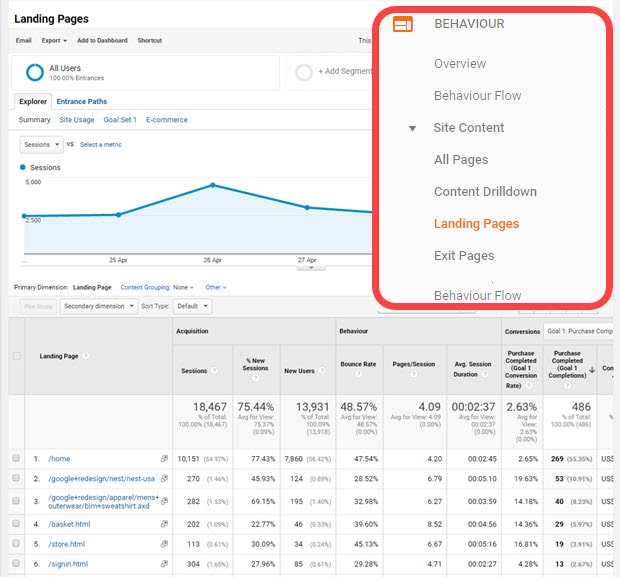 Identifying the Landing Pages that Lead to the Most Conversions
In order to view which landing pages lead to the most goal conversions, select a specific goal from the dropdown menu, which you can see in the Conversions column.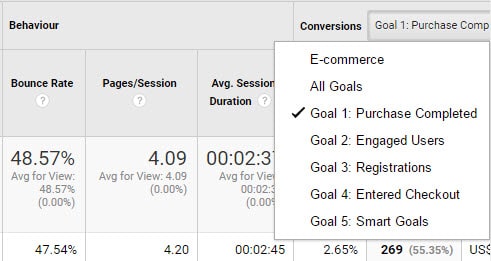 You can sort the table by conversion rate or the number of conversions by clicking on its respective tab. For example, take a look at the screenshot below that is sorted by the number of conversions.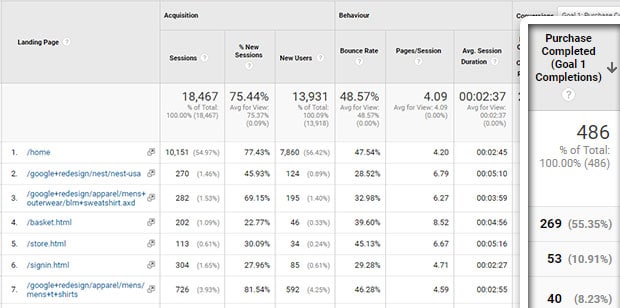 Identifying the Landing Pages that Lead to the Most Sales
In order to view which landing pages lead to the most eCommerce sales, select E-commerce from the dropdown menu, which you can see in the Conversions column.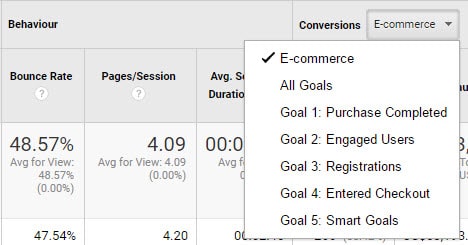 You can sort the table by transactions or revenue by clicking on its respective tab. For example, look at the screenshot below that is sorted by Transactions.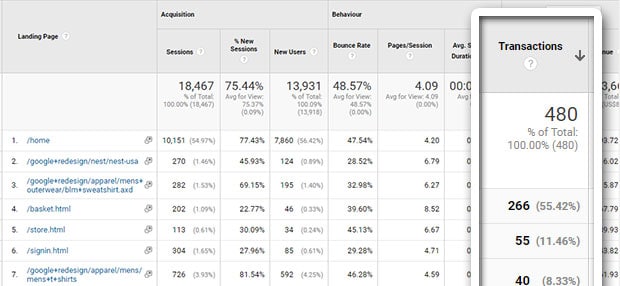 That's it!
Congratulations, you've successfully set up landing page tracking to boost conversions.
We hope you liked our guide on how to track landing page conversions. If you want, you can also check out our detailed guide on the best WordPress landing page plugins and tutorial on tracking links and buttons on a WordPress website.
And don't forget to follow us on Twitter and Facebook for more Google Analytics tutorials.