Do you want to track your Caldera Forms submissions but don't know how to get started?
By setting up Caldera Forms tracking in Google Analytics, you can get insights about each form's performance. Then using the data, you can optimize your forms to get more conversions.
But using Analytics can be overwhelming. Not to mention it doesn't automatically track your forms on your WordPress site. You'll have to tweak the tracking code, which isn't possible unless you know how to code.
So, is there a way out?
In this article, we'll show you how to track Caldera Forms submissions in Google Analytics using an easy way. Let's get right to it…
How to Set Up Caldera Form Tracking in Google Analytics
As powerful as Google Analytics is, the annoying part is that you can't track Caldera Forms right off the bat. You'll have to manually set up Caldera Forms WordPress event tracking in Google Analytics to view conversions.
Now, this might be difficult for someone who's never used Analytics before.
That's because you'll have to edit the tracking code or use Google Tag Manager. For both these methods, you'd have to hire a professional to help you out, which can be time-consuming and requires investment.
But there's a simpler way of tracking form conversions in Google Analytics.
With MonsterInsights installed on your WordPress site, you can automatically track Caldera Forms. No additional set up or editing code required!
Just follow these steps and get stats about your form submissions in no time.
Step 1: Install MonsterInsights on Your Site
MonsterInsights is the best WordPress plugin for Google Analytics. It tracks your form conversions as Google Analytics events. And you can view easy to understand form reports inside your WordPress dashboard.
To start, simply install MonsterInsights on your WordPress website. Make sure you subscribe to a Pro license, so you can use it's addons.
MonsterInsights also offers other features that can help you measure your site's performance. You can track phone number clicks, eCommerce conversions, file downloads, and more with just a click of a button.
Step 2: Install and Activate MonsterInsights Forms Addon
Now that MonsterInsights is installed and running on your site, the next thing to do is install its Forms addon.
Simply go to your dashboard and navigate to Insights » Addons. Next, go to Forms and then click Install.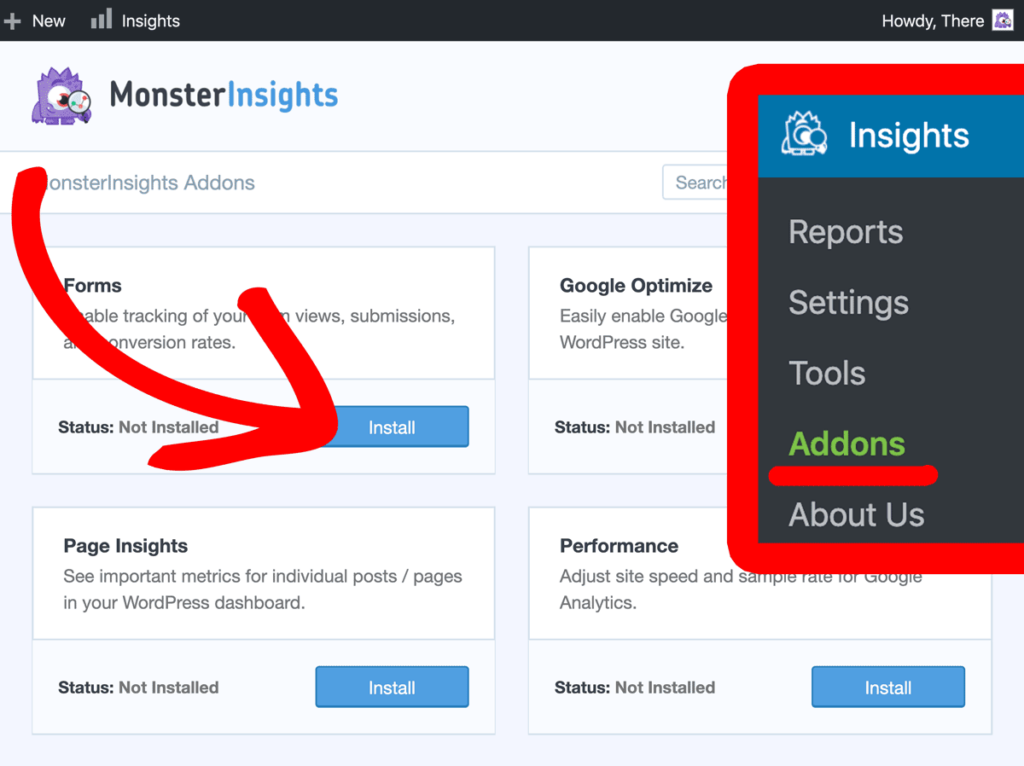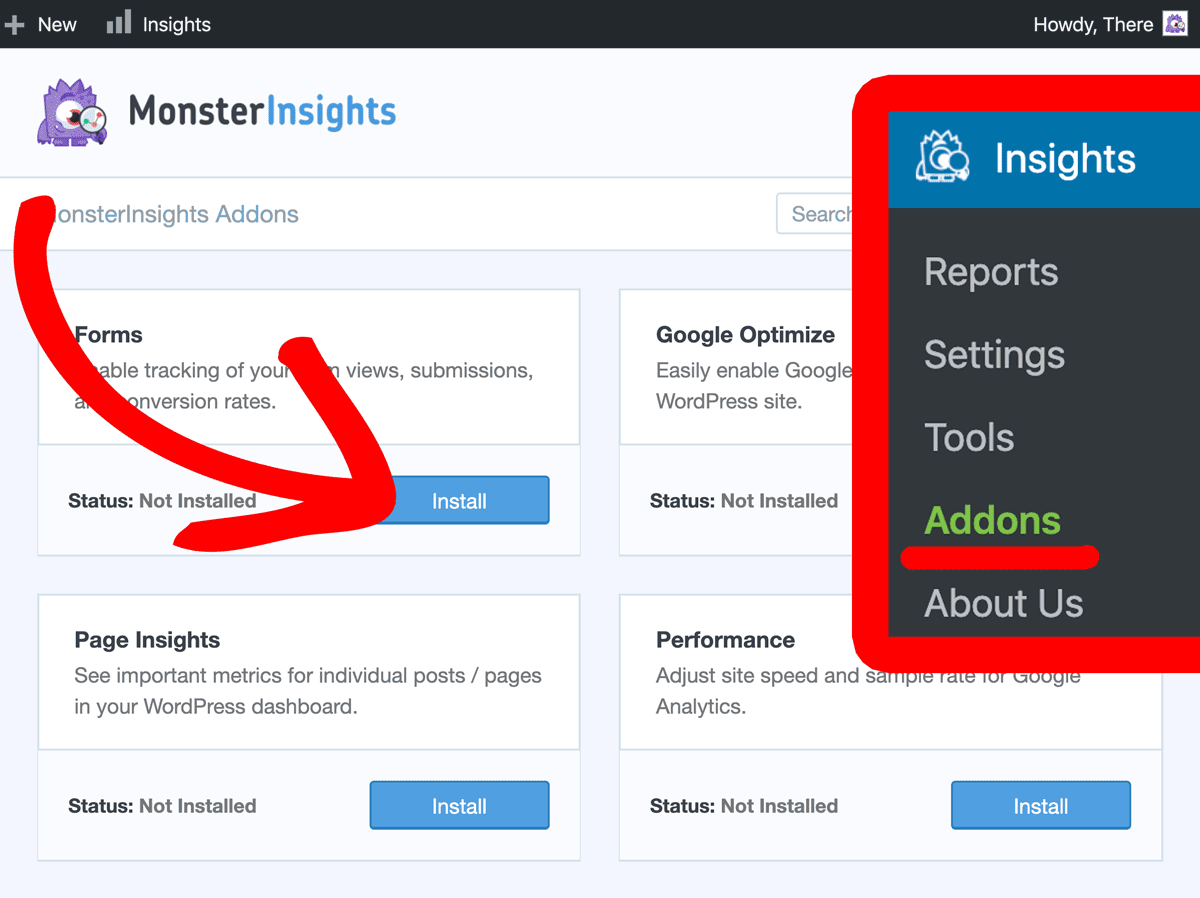 The addon will automatically install and activate on your website. You can see the Status change from Inactive to Active, which means it's ready to start tracking your Caldera Forms submissions.
Step 3: Enable Caldera Forms Tracking in MonsterInsights
After successfully activating the addon, you can now view the settings in MonsterInsights and enable Caldera Forms conversions.
To do that, head over to Insights » Settings and then select Conversions from the top menu.
Then under the Forms Tracking settings, make use the option for Enable Form Conversion Tracking is switched on. MonsterInsights will then automatically start tracking your Caldera Forms.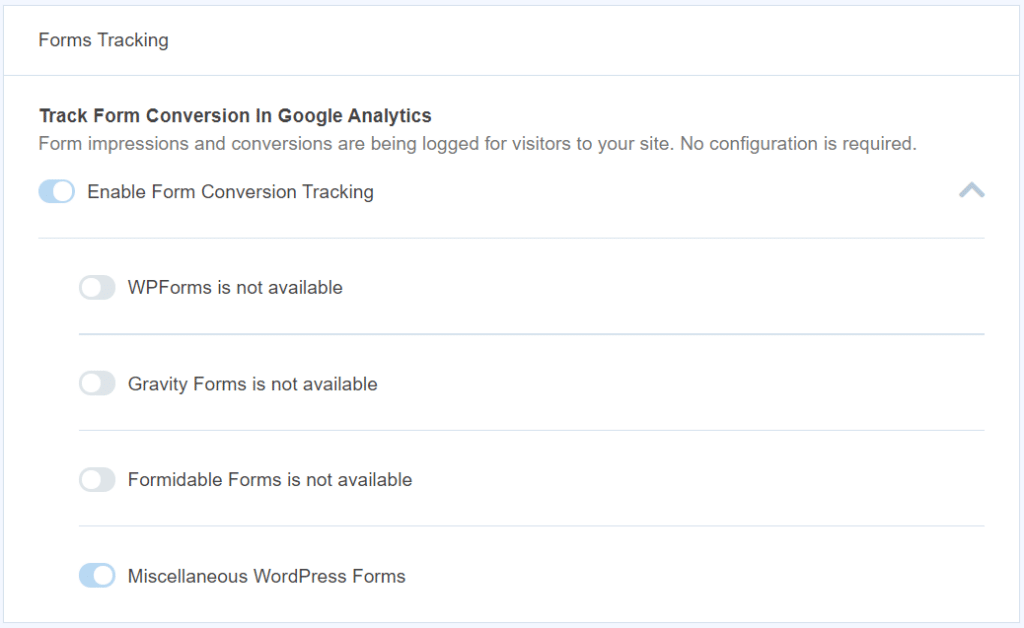 Congratulations!
You can now see how many people submit forms on your site and which forms are performing the best. Now, let's look at the reports you can view in Google Analytics.
How to View Caldera Forms Submissions in Analytics
With MonsterInsights, you get form conversion reports in your WordPress dashboard. To view the report, go to Insights » Reports » Forms.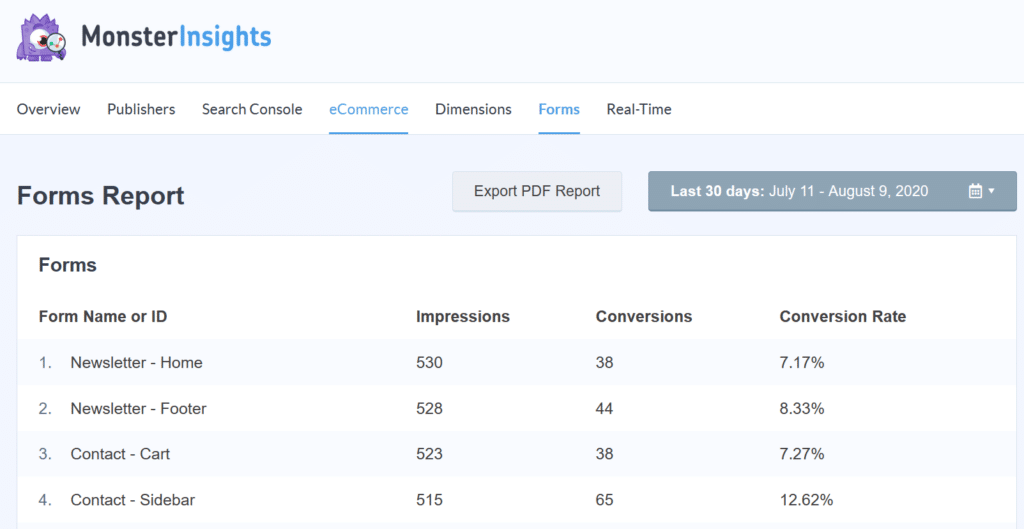 The report shows you the number of impressions, conversions, and the conversion rate for your Caldera Forms. You can see which forms are converting more and which aren't.
And if you want, you can even export the report as a PDF file to share with others.
Besides that, you can also view the full report in Google Analytics. Just click on View Full Forms Report button MonsterInsights.
You'll then be taken to the Google Analytics Top Events page. Here you can view the total impressions and conversions for your forms.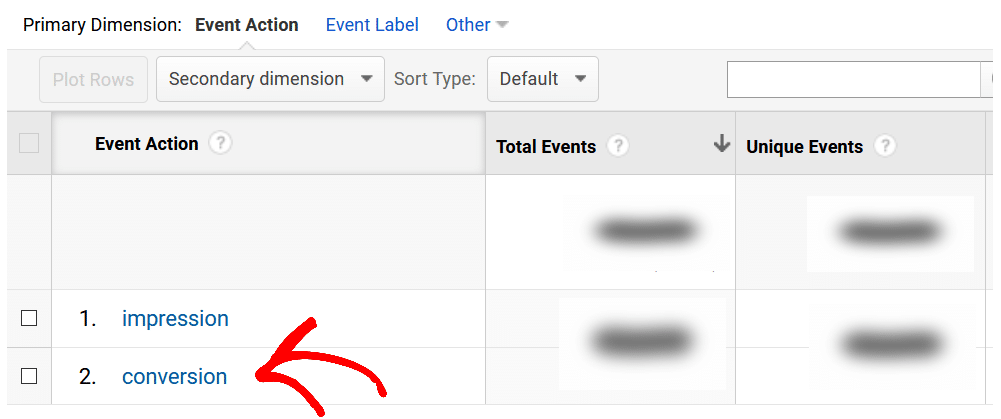 To check which form is converting the best, click on conversion. In the next screen, you can see all your Caldera Forms. If you want to dig deeper and find more insights, you can use secondary dimensions or advanced search options.
For instance, if you want to know where your visitors are coming from, then you can use the source/medium dimension and view your form conversion sources.
And that's it!
You now know how to view your Caldera Forms in Google Analytics and see which one is doing well.
We hope you liked our article on how to track Caldera Forms submissions in Google Analytics. If you found this post to be useful, then do check out our guide on how to properly set up Google Analytics in WordPress.
Don't forget to follow us on Twitter and Facebook for more Google Analytics and WordPress tutorials.