Are you looking for ways to spy on competitors and ethically steal their traffic? With our favorite tool for the job, you can track competitor website traffic and work on ranking ahead of them in search.
The digital space is becoming more and more competitive over time. To stay ahead of the game, you need to know what others are doing in your industry.
Using the strategies of your competition, you can grow your website traffic, create amazing content, and build up your brand.
In this article, we'll share a few of our favorite tools to spy on your competitor's content strategy, and then we'll go through a tutorial on how to spy on your competitors and ethically steal their traffic using Semrush. (You can click here to skip to the Semrush tutorial.)
3 Tools to Spy on Your Competitors
There are many tools that you can use to see what your competitors are doing. They give you an edge by helping you in your search engine optimization (SEO) and content strategy.
Here are the 3 tools that'll help you spy on your competitors:
Semrush is one of the best SEO and marketing tools out there. It offers powerful features that will give you mind-blowing insights about your competitors.
Using Semrush, you can find the top-performing pages of your competitors and create better content. You can boost your search engine rankings by identifying their top keywords, conducting your keyword research, and optimizing your pages.
Semrush not only helps you improve your SEO, but it also provides details about the paid traffic of your competition. Using its reports, you can target top paid keywords and optimize your ads.
Semrush does have a free version, which is what we'll be using in our tutorial below.
Get started with Semrush today!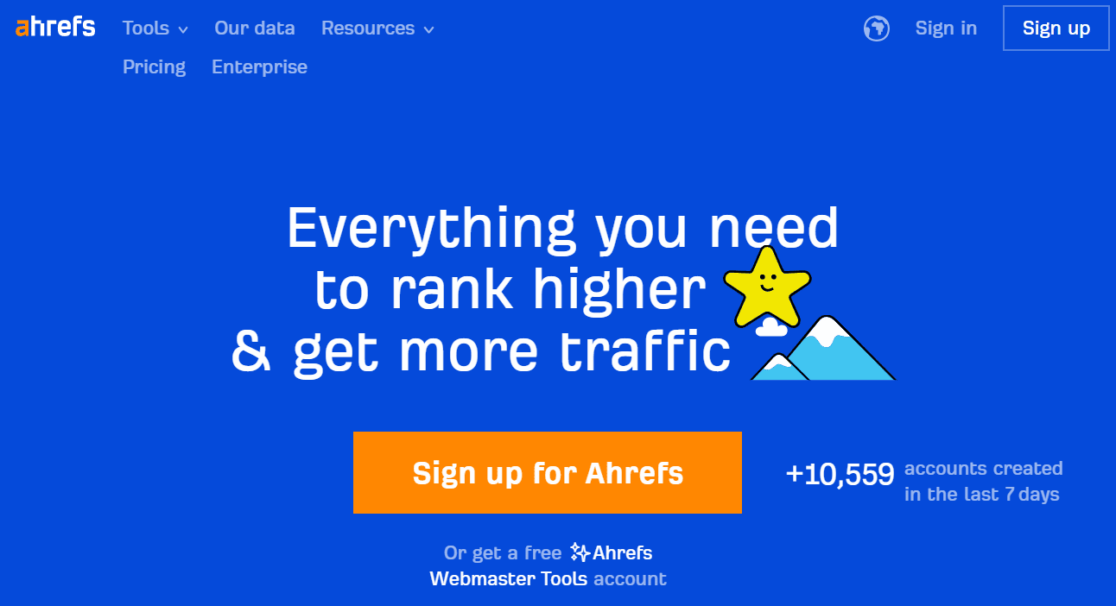 Ahrefs is another popular tool among SEO professionals, and it can provide detailed information about your website and your competitors.
You'll notice that the features offered by Ahrefs are similar to Semrush. Using Ahrefs, you can get reports about your competitor's backlink profiles.
It also helps you track your page rankings with your competitors. And its site audit feature helps you conduct an analysis of your website.
Get started with Ahrefs today!
Google Keyword Planner is a useful tool to get insights about your competitors, and the best part is that it's free. Many people think of it as a tool to run paid advertisements, but it can help you discover what your competitors are doing to drive traffic.
To use Google Keyword Planner, enter the URL of your competitor. The tool will give you information about their top keywords and new keyword ideas. It will give you a monthly search volume for each keyword, so you'll know what topics to cover so you can beat your competitors.
It will also show you the bidding values for each keyword. Although bids are useful for advertisers, you can use them to understand the competition and difficulty in ranking for that keyword.
Get started with Google Keyword Planner today!
Now, are you ready to learn how to spy on your competitors?
How to Spy on Your Competitors Using Semrush
For our tutorial, we'll be using Semrush. It's a simple, user-friendly, and powerful tool to figure out your competitors' strategy.
Step 1: Create a Semrush Account
Before starting your competition analysis, the first thing you'll need to do is create a Semrush account.
All you need is an email address for a new account. Enter your email, select a password, and then click Create account to get started. Or, choose to sign in using Google.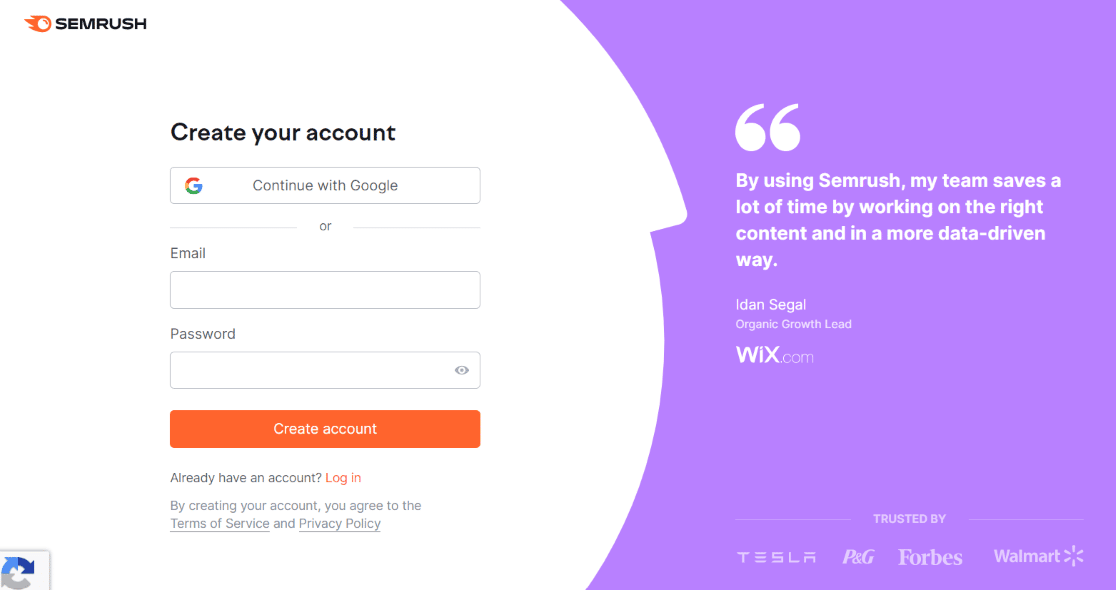 After creating your account, you'll receive a confirmation email. Enter the code on the next screen: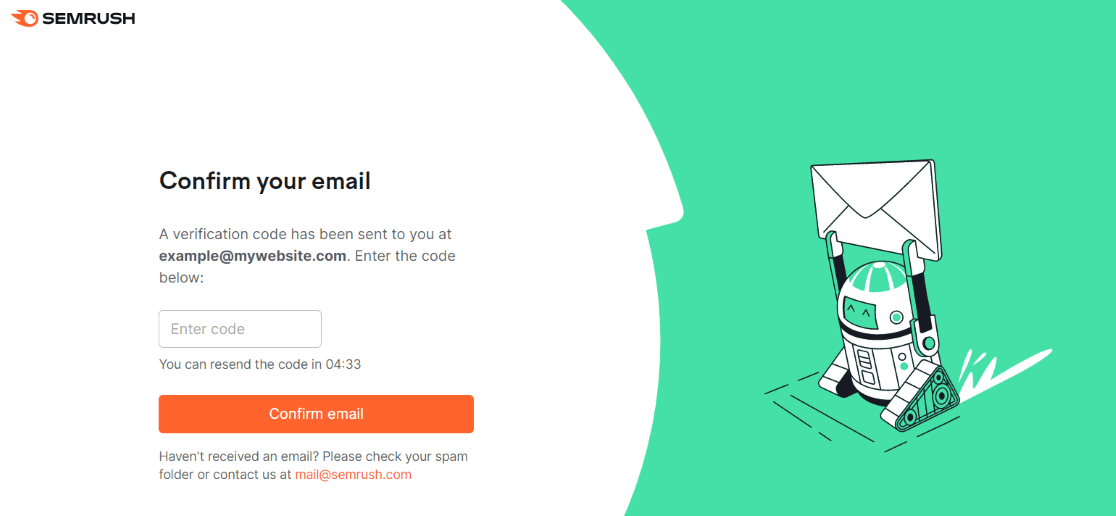 Now, you'll go through a couple screens where you just answer some questions: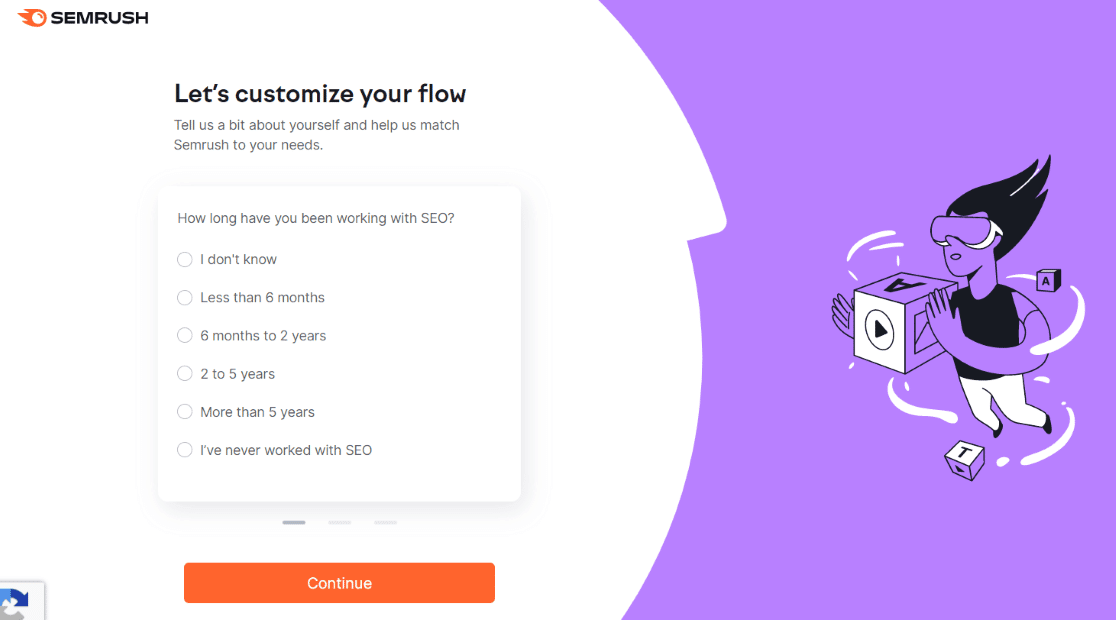 Finally, Semrush will ask if you want to try its premium features in its 7-day free trial. If you want to skip the trial and use the free version of Semrush for now, just click the Skip trial button. You'll have a limited number of searches per day on the free plan.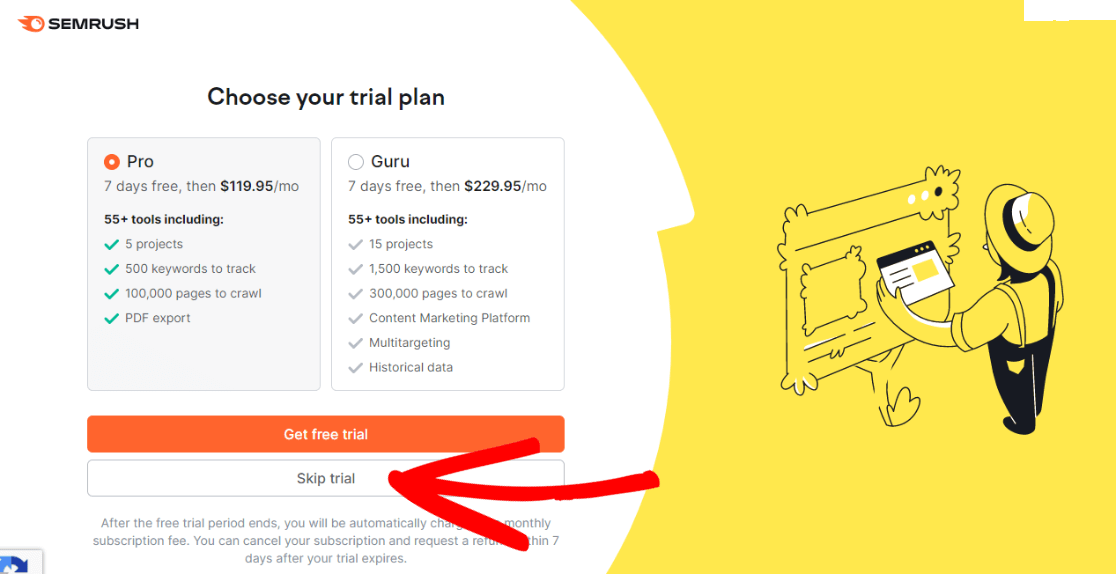 After this step, you'll see your dashboard and it's ready for spying on your competitors!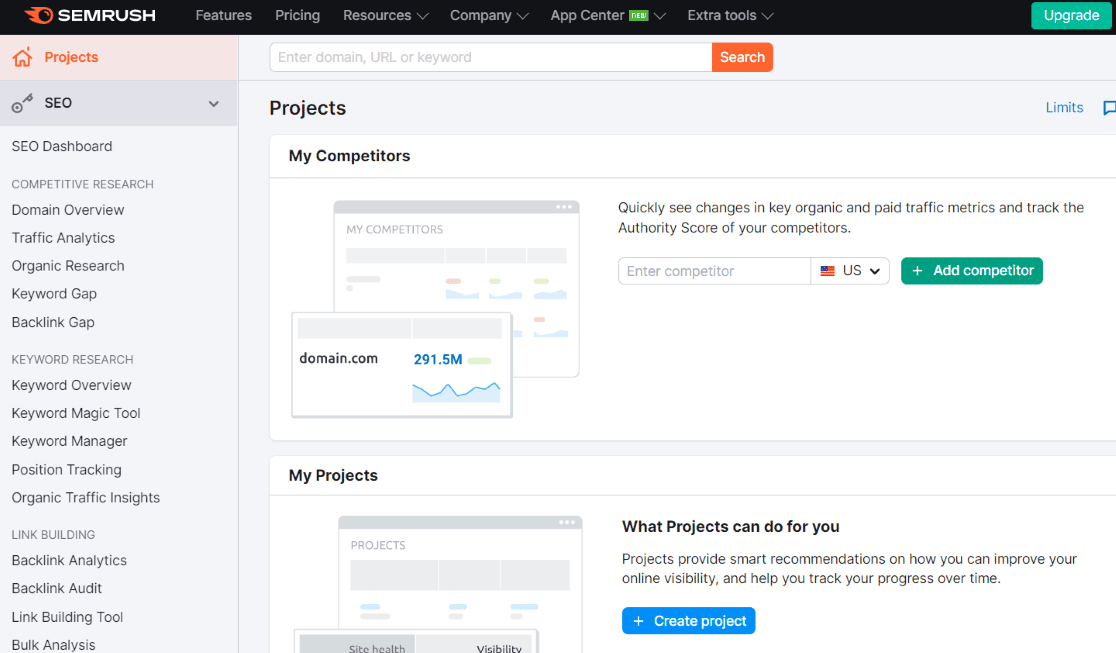 Step 2: Go to The Domain Overview Report
The Domain Overview report is an awesome way to get a glimpse into what your competitors are doing. Head to the Domain Overview tab and input your competitor's domain (URL) in the search bar, then click Search:

Semrush will create a report for you that includes traffic estimates, traffic by country, organic keyword trend, top organic keywords, branded traffic estimates, backlinks, and more. In our example, we've used a cool tool for scheduling social media posts, Buffer, as our pretend competitor: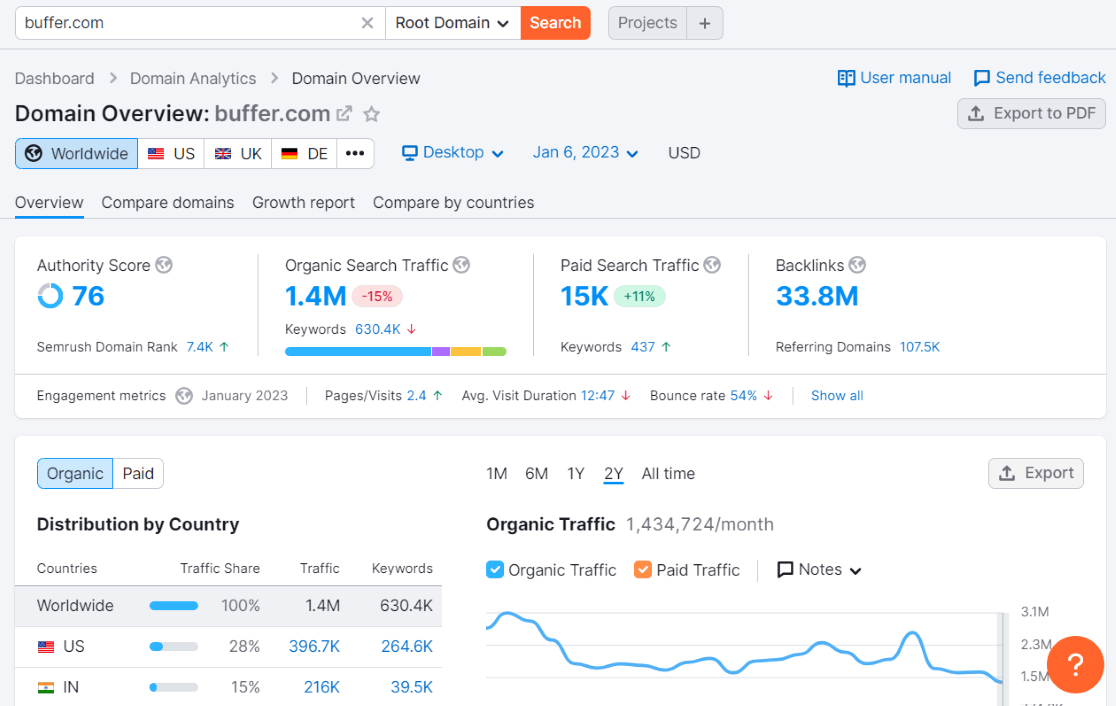 With all of this data, you can find ideas for keywords you hadn't thought to target, places to build backlinks, and other ways to show up in the same spaces as your competitors and steal their traffic.
Remember, if you're on the free Semrush plan, each time you click into one of these reports, you're using one of your searches for the day. However, they can be really revealing in helping you track your competitor's website traffic, so use them wisely each day!
Let's take a deeper look at a few of the reports.
Step 3: Review Your Competitor's Keywords
Let's dive a little deeper into your competitor's keywords. Scroll down in the Domain Overview report until you see Top Organic Keywords and click the blue View details button: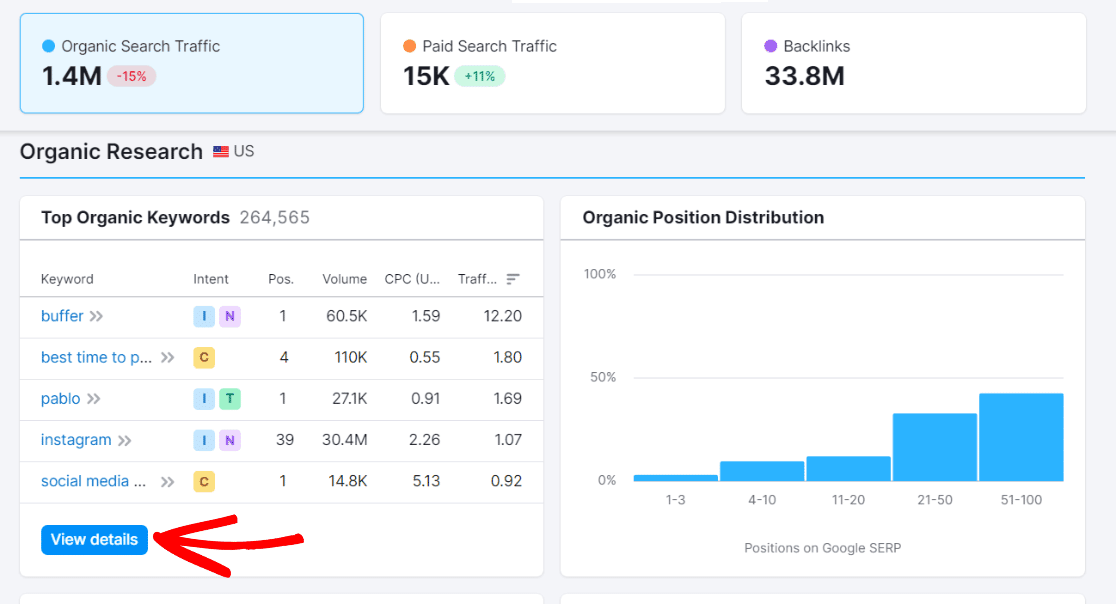 Or, you can access this report also by going to the Organic Research tab: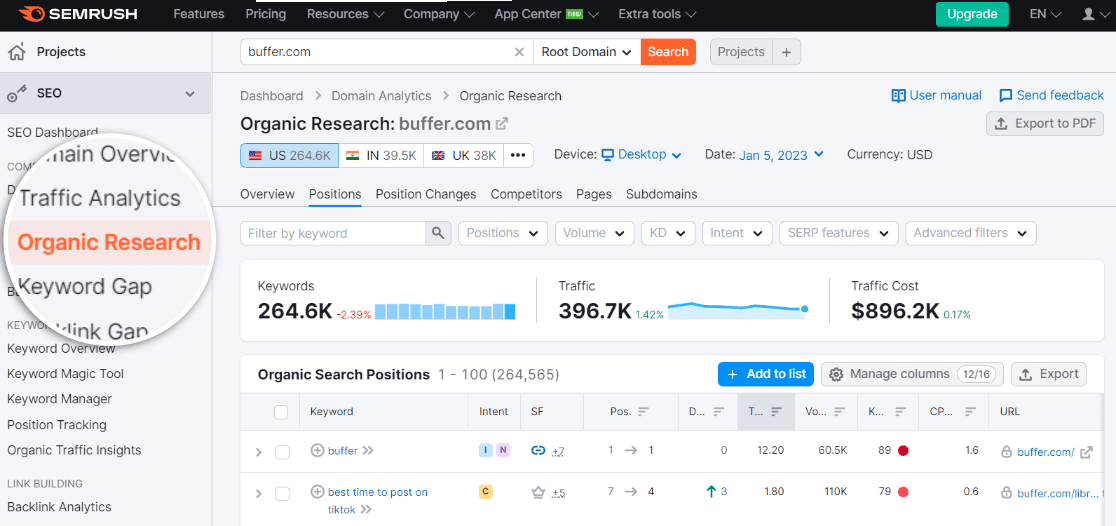 In this report, you'll see a list of many of your competitor's top keywords, including where they rank in Google, how much of their traffic comes from the keyword, how difficult it is to rank for, and more.
Unfortunately, if you have the free account, you'll only see 10 keywords here in this report. We'll show you a way to look at more keywords though (until you hit your daily limit) shortly. If you'd rather be able to run as many searches as you want and see a lot more data, consider grabbing the free trial.
For now, take a look at your competitor's top keywords. What are they ranking for that you could also work on ranking for?
Step 4: Check Your Competitor's Top Pages
This is a report you can really use to track competitor website traffic. Which of your competitor's pages is bringing in the most traffic? When you can see which pages your competitors are bringing in traffic with, you can work to create content on a similar topic that's better than theirs.
To analyze your competitors' top pages, stay in the Organic Research area in Semrush, but move to the Pages tab: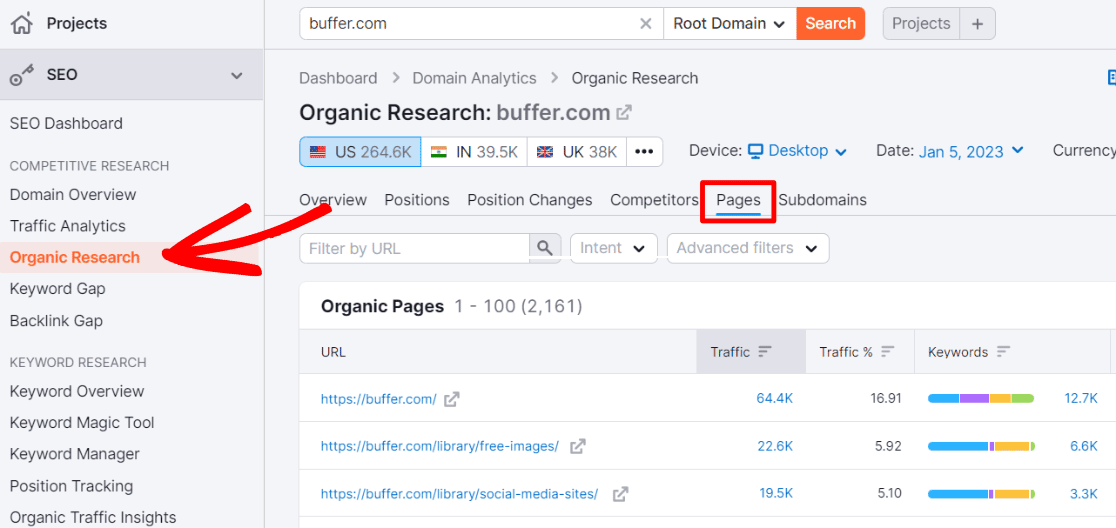 Now, you'll be able to see your competitor's top 10 pages (if you're on the free version), an estimate of how much traffic they're getting there, and how many keywords each page ranks for.
From this page, you can click on the number of keywords for a particular page to see a list of keywords that your competitor ranks for with that content. You can also click the Show link in the Backlinks column to see who's linking to that page. Use that data to do your own link building!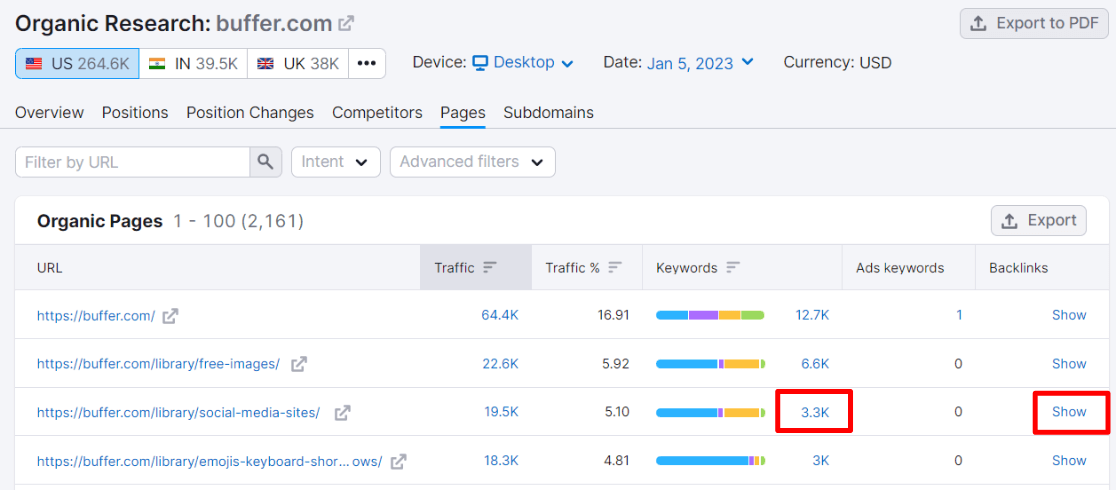 Step 5: Run Keyword Research
Another way to check out your competition is to check out rankings for different keywords.
When we reviewed our pretend competitor's keywords in step 3, we saw that Buffer ranks #1 for "social media management". Let's say we want to see who else ranks for that term, and what the related terms are so we can work on ranking for it ourselves.
To research a specific keyword, head to Keyword Overview, type in your keyword and click Search: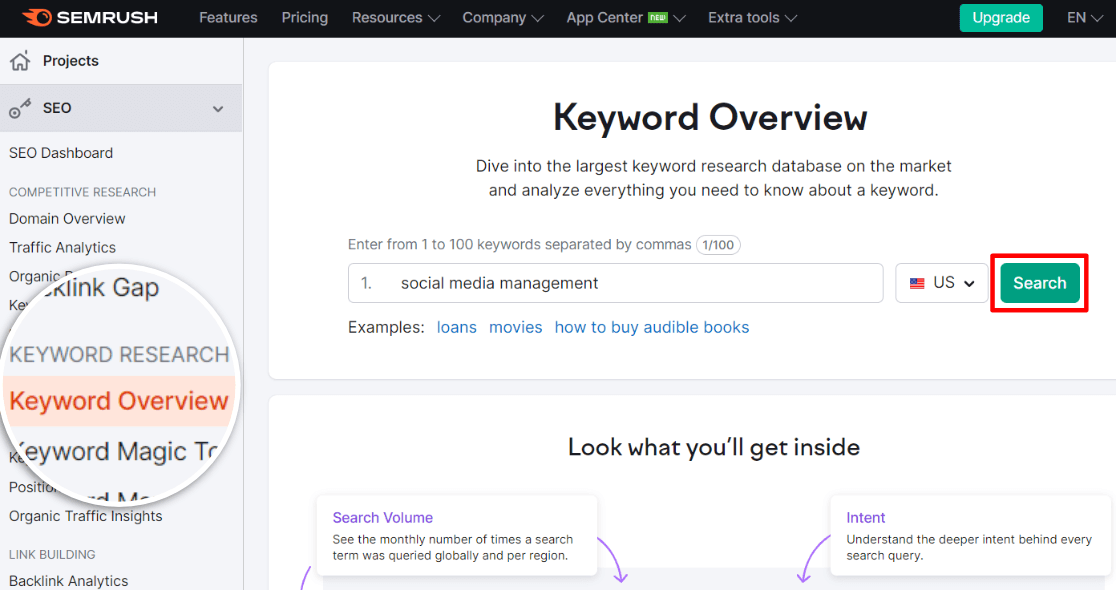 On the results page, you'll first see some basic stats like overall keyword volume, how difficult the keyword is to rank for, what the cost per click would be if you were to run ads on the keyword, and more.
Next, Semrush will show you boxes of related keywords that you can target to work on ranking for. This is where you can get a lot of content ideas! Click on one of the buttons at the bottom to view more keyword variations, questions, or related keywords.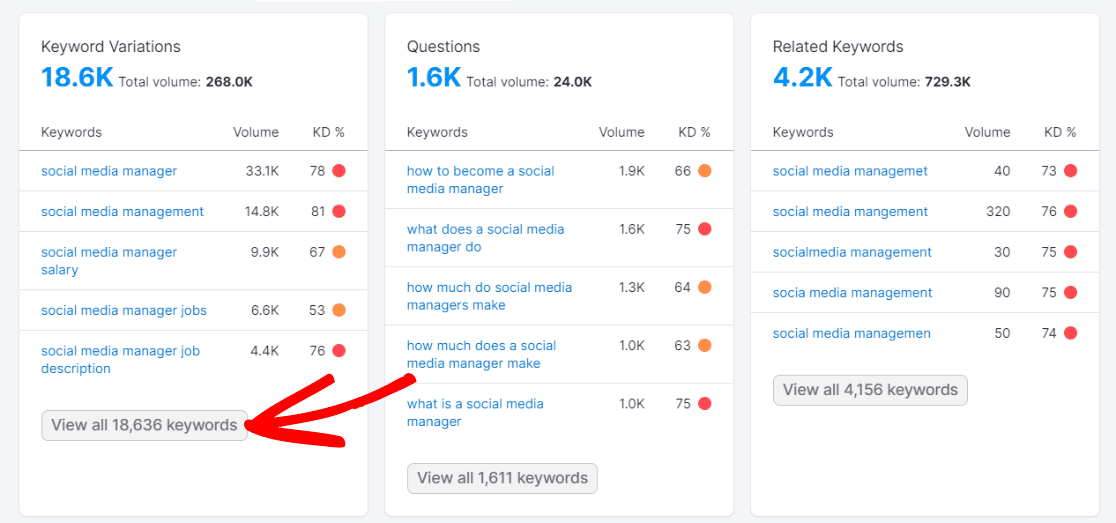 Below the keyword boxes, you'll find a listing of who ranks for your keyword.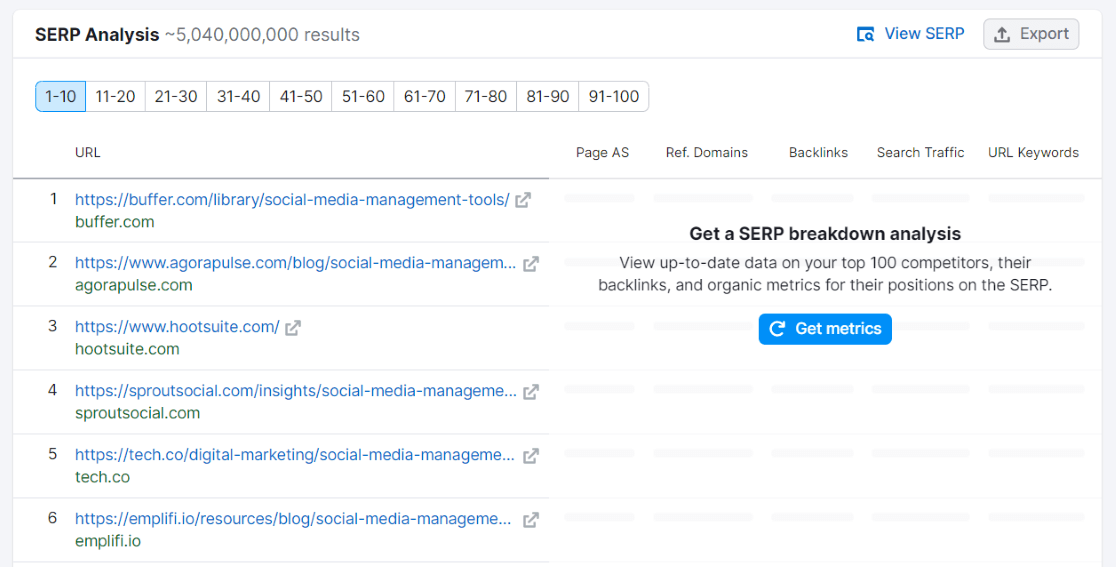 Step 6: Click on Backlink Analytics
Once you've found keyword opportunities and new content ideas from your competitors, another way to boost your search engine rankings is spying on your competitor's backlinks.
Backlinks play an important role in ranking your website on Google. Another benefit of backlinks is that they can bring in referral traffic to your webpages. So, using the Semrush backlinks report on your competitors, you can find ideas for where to build more backlinks for your site.
To use the report, head to the Backlink Analytics tab. Input your URL and click Analyze.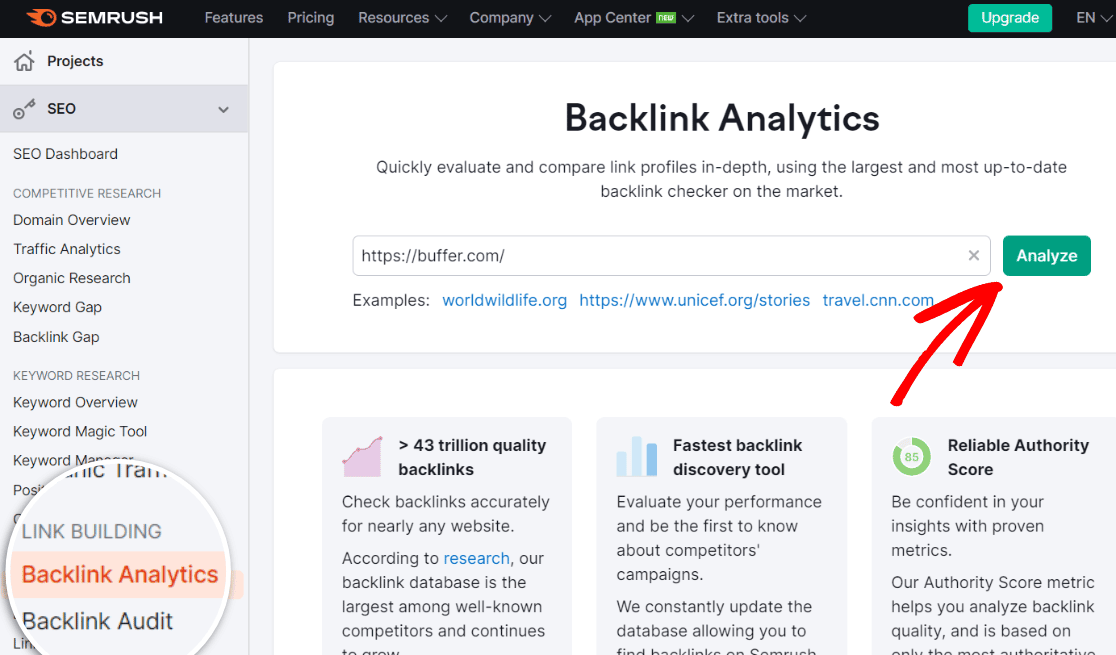 Now, you can either browse through the overview report or head straight to the Backlinks tab: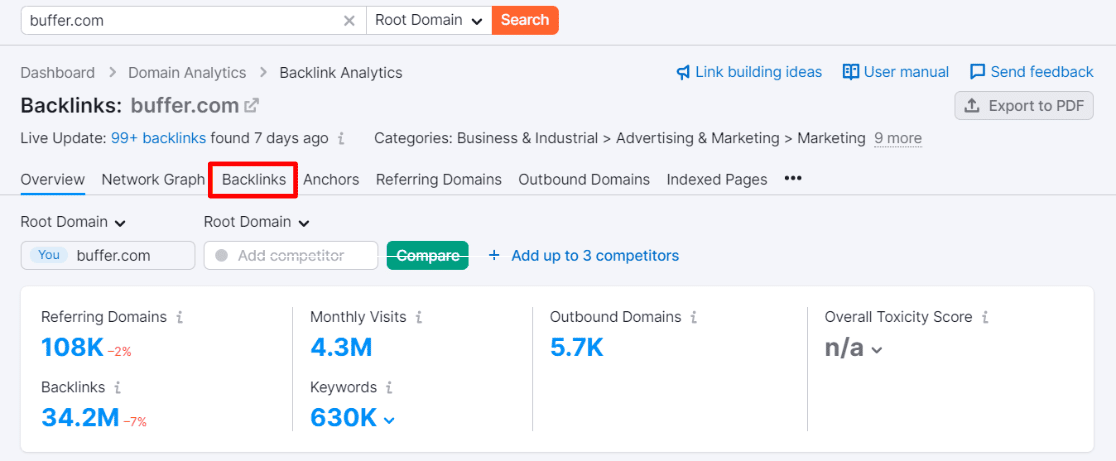 There, you'll see a table of your competitor's backlinks, starting with the ones that have the highest page authority scores. Use this report to find your link ideas.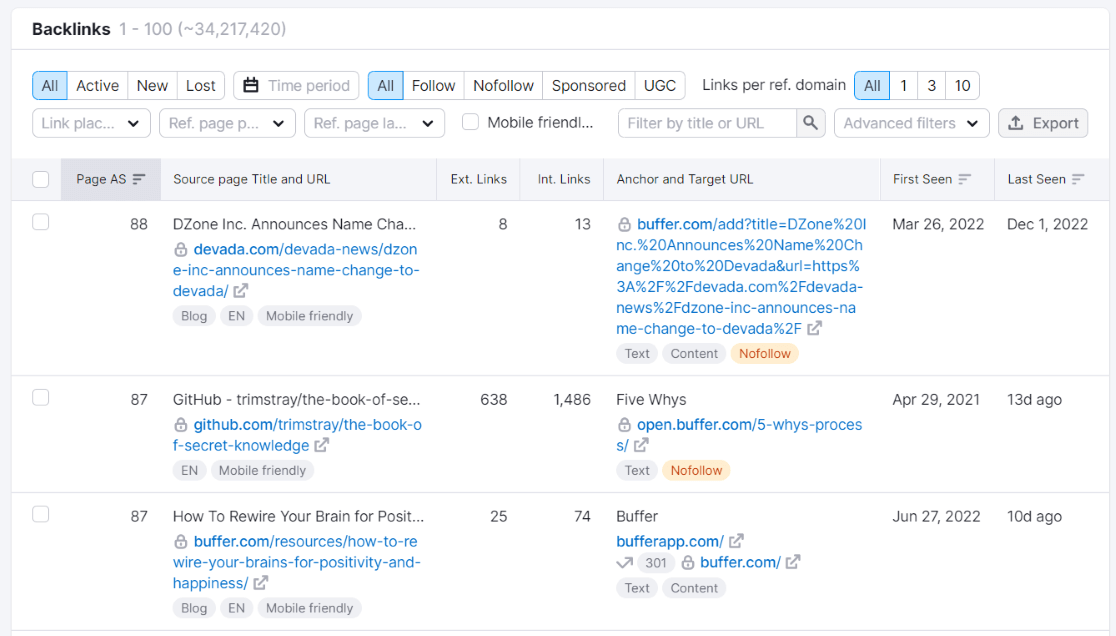 Now, you should have ideas for keywords, content ideas, and backlinks you can create to better compete.
Using Semrush, you can easily track competitor website traffic and work on creating your own content and backlinks to ethically steal it for yourself!
If you liked this article, we think you'd also like Beginner's Guide to Google Analytics: How Does it Work?.
Not using MonsterInsights yet? What are you waiting for?
And don't forget to follow us on Twitter, Facebook and YouTube for more helpful reviews, tutorials, and Google Analytics tips.