Did you know that almost 77% of online buyers abandon checkout forms? Form abandonment is an issue you aren't facing alone.
Many website owners go through the pain of their visitors leaving their websites without submitting forms.
In this article, we'll show you how to reduce form abandonment in WordPress the right way. Using these steps, you can increase form conversions and boost your sales.
What is Form Abandonment?
Form abandonment is when a user starts filling out your form but for some reason, leaves without clicking the submit button.
One of the reasons could be that visitors went to another page on your website and forgot to submit the form. Or they could have navigated to another site and left the form halfway through.
You may ask at this point, why should we work on form abandonment? Here's why…
Why is it Important to Reduce Form Abandonment?
Forms are an important part of your website's success and help boost conversions. That's why you should pay special attention to reducing form abandonment.
Here are some reasons to lower abandoned forms:
Capture Leads – Many companies rely on forms to capture leads, and if people are abandoning forms, you are losing potential customers.
Increase Sales – If you can get people to come back and fill out an abandoned form, you can increase your sales.
Valuable Insights and Data – Businesses use forms to collect data and run surveys, but with half-filled forms or no submissions, you won't have the necessary data to make decisions.
Save Money and Time – With low form abandonment, you don't have to invest in other promotional activities to attract visitors to fill out your forms.
So, are you ready to learn how to reduce form abandonment in WordPress?
How to Reduce Abandoned Forms in WordPress
You can follow these simple steps to recover lost forms, lower abandonment, and increase conversions. We'll start by tracking abandoned forms on your WordPress website.
Step 1: Track Form Abandonment in WordPress
The first step is to find out abandoned forms on your WordPress website. An easy way of tracking form abandonment is through MonsterInsights.
It's the best WordPress plugin for Google Analytics. Through its Form Tracking addon, you can easily see form conversions and abandonment on your website.
To start, install the WordPress plugin for MonsterInsights. Then from your WordPress dashboard, go to Insights » Addons and navigate to Forms to install the addon.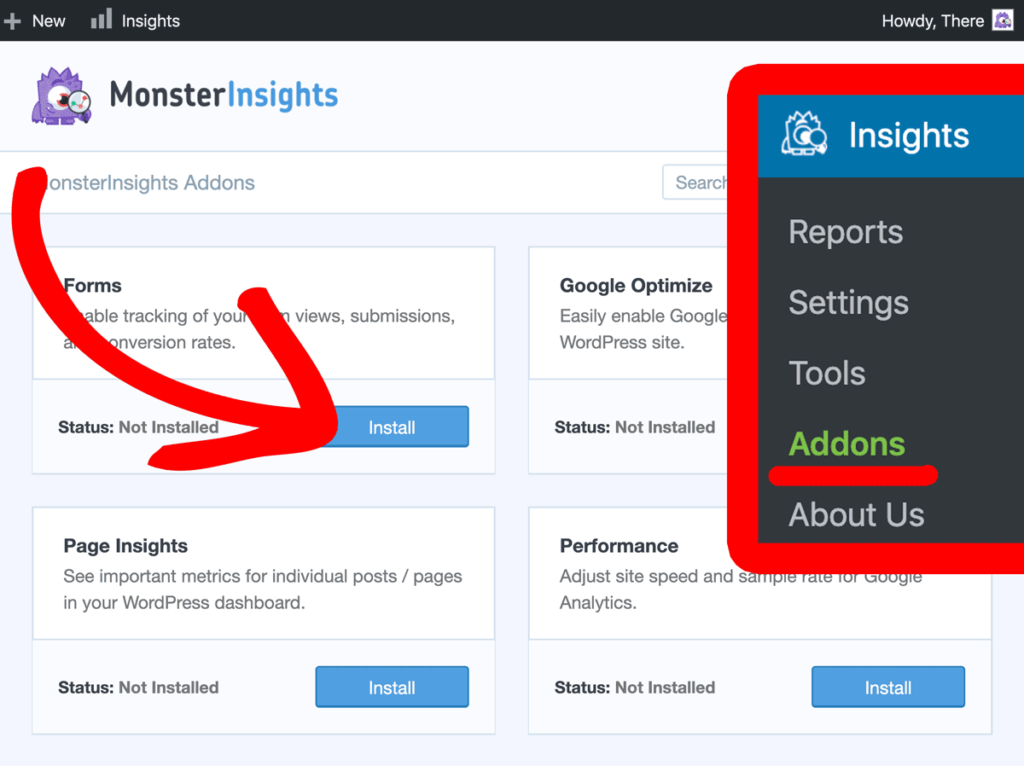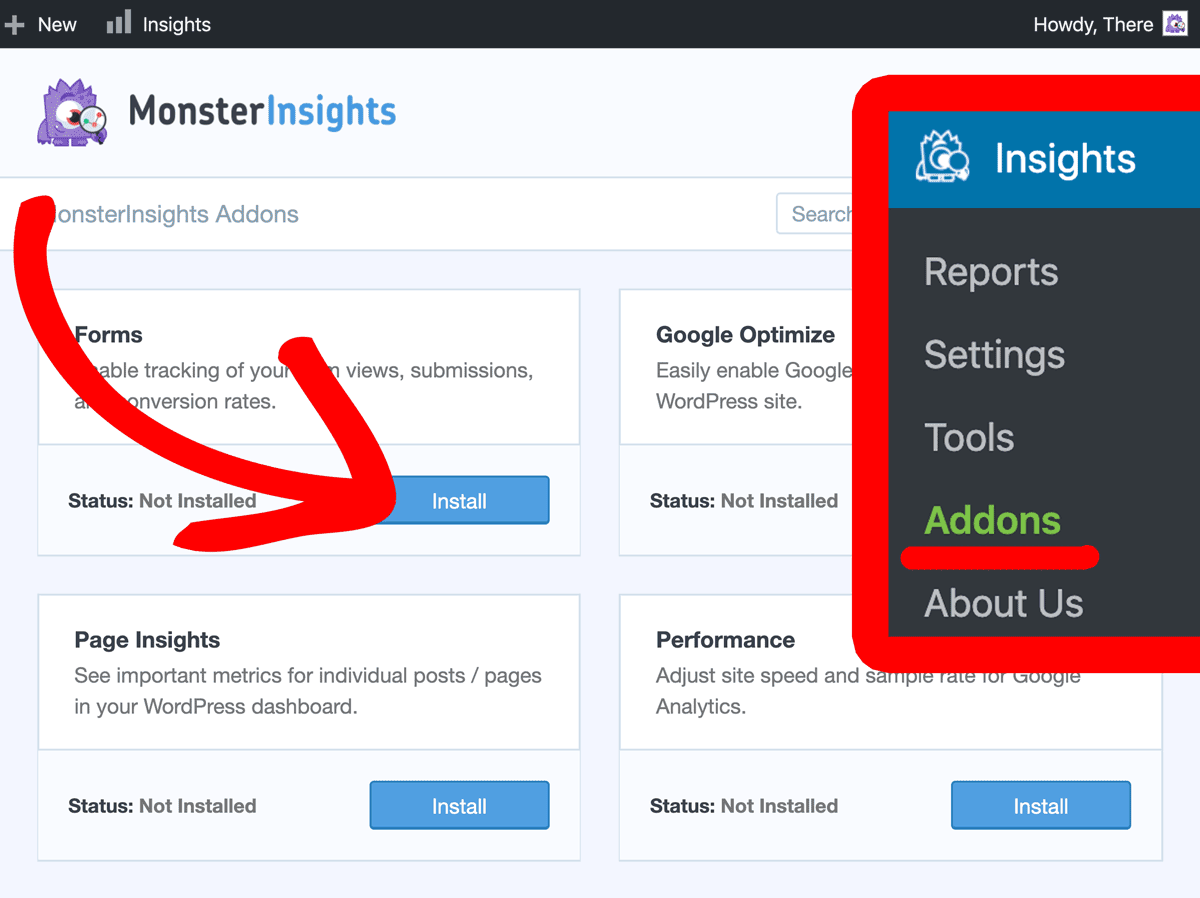 Next, go to Insights, then click Settings. From the top menu, select Conversions. MonsterInsights will automatically detect any form plugins you're using and enable their tracking.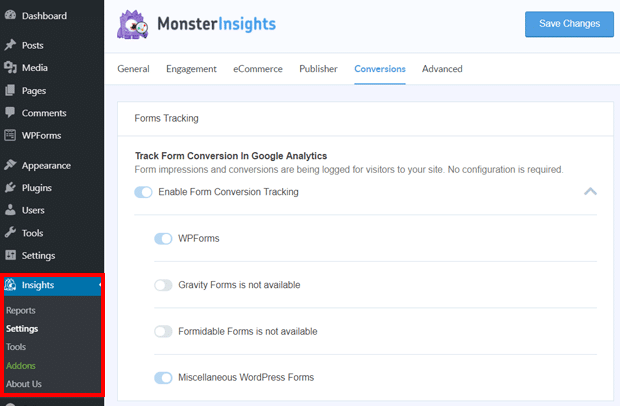 After you're done setting up MonsterInsights, wait at least 48 hours so that it collects the data in Google Analytics and displays you a report.
To view the number of form abandonment in MonsterInsights, go to Insights » Reports and then click Forms from the top menu.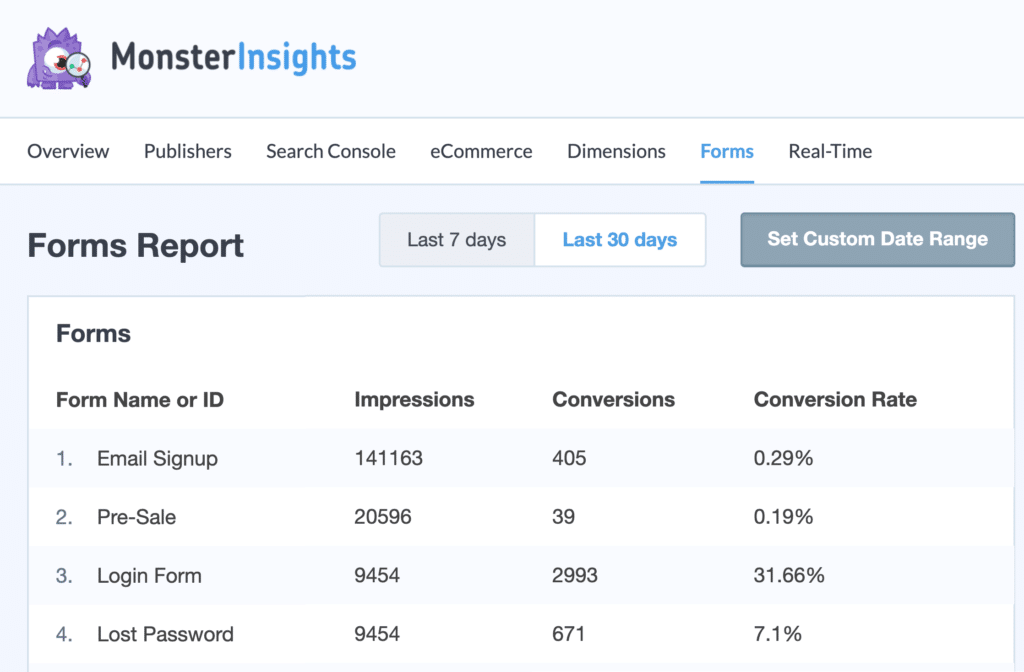 The report shows impressions, conversions, and conversion rates of each form. You can then check which forms got a lot of impressions but low conversions to find forms people left without submitting.
For example, in the screenshot above, you can see that the email sign-up form has tons of impressions but a poor conversion rate. It shows that people abandoned the form and there is room for improvement.
Step 2: Set Up WPForms Forms Abandonment Addon
After you've figured out which forms are abandoned the most, you can set up WPForms and use its Form Abandonment addon to recover entries.
WPForms is one of the most simple and user-friendly WordPress plugins for forms. Using the plugin, you can not just create a variety of forms, but also reduce form abandonment.
First, install the WPForms plugin on your website. Once the plugin is installed, get the Form Abandonment addon, which you can install and enable by going to WPForms » Addons.
Next, edit your existing form and go to the Settings tab from the menu on your left. Navigate to Form Abandonment and then click Enable form abandonment lead capture. 
You can then select if you want to save a form if an email address or a phone number is provided. Or you can select Always save abandoned enteries.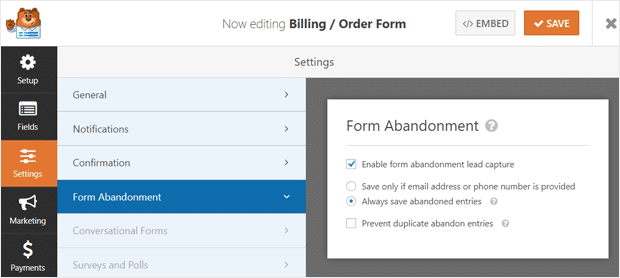 WPForms will now start recording abandoned form entries. You can then use it to see who left the form without submitting it. This allows you to reach out to abandoned leads, bring them back to complete the form, and reduce form abandonment.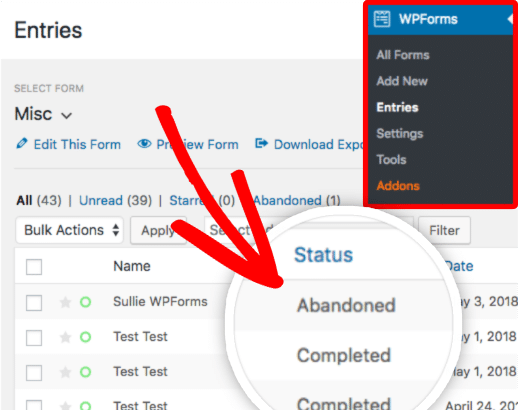 Step 3: Select a WPForms Template to Reduce Form Fields
Now, if your existing forms are constantly being abandoned, then one of the reasons could be the form is too lengthy. A simple way to reduce abandonment is by minimizing the number of fields in your form.
You can select any one of the 150 pre-built templates offered by WPForms to start. And using its drag and drop builder, you can customize the form the way you want.
First, select a template from the Setup tab and then go to Fields option to add fields, remove them, adjust their positioning, and more. Next, click Save to store your changes.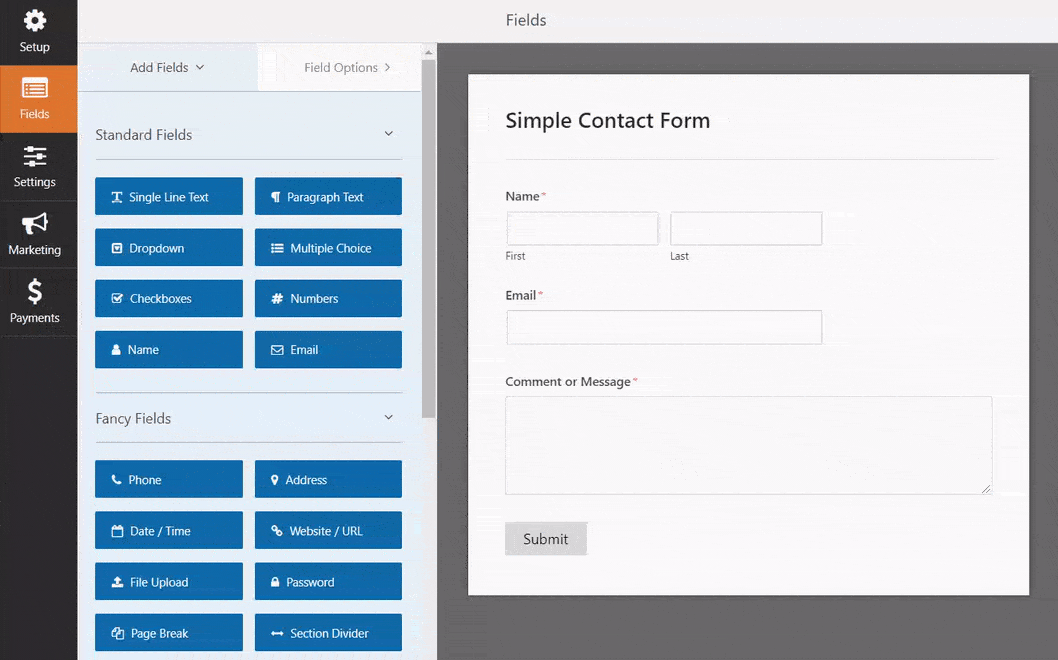 Now adjust the settings and publish your form on your website. Once you've edited your form, let's split test it to see how well they convert.
Step 4: A/B Test Your Forms for Abandonment
A/B testing your forms will help you understand which type of forms work the best and which will result in abandonment. Using the results from the tests, you can then optimize your forms and create those that convert the best.
You can use MonsterInsights Google Optimize addon to split test your forms. Google Optimize is a free tool to run experiments on your site, but it could be tricky to use if you're just starting out.
However, MonsterInsights makes the process of using Google Optimize very easy. To install the addon, go to Insights from your WordPress dashboard and click Addons. Now, navigate to MonsterInsights Google Optimize and install the addon.
After activating the addon, go to Google Optimize and create an account. Then link it with your Google Analytics and copy the Container ID.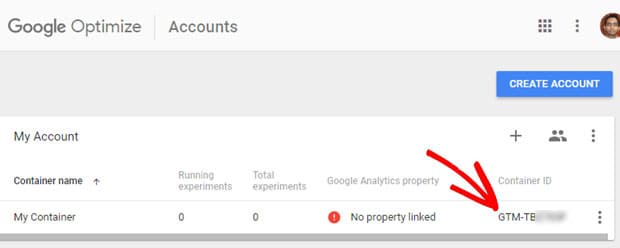 Next, go to MonsterInsights plugin from your dashboard and click Insights » Settings » Conversions. Paste the container ID in the Google Optimize Container ID field.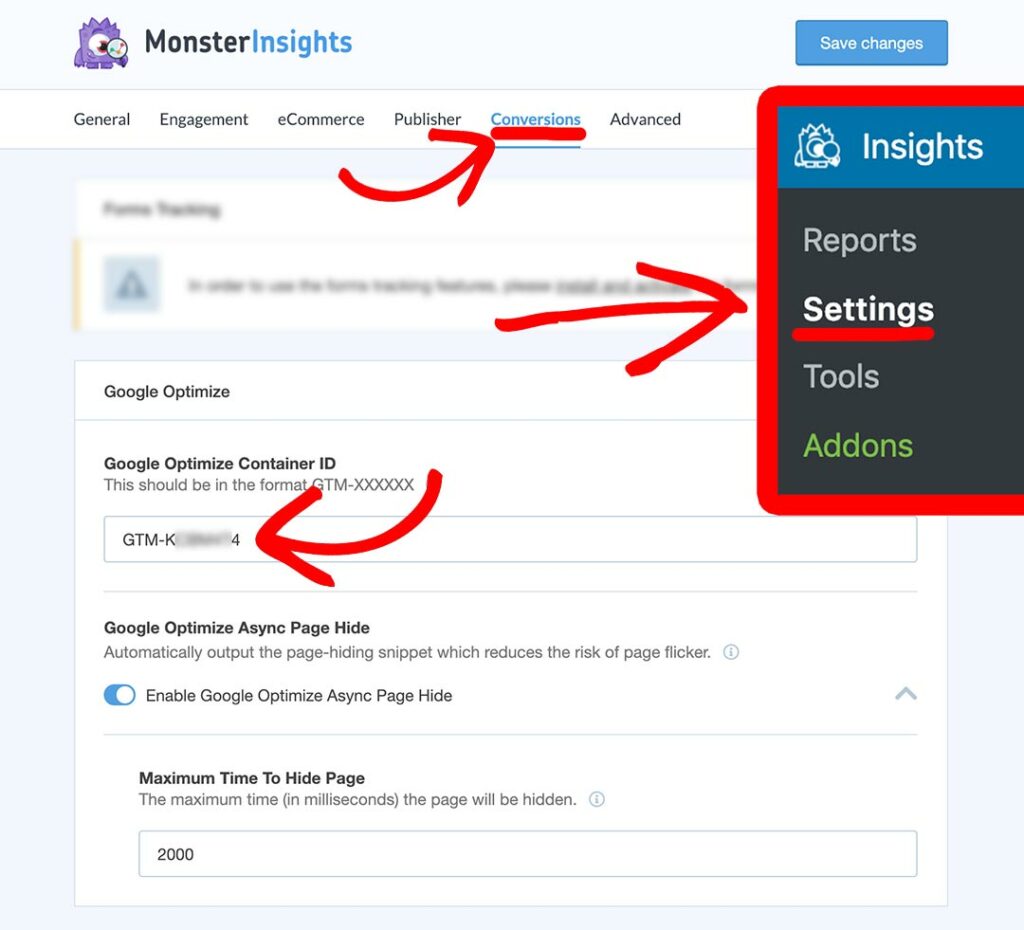 Then click Save changes, and you're ready to A/B test your forms to reduce abandonment.
That said, there are more interesting ways you can lower form abandonment on your WordPress website. We've put together some bonus tips for you, let's take a look.
Bonus Tips to Reduce Form Abandonment
When you're trying to reduce form abandonment, give these tips and tricks a try:
Use Exit Intent Popups – You can display exit-intent popups just as a visitor is about to leave your website, reminding that their form is incomplete. You can create exit-intent popups using OptinMonster, as it provides lots of templates.
Retarget Abandoned Form Users with Email – Once you have a list of users who didn't submit their forms, you can retarget them through an email campaign and ask them to complete the form.
Make Sure Your Forms Are Mobile Optimized – Many users don't submit forms because they work properly on mobile devices. So, make sure your forms are mobile optimized. Templates offered by WPForms are mobile responsive and will help reduce abandonment.
Add Security Seals to Your Forms – If you're accepting payments through forms, then it's important to ensure they are secure. You can add security seals from Northern or McAfee to show that your forms are safe to use.
And that's it.
We hope you like our article on how to reduce form abandonment in WordPress the right way. You can also check out our guide on how to track links and button clicks in WordPress using Google Analytics and best contact form WordPress plugins.
Don't forget to follow us on Twitter and Facebook for more Google Analytics tutorials and tips.