Do you have an eCommerce store and want to learn about the latest trends and statistics about online shopping?
With so many online stores present over the internet, it's important to keep up with all the trends. It helps you optimize your store, find the right products to sell, and match your competitor's toe to toe.
In this article, we'll show you breathtaking online shopping statistics you never knew. Since this is a lengthy read, you can skip ahead to any section you're interested in:
General Online Shopping Statistics and Trends
We'll start with some basic online shopping statistics and see how it's a big part of the retail industry.
For starters, you might wonder – what percentage of people buy things online?
According to NPR/Marist Poll, 92% of American people buy things online. At the moment, there are 1.92 billion digital buyers worldwide, and it's expected that they will increase to 2.14 billion by 2021.
Ecommerce has revolutionized the mighty brick and mortar industry. Many retail stores and brands are now going digital and we have stats to show their success.
In 2018, the online sales for retails stores accounted to be 14.3% of their total worldwide sales. And with more people buying things online, this percentage will rise to 22% by 2023.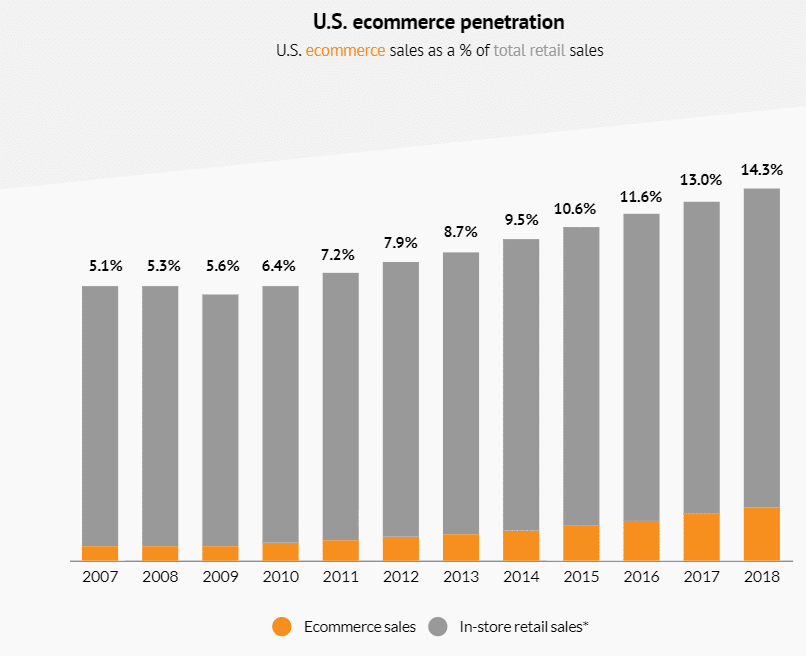 In terms of dollar value, online retail sales worldwide are $3.53 trillion as of 2019. You can expect these sales to increase to $6.54 trillion by 2022.
The apparel, footwear, and accessories retail brands have had a lot of success in the US. For instance, their revenue from eCommerce was $102 million in 2018. The revenue from digital stores will increase to $110.6 million by the end of 2019 and can go as high as 145.8 million by 2023.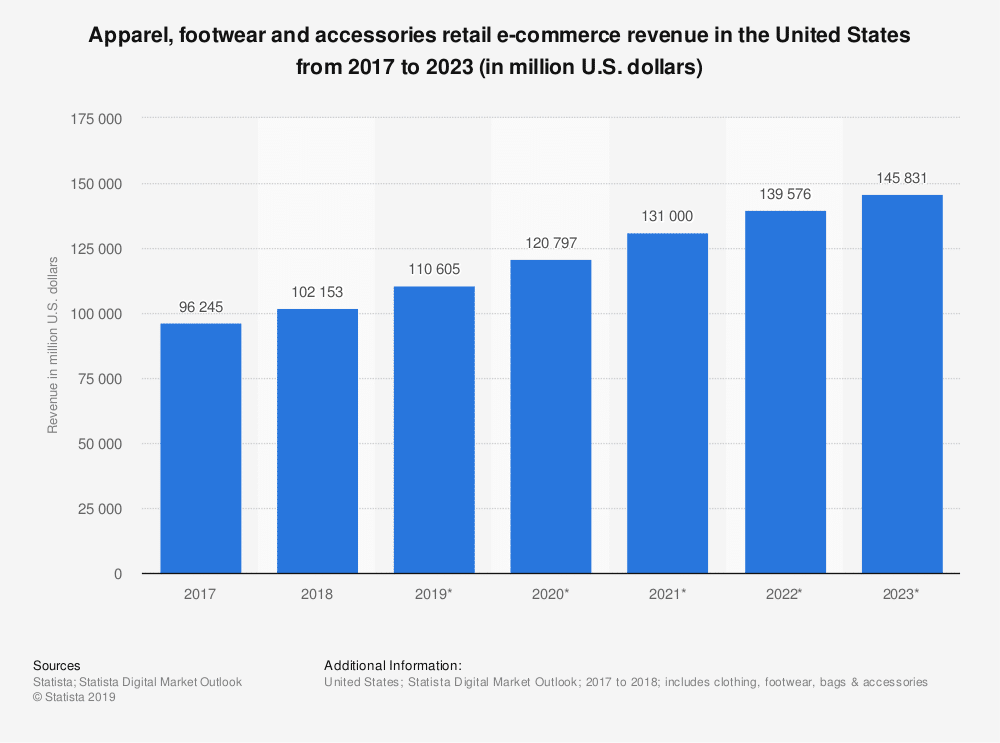 You might ask at this point, is online shopping increasing?
All the signs and statistics do show that online shopping is increasing and that too at a fast pace. According to the US Department of Commerce, in the 3rd quarter of 2019, eCommerce sales were 11.2% of the total retail sales. That's $154.5 billion sales in the US alone from online stores.
So, if you're planning on opening an online store, now is the best time, especially with users having access to the internet on their mobile phones.
Mobile Shopping Statistics
Did you know that there will be nearly 5 billion mobile internet users by the end of 2019?
With the increasing use of smartphones, anyone from anywhere can make a purchase online using their mobile devices.
To give you an idea, the eCommerce sales from mobiles will reach to $203.94 billion by the year-end (2019) in the US. This means that 38% of the entire US eCommerce sales will be from mobile.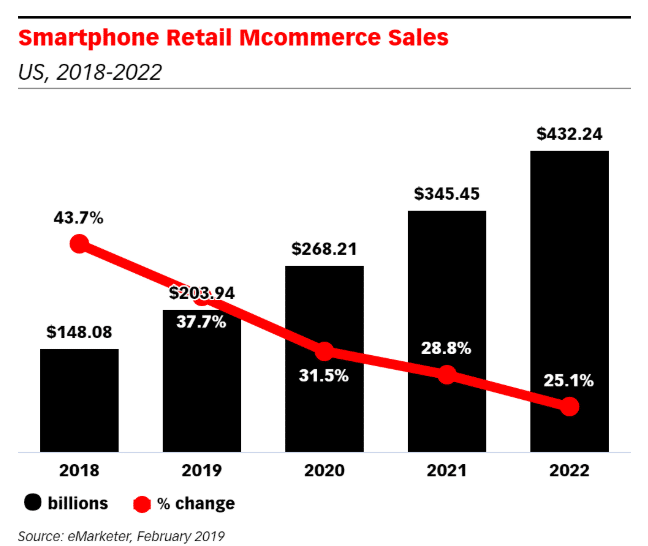 The sharp rise in mobile online shopping is because of the availability of different apps. Users can access any store on the go using the application and make a purchase.
According to eMarketer, 61% of the users between the ages of 18 to 34 in the US used a mobile app to purchase products online. The statistic shows a comparison between different demographics and reveals that the younger audience is more likely to buy via an app.
And from a worldwide view, mobile online shopping is just as important. In 2018, 63.5% of total eCommerce sales were from mobile. You can see this percentage rise to 72.9% by 2021.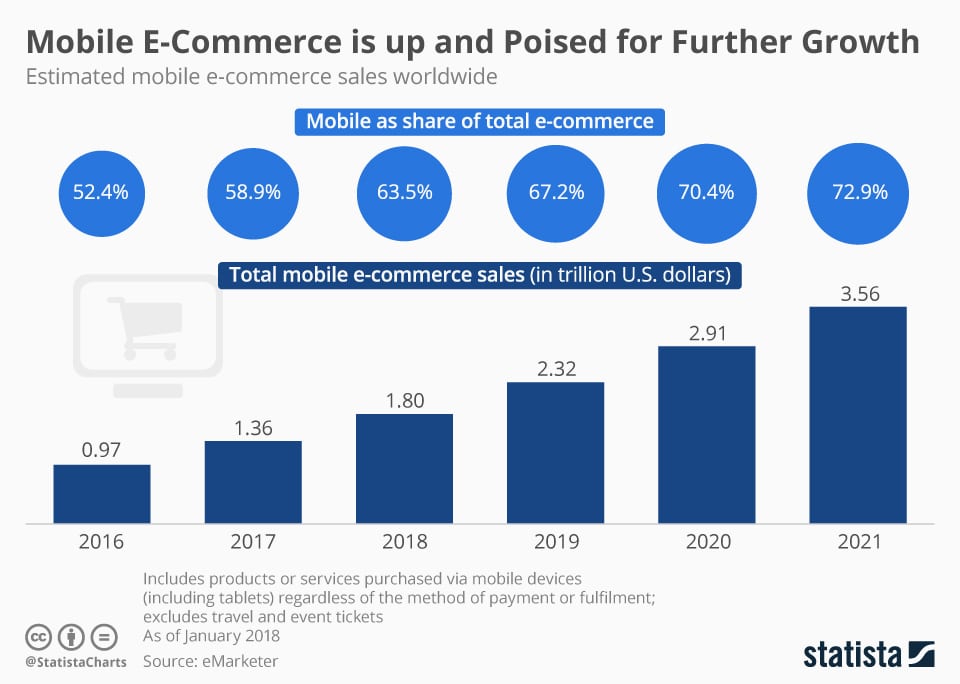 That said, another mobile shopping statistics show an interesting finding in terms of conversions. Desktop dominates the overall eCommerce conversions with 4.01% while mobile is in distant third place after tablets, with 1.88% of eCommerce conversions.
One of the reasons for slow conversions on mobile because many websites are not mobile optimized. As a result, users still prefer buying products through desktops.
This leads us to another key statistic involving shopping carts. Let's take a look…
Shopping Cart Abandonment Statistics
Many online store owners face the problem of shopping cart abandonment. It's when a visitor adds items to the cart but leaves the website without checking out.
The average cart abandonment rate is 68% across different industries, which could add up to eCommerce businesses losing up to $3 billion a year.
And the top reasons for abandoned shopping carts is due to extra costs, need to create an account, complicated checkout process, and the total order cost not visible to customers.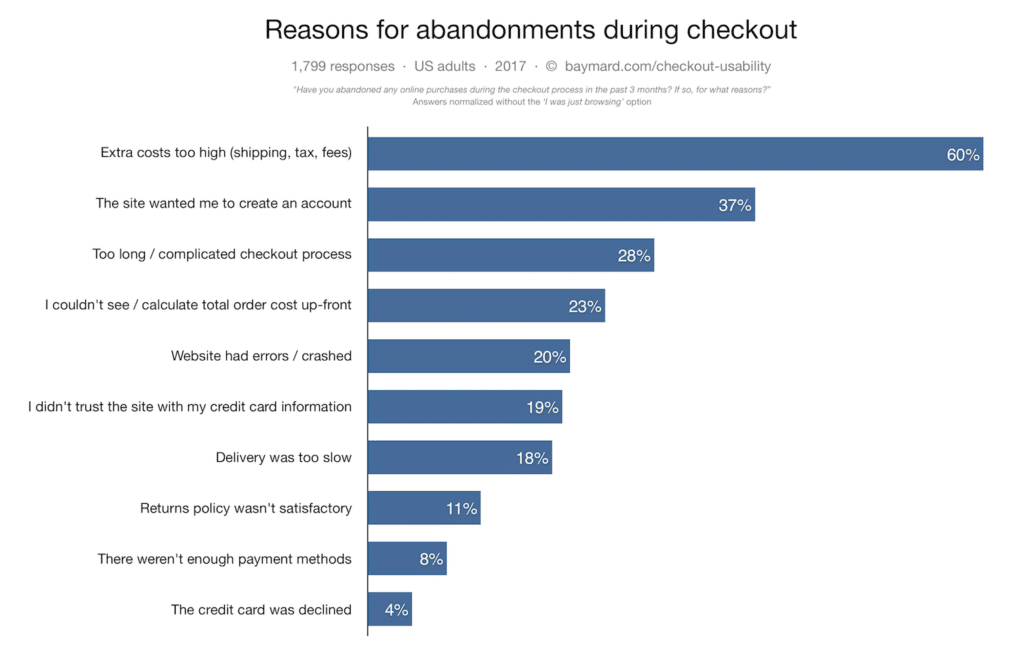 If you're running an online store, then you must take care of these issues to reduce cart abandonment. The good news is that out of the 68% abandoned visitors, you can easily recover 63%.
There are many ways you can get your visitors to complete the checkout process. For instance, Scott Wyden Imagery used OptinMonster's exit-intent popup on their WooCommerce store to recover 21.06% of abandoned carts.
An email marketing statistic shows that you can recover abandoned carts is by sending out emails. By sending out 3 abandoned cart emails at different time intervals, you can get 69% more orders.
Online Shopping Statistics by Industry
Now that you know how important the eCommerce industry is and how quickly it's growing, which industry should you start your business?
We earlier showed a statistic showing how apparel, footwear, and accessories industry is booming in the US. It shows that the fashion industry is one of the hottest trends in online shopping.
According to a study by Nielsen, 61% of online purchases happen in the fashion industry. It's closely followed by the travel industry with 59%, books and music with 49%, IT related products with 47%, and events with 45%.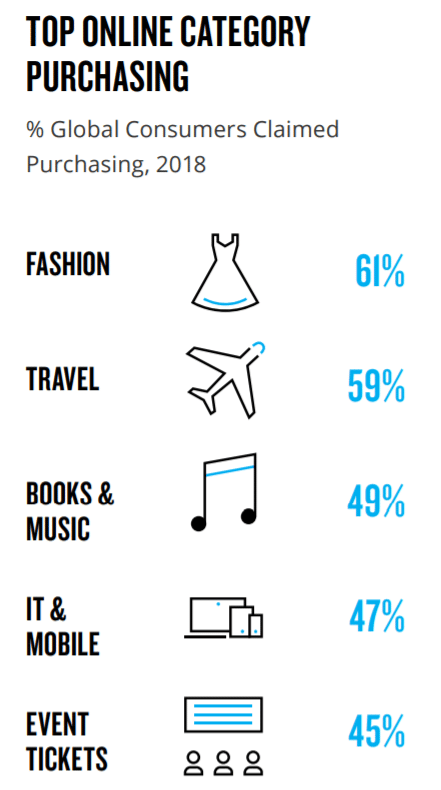 In the fashion industry, Forrester expects 911 million online fashion buyers by 2022. So, if you're thinking of opening an online store, you might start with fashion.
Other industries that are also growing very quickly are video games. In Northern America, 31% of purchases that happen online are for video games. Likewise, groceries, medicines, and alcoholic beverages are also common.
But as we move across the world, these categories change. For instance, in Asia, 41% of online shopping is done for groceries.
And when it comes to countries that contribute the most in terms of online sales, China leads the way with 18% (as of 2023).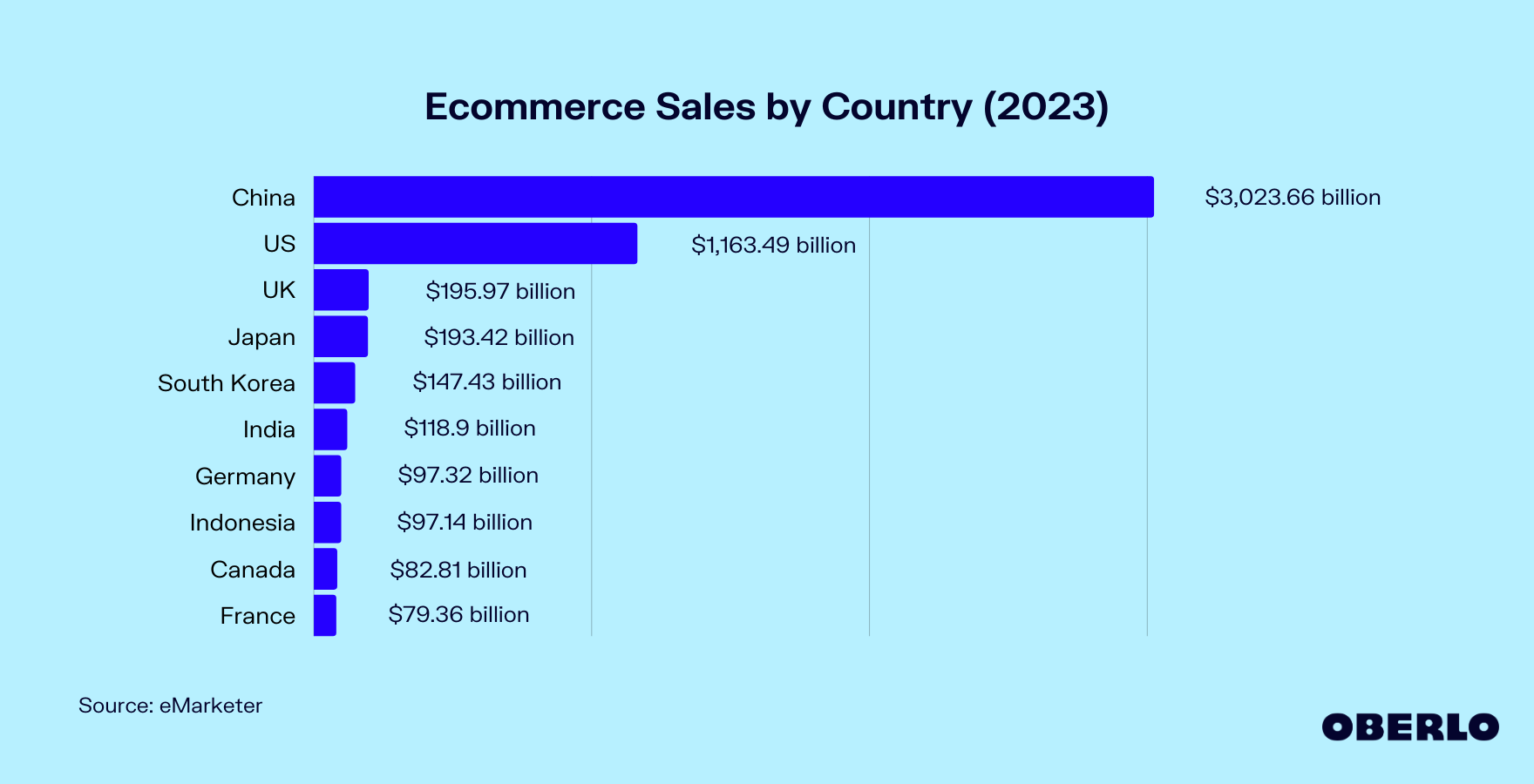 That said, one of the biggest eCommerce sites in the world is Amazon. Over the years it has leaped frogged other online retail shops.
After Amazon is jd.com from China, Apple, Suning, and Walmart. These make up the most popular eCommerce stores worldwide.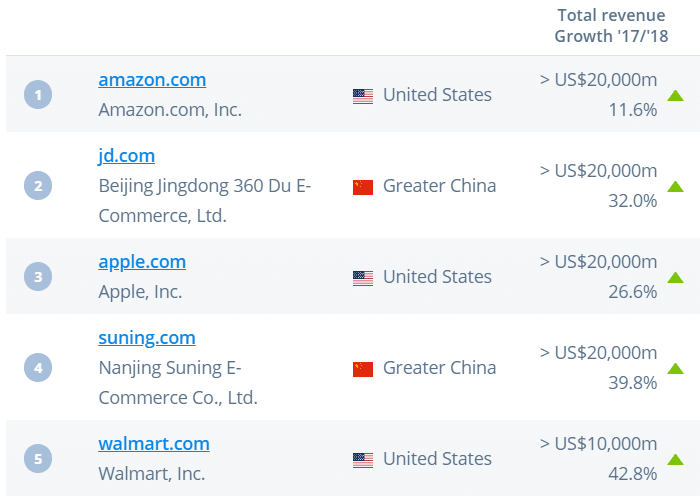 With Amazon being on the top, we can't leave without pointing out some of its stats.
Amazon Statistics
When anyone is looking to purchase a product online, they start by going to Amazon. 44% of online shoppers say that their starting point for online shopping is Amazon.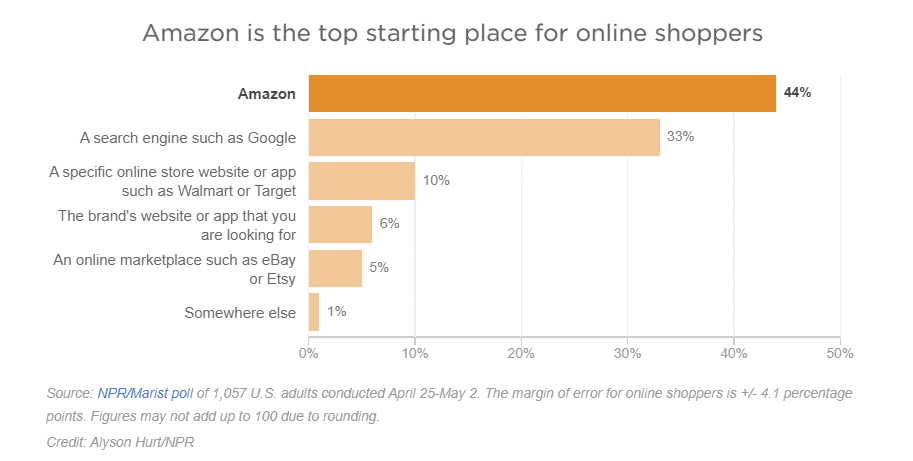 With that, 37% of Amazon Prime users buy at least once a month from Amazon. While 29% said, they would purchase at least once a week.
And 92% of online shoppers say they have bought an item via Amazon. If the item takes a longer delivery time, 90% of buyers prefer getting free shipping.
Another interesting question most readers ask – what day do people shop online the most?
Sunday is the day when people shop online the most. According to SimilarWeb, customers in the UK and US shop mostly on a Sunday.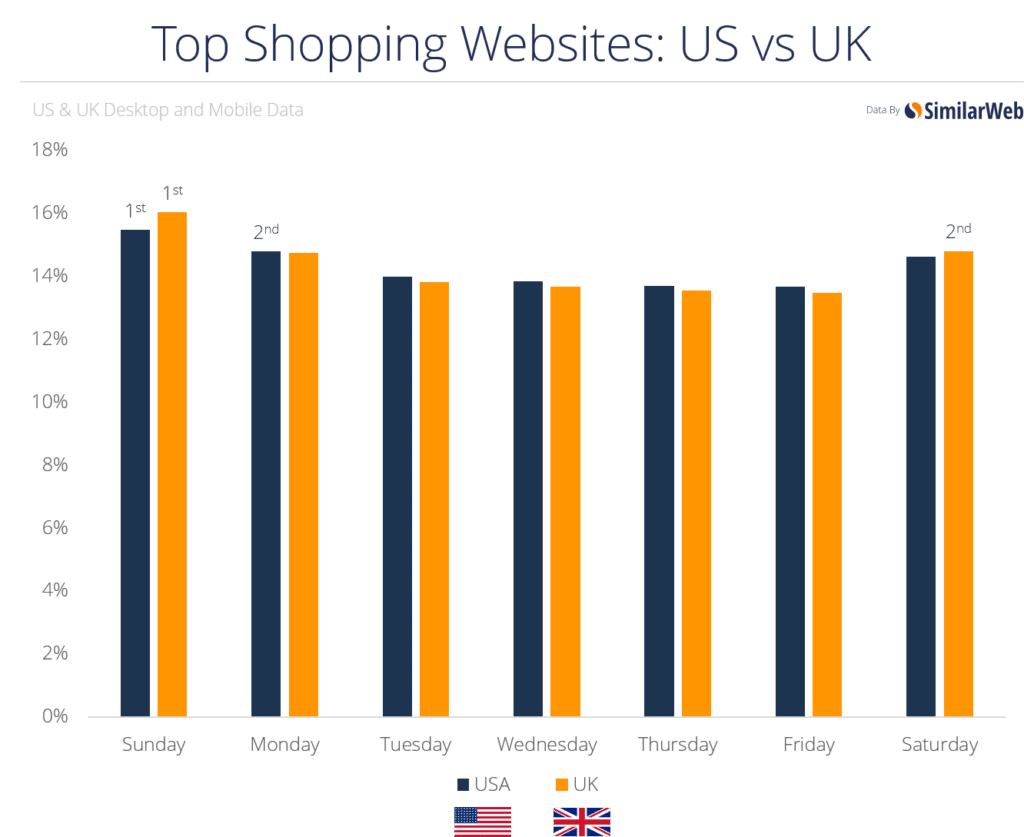 And across different platforms like Amazon, Sunday is the day when most purchases happen online. As you can see, Amazon is a giant eCommerce platform. But that doesn't mean small businesses cannot make it big.
What's the Future of Online Shopping
The future of online shopping looks bright, especially with different social platforms providing brands an avenue to sell their products online. 40% of companies report that they use social media to generate sales.
Among different social media websites, Facebook still leads the way in terms of online shopping market share with 38.82%. Then comes YouTube (26.38%) and Twitter (6.21%). It shows that you can start selling your products using social platforms with ease.
High use of social media also tells a lot about the demographics you should be targeting. The future of online shopping lies with people born after 1998 (Generation Z). With baby boomers now less likely to buy online, you should target Gen Z users.
They will also purchase more through mobile than any other age group, as 95% of Gen Z users own a smartphone. So, your eCommerce store should be mobile-ready to provide a smooth user experience to your visitors.
And that's it!
We hope you like our article on breathtaking online shopping statistics you never knew. You can also check out our detailed guide on how to track user engagement in WordPress.
Don't forget to follow us on Twitter and Facebook for more statistics posts and Google Analytics tips.