Imagine being able to see every step of a buyer's journey on your site. What pages and products did the buyer look at? How long was he on each of those pages?
With the new MonsterInsights User Journey Addon for WooCommerce, you can do exactly that. Use it to better understand your customers and make changes to your site that bring results.
Also in this release, we've added a Page Insights meta box into the WordPress editor for Plus users and up. Easily access your post or page's most important stats right from inside the editor to make informed decisions on the fly.
Let's take a look at how to use these new features in MonsterInsights 8.5.1, and what you can do with them to improve your marketing and SEO campaigns.
WooCommerce User Journey Map: See Every Step
If you're a WooCommerce store owner, the new MonsterInsights User Journey Addon is for you. Use it to discover what paths your customers are taking on your site up to when they complete their purchase. Take a deep dive into what those customers are doing pre-purchase, and use those insights to improve your site and grow your business.
The User Journey Addon is available to Pro users and above, and it will even track user journeys that take multiple days.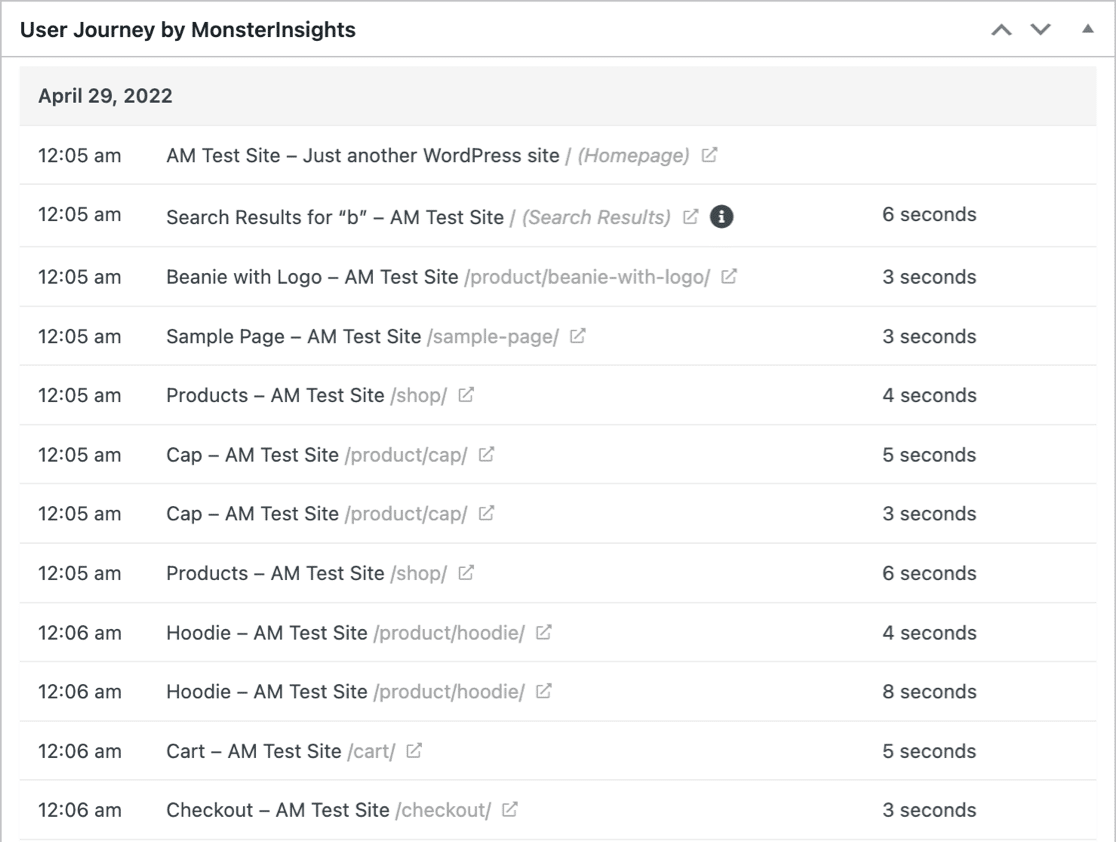 Each customer journey step will have a time stamp too, so you know how much time your users spent on each step. Please note, this report will be located on WooCommerce order detail pages only, not in the MonsterInsights dashboard or in Google Analytics.
Let's jump right into some examples of how user journey mapping can help you improve your store and grow your business.
Scenario: Blog Posts Lead to Sales
Let's say you're seeing a good number of orders being made straight from a blog post that features a product (or several). That's awesome! Can you replicate what you're doing with that blog post to sell other products the same way?
Also, are those users clicking on any other products? Is there a way you could better position related products in their paths to increase your average order value?
Scenario: A Product is Underperforming
Is there a product in your store that has a low view-to-cart ratio? Are lots of customers looking at it, but not buying it?
Use the MonsterInsights User Journey Addon to find that product in customers' journey maps. What are they viewing before and after that product? Are a high number of them buying a certain other product a lot instead? Maybe you have two products that are too similar, and one has better ratings, so it's just doing better.
Using this information, you could run a review promo for the product that's not selling, fix the description to make it clearly different from the other product, or just remove it from your store if it's not working out.
Check Page Performance at a Glance
MonsterInsights has had a Page Insights feature for a long time, but we've decided to make these important page-by-page metrics more easily accessible. With the release of MonsterInsights 8.5.1, you'll find Page Insights right in your WordPress sidebar when editing a page or post.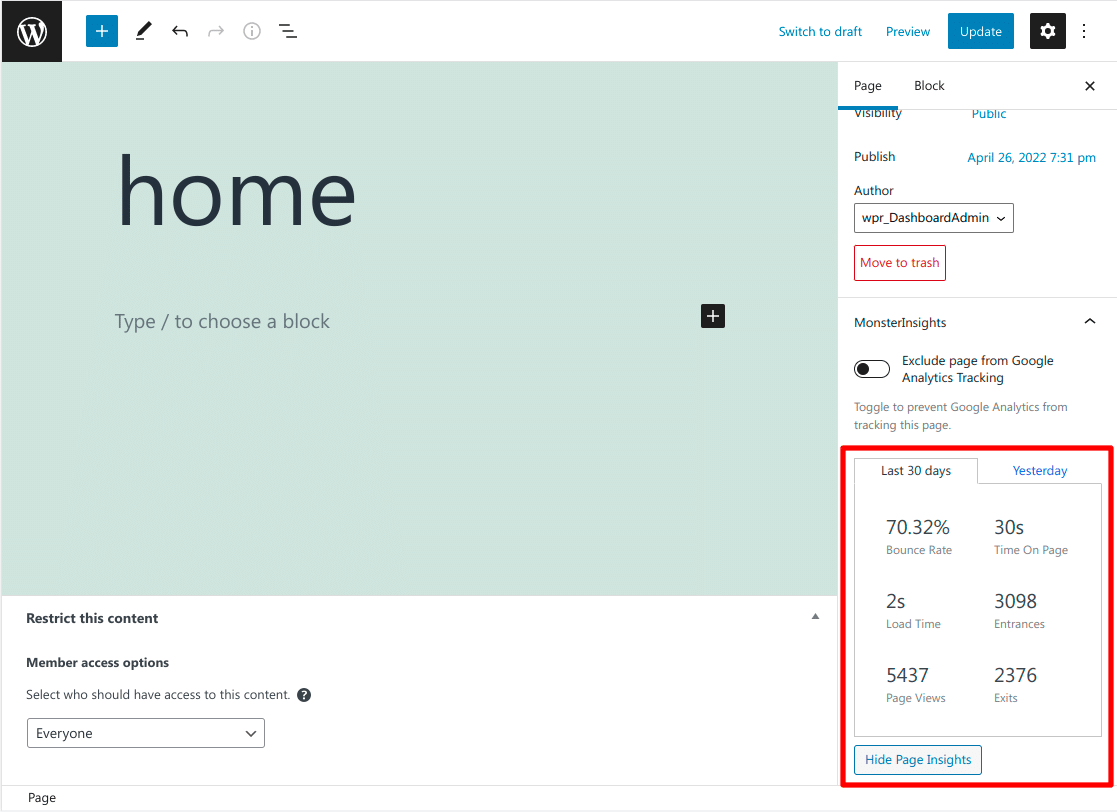 Now, you've got all the information you need right at your fingertips to make the right content decisions.
For instance, let's say you open up a blog post to make a quick edit, and you notice in your Page Insights that your post is getting a good number of pageviews, but not many entrances. That means it's time to do some keyword research and optimize your post to gain more organic traffic.
That's it for this release! We hope you're excited about these new and improved features. Not using MonsterInsights yet? Get started today!
And don't forget to follow us on Twitter, Facebook and YouTube for more helpful Google Analytics tips.