Are you interested in selling downloadable products from your WordPress website?  Read our expert Easy Digital Downloads review below to find out if it's the best plugin for selling downloads like eBooks, software, and other digital products.
We'll look at all of Easy Digital Downloads' features and benefits versus competing WordPress plugins. Not only that, you'll find out how to track your eCommerce transactions and customers right in the WordPress dashboard.
Video Walkthrough
What Is Easy Digital Downloads?
Easy Digital Downloads (EDD) is a WordPress plugin that lets you sell downloadable products directly from your own website. This software helps you quickly set up an eCommerce shop and sell downloadable files of any type.
People use Easy Digital Downloads to sell products like these:
eBooks
Videos
Software
Courses
Music
Artwork
Games
Photography
With a user-friendly plugin like EDD, anyone can make an eCommerce website. And, it automates checkout and payment processing so your online store can be open 24 hours a day, 365 days a year.
If you mostly sell virtual products, rather than physical products, then most eCommerce platforms aren't designed for you. WordPress plugins like WooCommerce are made for selling physical products, so they have a lot of options and complexity that you don't need.
When you sell digital products, you don't need to worry about shipping, inventory, color and size variations, and so on. Easy Digital Downloads is designed to be simple to use and eliminate those unnecessary features.
How Does Easy Digital Downloads Work?
Easy Digital Downloads lets you create detailed descriptions for your digital products, with images, to display on your site. It includes multiple payment options so buyers can use credit or debit cards, PayPal, Google Pay, Apple Pay, and other forms of payment.
When you install and set up EDD, it automatically creates a shopping cart with checkout, confirmation, and receipt pages. This makes setting up a functioning eCommerce store really fast. And, you can customize the pages just like any other WordPress page, so they fit with your site design.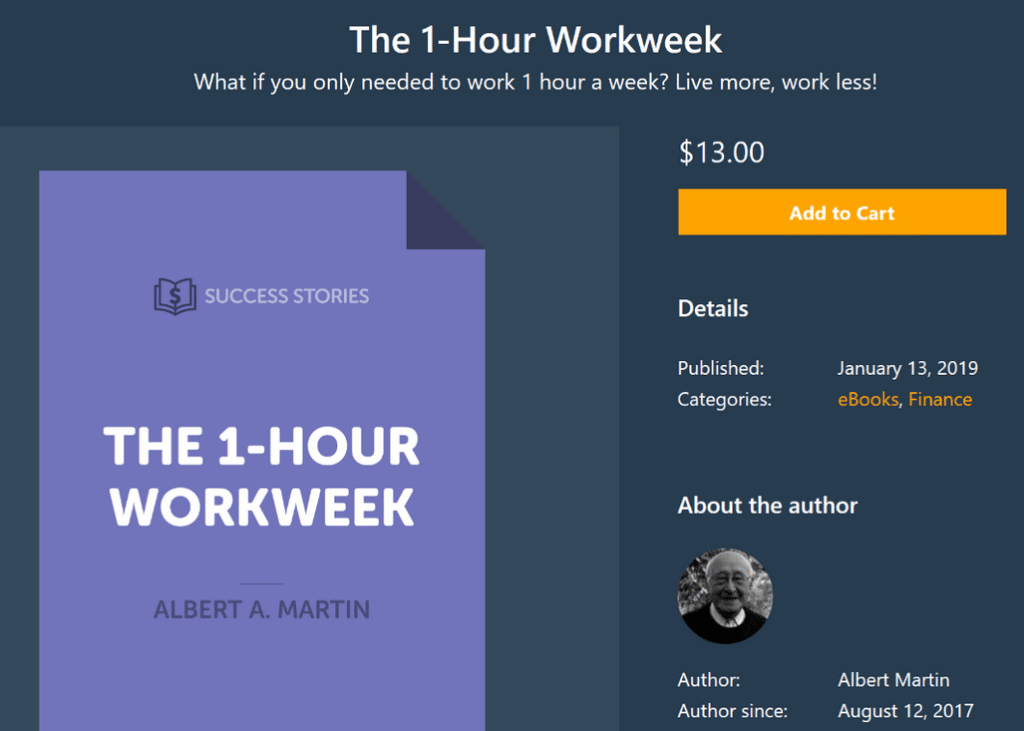 All in all, using Easy Digital Downloads and WordPress together has to be one of the most beginner-friendly ways to build an online shop and take online payments.
Even better, since you're selling on your own website, you have complete control and keep all the profits.
Our Expert Review of Easy Digital Downloads
Let's start by taking a look at the full set of features offered by EDD. It includes everything a seller needs to earn money selling digital goods.
Features and Benefits of EDD
All of EDD's plans include the following core features to make selling downloads easy:
Custom blocks made for the WordPress block editor
Easy Digital Downloads comes with custom blocks for the Gutenberg editor in WordPress. These blocks let you build webpages and quickly add elements like login and registration forms, purchase confirmations, and checkout.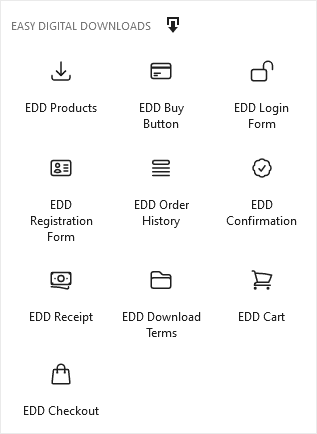 Just drag a block onto a new or existing page, then style the page like the rest of your site for a seamless checkout experience.
Shopping cart with free payment gateways
Even the basic version of EDD lets you accept and process payments through Stripe and PayPal. That allows you to take all major credit and debit cards, Google Pay, Apple Pay, and more. If you upgrade to the Extended Pass or higher, you get Pro Gateway extensions that cut payment processing fees to the minimum.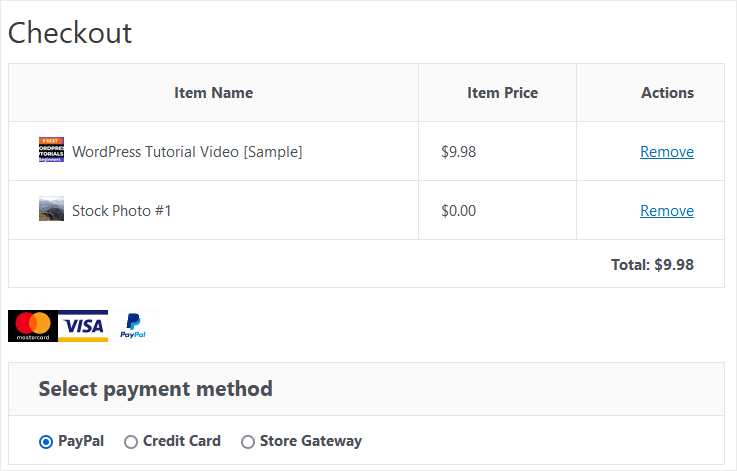 You won't find many free options like this when it comes to secure payment processing on eCommerce platforms, so that's a big win for Easy Digital Downloads users.
Customers can check out as guests or registered users
Do you want to set up a registration system or give customers the option to check out as guests? EDD takes care of managing purchaser accounts and logins, so registered users can view purchase history and other account info. You can limit purchases to logged in users only, or allow guests to check out without registering for an account.
Multiple ways to display products
Each digital product you create has a dedicated URL that allows you to share or display products individually. You can also use a WordPress block or shortcode to show multiple products on one page.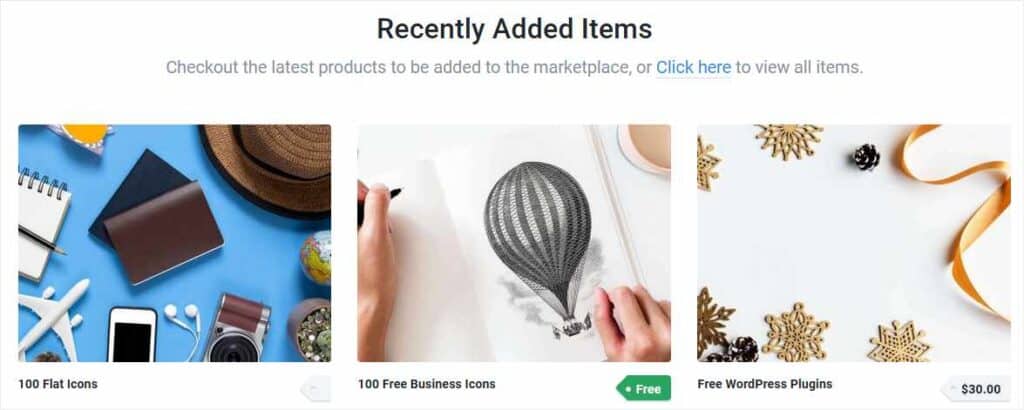 However you decide to configure your product display, it will inherit your WordPress theme's style so that it fits in with your other webpages.
Easily create discounts and manage refunds
You can create as many different discount codes as you like in EDD. Custom discount options let you include or exclude specific products, set a time limit on discounts, and choose whether a coupon can be used once or multiple times.
It's also quick and easy to issue refunds on digital products with EDD. Simply go to the order details and click a button to initiate the refund process. Refunds are tracked in both order history and customer management areas.
Extensive reporting tools
Easy Digital Downloads saves a lot of analytical data about your download transactions and customers. The Customer management area gives you full contact information, lifetime order history and value, refunds given, and any notes you have created.
The Reports screen includes 9 tabs that contain everything you might want to know about your transactions, plus the ability to export built-in reports in CSV format.

Easy Digital Downloads Plans
Easy Digital Downloads has a plan to fit every user. There are five levels, with the basic plugin free to use. Upgrading to the next level adds more extensions and greater functionality with each plan, and the All Access Pass can be used on up to 3 websites.
What Makes Easy Digital Downloads Better?
Large number of extensions to increase usefulness
One of the biggest advantages EDD has over other digital sales platforms is its library of over 100 extensions. These allow you to do all sorts of things that would have required a web developer in the past. You can connect EDD to email apps like ConvertKit and Mailchimp to automate your email list building.
Easy Digital Downloads has built many extensions that solve particular problems with selling downloadable products. For instance, there are addons that let you send downloads as email attachments, sell products with license keys, allow users to upload files and review products, and much, much more.
Flexible store and product settings
Want to sell subscriptions with automated recurring payments? You can do that with EDD. Want to sell bundled products, or vary pricing, or let users pick their own price? All of these options are simple to set up with Easy Digital Downloads.
With a familiar, easy to navigate interface, EDD offers all of this flexibility in a simple package that even beginners can use.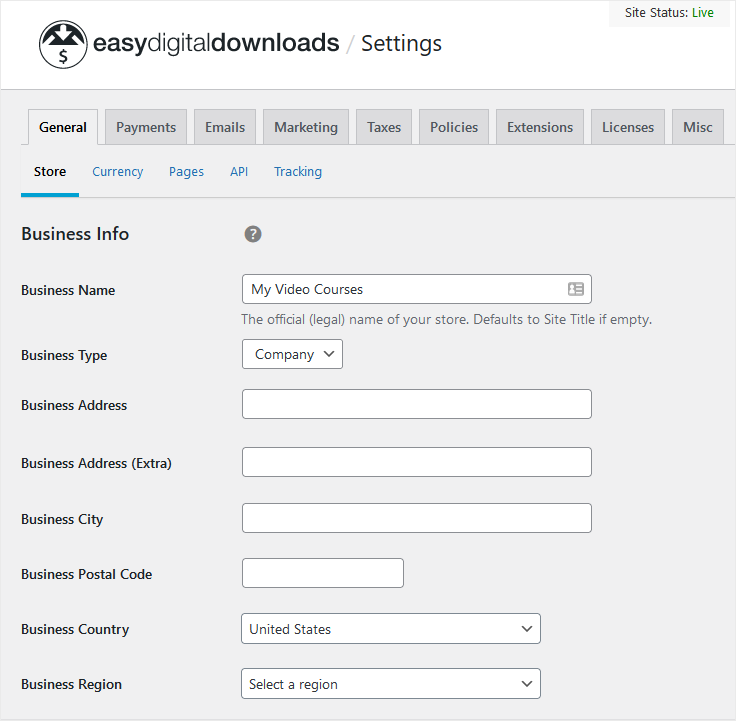 Continuous improvement and superior support
Unlike many competing plugins, EDD has a full development and support team behind its products. They are constantly making significant updates to improve functionality and user experience for their customers.
Maybe even more important, the customer support responds quickly and thoroughly to new help tickets. The Easy Digital Downloads website also has full product documentation that describes how everything works.
Who Should Use Easy Digital Downloads?
Easy Digital Downloads is a great choice for any size of business that wants to sell downloadable products or files. Whether you're a solopreneur or a software development company, EDD can expand to fit your business and technical needs.
Easy Digital Downloads Review: Final Words
We highly recommend Easy Digital Downloads as the best WordPress plugin for selling digital products online. When you compare it with competitors, you won't find any that have all the options and value offered by EDD.
Other eCommerce plugins are more expensive and complex, like WooCommerce. Or, they are too basic and don't offer the functionality and customer support you need.
Easy Digital Downloads offers the most complete solution in terms of ease of use, flexibility, and extensibility. It's simply the best way to sell digital downloads from a WordPress site.
For these reasons, we fully recommend Easy Digital Downloads as the #1 best solution for selling digital products online.
Click here to get started with Easy Digital Downloads.
Track Your Buyers' Customer Journey with MonsterInsights
Easy Digital Downloads does a good job of recording download purchases and related statistics.
However, if you want to know more about what buyers did before and after they clicked the Buy Now button, you need a more powerful analytics tool.
MonsterInsights is the best WordPress plugin for Google Analytics. It shows you all the numbers that matter, right inside the WordPress dashboard.
MonsterInsights doesn't just show you traditional web stats like site visitors and sessions. It includes critical metrics for eCommerce sites like conversions and average order value.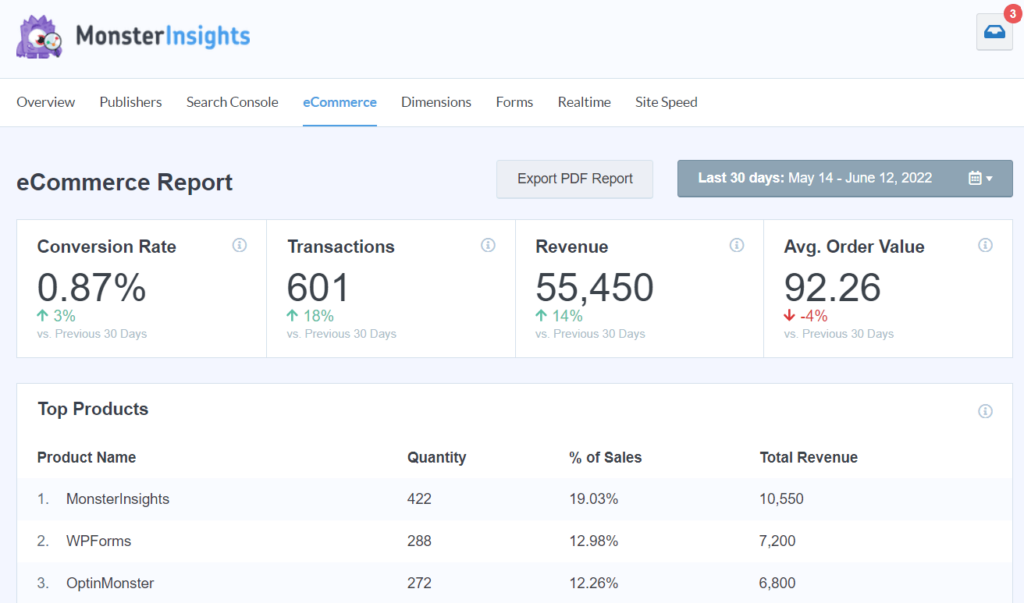 In addition, MonsterInsights' User Journey addon gives you the complete picture of how buyers navigate your site before they make a purchase. What pages they visit, how long they stay on each page, and how long it takes before the complete their purchase.
Best of all, MonsterInsights' User Journey and eCommerce addons support Easy Digital Downloads right out of the box. That means setting up tracking for EDD just takes a few clicks when you set up MonsterInsights.
Get MonsterInsights Pro or above to get the eCommerce and User Journey addons.
That's all for our full review of Easy Digital Downloads, the top WordPress plugin for selling digital products online. If you liked this post, you might enjoy reading more about how to set up eCommerce tracking on WordPress.
Still not using MonsterInsights? What are you waiting for?
And don't forget to follow us on Twitter, Facebook and YouTube for more helpful reviews, Google Analytics tips, and tutorials.