Looking for a way to generate more leads for your business?
In the past, you might've been able to get away with a simple lead generation form. But fast forward to 2019 and the internet is more competitive than ever.
If you want to gather the most leads possible, then you have to offer an incentive in exchange. The technique is called content gating / gated content.
In this article, we'll explain what gated content is and how to use it to get more leads.
What Is Gated Content? – A Simple Definition
Gated content is any online material that you lock behind a form.
It can be a part of or an entire article online, a video, a report, an eBook, case study, or anything at all that requires your visitor to fill out a lead capture form before they can access it.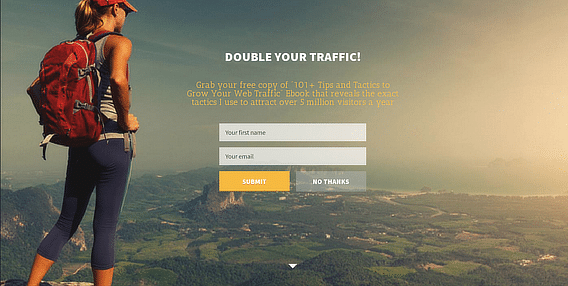 Gated content marketing is a great way to collect emails for your list. As curious humans are, the gated content tempts your website visitors to complete the lead capture form.
With the gated content forms, you can ask for the email address and name only or in-depth information, including their interests.
Once you've collected plenty of information, you can design marketing strategies to grow your business.
3 Gated Content Examples and Ideas You Can Implement Today
So how can you get started with gated content for exponential lead growth?
Let's take a look at some different types and examples of gated content in action.
1. Content Locking: Perfect for High Authority Publications
You may have seen a few publications where part of, or the entire article is locked until signup. That is the article lock form of gated content in action.
This one, for example, is from the Harvard Business Review.

It works because the articles are highly regarded, thanks to the publication's reputation.
This model may be used to generate leads for an ad-free subscription-based membership, and typically locks the content after a few posts have been viewed.
2. Lead Magnets: A Simple Way to Gather Leads
A lead magnet is a downloadable resource that you offer potential customers in exchange for their email address. Then you can educate them with email marketing and convert them into buyers.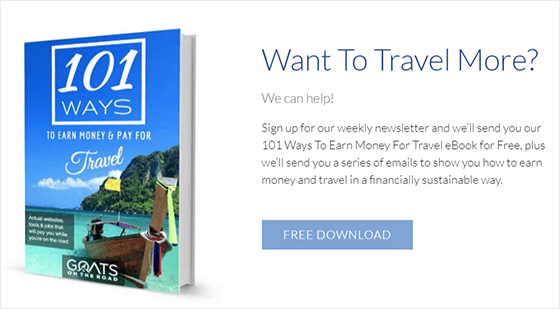 Here are some really good lead magnet ideas you could get started with today.
3. Content Upgrade: Build Your List With Targeted Subscribers
A content upgrade is a form of lead magnet created explicitly for a particular article. The information in a content upgrade usually adds even more value to a blog post.
And here's an example for a post talking about creating custom "Pin it" buttons.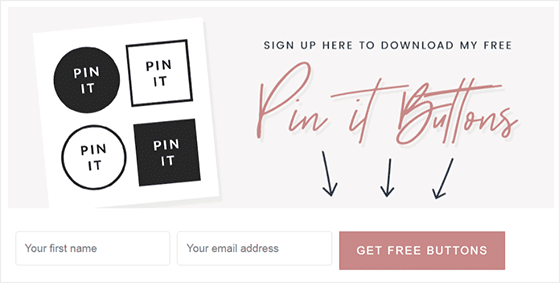 This is a popular form of gated content because content upgrades are highly relevant to the post, so they tend to convert very well. In fact, ValueWalk, a popular financial and investment news site, saw a 216% increase in conversions by offering content upgrades!
To offer content upgrades, you will need to create standalone resources that add value to your post. Then, add an optin form to your post that will automatically deliver the content upgrade when the readers sign up.
Here are some content upgrade ideas to get you started.
Does Gated Content Work? (Statistics and Case Studies)
Plainly, gated content works exceptionally well at converting leads. And not just any kind of leads, you'll see higher quality leads too.
Why is this so?
Because only the people who are hyper interested in your content will convert.
And as we'll see shortly, gated content conversion rates can go as high as 45%! That's 45 pre-qualified leads for every 100 visitors.
Here are a few gated content case studies for your inspiration:
Convinced to add gated content to your content marketing and lead generation plan? Here's how to get started!
How to Gate Content For Lead Generation (Step by Step)
Step 1: Creating High-value Content for Gating
To use gated content effectively without triggering negative impressions for your brand, it's crucial to create high quality, high-value content for gating.
In other words, you need to create gate worthy content.
Some ideas include repurposing your best articles, offering a free webinar, and other downloadable resources. You can find lots of lead magnet ideas in this post.
And if you'll be gating your article itself then just creating the article will do.
Step 2: Gating Your Content
Once you've created premium content for gating, the next step is to lock your content.
You can gate your content in many different ways. If you want to gate your article content, then you can simply add a content locker form in your article.
If you are offering a downloadable lead magnet or content upgrade, then you can create email signup forms and popups.
Wondering how to add content blocking forms on your website?
OptinMonster offers a complete solution for that!
It's the most powerful lead generation software on the market. It allows you to create visually stunning and powerful email optin forms, content locking inline forms, countdown timers, etc. easily on your website.
You can OptinMonster to create gated content on WordPress as well as different other website platforms and eCommerce sites.
Not only that, but it also lets you integrate your content gating forms with all the major email marketing services.
Step 3: Track and Promote Your Gated Content
The final step is to promote your gated content and track your conversions.
Thankfully, OptinMonster makes it easy to track your conversions! It has built-in integration for Google Analytics, so you can easily connect your gated content forms with Google Analytics and see how they're performing.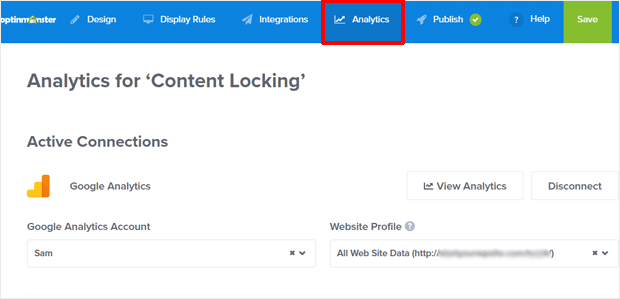 So all you'll have to worry about is promotion! To help you out, here're some promotion tips:
1. Use a landing page where possible. Landing pages remove every distraction and help boost your conversion rate.
2. Use visuals to entice readers. People are becoming more and more visually oriented, so it's going to take more than plain text to win them over. A mockup of the lead magnet is essential for success.
3. Link to your gated content frequently. Since very few people will promote with you, you must link to your content wherever there's an opportunity to do so. Remember to use a visual too!
4. Consider paid promotion. For the same reason as the previous point, it may be wise to invest in paid promotion.
5. Consider adding a short promotional video to your landing page. Testimonials work great too!
6. Feature your gated content on your homepage. Your homepage will likely receive more visits than any other page on your website, so use up that real estate wisely. Link to your best-gated contents close to the top of the page with a Call to Action.
We hope this article helped you to understand what is gated content and how to use it to get more leads. You may also want to see our guide on 4 ways to boost your SEO rankings with Google Analytics, and our tips on growing your email list faster.
And don't forget to follow us on Twitter and Facebook for more helpful marketing and Google Analytics tips.