Do you want to learn how to share your Google Analytics reports with others? Sharing solid data is a great way to gain the trust of customers and potential business partners! But, since they aren't your team yet, you may not want to grant them access to your Analytics account. However, you can still share your desired Analytics reports with them if you're in the know.
In this article, we'll show you how to share your Google Analytics reports with others without allowing them access to your Analytics account. Trust us: it's super easy!
Why Would You Want to Share Your Google Analytics Data?
Showing solid statistics and data is one of the most effective ways to convince people over to your side. When trying to sell a product, you can more quickly convert a potential customer into a buyer if you show them how many people are already using your product (and for how long). Put simply: sharing your detail-rich Analytics data can help you sell more.
Similarly, if you're planning any kind of partnership with another company, they'll most likely ask you to share your Analytics reports with them. By sharing Analytics data, they can properly evaluate your businesses and make a more-informed partnership deal. Plus, if your Analytics are awesome, showing them off to potential partners will ensure that they don't undervalue your business when money gets put on the table.
However, when you're sharing Analytics data with other people outside of your team members, it's best not to grant access to your Analytics account. This is because you don't want to share every report. Instead, you should only relevant reports from a specified time period to get your business ahead.
Now, let's go ahead and see how to share Google Analytics reports with others hassle-free.
1. Export Analytics Data in PDF, Google Sheets, Excel, or CSV
The first option to share your Google Analytics data is to export a report in a PDF, Google Sheets, Excel, or CSV format. Then, you can share the file by uploading it to a Google Drive folder or directly via email.
To get started, you'll need to log into your Google Analytics account. Then, navigate to a report you want to share. In the top right corner, you'll find an Export option for almost every report in Google Analytics.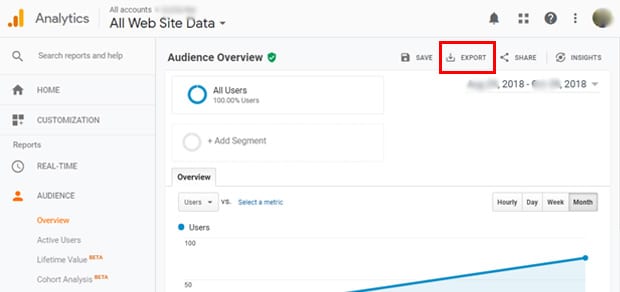 Click on the Export option and select the file type you'd like to export.

Then, it'll automatically download the report onto your computer. Now you can share the report with your customers or partners easily by emailing it to them or by sharing a Google Drive folder.
If you're using Google Analytics in your WordPress site with MonsterInsights, you can see your Analytics reports inside your WordPress dashboard. If you'd like to share any report from the dashboard reports, you can click the View All Report below the reports which will automatically take you to your Google Analytics account.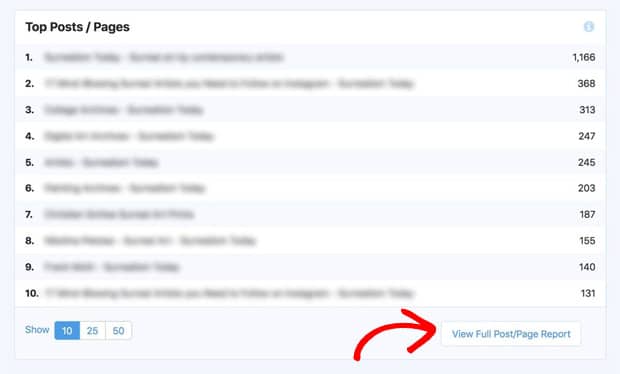 Then, simply follow the same process discussed above.
2. How to Share Your Google Analytics Reports on a Regular Basis
The next option is to share your Analytics reports by setting up automatic emails in Google Analytics. With this option, you can schedule automatic emails containing the Analytics reports daily, weekly, or monthly.
This is useful for sharing your Analytics data with your customers, partners, and team members for a certain period of time on a regular basis.
You can find a Share option next to Export for almost every Analytics data report. Click the Share option to get started.

Then, enter the email addresses you want to share your Analytics report with. Next, you can review the subject line and rephrase it or leave it as it is. Next, confirm the attachment type. It's PDF by default, but you can change it to an Excel or CSV file if you desire.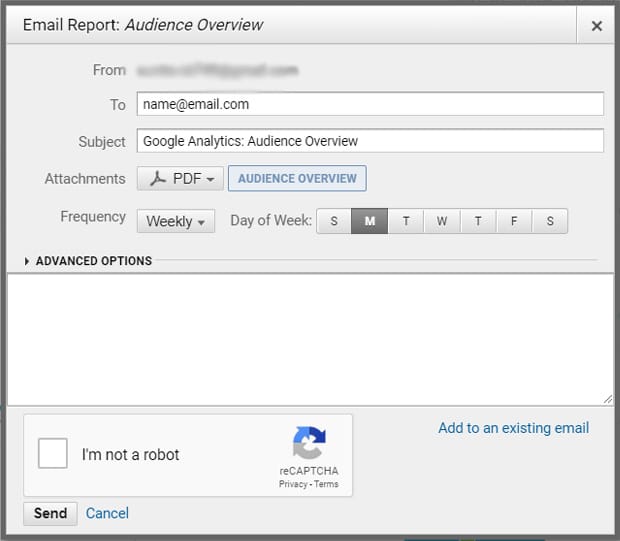 After that, you can choose the frequency of the emails. Also, you can choose which day you want to send out emails for the weekly and monthly options.
Then, in the Advanced Options, you can choose how long a duration you want to send the emails.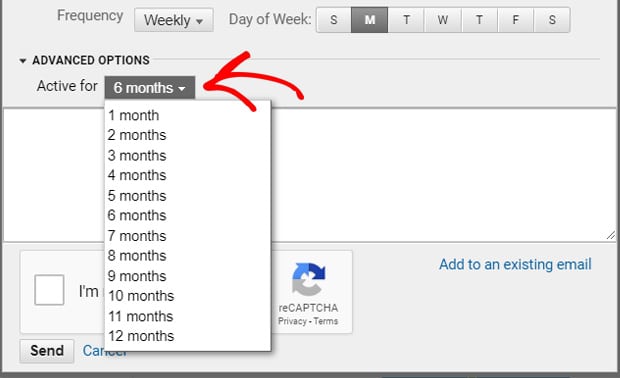 Then, insert the email body with some lines about why the receiver is getting the email. Finally, check the I'm not a robot box and click the Send button. You'll see a quick notification stating that your email has been scheduled.
If you want to add more reports to the same email, you can easily do so. First, you'll need to find the report you want to add and click the Share option, same as before. Then, click Add to an existing email.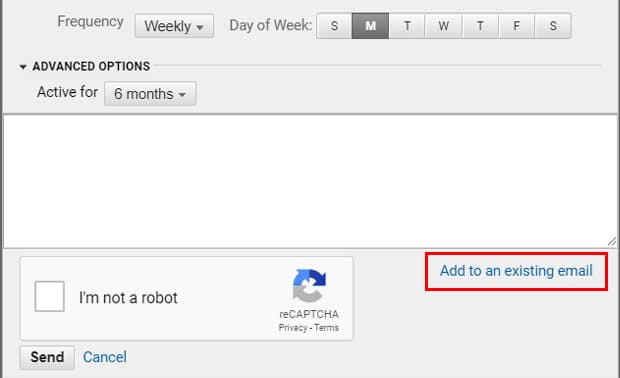 Now you can select which existing email you want to add the report to.

Finally, don't forget to click the Save button.
We hope this article helped you to learn how to share your Google Analytic reports with others. You may also want to learn how to create custom reports in Google Analytics.
Don't forget to follow us on Twitter and Facebook for more helpful Google Analytics tips.