Ready to collect donations on your WordPress website, but not sure which donation plugin is going to work the best for you? You're in the right place. This list of the best donation plugins will help you find the perfect one.
You probably have a few requirements at the top of your list. You need your donation collection pages and forms to be:
Easy to use, both for you and donors
Clean-looking and error-free on any device
Customizable
Secure
Plus, depending on your website and mission, you're either looking for a few advanced features or wishing to keep things simple and super affordable.
Luckily, there are plugins that are free or very low-cost and simple, and some that cost more but offer tons of really helpful features. Whether you're looking for a free donation plugin or can afford some extra bells and whistles, there are multiple options for you to choose from.
While you're probably excited to see our list, let's go over the essentials of collecting donations on WordPress first.
How to Accept Donations on WordPress
Collecting donations with WordPress is actually pretty easy. There are some great plugins that will do most of the work for you!
You'll just need a payment gateway (Stripe and PayPal are the most popular) and an idea of what information you'd like your donors to provide.
You'll find a great list of donation and fundraising plugins for WordPress below. Compare the prices and features of each one to decide which is right for you.
One quick note for nonprofits: If you're looking for the best donation plugin for nonprofits, note that several of the paid options below, such as WPForms, do offer discounts for nonprofits.
Best Donation Collecting Plugins for WordPress
GiveWP is a very popular donation tracking plugin for WordPress. It has a lot of features, such as donor management, reporting, and payment history. These are available depending on which plan you purchase. There is a free option to try, if you have a very simple donation campaign. Otherwise, you'll want one of the paid versions for a few more helpful features.
GiveWP Quick Facts:
Free option with limited features
Paid plans range from $250 to $499 annually, but often go on sale
Integrates with Stripe and PayPal out of the box, with more payment gateway
integrations available with paid plans
Donor management and reporting are included for all free and paid plans
Donation tracking in Google Analytics is included in all paid plans
Premium addons available include recurring donations, form field manager, currency switcher, annual receipts, and more
Looks professional on any device. You can see how it looks on their demos page.
Automatically integrates with MonsterInsights for better donation campaign tracking.
Overall, GiveWP is a really great option for just about any campaign. You will pay at least a couple hundred dollars per year to access the most helpful features, but in our opinion, they're worth the cost.
WPForms is a simple yet powerful drag-and-drop form building plugin. It can be used to create custom forms that accept donations.
WPForms Quick Facts:
Use to create forms anywhere on your website, in addition to your WordPress donation form
Integrates with PayPal and Stripe
Integrates with email marketing services to grow your email lists
Has an online donation form template you can use when creating your form
There's a free option, but you'll need one of the paid plans for payment integration.
Drag-and-drop builder means you don't need a developer to create custom forms
A Pro plan is $399 per year (unless you're a nonprofit, then it's $99/year), but sometimes goes on sale.
The Pro plan includes a lot of features you'd be able to use for all the forms on your website, like surveys and polls, form abandonment, form landing pages, bonus form templates, and more.
Responsive design means it looks great on all devices
WPForms is a great choice if you also need a beginner friendly, powerful forms plugin for your site.
Charitable is one of the most popular donation acceptance plugins for WordPress. It promotes itself as the "top-rated WordPress donation plugin" with 10,000+ installations and over 100 5-star reviews.
There's a free version you can use, but you won't find it on their website. Instead, go through WordPress.org to access the plugin. The free option offers the essentials, but is limited. The payment gateway is limited to PayPal unless you purchase an upgraded plan.
Charitable Quick Facts:
Will cost between $129 and $279 for a Plus or Pro plan, but sometimes goes on sale
Set up recurring donations with the Pro plan
Have a developer on your team? Take advantage of Charitable's code snippet library.
Add donors to your mailing list using an email marketing extension
Looks professional and will fit any size device screen
Overall, Charitable is a great choice and is comparable with GiveWP, but offers a cheaper price point for their lowest paid plan. Just make sure it includes the features you need before purchasing.
If you need a form builder plugin with advanced features, Formidable Forms is going to be your best choice. It can build a simple contact form, or a complex multi-page form with file uploads, conditional logic, calculations and more.
Formidable Forms Quick Facts:
Accept donations using PayPal on the Business plan, or purchase the top-tier plan to use Stripe.
The Business plan is $199 for a year if you're a new user
Comes with a donation form template
Add a donation checkbox and fields to any form
Easily set up recurring payments
Mobile friendly, looks good on any device
100+ form templates
Formidable Forms is an excellent choice if you have a need for multiple forms on your website, especially ones with a lot of extra capabilities and features.
Get started with Formidable Forms.
Looking to accept donations via PayPal but don't need all the extra features? PayPal Donations is a free donation tracking plugin that allows just that.
PayPal Donations Quick Facts:
Free
Accepts donations through PayPal only
Add a donation button anywhere you want
Add a donation widget to your sidebar
Use a pre-designed button or design your own
Simplistic setup page
Rated 5 stars on WordPress.org
This one is best for those wanting a quick and easy way to to accept donations via PayPal without any of the features that the other plugins offer. Drawbacks of this one definitely include the fact that it's not a form, so it doesn't capture any user data, like name, email address, or how much the donation is for. It just sends the user over to PayPal with one click of a button. So, you won't have much in terms of analytics for how your donation campaign is going.
If a simple button is all you need, watch their demo video to see how to get started.
Donorbox is a simplistic yet well designed button and form combo. It has a few extra features at a pretty low cost.
Donorbox Quick Facts:
Installation is free, but a 1.5% fee is then collected on each donation
A payment processing fee is also collected on each donation, but can be discounted for nonprofits via PayPal or Stripe
Optional integrations are extra monthly charges and include Mailchimp, Zapier, SMS, and employer gift matching
Responsive design looks and functions well on any size device
Includes a donor wall and goal meter
Overall, Donorbox is a great choice for someone looking for a low price point and not needing a whole lot of added features. Drawbacks include the fee they collect on every donation, and the only email marketing provider they integrate with is MailChimp, for which you'll have to pay an extra $8 per month.
Croptocurrency Donation Box is exactly what it sounds like: A box on your website where users can donate in Cryptocurrency.
Cryptocurrency Donation Box Quick Facts:
Free
You'll need to have a coin wallet
Simple setup just needs your coin wallet address
Accepts the top 30+ cryptocurrencies
Responsive design means it'll size correctly for every device
This one is overall a great plugin to have if you want to accept Cryptocurrency. Get started by downloading the plugin.
How to Choose the Right WordPress Donation Plugin for Your Website
We just gave you some great options for collecting donations on your WordPress website. Overwhelmed? Try deciding on your budget first, as well as the features you absolutely can't live without. That'll give you a solid starting point!
Now that you've seen all the best donation plugins, you might be wondering which ones are really the best. It can be hard to choose, especially when there are a few that are pretty similar!
Best Donation-Specific Plugin
If you're looking for the best donation-specific plugin, we suggest GiveWP. They offer so many great features, their forms look clean and easy to use, and they have over 400 5-star reviews. Plus, MonsterInsights integrates directly with GiveWP, giving you easy access to straightforward donation analytics.
Best Form Plugin for Donations
If you'd rather use a form plugin to handle your donations, WPForms is the way to go. The drag-and-drop form builder is so easy to use, and packed with features. They've got a donation form template all ready for you to customize.
If you need to make complicated forms, though, Formidable Forms is an easy choice. You can make pretty much any form you can dream up there, with calculations and conditional logic and unicorns. Just kidding on the unicorns, but really, this plugin will be your complicated form dreams come true.
Track Donations Easily with MonsterInsights
MonsterInsights is a WordPress analytics plugin that will make tracking donations simpler. Use the eCommerce addon to find your top need-to-know metrics, such as average donation value, total donations, and conversion rate at a glance: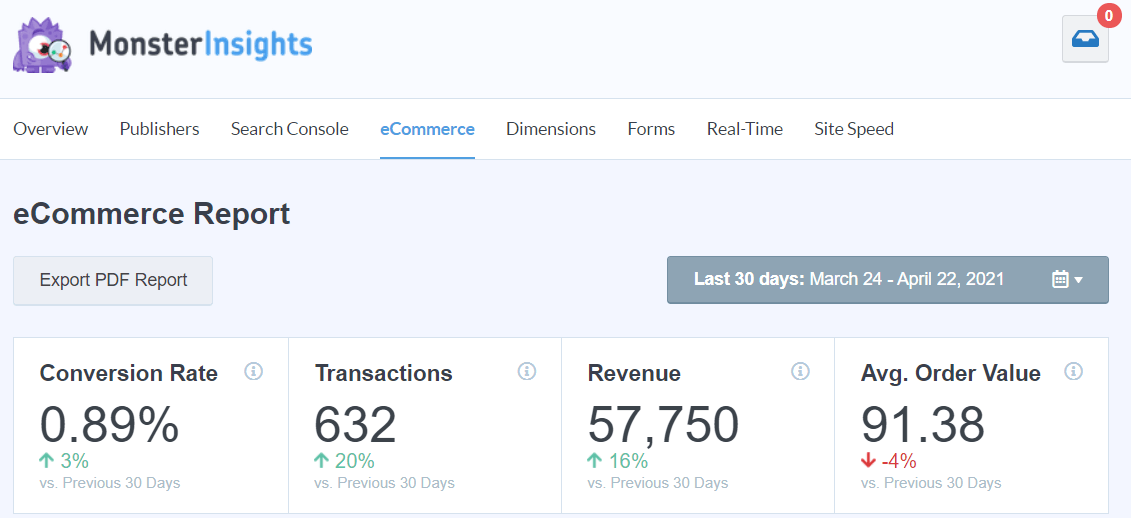 Plus, MonsterInsights integrates with GiveWP, WPForms, and Formidable forms, making analytics setup and tracking a cinch.
Get started with MonsterInsights now to simplify tracking and analyzing donations.
After you've chosen and installed your plugin on your site, you'll probably want to know how to add donating as a Goal in Google Analytics. Here's a handy step-by-step guide for how to track link and button clicks in WordPress.
Make sure to follow MonsterInsights on Facebook, Twitter and YouTube for more best plugin lists.