Are you looking to create an Amazon affiliate store? Do you want to monetize your WordPress website?
With Amazon Associates affiliate program, you can build a store in no time and with minimum cost. And then start selling products to earn commission on every sale that you make.
It's also one of the easiest ways to make money from your existing website, as you can add products from Amazon.
In this article, we'll show you how to set up an Amazon Affiliate store on WordPress.
What is an Amazon Affiliate Store?
An Amazon affiliate store is where you sell products from Amazon.com on your website or eCommerce store.
So, how do you make money? When someone clicks on the products listed on your site, they are taken to Amazon. And if they complete the purchase, you earn a certain commission on the sale. It's that simple!
The beauty of an Amazon affiliate store is that unlike a traditional online store, you don't have to worry about shipping, logistics, inventory, or managing orders. Amazon handles everything.
Ready to create your Amazon affiliate store on WordPress? Let's kick things off…
How to Start a WordPress Amazon Affiliate Store?
By following these steps, you'll start earning from your Amazon Associates program very quickly and will have your own affiliate store up and running.
Step 1: Get Hold of a Domain Name, Web Hosting, and SSL Certificates
If you're building a store on WordPress from scratch, you'll need 3 basic things:
Domain name – it's the URL or the web address of your website, like www.example.com or www.monsterinsights.com
Web hosting service – provides a server where you can store all your images, videos, content, and other website material
SSL certificate – SSL stands for Secure Sockets Layer and encrypts all the communication between your user and your site
Since you're starting fresh, we recommend that you get hold of Bluehost WooCommerce plan. Bluehost is one of the best shared hosting services and is recommended by WordPress and WooCommerce.
With the plan, you get a free domain for one year and free SSL certificates to accept payments. And with WooCommerce pre-installed, you can start uploading products with ease.
There are also different WordPress themes you can choose from. You can change the themes to the one that's relevant to your store and products.
You can also check out our guides on how to create a WooCommerce store and how much does it cost to create an online store for more details.
Step 2: Sign Up for Amazon Associates Account
Once your store is up, it's time to create an account on Amazon Associates. The sign-up process is very simple and quick. Go to Amazon Associates affiliate website and click Join Now for Free.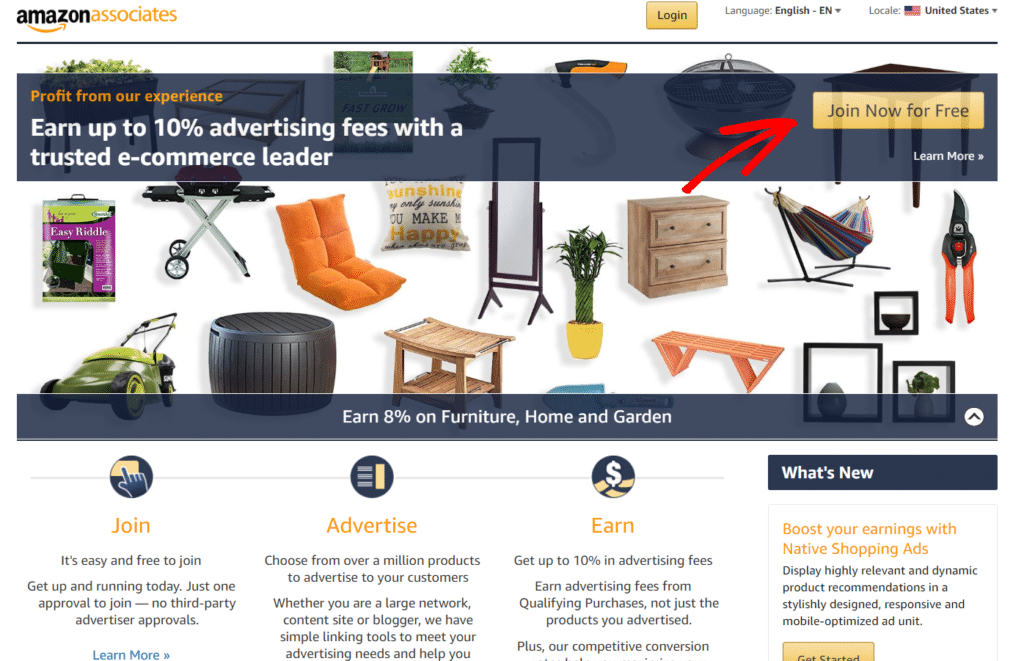 Next, create an account or if you already have an account, login using your existing credentials.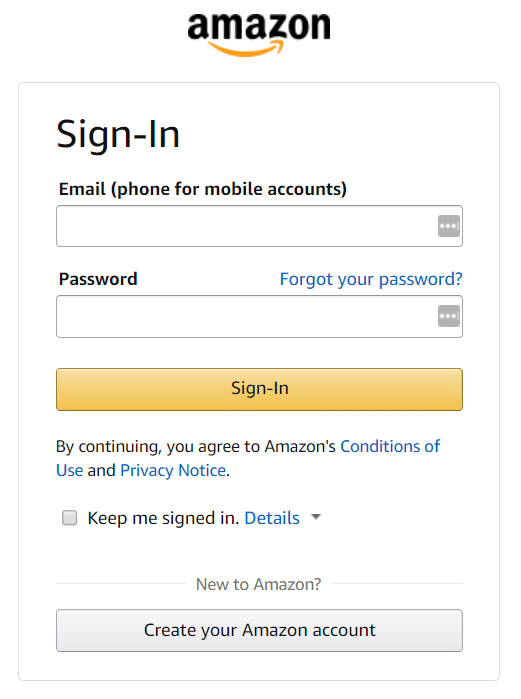 After signing in, you'll have to add your website or mobile app. Amazon allows up to 50 websites or mobile apps per affiliate account. Simply enter the URL of your WordPress site and click Add.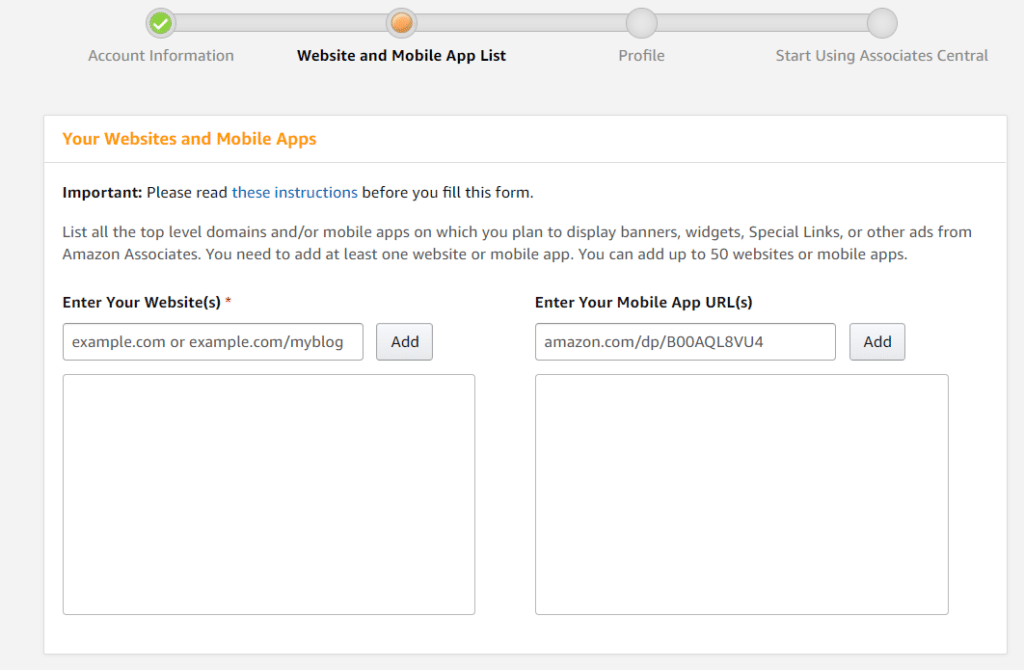 Amazon will then ask a series of questions about your website, likes its nature, which products you're looking for, and how much traffic do you get. It will also ask you to enter your tax and payment information, but you can skip this step for now and move ahead.
Once you've completed the process, your profile will go for review and approval. Now let's look at how you can add your Amazon affiliate products to your WordPress website.
Step 3: Get Amazon Affiliate Product Links
Before adding products, you'll need to get links to different Amazon products from your Amazon Associates area.
To view the links, click on Product Linking from the top menu. Now search for the product you want to add to your WordPress site and then hit Get Link.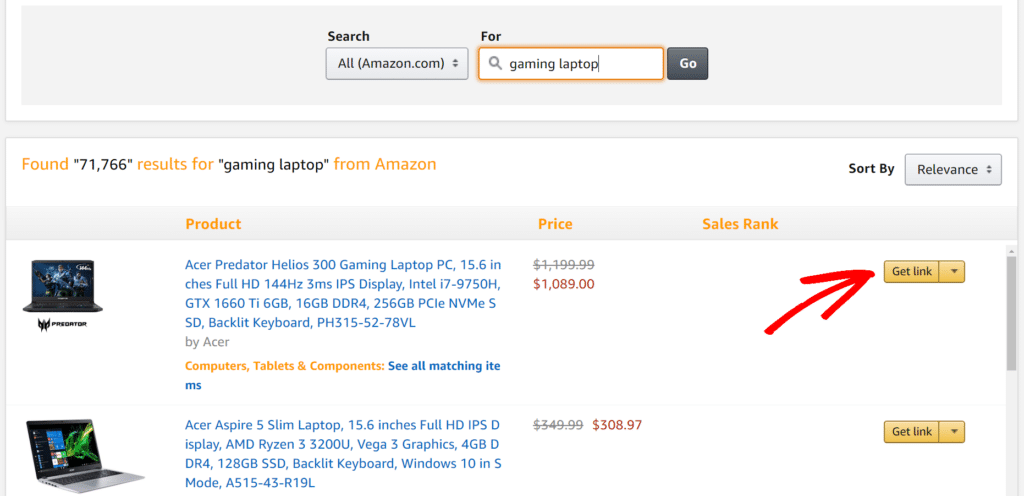 Next, you'll be taken to the product page where you can choose from different options for adding products to your store. You can choose the Text Only option and then copy the Standard Link (you'll need this in the next step).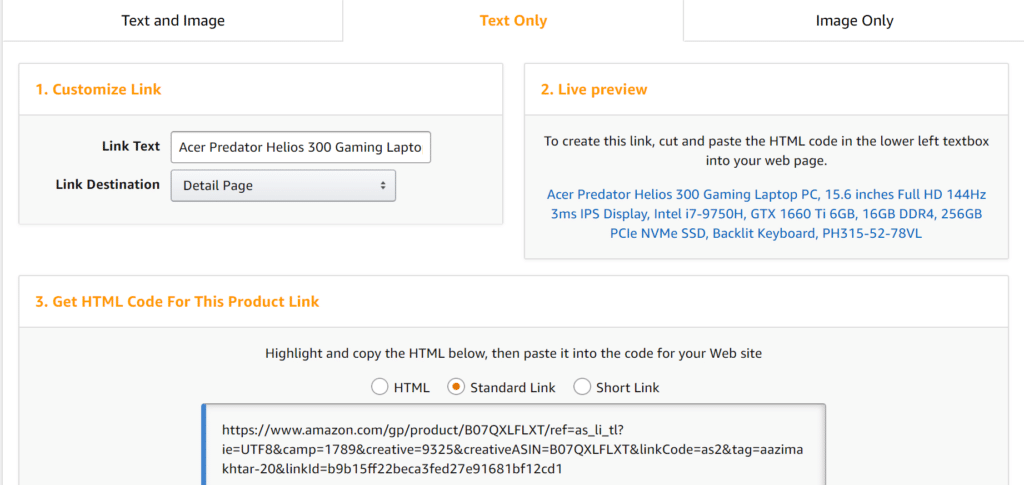 Step 4: Add Amazon Products to Your WordPress Site
Among different eCommerce plugins, you can use the WooCommerce WordPress plugin to add products to your Amazon affiliate store.
If you're building your website from the ground up, then you'll get WooCommerce pre-installed with Bluehost. But if you already have a website, then you can add the plugin to integrate products from Amazon.
To start adding your products, go to your WordPress dashboard, and then click Product » Add New. Here you'll have to enter the name of the product and its description.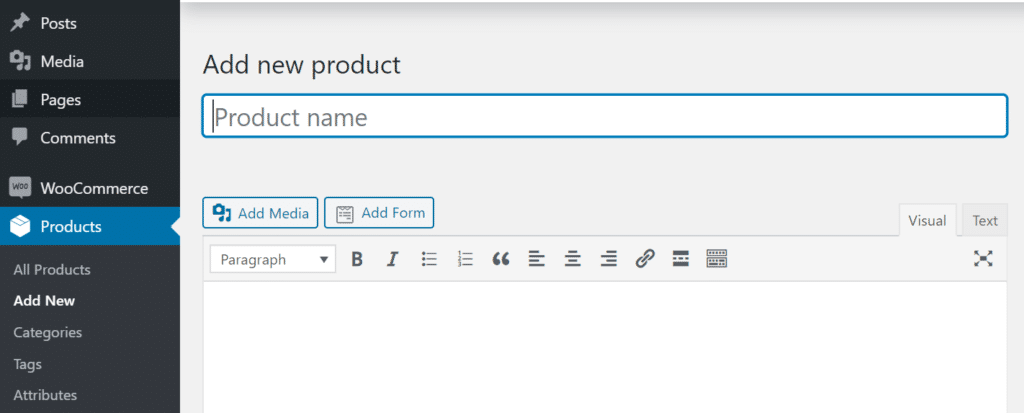 Now scroll down, and you'll see more options under Product data. From the dropdown menu, select External/Affiliate product.
Enter the product URL that you copied in the previous step and also enter the button text you want.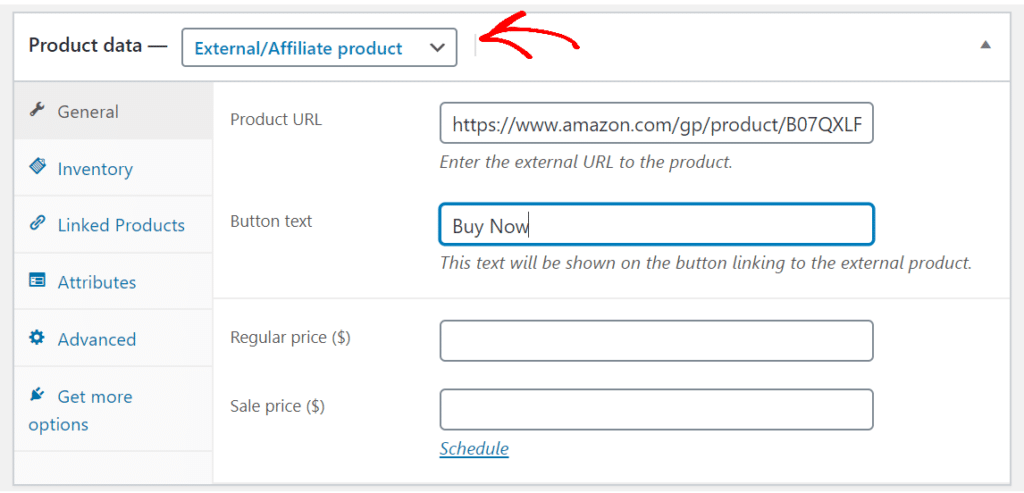 Do remember to leave the price field blank, as Amazon's affiliate policies don't allow you to enter price details manually. It prefers that visitors click on the link and check the prices on Amazon.com.
You can then add a product image or create a product gallery to display more images of the same product. And using the Linked Products option, you can upsell other related products. It's a good way of making more money from your eCommerce store.
Once you're done, click Publish and you're Amazon Affiliate store is ready to go live!
Step 5: Track Your Amazon Affiliate Links in WordPress
Now that your store is live, how can you measure and track its performance? A simple solution is to use MonsterInsights.
It's the best WordPress plugin for Google Analytics. It automatically tracks Amazon affiliate links on your website without any coding or additional configuration.
That said, you can also use MonsterInsights eCommerce addon to track your online store's sales, conversion rate, order size, and more.
And the best part is that it comes ready for WooCommerce. You just have to install the addon, enable Enhanced eCommerce, and MonsterInsights will take care of the rest.
With the eCommerce report, you can view which products perform the best, what's your store's conversion rate, how many items were added to cart and removed, and lots more.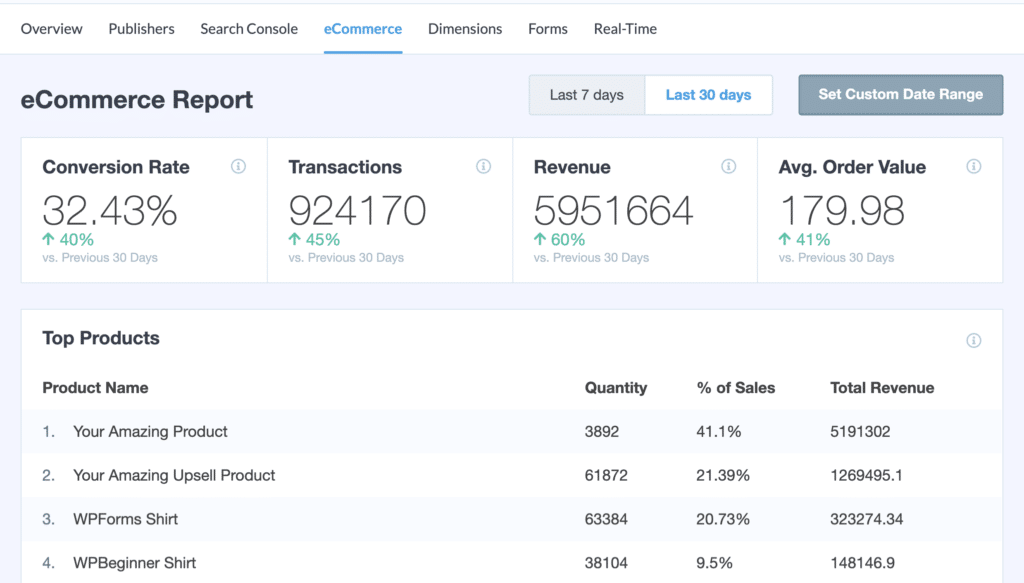 Bonus Tools to Supercharge Your Amazon Affiliate Store
You're now ready to monetize your website and make money from Amazon affiliate program. But we can't leave just yet.
Here are some bonus WordPress plugins and tools that can help you in boosting your site's conversions, increasing traffic, engagement, search engine presence, and more.
OptinMonster – It's the best plugin for conversion rate optimization. You can use it to add popups, exit-intent messages, generate leads, and skyrocket your sales.
WPForms – If you want to add order forms, contact us forms or any other type of forms then WPForms is the best plugin to get.
RafflePress – With RafflePress, you can run beautiful giveaways on your Amazon affiliate store and get traffic, social followers, engagement, and more sales.
TrustPulse – Using the power of social proof, you can display notifications or FOMOs to your store and skyrocket your conversions.
SeedProd – It's the best WordPress plugin for creating coming soon pages. You can use it to create a buzz about upcoming products.
All in One SEO – The plugin helps you optimize your product pages for SEO so that they can rank higher on search engines.
Constant Contact – If you're planning on sending bulk emails or starting a newsletter, then Constant Contact is the best plugin that automates your workflows.
Sucuri – Website security is of high importance no matter which type of website you have. That's where Sucuri comes in handy as it protects your site from all kinds of threats and is the best WordPress security plugin.
And that's it!
You've made it to the end of the guide.
We hope you liked our article on how to set up an Amazon affiliate store on WordPress. You can also check out our guide on how to track WooCommerce conversions in WordPress.
Don't forget to drop us a comment for any queries and follow us on Twitter and Facebook for more Google Analytics and WordPress tutorials.