Do you have Google's Accelerated Mobile Pages (AMP) on your WordPress site? Want to set up AMP tracking in Google Analytics so you can get accurate data for those pages?
AMP allows you to deliver an exceptional user experience when users view your content on mobile devices. It drastically speeds up the loading time for those pages on mobile, so your visitors don't experience any delays.
In this guide, we'll show you how to set up AMP tracking in Google Analytics and WordPress step by step.
But first…
What Is Google AMP?
Google's Accelerated Mobile Project (AMP) is an open-source initiative to make web content load faster for mobile users.
When you click on a Google AMP page in search results, you'll be directed to a streamlined version of the original article specifically built for boosting page speed.
AMP pages are a stripped-down version of your site. They use a separate streamlined version of CSS and lazy load images to make your web pages load faster.
Why Use Google AMP?
Enabling Google AMP pages for articles on your WordPress site can help you with your organic traffic. When users don't have to wait for a page to load, they're more likely to stick around and interact with your content instead of bounce away.
Now, are you ready to learn how to set up WordPress AMP tracking in Google Analytics?
How to Set up AMP Tracking in Google Analytics
You can track your AMP-enabled pages with Google Analytics, but setup can be a confusing task for beginners. That's because AMP uses a separate analytics snippet than your standard Google Analytics tracking code.
To set up AMP tracking without a plugin, your developer would have to modify the Google Analytics tracking code manually. Even then, sometimes it still requires additional troubleshooting to get it to work right.
Thankfully, MonsterInsights can help you easily set up AMP tracking in Google Analytics and WordPress with just a couple of clicks. With our Google AMP addon, you can accurately track your web traffic.
Here are a few key features of the MonsterInsights Google AMP addon:
It stops double-tracking visitors: By default, when a user visits an AMP page and then a normal page (or vice versa), Google Analytics counts it as 2 different sessions. But the MonsterInsights Google AMP addon fixes this issue and tracks it as a single session.
It supports other MonsterInsights features: In your AMP pages, you can adjust sample rates with the Performance addon or track your visitors with different dimensions with the Custom Dimensions addon.
A/B test your AMP pages with Google Optimize: You can create different versions of your AMP pages to test user interactions so you can discover what works best on your AMP pages.
Now, follow these steps to set up AMP tracking in Google Analytics.
Step 1: Install the Official AMP Plugin for WordPress
The first thing you'll need to do is install the official AMP plugin on your WordPress site. Simply go to Plugins » Add New from your admin area and search AMP in the search bar.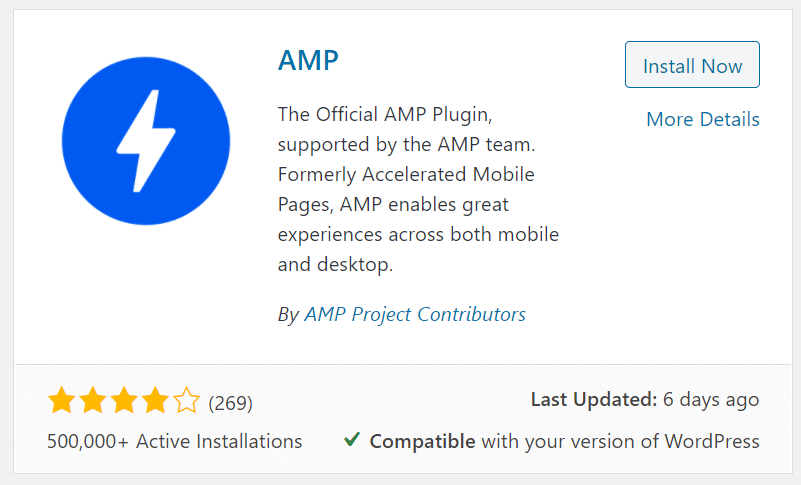 Click Install Now to install the plugin. After that, wait for a few seconds and then Activate the plugin.
The plugin will automatically create AMP versions for your posts and pages. If you want, you can type /amp/ at the end of the URL of a post to check its AMP version.
Step 2: Install MonsterInsights and Connect Google Analytics
Once you've installed the AMP WordPress plugin, you'll now have to install MonsterInsights on your site.
MonsterInsights is the best Google Analytics plugin for WordPress. It allows you to easily connect your WordPress site with Google Analytics so you can view all the data that matters most right in your WordPress dashboard.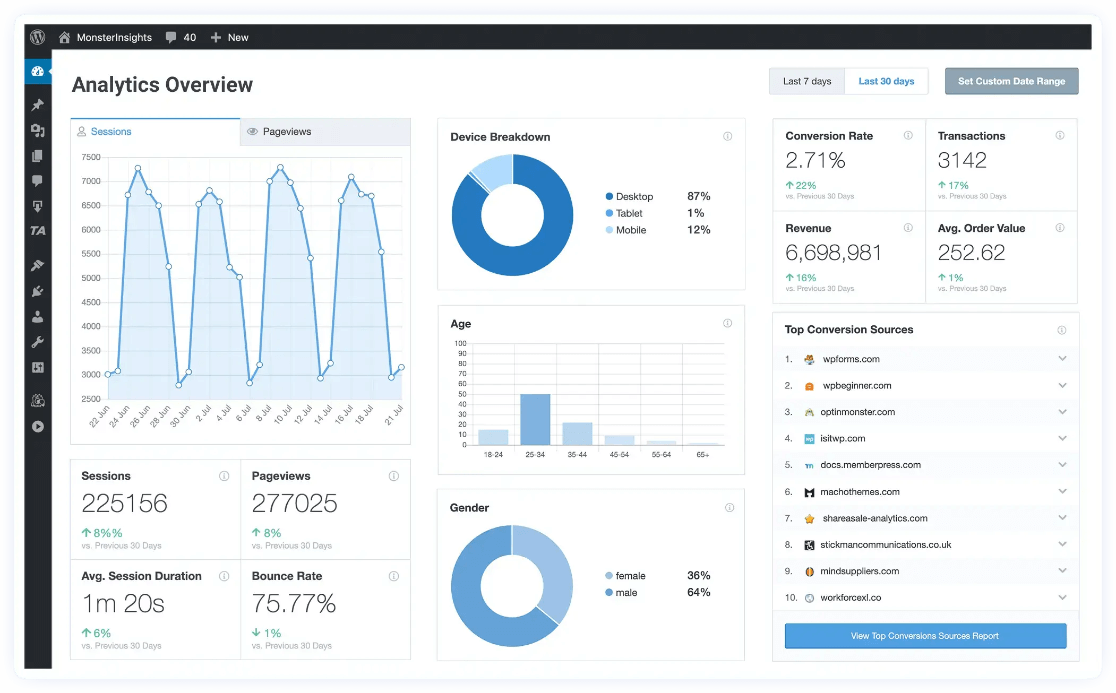 Plus, with the click of a button, you can set up sophisticated tracking features such as event tracking, eCommerce tracking, form tracking, custom dimension tracking, outbound link tracking, and more.
To set up Google AMP tracking, you'll need the MonsterInsights Plus license or above.
To start, purchase MonsterInsights at the Plus license level or above. Then, download the ZIP files from your account area under the Downloads tab.


Next, upload the plugin to your WordPress website. You can do that by going to Plugins » Add New » Upload Plugins in your WordPress admin and clicking the Install Now button.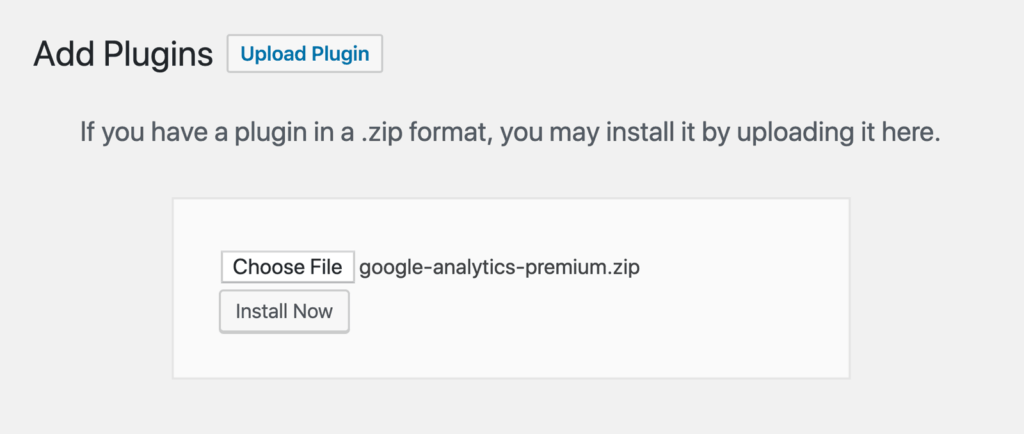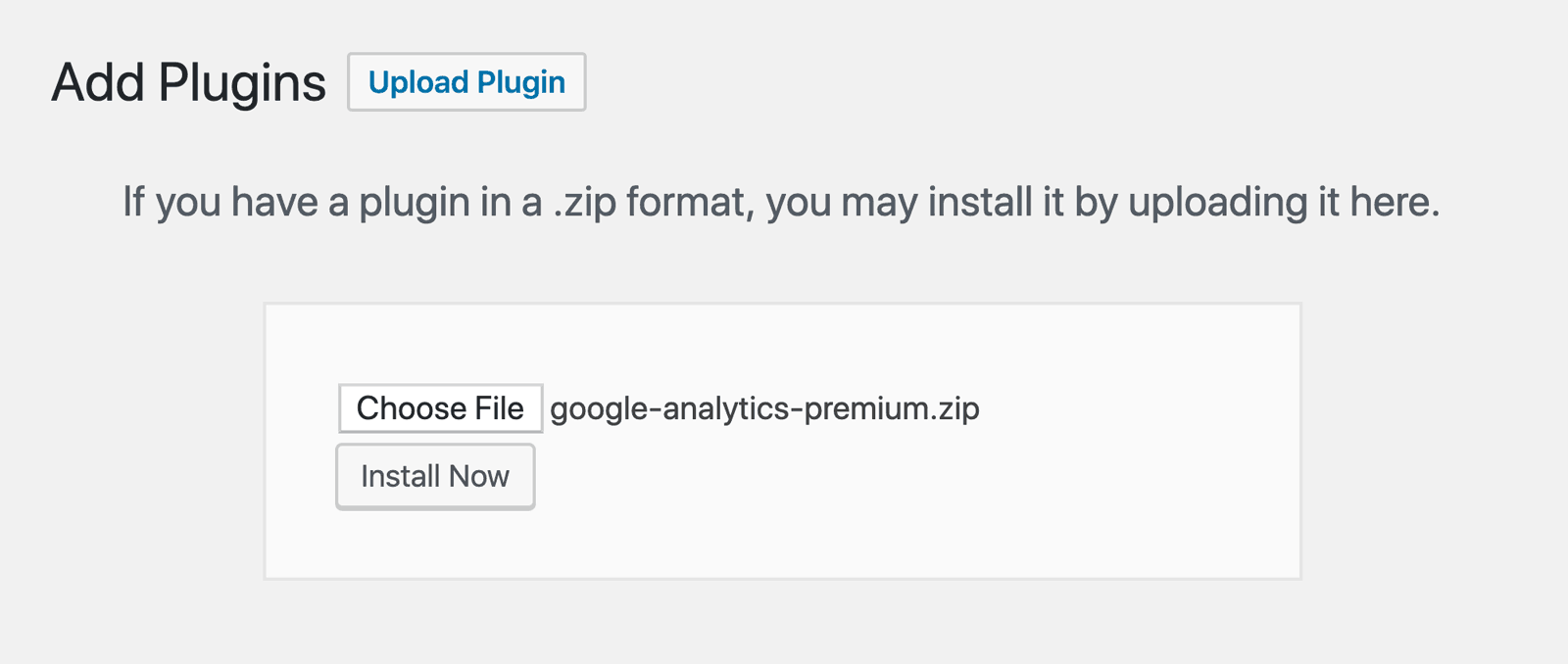 After that, click the Activate Plugin button.

Now, you'll need to connect Google Analytics to your WordPress website. Using MonsterInsights, it's really easy! Just follow the steps in the setup wizard and the plugin will add Google Analytics to your site without the need to edit code.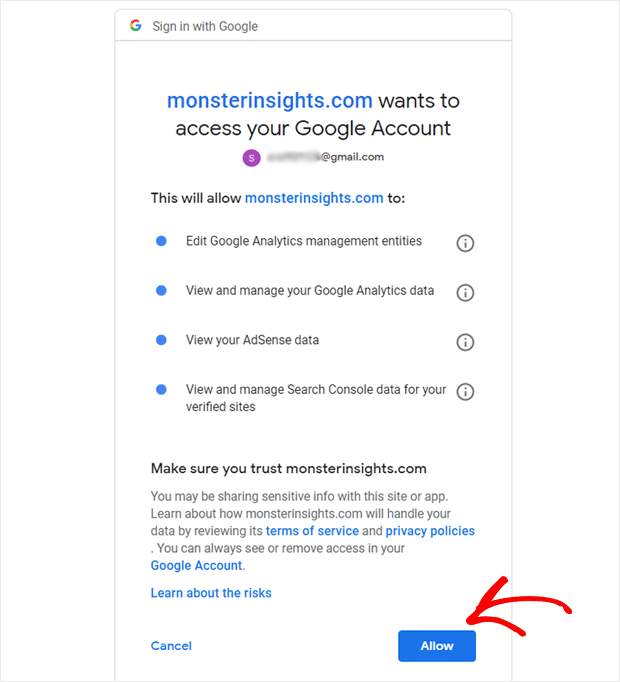 For help getting started and a walkthrough of the onboarding wizard, check out our step-by-step guide on how to properly set up Google Analytics and MonsterInsights.
Step 3: Install the MonsterInsights AMP Addon
Now that Google Analytics is added to your WordPress website, you'll need to install the MonsterInsights AMP addon.
To do that, head to Insights » Addons and click Install under the MonsterInsights AMP addon.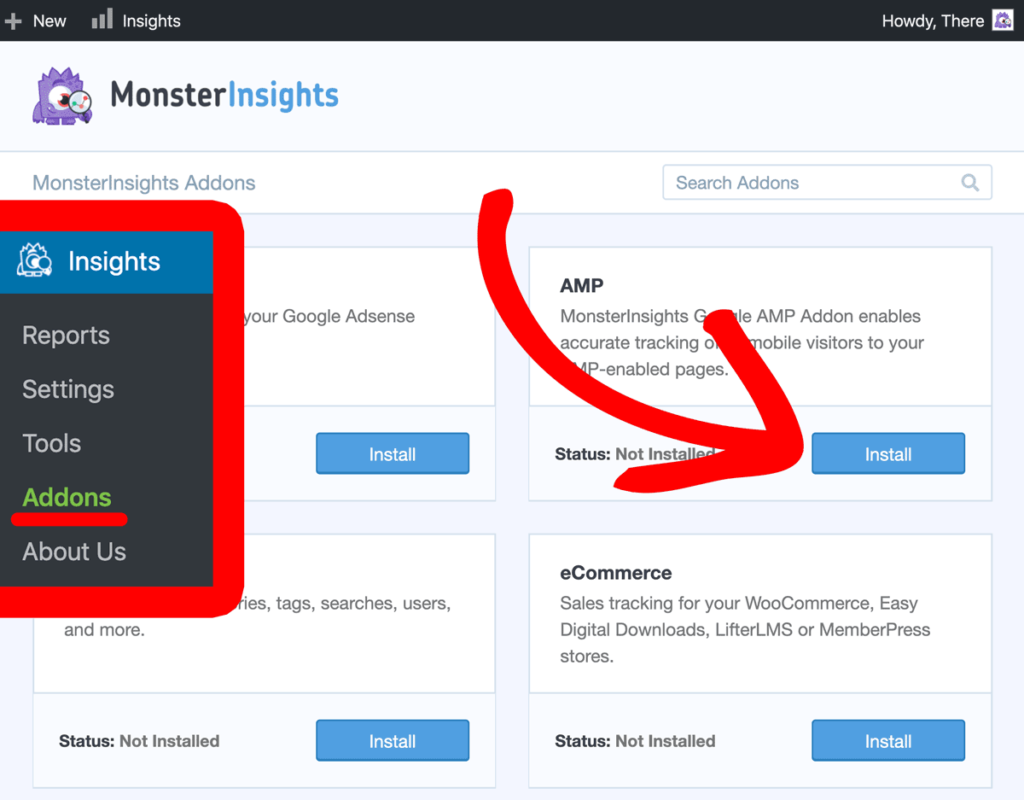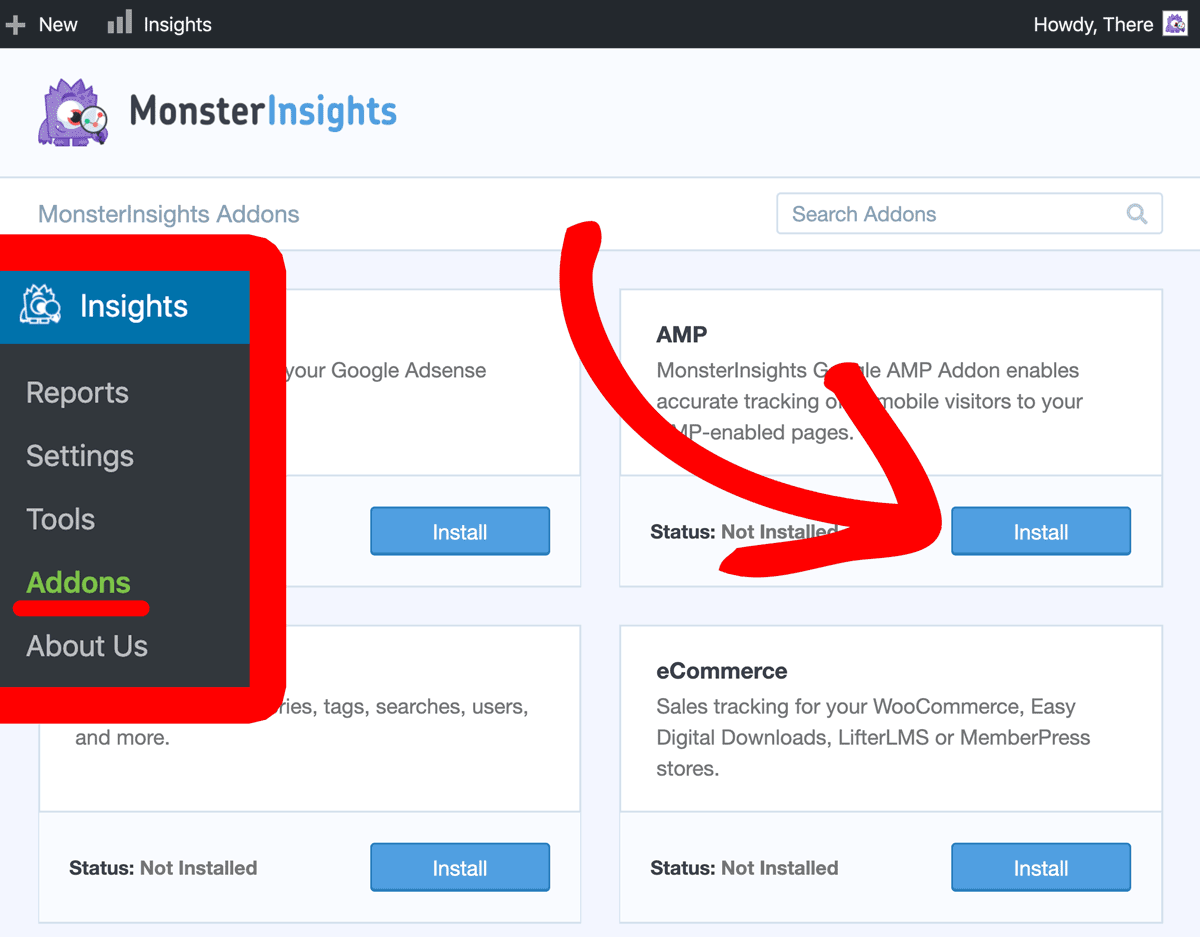 After the addon is installed, it will automatically activate, and you should see the status change to Active.
Congrats!
You've successfully installed the Google AMP addon. No further configuration is required.
If you want to confirm your AMP settings just to be sure, go to Insights » Settings and click the Publishers tab. Then, scroll down to the 'Google AMP' section. You'll see the cursor for Google AMP activation is enabled.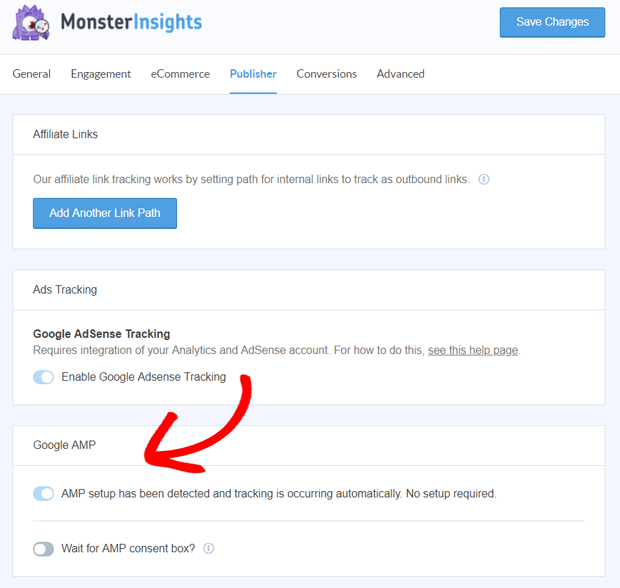 The second option there allows you to enable AMP tracking after consent. If you haven't implemented a consent box on your site, make sure not to enable this option. Otherwise, it will prevent the plugin from tracking all AMP users.
How to Find AMP Data in Google Analytics
To find your AMP data in Google Analytics, log into your Google Analytics account and select the website for which you'd like to find the AMP data.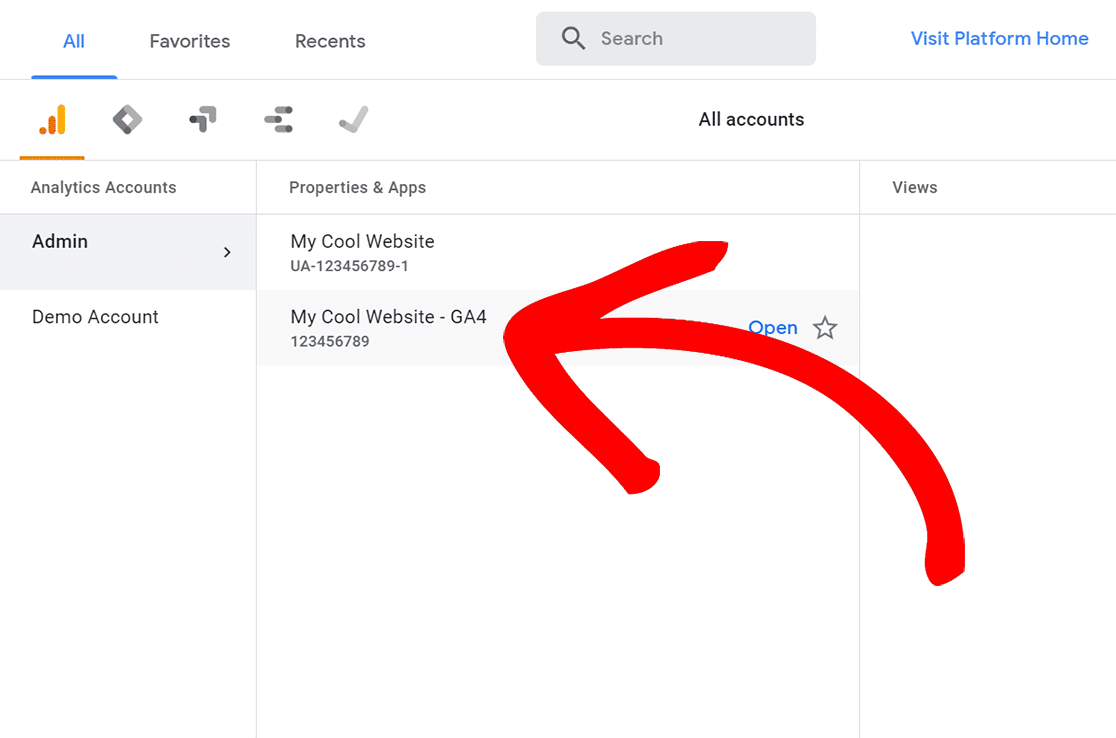 Go to Reports » Engagement » Pages and screens. To view the data for your AMP pages only, use the search bar above the table with the keyword /amp. This will show you the traffic reports for your AMP pages only.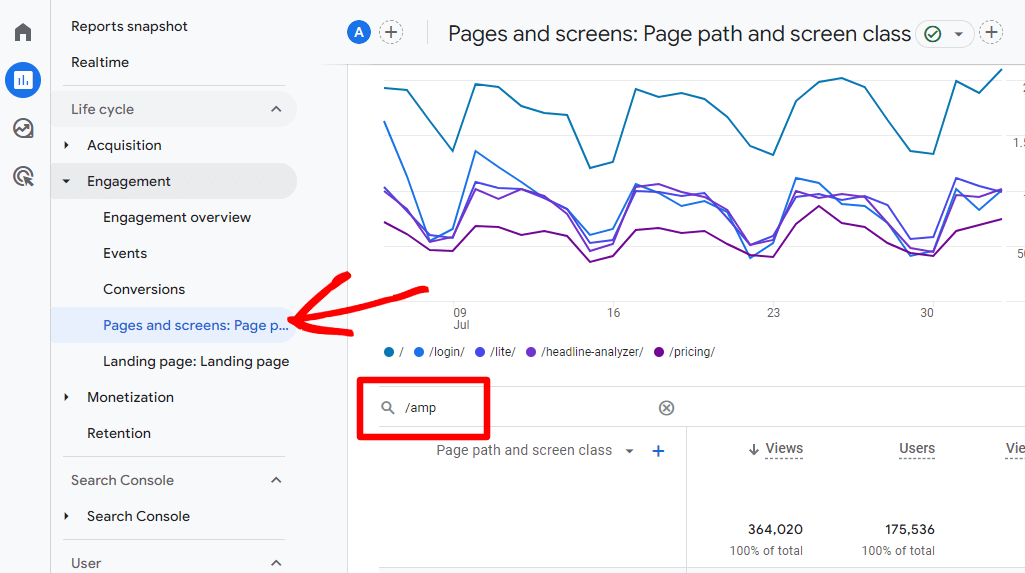 And that's it!
We hope you liked our article on how to track AMP pages in Google Analytics. You can also check out our beginners guide to Google Analytics for WordPress.
Not using MonsterInsights yet? What are you waiting for?
And don't forget to follow us on Twitter, Facebook and YouTube for more helpful Google Analytics tips.