Do you want to grow your business with Facebook ads? Facebook offers tons of different ad targeting options that allow you to reach your potential customers at the right time. If you're not taking full advantage of them, probably you're wasting your advertising budget.
With all those targeting options, there's a steep learning curve and it's easy to get overwhelmed. This article will help you to get a head start to effectively use Facebook targeting options with your Google Analytics' data.
Facebook Ad Targeting: Google Analytics vs. Facebook Insights
Google Analytics provides an abundance of data of your customers that you can leverage to create a highly targeted Facebook ad campaign.
Now you might have a question – why should I use Google Analytics for ad targeting when Facebook Insights already shows you how your followers interact with your posts and ad campaigns?
The data shown in Facebook Insights is limited. It only shows you how well your posts performed on Facebook that have been shared through your Facebook Page. For instance, you can't see how your post performed if it's being shared by your reader directly from your site.
That means for better analysis and ad targeting, you'll also want to make use of your Google Analytics' data.
Let's take a look at a few different ways you can use Google Analytics for Facebook ad targeting.
Facebook Ad Targeting Tips to Reach Your High-Value Customers
When you're spending advertising dollars to acquire customers, it is highly recommended to target your high-value users. If targeting all sorts of users will cost you the same, why not target only your high-value customers to boost your return on investment (ROI)?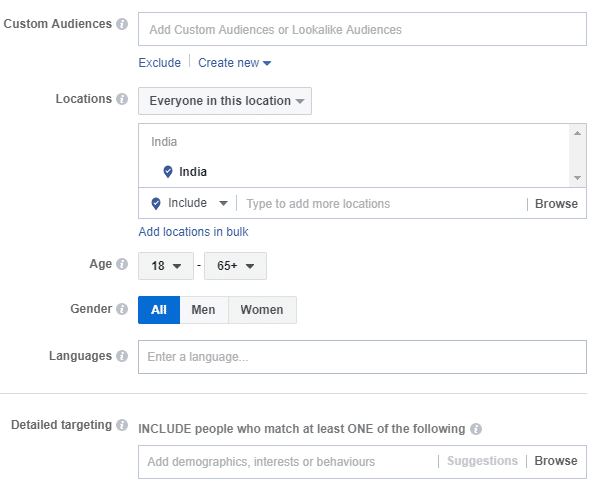 Using the demographics data in Google Analytics is the easiest way to find your high-value users. Read how to enable demographics reporting in Google Analytics. Once you've enabled demographics report and identified your high-value segment, you can adjust your Facebook ad targeting options based on it.
For instance, if you're an eCommerce merchant, you can identify the age group, gender and interests of your highest spending customers. Based on the data, you can target your ideal audience who are more likely to spend more on your site.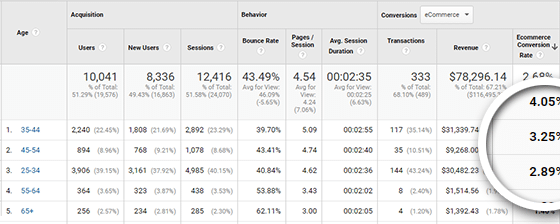 In the above report, you can see that your high-value customers are people who are in the age group of 25-34, 35-44 and 45-54. You can find the report by navigating to Audience » Demographics » Age.
You can take a step further and combine the gender data with your Age report by adding Gender as your secondary dimension.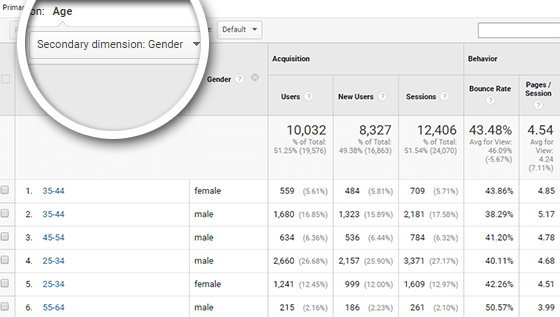 Now, you'll have a more precise data on your high-value customers.
For example, if you want to create 4 ad campaigns with different targeting options, below is the campaign structure you can follow.
Campaign 1: Ages: 35-44; Gender: female
Campaign 2: Ages: 35-44; Gender: male
Campaign 3: Ages: 45-54; Gender: male
Campaign 4: Ages: 25-34; Gender: male
The benefit of this approach is that the targeting options are selected based on the data we've gathered rather than guesswork, which increases the likelihood of boosting your conversions.
Facebook Ad Targeting Based on User Interests
Similarly, you can also look at the interests targeting report to narrow down your prospective customers. You can further narrow down your target audience based on Affinity Categories, In-Market Segments and Other Categories.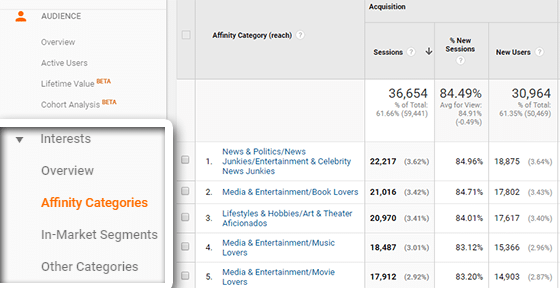 Get Insights into More Targeting Options With a Custom Report
By default, Google Analytics allows you to include only two dimensions per report at most. If you conducted an advertising campaign on Facebook, you'll know that Facebook allows you to adjust tons of different targeting options to make your campaign highly effective.
Now, if you want to leverage the full potential of ad targeting options on Facebook, you'll need to create a custom report with more than 2 dimensions in your report.
To create a custom report, click the Customization / Customisation tab in the left panel.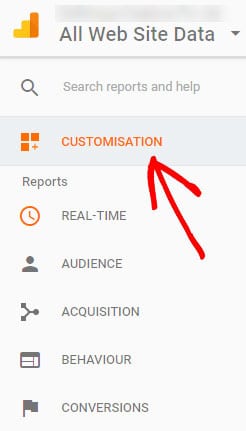 You can now click the + New Custom Report button.

Now you'll need to tell Google Analytics what to include in your report.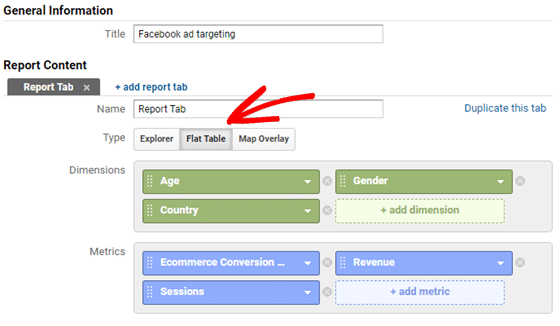 When choosing more than 2 dimensions, keep in mind that you'll have to choose Flat Table as the report type.
Bottom line: Facebook advertising is less about driving immediate conversions and more about boosting retention and brand awareness. For best results, you can use the above ad targeting tips to run a laser-focused retention campaign on Facebook that enables you to target people who have recently shown an interest in your products.
How to Effectively Boost Your Facebook Posts
Promoting your blog posts is the easiest way to drive traffic from Facebook. Best of all, running a paid promotion campaign for your blog posts not only will drive immediate traffic to your site, but it will improve the organic reach of your Facebook page, resulting in driving even more organic traffic in the long run.
Using this approach of improving organic reach, WPBeginner has improved their overall traffic from Facebook by 332%.
Have you ever wondered what's the reason behind organic reach decline? Want to know how paid promotion improves the organic reach of your Facebook Page?
The best way to describe the decline in Facebook organic reach is the Domino effect.
If you have one bad post, then it will impact the reach of your next post. That means the higher the interaction on a post, the better visibility you get for your future post.
If you see that your Facebook reach is declining steadily, you might want to try a paid promotion campaign for boosting your posts. Aside from generating quick traffic, this will also increase the likelihood for your future posts to get more visibility on Facebook.
Here's the exact approach WPBeginner has used to improve their organic reach and traffic.
Step 1: Add a Facebook advertising pixel to the website.
Step 2: Boost posts to the website audience who have previously visited the site.
This way you get your content in front of people who have you on top of their mind.
Now, the tricky part is that you don't have to boost all of your recently published posts on Facebook. To get the best results, you can boost only those articles that have been perceived well with Facebook users.
To find which of your blog posts you should promote on Facebook, log in to your Google Analytics account, navigate to Acquisition » All Traffic » Source/Medium. Eliminate all other traffic sources except Facebook. This can be done by entering Facebook in the search bar as shown in the screenshot.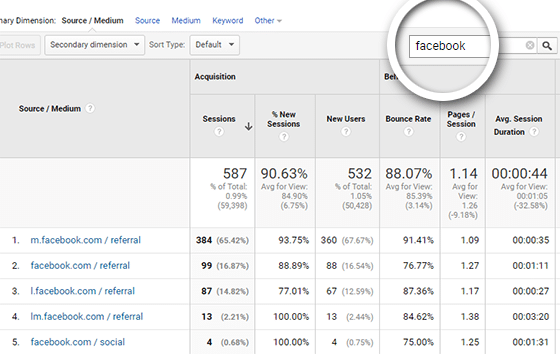 Now, add Page as the secondary dimension. You can now find the blog posts that have been perceived well on Facebook previously.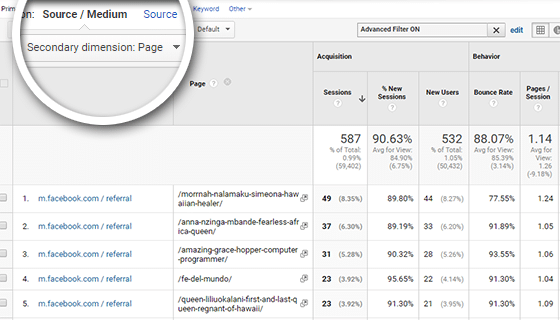 Facebook also allows you to exclude people from your retargeting list who haven't spent enough time on your site. For better ROI, filter out people who haven't spent enough time on your site and target only those who have more interest in your content.
That's it!
We hope this article gave you insights into how to effectively use targeting options to create a profitable Facebook ad campaign.
Before you get started with your next ad campaign, make sure to properly set up Facebook ads tracking in Google Analytics.
And don't forget to follow us on Twitter and Facebook for more Google Analytics tutorials.