Are you wondering what a nofollow link is and how to use it to improve your search engine optimization (SEO)?
Nofollow links are a crucial part of SEO. They can help boost your search rankings if used correctly. That's why it's important to understand when or when not to use nofollow links.
In this article, we'll show you everything about nofollow links, what they are, why they are essential for your website, how to add them, and more.
Let's start…
What is a Nofollow Link?
Links are an important part of SEO. It's how Google and other search engines discover new content and use them as a vote of confidence when ranking web pages. But sometimes, you don't want search engines to follow a certain link.
This is where nofollow links come in handy. These are links that have a rel="nofollow" tag. When you add a nofollow tag to your link, it tells the search engines to ignore the link and not use it when indexing pages.
Nofollow links will have no impact on your rankings. That's because you're telling Google won't pass through the PageRank (a way to measure the importance of a page). What this means is that the search engine won't count the link as a vote to vouch for the page.
Now, are you wondering what does a nofollow looks like? Here's what a normal link looks like in plain HTML:
<a href="https://www.example.com/contact">Text</a>
But when you add a nofollow tag, here's what it would look like:
<a href="https://www.example.com/contact" rel="nofollow">Text</a>
Besides a simple nofollow tag, did you know Google introduced more tags? Let's look at their differences.
Sponsored, UGC and Nofollow Links – What's the Difference
In 2019, Google introduced new link attributes for sponsored and user-generated content (UGC) links.
These new attributes still tell Google to ignore the link when using them to rank a page. But it provides more information to the search engine to better understand the link.
Here's a look at the difference between these tags:
rel="sponsored" – a nofollow tag that indicates you're being paid to promote it or the links are for advertisements.
rel ="ugc" – a nofollow tag for user-generated content (UGC), like comments and forum posts. Placing a UGC tag prevents people from taking advantage and submitting spammy links.
rel ="nofollow" – you can use the standard nofollow tag when the other two don't apply, and you don't want Google to give the URL any of your SEO juice.
With that, let's see why it's important to use a nofollow link.
Why Would You Use a Nofollow Link?
You can improve your website's SEO by including a nofollow link on your pages and posts. On your website, you can use nofollow links for the following reasons:
Avoid Looking Spammy – If you use the same link multiple times on a page, you may want to make one a dofollow and the other one's nofollow.
Indicate You're Being Paid – Tell Google that you're being paid to promote a link or if the link is for advertisement. If you don't and mark such links as dofollow, Google will penalize your site, which could hurt your rankings and domain authority.
Prevent Spam – Spam can cause a lot of problems on your comments and forums. The UGC nofollow link is the best way to encourage meaningful interactions in your website's comments.
Don't Want to Share SEO Benefit – Use a nofollow link to tell Google you don't want to share your juice. Some used cases could be links to competitors, unverified sources, or unrelated sites to your industry.
Are you ready to learn how to add nofollow links in your posts and pages in WordPress?
Video Tutorial
You can also go through our written guide on what is a nofollow link and how to add them to your WordPress site.
How to Add a Nofollow Link in WordPress
The easiest way of adding nofollow links in WordPress is by using an SEO plugin like All-in-One SEO. With the plugin's help, you don't need to edit any coding to add nofollow links to your content.
To start, install the All-in-One SEO plugin on your site, and you'll see an option in your WordPress editor to add nofollow links to your pages and posts.
 Once the plugin is active on your site, go to any post and edit it.
In the Classic Editor, highlight the text you'd like to link and click the Insert Link symbol from the navigation bar.  Next, click the gear icon.

A small window will open and you'll see options for a title, link text, and the checkboxes for adding a nofollow link. Choose between a regular nofollow link, sponsored, and UGC.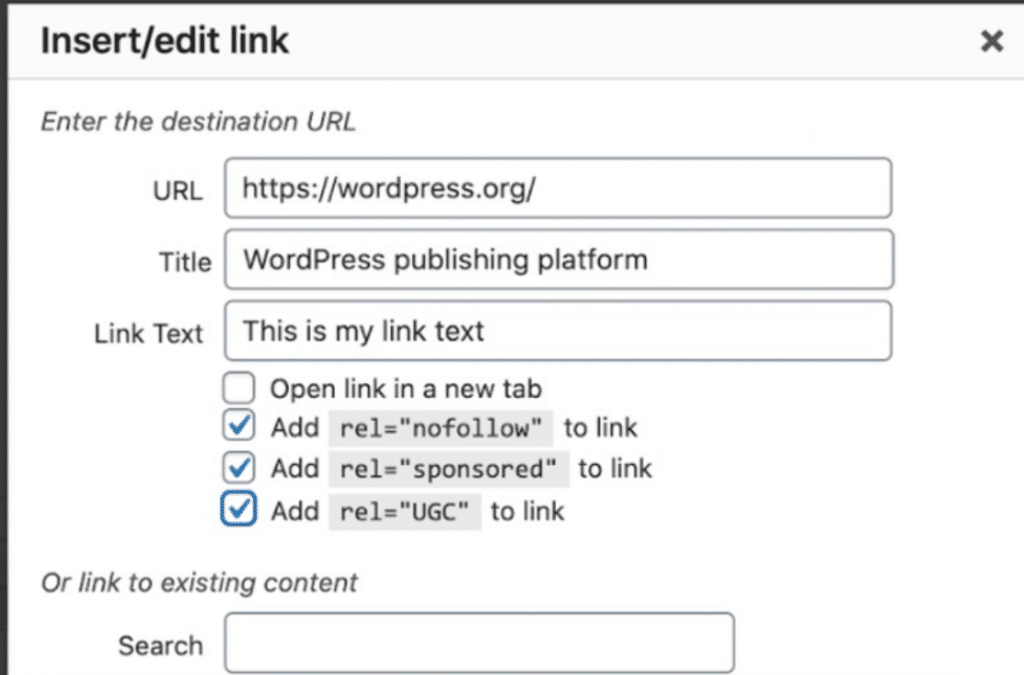 Once you've added the title and checked your nofollow link option, click Add Link.
If you're using the Block Editor, highlight the text you want to link and click the Link icon. You'll now see options to add nofollow, sponsored, and UGC links.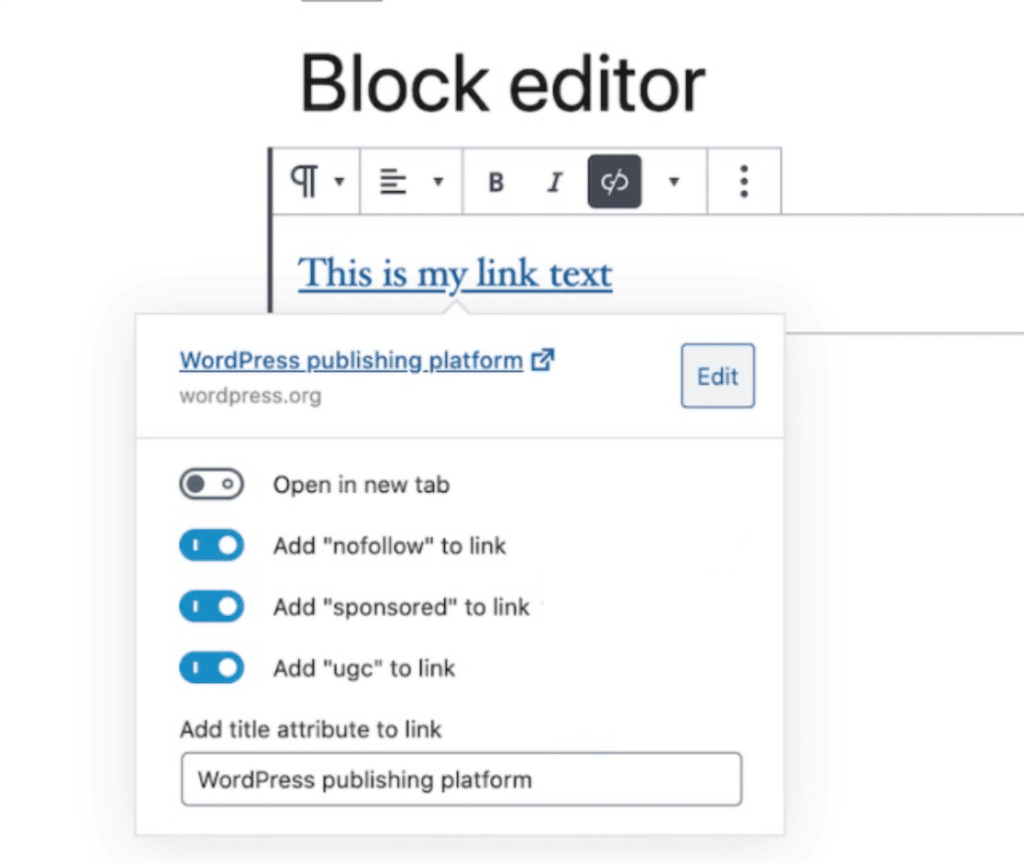 Next, update or publish your post, and nofollow links will start to work on your WordPress site.
That being said, how do you know which nofollow links are getting the most clicks?
How to Track Nofollow Links in Google Analytics
When it comes to tracking different links on your WordPress site, you'd have to edit code or manually set up tracking in Google Analytics.
But the easiest way of finding out the number of clicks each link gets is through MonsterInsights. It's the best Google Analytics WordPress plugin and helps you set up tracking without touching a single line of code.
MonsterInsights helps you track link clicks in Google Analytics and shows reports insides your WordPress dashboard.
All you have to do is install the plugin on your site and connect it with Google Analytics using its setup wizard. After that, view different reports to see the number of clicks your nofollow links get.
For instance, if you have any external links with a nofollow tag, you can view the Top Outbound Links report and find out each link's total clicks. You can follow our guide on how to set up outbound link tracking in WordPress for more details.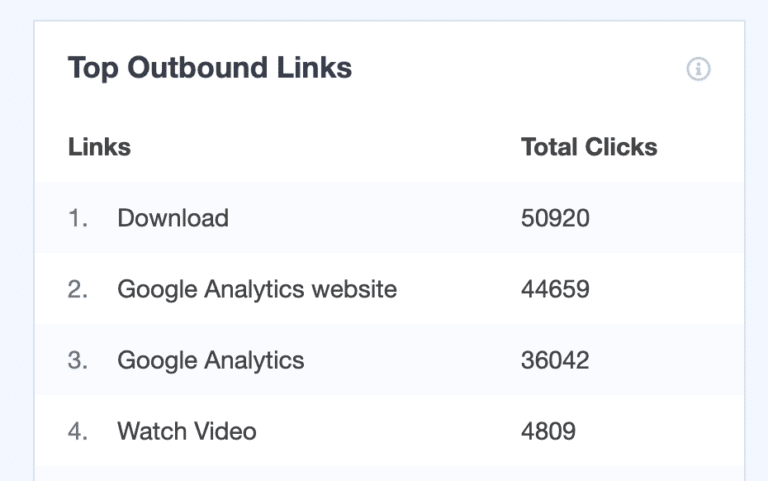 And if you have affiliate links on your site, MonsterInsights makes it effortless to track them in Google Analytics.
There's no need to edit code or manually set up tracking for each affiliate link. MonsterInsights automatically detects and tracks them. You can view the report by navigating to Insights » Reports » Publishers and view the Top Affiliate Links report.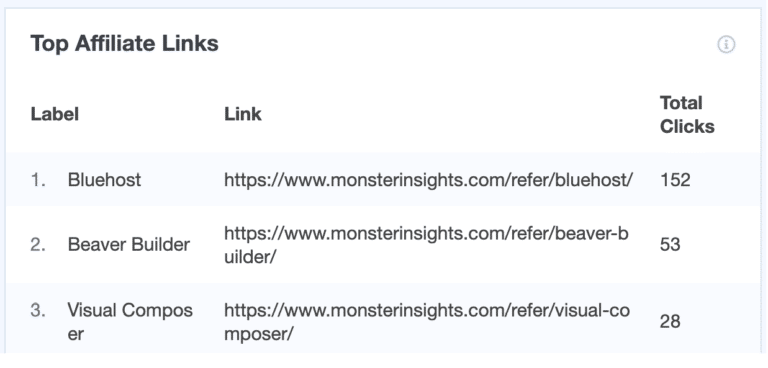 Besides outbound links and affiliate links, MonsterInsights also helps track other types of link clicks. For instance, you can track file downloads, CTA button clicks, form submission button clicks, telephone and mailto links, banner ads, and more.
You can go through our detailed guide on how to track link clicks in Google Analytics.
And that's it!
We hope you liked our article on what is a nofollow link and got to know why they're important for your website and SEO. Do check out our ultimate guide to MonsterInsights dashboard reports.
If you've enjoyed this article, don't forget to follow us on Facebook and Twitter to stay connected!