Do you want to find out where the highest earning Google AdSense ad placements are? Optimizing your website's Google AdSense ads is a great way to generate more ad revenue. After all, the placement of your ads is almost more important than the ads themselves.
In this article, we'll show you where the best AdSense ad placements are on any website so you can maximize your own site's ad impressions and clicks to make more money.
1. Ads Within Content
Putting an ad in the middle of your content is a great way to grab your site visitors' attention and get them to click. After all, an ad within your blog's content puts a break in-between paragraphs, forcing readers to see the ad.
It isn't super intrusive, which increases your chances that site visitors will either click on your ad, and make you some money, or continue engaging with your site's content.
The reason this AdSense ad placement is so effective is because it's right near the fold of your website. This way readers can scroll to keep reading if they like your content.
Or, if they don't like what they're reading they'll still see your ad, and may even click on it. Even if they were planning on leaving your web page anyways.
Take a look at how Digital Inspiration includes an AdSense ad right after the blog post introduction: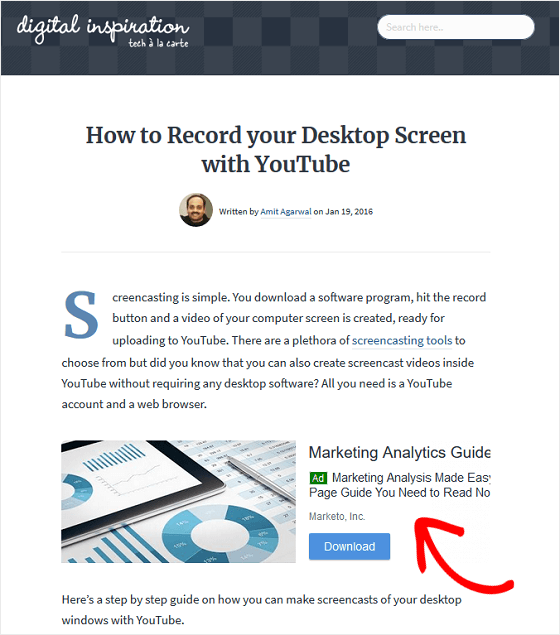 Just make sure that if you choose this Google AdSense placement, the ad you run is small. Banner ads or long ads won't work that well because they'll take up too much retail space and go below the fold, which may cause site visitors to bounce.
If you want to know how to check whether site visitors are engaging with your site's content, check out our tutorial on how to find your bounce rate in Google Analytics.
2. Under the Navigation Menu
Though Google will penalize you if you place too many AdSense ads at the top of your site, and push your site's content below the fold, there is some wiggle room as long as you don't put too many ads there or make your banner ad too long.
A great example we've mentioned before, in our article about the types of websites that earn the most revenue from Google AdSense, is CatForum.com.
They use the space below the navigation menu, and above the content, in the best way possible.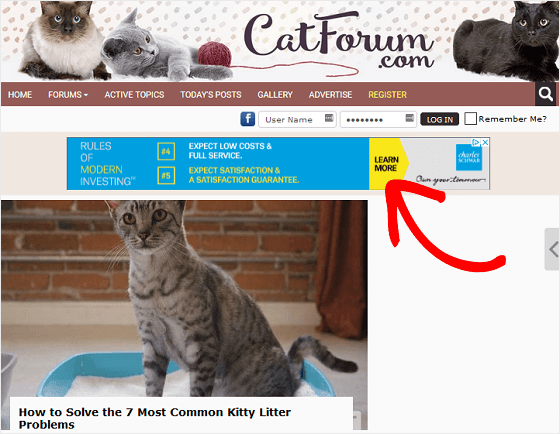 Their ad is slim enough to not affect the site's content, but clear enough that anyone visiting the web page will see it. This will get people's attention and convince them to click to see what the ad is all about.
3. In the Whitespace
Using the whitespace on either side of your content is another hotspot AdSense placement position. These ads are usually large and have bold graphics to capture people's attention without taking too much away from the site's content.
That's one of the reasons they perform so well, and sites like RALkleuren.com use their sidebar area to generate ad revenue.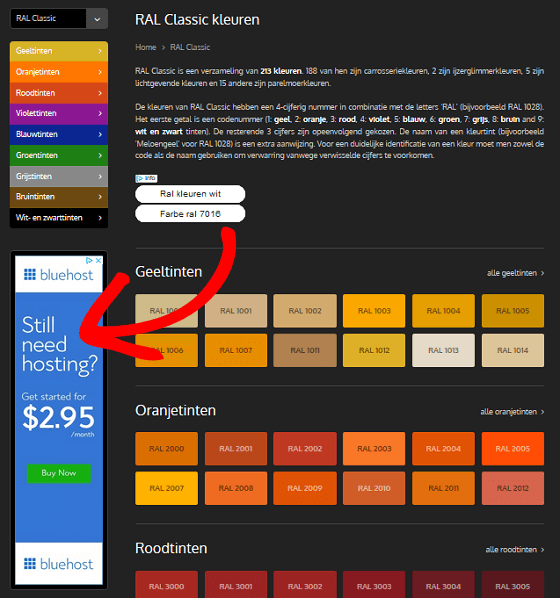 Long, vertical ads are best used for whitespace AdSense placement, and can generate a lot of impressions and clicks.
You just want to make sure to test your website's mobile display to make sure the ads are displaying the way you want them to when people on the go visit your website.
Track AdSense Clicks
Now that you know the top three highest earning Google AdSense ad placements, it's time to make sure you know how to make sure your AdSense placements are actually working for you. After all, every website is different and what works for one person may not work for you.
Luckily, if you use MonsterInsights, the best Google Analytics plugin on the market today, you can easily track your AdSense ad clicks using MonsterInsights ads tracking to do the following:
Find out how many clicks each AdSense ad is receiving
Discover where on your website site visitors are most engaged
Remove low-performing ads, and use your best AdSense ad placements to generate more revenue
To learn more about tracking ad clicks on your website, check out our tutorial on how to track AdSense in Google Analytics.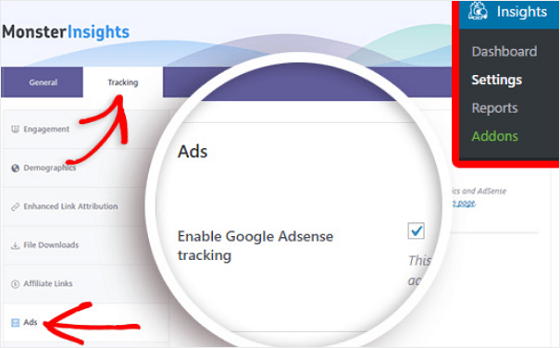 In addition, after you've set up ad tracking on your website you can view your AdSense reports in Google Analytics to track the click-through rates of your website's ads, so you can figure out what the highest earning Google AdSense ad placements are for you.
So, there you have it! You now know the best AdSense ad placements and how to track which ones get the most clicks on your website. And if you want to generate even more ad revenue, be sure to check out our roundup of 4 Google AdSense tips for increasing your earnings.
And don't forget to follow us on Twitter and Facebook for more helpful Google Analytics tips.