Downloading your analytics reports to share with others can be a real hassle. It could mean spending hours fiddling with the formatting to make them look good.
But all that has changed with our latest release of MonsterInsights 7.11.
You can now download any analytics report as a PDF file. Not only that, but you get weekly email summaries of how your site is doing straight to your inbox. We've also got a new date range picker, which makes it easier than ever to view data on your website.
Let's go through the details of all the new features…
View Weekly Website Stats in Your Inbox
Wouldn't it be easy if you could get your website's performance report in your email inbox every week?
With our new feature, Email Summaries, you can now view all your important stats in a simple report that's delivered straight to your inbox.
This way you can easily make data-driven decisions and don't have to worry about logging in to WordPress and going through different Analytics reports.
And to ensure that you get the best experience, you can add up to 5 email addresses to send weekly summaries and customize the header with our own brand logo. Here's a quick look at its settings: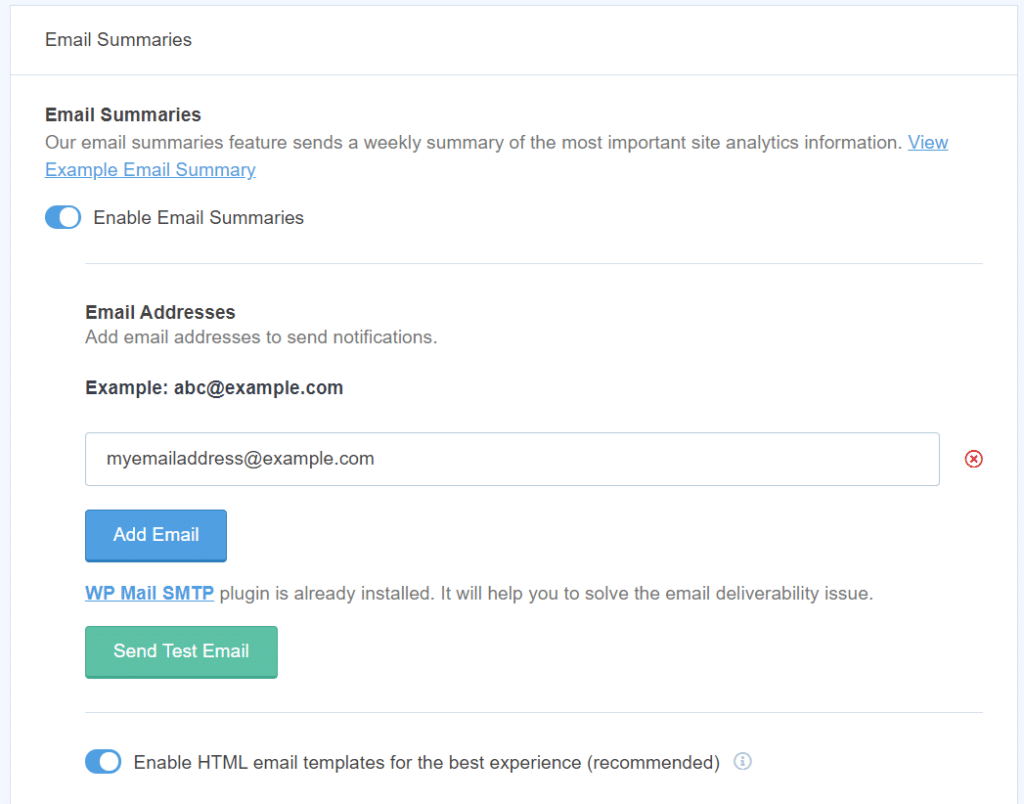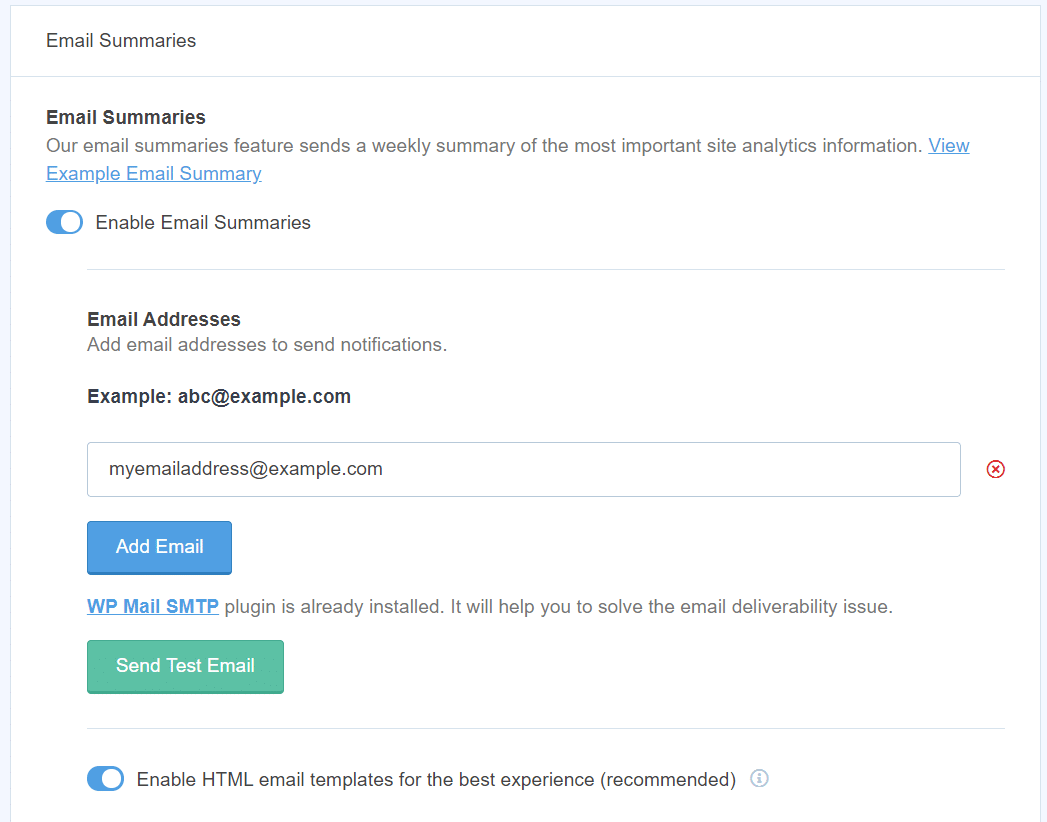 Another way you can make the most out of email summaries is if you're an agency and have many clients.
You can send them reports of their website's performance every week. This way your clients will know the efforts you're putting in and also stay on top of how their site is doing.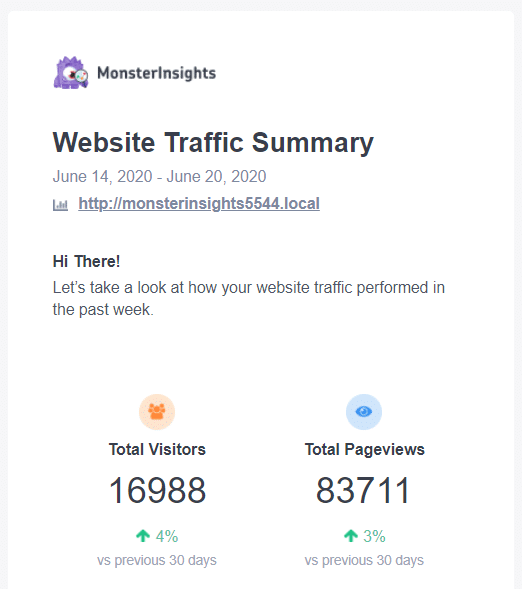 Save MonsterInsights Reports as PDF Files
While email summaries keep you updated on your site's performance, imagine if you could simply download your MonsterInsights reports and then share them with other team members or clients?
Sounds amazing, doesn't it…
So, we're excited to introduce a new feature called Export PDF Report.
You can save any MonsterInsights report (excluding real-time reports) as PDF files.
With PDF exports, you can say goodbye to the agony of formatting your reports to make them look presentable.
Just click on the Export PDF Report option and get properly styled reports. Plus, you also get to see the date range in the PDF file, so you know when the data is from.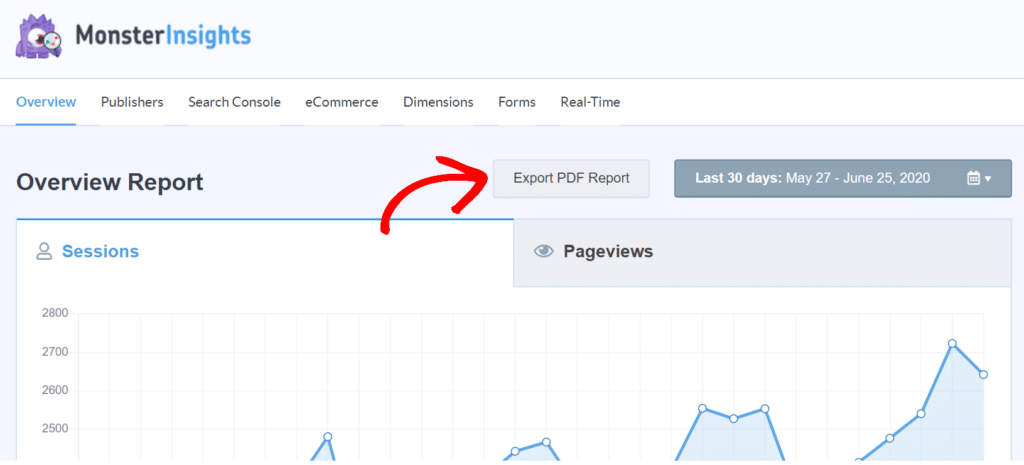 New and Improved Date Range Picker
The next new feature we have for you is our new date range picker. You can now choose from a selection of predefined date ranges or a custom date range to view your data.
Before this, MonsterInsights only had 3 options to view the stats of your website. They included the last 7 days, last 30 days, and custom date range selector.
We've now made the date picker simpler and you get more options to easily view past data of your site. But the best part is that it now remembers the date range option you selected.
So, if you choose the Last 30 days as an option, the next time you view a MonsterInsights report, it will show you data from that date range.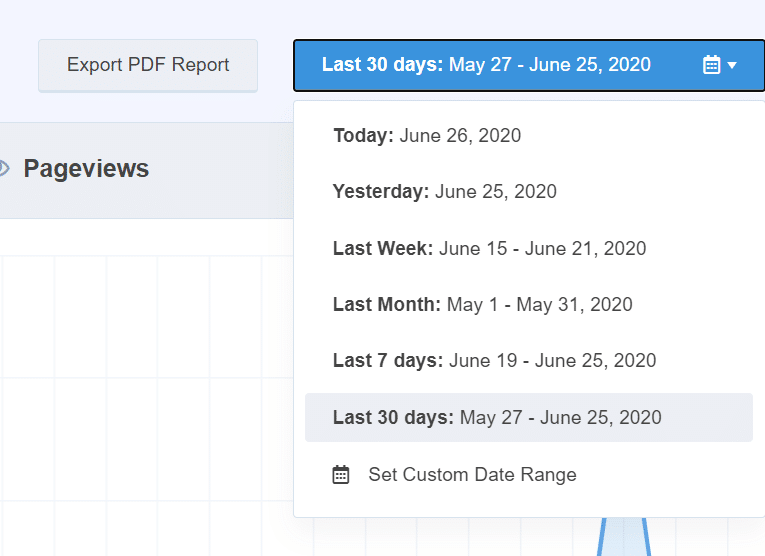 New Multisite Network Setup Wizard
Are you running a WordPress multisite network and looking for an easy way to add Google Analytics to all your sites?
With MonsterInsights new onboarding and setup wizard, you can easily configure analytics across the entire network and save a lot of time and effort.
You no longer have to manually configure Analytics on each site individually, which would otherwise take weeks or even months.
Simply follow the new setup wizard and add the tracking code to your main site. This way MonsterInsights will automatically track all your websites in the network.
Here's a detailed guide on how to set up Google Analytics on WordPress multisite network.
Get Cleaner Custom URLs with Pretty Links Integration
Did you know that you can now create a cleaner and shareable custom URLs in MonsterInsights with our new integration with Pretty Links?
Using MonsterInsights URL builder, you can create custom links to use in your campaigns and track their performance. But each URL contains UTM parameters in the end, which makes them look long and complex.
To help you create simpler URLs that are pleasing to look at and easier for users to enter in their browsers, we've integrated our URL builder with Pretty Links.
So, when you create a custom URL in MonsterInsights, just click Copy to Pretty Links. This will automatically create a clean URL for you to use and intelligently fill in the required fields in Pretty Links.
These shortened and cleaned custom links are useful if you perform a lot of offline marketing campaigns. For instance, you can easily display them on print ads and reduce the chances of errors when a user enters the URL in the browser. This way you can easily track each campaign's performance.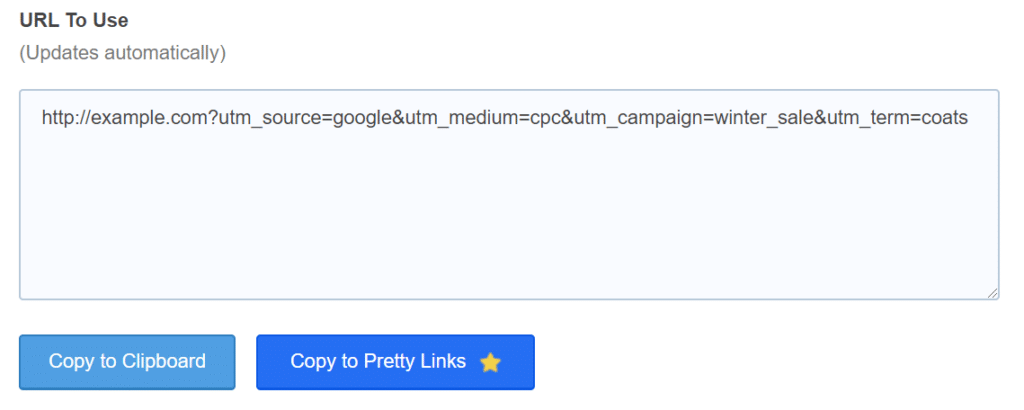 And that's it for today!
MonsterInsights 7.11 is now available with all the new features. So, what are you waiting for? Click here to get started with MonsterInsights today!
We've got more features and releases lined up for you, so stay tuned for upcoming announcements.
And in the end, we'd like to thank you for your continuous support and for making MonsterInsights the best Google Analytics WordPress plugin.
If you have any questions or want to get instant notification for future releases, don't forget to subscribe to our newsletter and follow us on Twitter and Facebook.