Two months ago, we shared a sneak peek of the next phase of MonsterInsights development, focused on actionable reporting.
After lots of hard work from our development team and tons of user testing, we're proud to announce that MonsterInsights 7.0 is now available for everyone!
Let's take a look at what's new in MonsterInsights 7.0…
New and Improved Reporting
With this release, our entire focus was on creating a better reporting dashboard, so you can see all the important metrics right inside your WordPress dashboard.
In the new and improved MonsterInsights dashboard, you can see sessions, page views, average time on site, and more. This makes it easy to see how your site visitors engage with your content.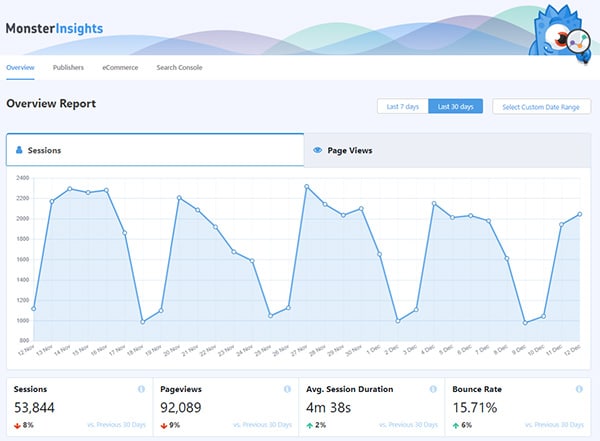 The new dashboard also shows you:
Bounce rates
New versus returning visitors
Device breakdowns
Top countries (in an easier to view list format)
Top referral sources
And of course, your site's top post and pages
There's also now an option to choose your own custom date range for your reports.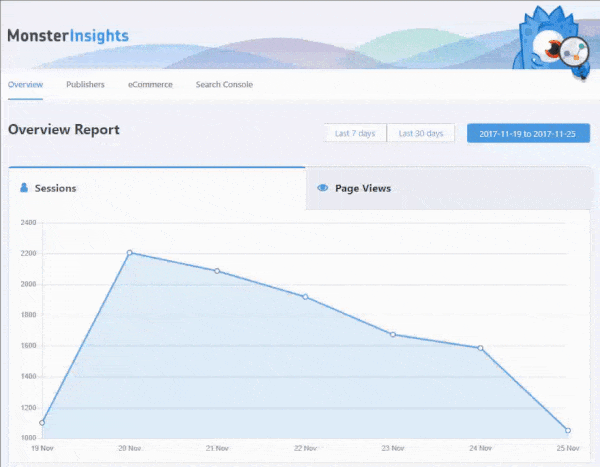 Publisher, eCommerce, and Search Console Reports
You'll notice that besides the analytics overview, there are a few more reports available.
The publisher's report features your top 10 landing pages, exit pages, your top download links, and top affiliate links.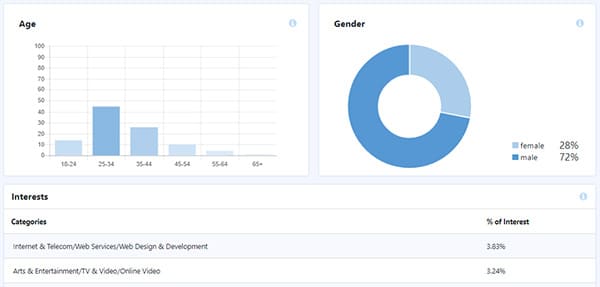 eCommerce site owners can now see at a glance your store's conversion rate, transactions, revenue, average order value, and much more.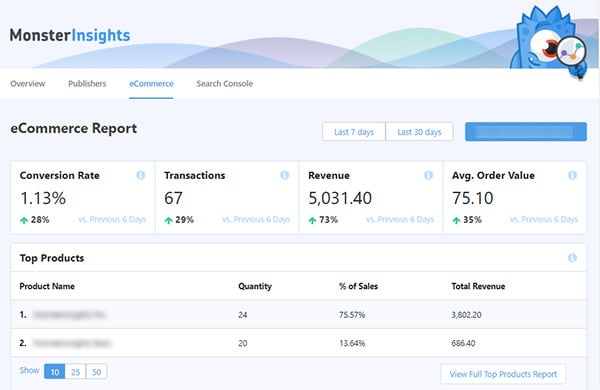 Plus, in the Search Console tab, you can see stats on your top 50 search terms, so you can see how your site is being discovered: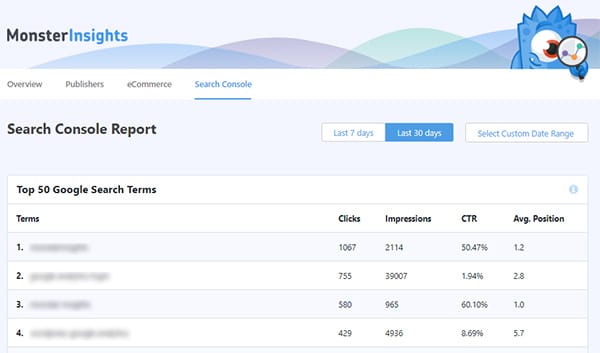 For more details, see our guide on how to find your Google Analytics reports in MonsterInsights.
Better, Faster Performance
You might think that having all this data at your fingertips might slow down your website.
But, rest assured, we take your WordPress site speed and performance seriously.
With MonsterInsights 7.0, you'll see that your reports will load faster than ever.
When is MonsterInsights 7.0 Available?
Right now! All MonsterInsights users can now update to the latest version.
Keep in mind that in order to see the new Overview Report, you'll need to re-authenticate your Google Analytics account.
Don't worry, it'll just take a second.
We have made it even easier for you to authenticate your Google Analytics account without copying and pasting any code – here's how to connect MonsterInsights to your Google Analytics account.
When you go through the authentication process, you'll notice that it asks for additional permissions to give MonsterInsights access to your Google Analytics data.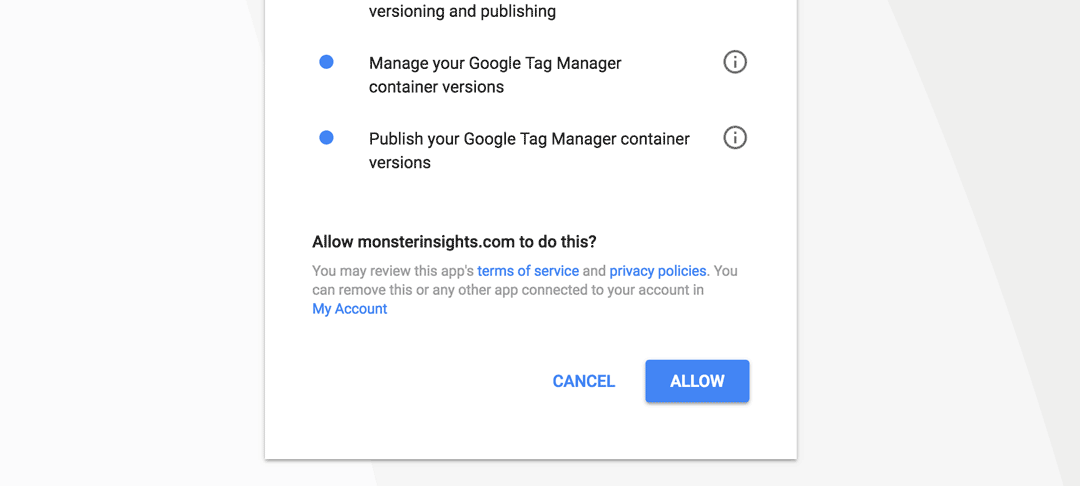 The extra permissions help MonsterInsights to seamlessly access and display your analytics data in your WordPress dashboard, making it easier for you to keep a close eye on how your site is performing. You can see our guide on Google Permissions for oAuth for details on exactly how each permission is used.
If you have any questions, please free to get in touch using our contact form.
And thank you for all your support. We're excited to share these new features with you and look forward to bringing you even more in the near future!
Lindsay and the MonsterInsights team