With MonsterInsights, you'll be able to view Google Analytics reports right inside your WordPress dashboard, where you can see your site's performance at a glance.
In this article, we'll show you where to find your Analytics reports in your WordPress dashboard.
Before we get started, we're assuming that you've already installed the MonsterInsights plugin and authenticated it with your Google Analytics account.
To view your reports, you just need to go to Insights » Reports in your WordPress dashboard.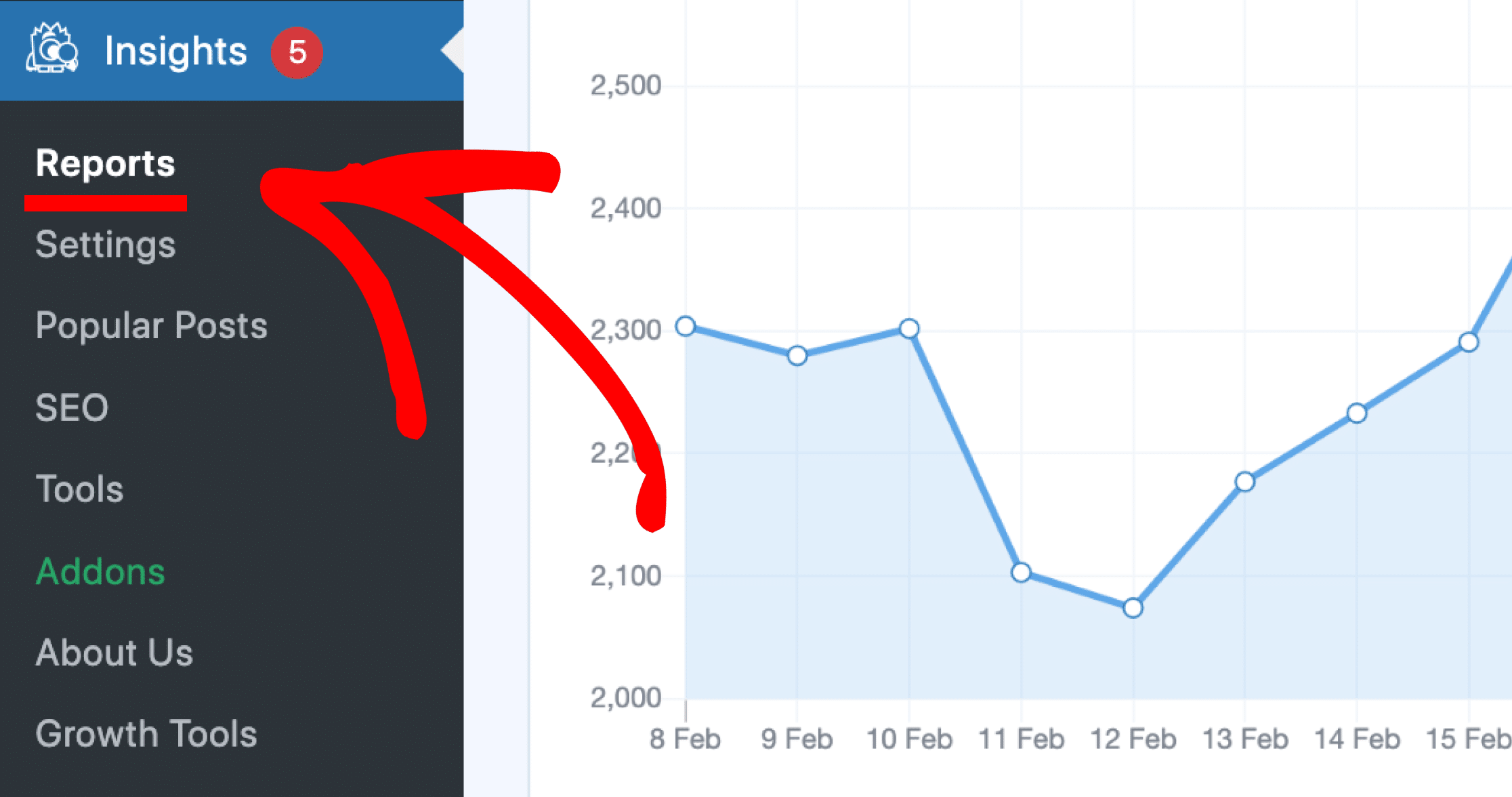 While viewing reports, you'll be able to switch from the Overview report to other available reports. Some reports are viewable with a Plus subscription, while others require a Pro subscription. It will depend on which plan fits your needs.
Here's a quick overview of MonsterInsights reports:
Overview (available in all versions)
Publishers (Plus or higher)
Search Console (Plus or higher)
eCommerce (Pro or higher)
Dimensions (Pro or higher)
Forms (Pro or higher)
Real-Time (Plus or higher)
Site Speed (Plus or higher)
Overview Report
The Overview Report is available in all versions of MonsterInsights and displays Pageviews, New vs. Returning Visitors, Device Breakdown, Top 10 Countries, Top 10 Referrals, and Top Posts/Pages.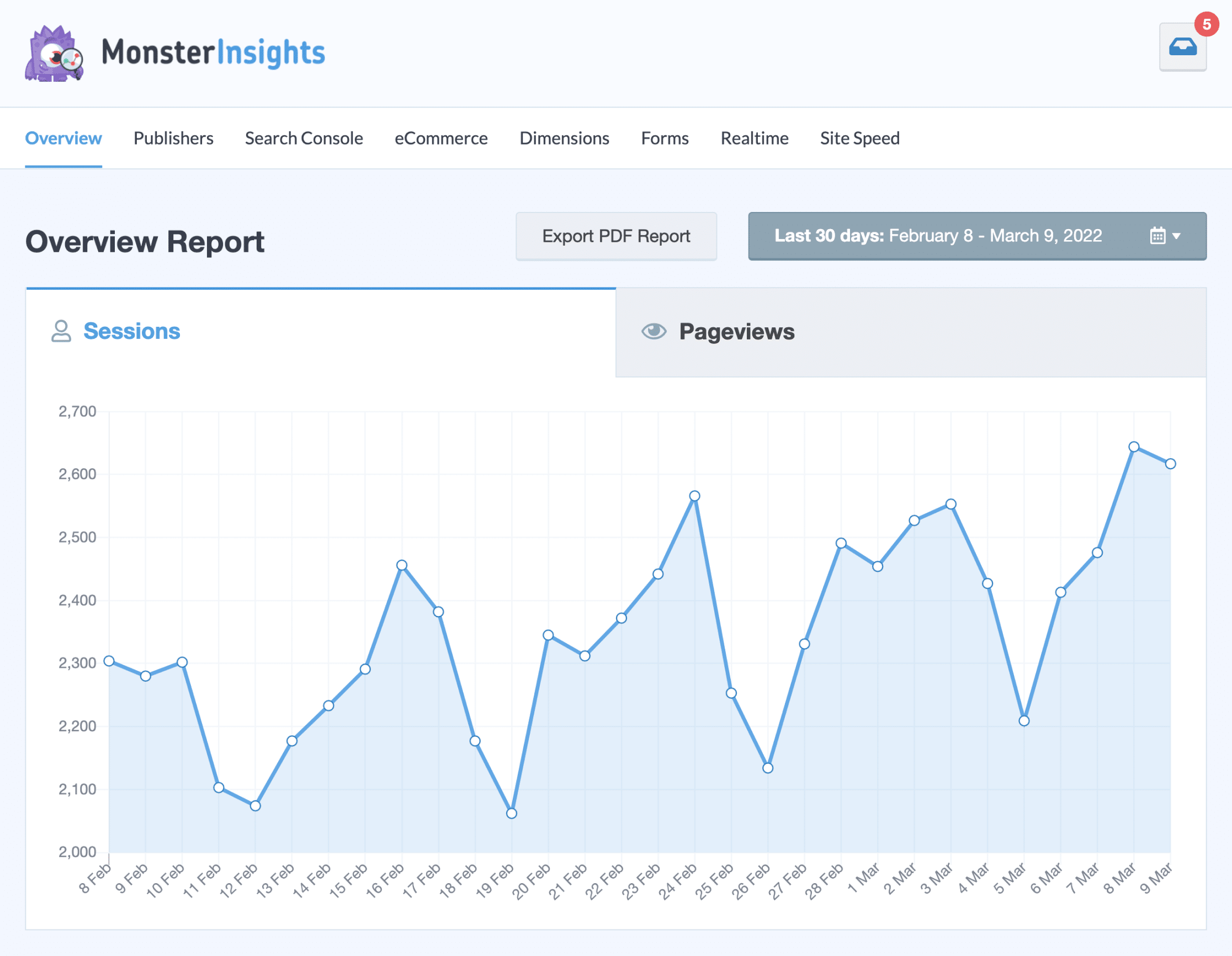 Publishers Report
In the Publishers Report at Insights » Reports » Publishers, you'll see Top Landing Pages, Top Exit Pages, Top Outbound Links, Top Affiliate Links, Top Download Links, the demographics of your users and scroll depth.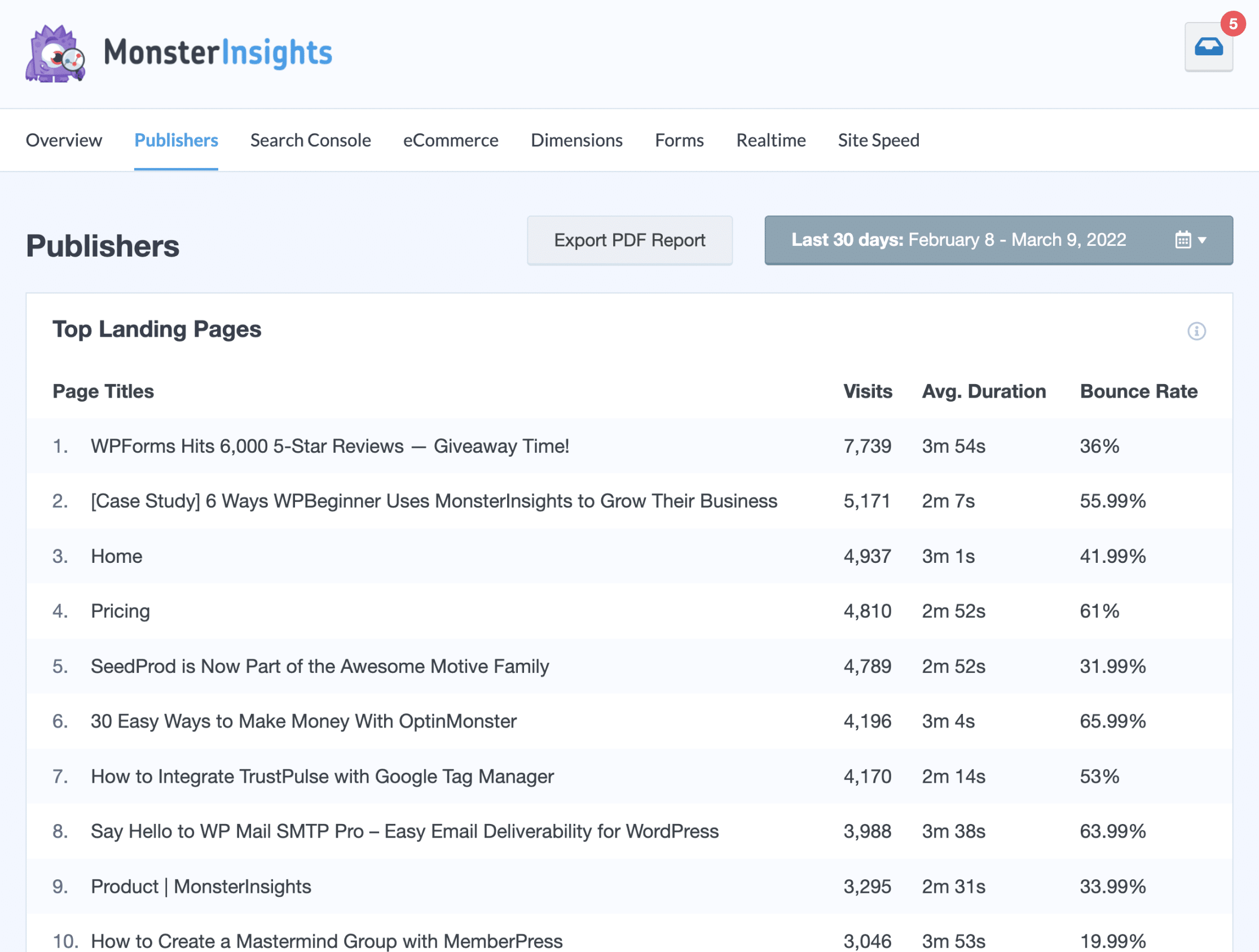 Search Console Report
The Search Console Report at Insights » Reports » Search Console shows you your Top 50 Google Search Terms.
Next to each term it shows, Clicks, Impressions, Click-Through Rate (CTR), and Average Position of each term.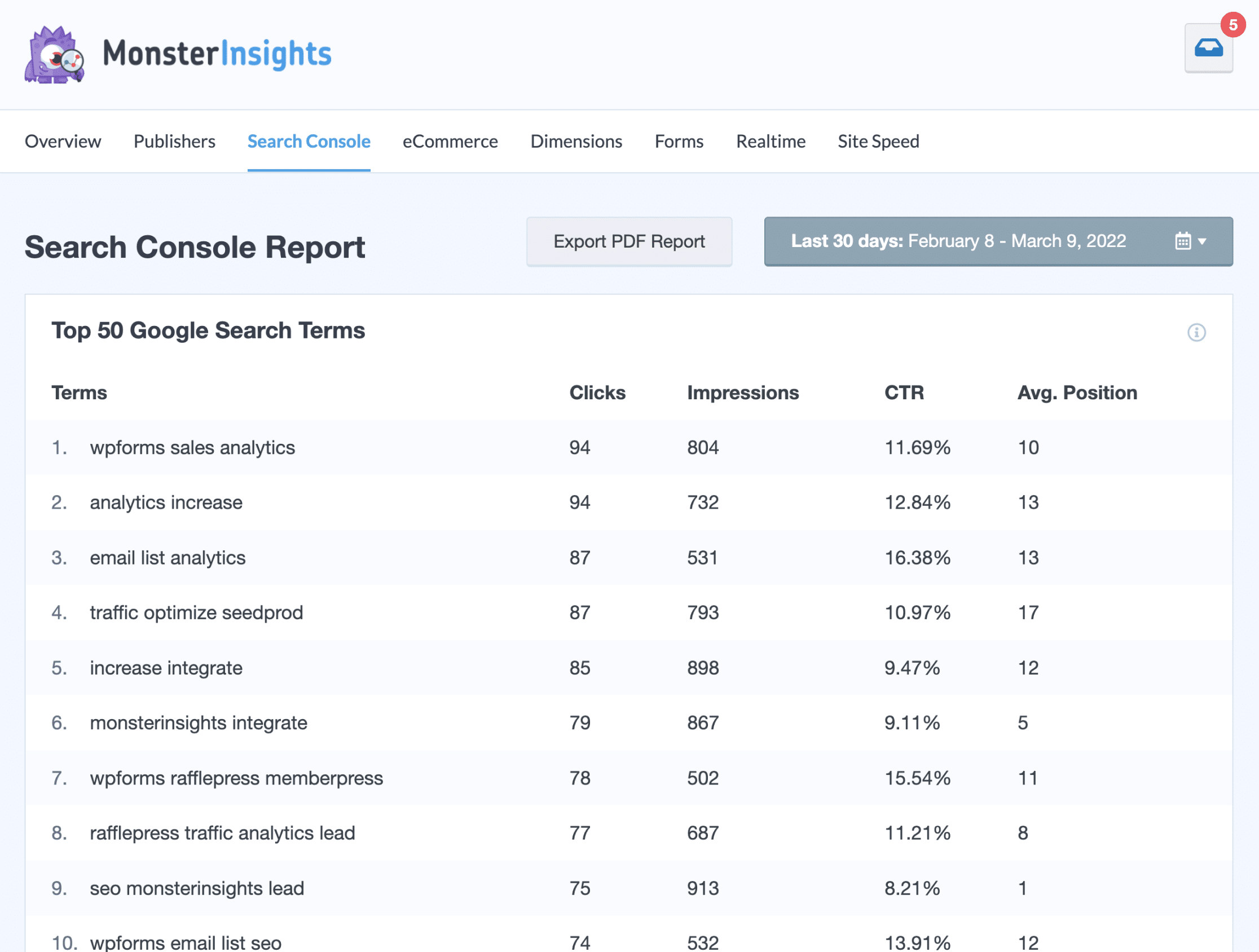 eCommerce Report
The eCommerce Report at Insights » Reports » eCommerce shows you at a glance your Conversion Rate, Amount of Transactions, Amount of Revenue, Average Order Value, Top Products, and Top Conversion Sources.
Additionally, you can see Total Add to Carts, Total Removed from Cart, Time to Purchase, and Sessions to Purchase.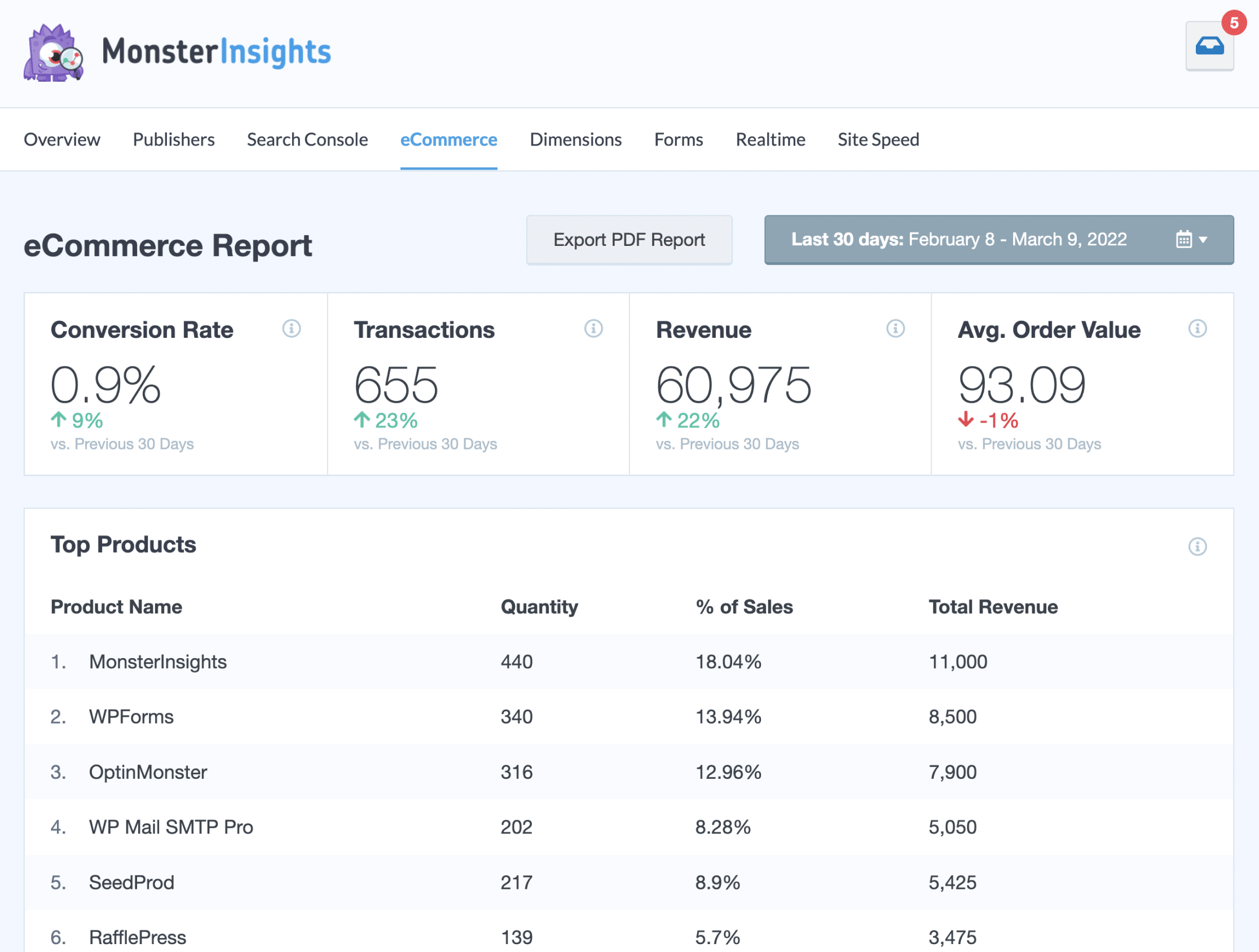 Custom Dimensions
With the Custom Dimensions addon, you can choose to track your own custom data and display it in your MonsterInsights dashboard and reports.
Custom Dimensions are viewable at Insights » Reports » Dimensions, depending on what dimensions are set up.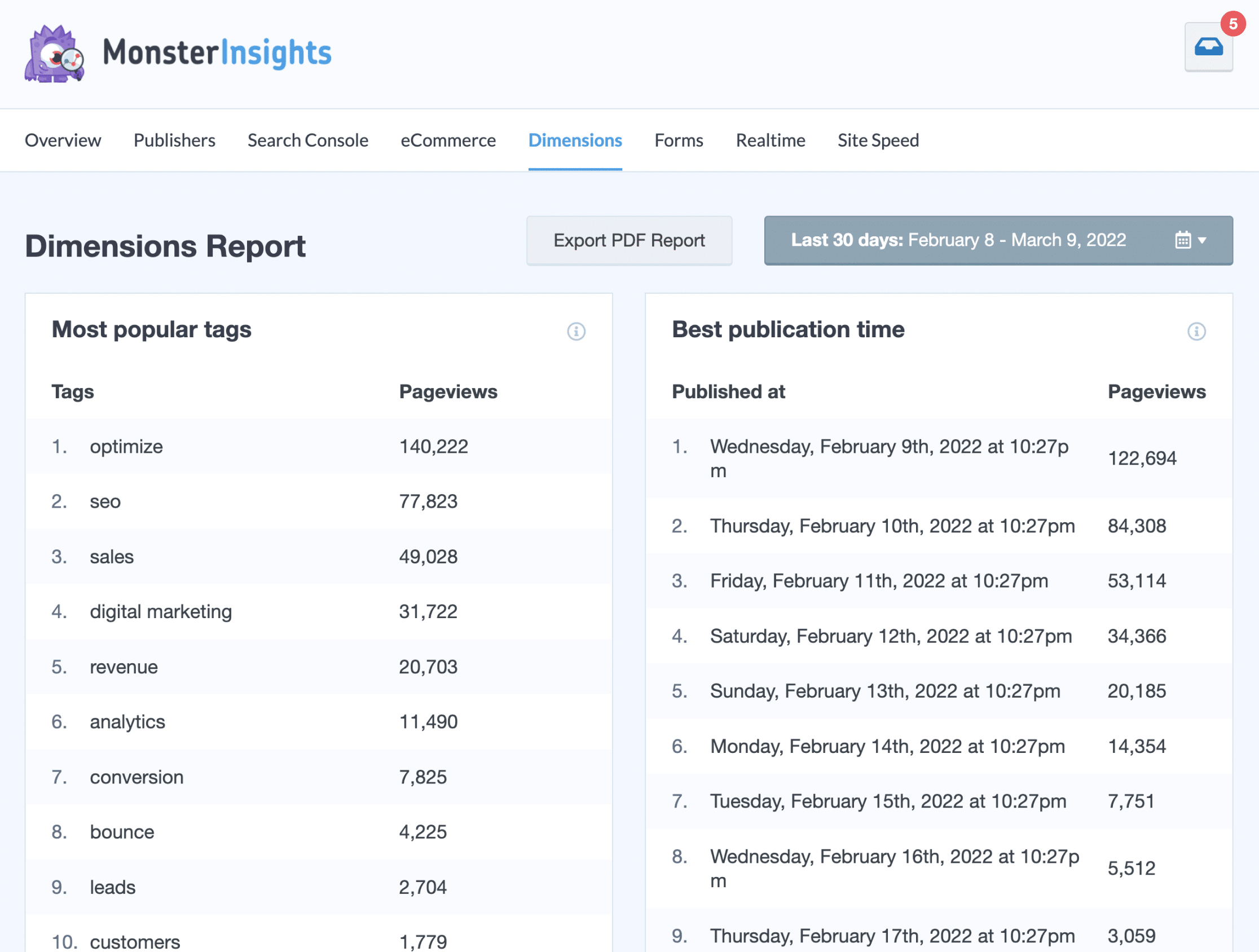 Forms
The Forms Report at Insights » Reports » Forms shows your form impressions, conversions and conversation rate.
Real-Time
The Real-Time Report at Insights » Reports » Real-Time lets you see user activity on your website as it's happening right now.
Learn the different ways that you can use the Real-Time report.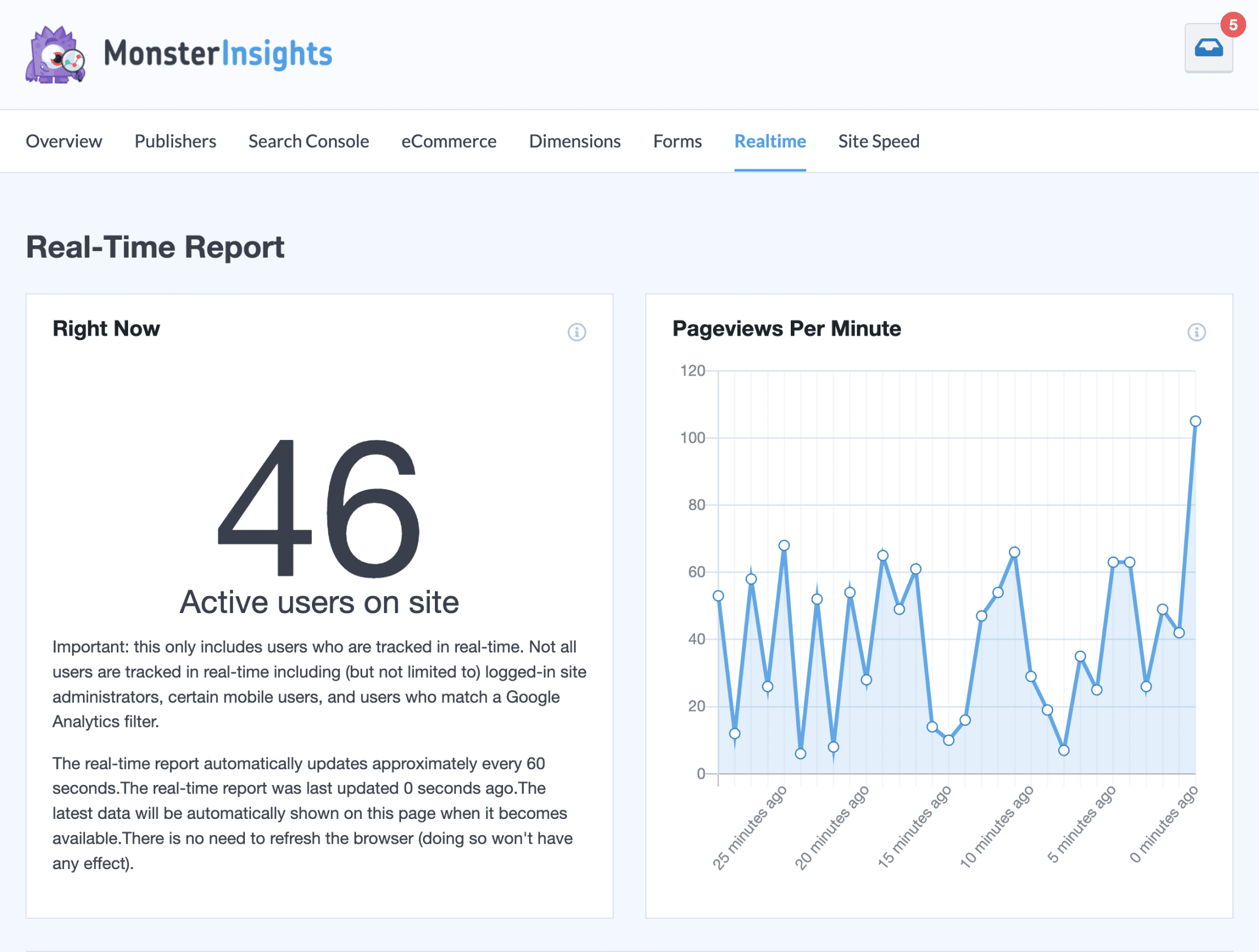 Site Speed
The Site Speed Report at Insights » Reports » Site Speed provides you a quick glance of your site's performance and load time.
Learn how to use this report to check and improve your site's speed.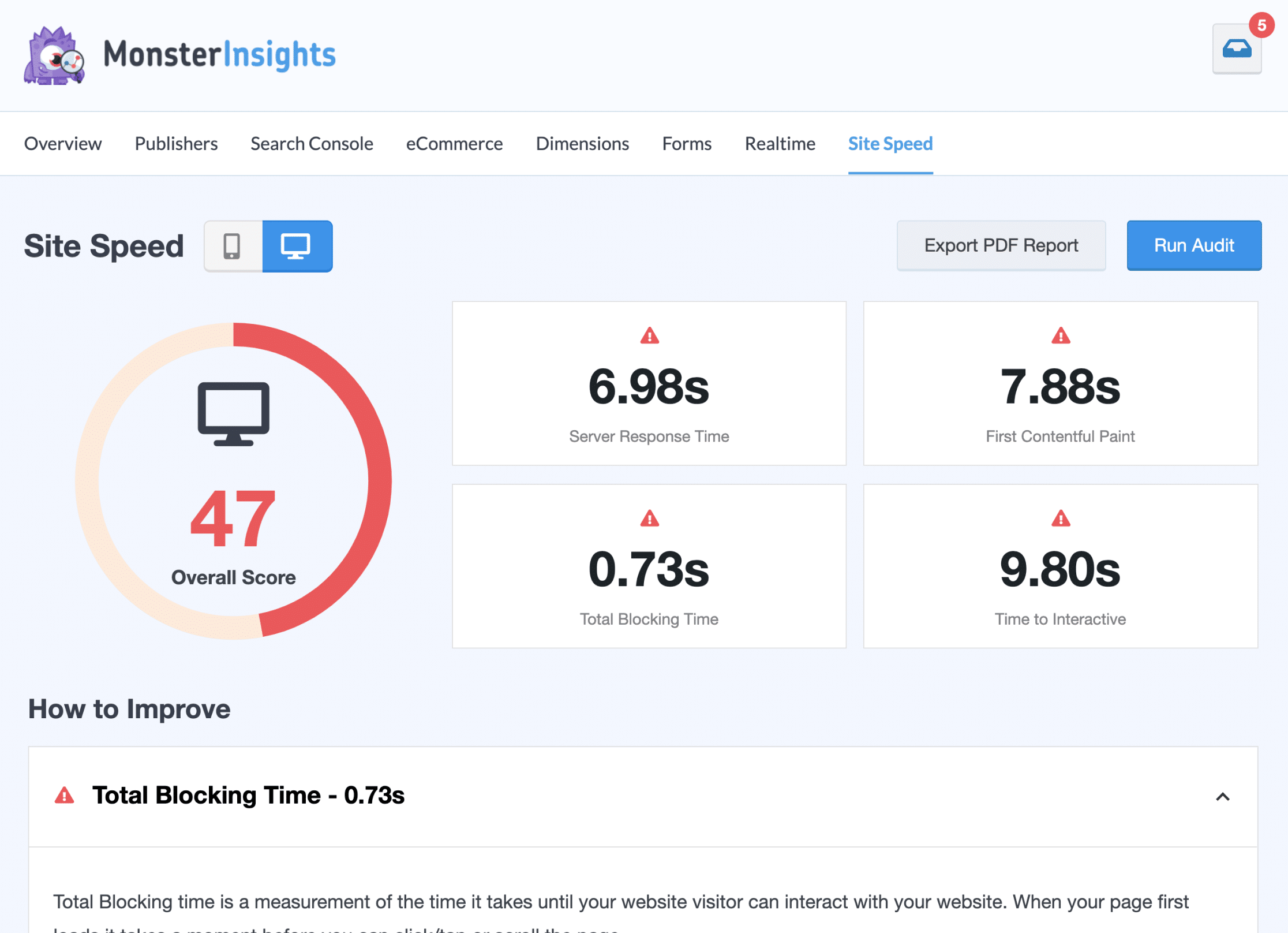 That's it! You've learned about MonsterInsights reports and where you can find them in your WordPress site.