Want to learn how to create custom reports in Google Analytics? Having custom reports of site data that means the most to you can help you improve your business, drive more leads, and convert more customers.
In this article, we'll show you how to create custom reports in Google Analytics so you can start collecting all the information you feel is most crucial to the success of your business in one convenient place.
Step 1: Create a New Custom Report
The first thing you'll need to do is log into your Google Analytics account. If you need help with this, check out this step-by-step tutorial on how to set up Google Analytics in WordPress.
Then, click on the Customization » Custom Reports.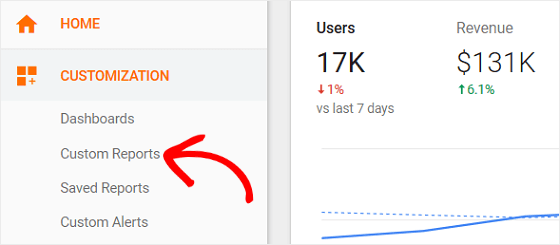 Next, click on + New Custom Report.

Now, give your Google Analytics custom report a name. That way, if you ever decide to create more than one custom report for your website, you can tell the difference between them.

Next we'll take a look at the different report types you can choose from.
Step 2: Choose a Custom Report Type
Each Google Analytics custom report has one tab, though you can add more if you want. For our example, we'll stick with one tab and keep the default name Report Tab.

Now, you'll need to choose between the three report types:
Explorer. This is the standard Google Analytics report. It includes a line graph and a data table with dynamic things like a search and sort option, and secondary dimensions.
Flat Table. This custom report is static and has a sortable table that shows data in rows.
Map Overlay. This report type shows you a map of the world including regions and countries in darker colors when there is traffic or site engagement.

For our example, we'll choose the standard report type Explorer.
Step 3: Define the Custom Report Metrics
The metrics options you have to choose from will be different depending on which custom report type you chose. However, no matter which report type you picked, the metrics you define will determine which data to include in your custom report.
For our custom report, we'll choose the metrics % of new sessions, bounce rate, and average session duration. To do this, click on + add metric, search for the metric you want to add, and click on it.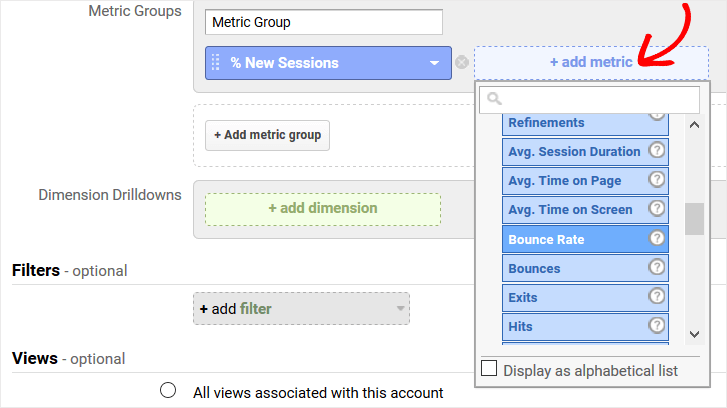 If you want to break down your metrics a little more, you can also add dimensions. For instance, click on the + add dimension box and break down the metrics by browser type to get more defined data about the activity on your website.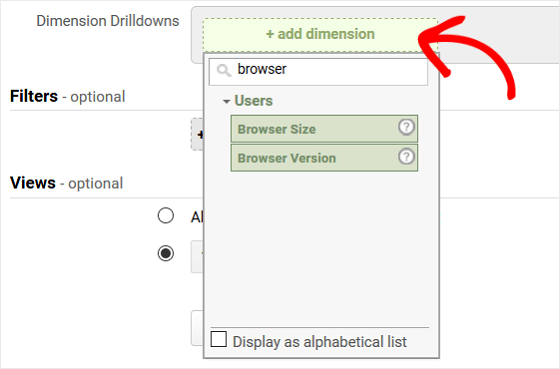 Step 4: Add a Filter
The last step is to add a filter to your custom report if you want to. Filters let you restrict the data that shows on your custom report. For instance, you can choose the dimension Browser Version. This will restrict the report to show browser activity only on specific browser types.

Just click on + add filter and pick the one(s) you want to apply to your report, if any.
And that's it! You now know how to create custom reports in Google Analytics. All you have to do is click Save and your custom report will be ready to go.
Once you click save, you'll automatically see your custom report data.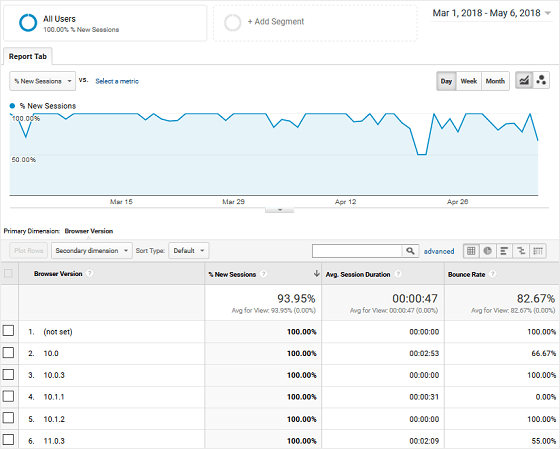 If you want to view your Google Analytics custom reports in the future, just go to Customization » Custom Reports and click on the report you want to view.
And if you want to dig even deeper into your Google Analytics data, in addition to the data you can now see using custom reports, be sure to check out MonsterInsights, the best Google Analytics plugin on the market today.
With it, you can enable enhanced eCommerce in WordPress to check out activity on your eCommerce site such as shopping behavior, user flows, and shopping cart abandonment.
In fact, if you are looking for ways to better analyze your eCommerce shop's data, and find more ways to make money online, check out this helpful roundup of pre-made custom reports for eCommerce.
And don't forget to follow us on Twitter and Facebook for more helpful Google Analytics tips.