Are you curious to know which devices your customers use before making a purchase? It's possible that your users may visit your website using multiple devices like their phone, tablet, or computer.
Since they used different gadgets, Google Analytics will count them as separate users during tracking.
But what if you want to see the customer journey of users and did they use many devices before converting. This is where you need to cross-device tracking on your website.
In this article, we'll show you how to set up Google Analytics cross-device tracking, so you can get insights and better understand your user's behavior.
So, let's begin…
Benefits of Cross-Device Tracking
If you have an eCommerce store or run Google ads to promote your products, then cross-device tracking is really helpful.
It offers insights that you can use to optimize your ad campaigns and create a personalized experience based on which device your audience uses to buy your products.
To give you an example, let's say you want to see whether a person who viewed your ad on mobile and desktop are the same. By default, that wouldn't be possible in Google Analytics because it would count them as separate users.
This is where enabling cross-device tracking can help you out. You could see the exact journey took by your visitor and whether they clicked on your ad on one device and made a purchase from another device.
Using the information, you can see a pattern in your user's behavior and then create campaigns for each user differently to maximize your conversions.
Now, how do you set up cross-device tracking?
How to Configure Google Analytics Cross-Device Tracking?
When it comes to tracking users across different devices, there are 2 ways you can go about it.
The first method is to add user ID tracking to your website and the second method is to use Google Signals for cross-device tracking.
We'll explain both these ways, so let's start…
Method 1: Cross-Device Tracking Using User ID
Google Analytics offers a feature where you can enable user ID on your website. User ID is a unique code that Analytics assigns to each individual user that's logged in to your website.
That way, it counts them as a single user instead of sperate users when they use multiple devices to complete a conversion.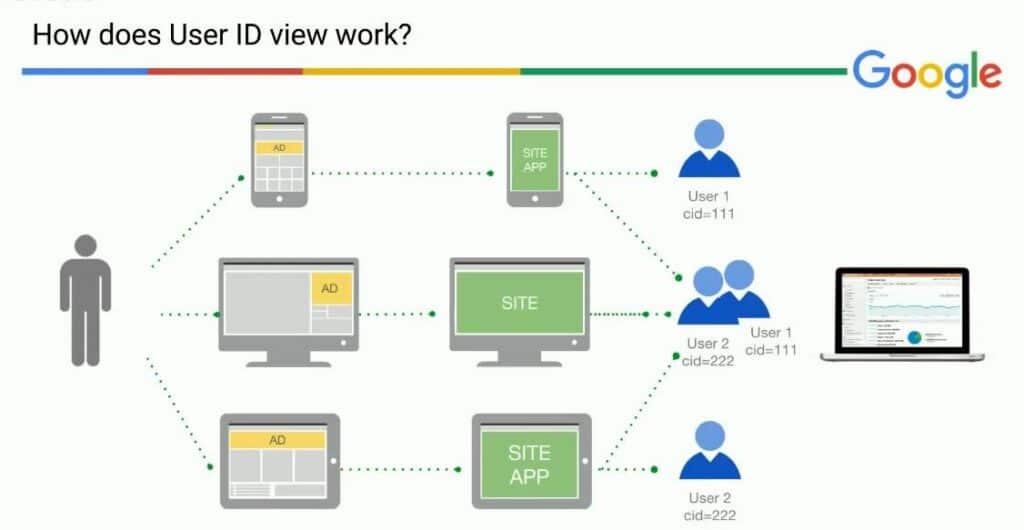 But don't confuse user-ID with the client ID, both are different. Client ID is for a unique browser/device and only works on the browser/device it's been configured on. So, you cannot measure it across multiple devices.
With that out of the way, just follow these steps to set up User-ID.
Step 1: Install MonsterInsights Plugin
The first thing you'll need is to install MonsterInsights on your WordPress website.
That's because setting up user ID requires changing your analytics tracking code. Now, unless you're a developer, it's not possible for everyone to edit code.
This is where you need MonsterInsights, as it's the best Google Analytics WordPress plugin. It lets you add Google Analytics to your website and set up User ID without any coding.
That's not all, you can also configure advanced tracking that's not available by default in Analytics or requires coding, like cross-domain tracking. All it takes is a click of a button.
Do note that you'll need MonsterInsights Pro, as User ID tracking is available in its eCommerce addon.
Step 2: Enable User ID Tracking in MonsterInsights
After setting up MonsterInsights, it's time to enable user ID.
And to do that, first install and activate the MonsterInsights eCommerce addon. You can go to Insights » Addons and then navigate to eCommerce to activate.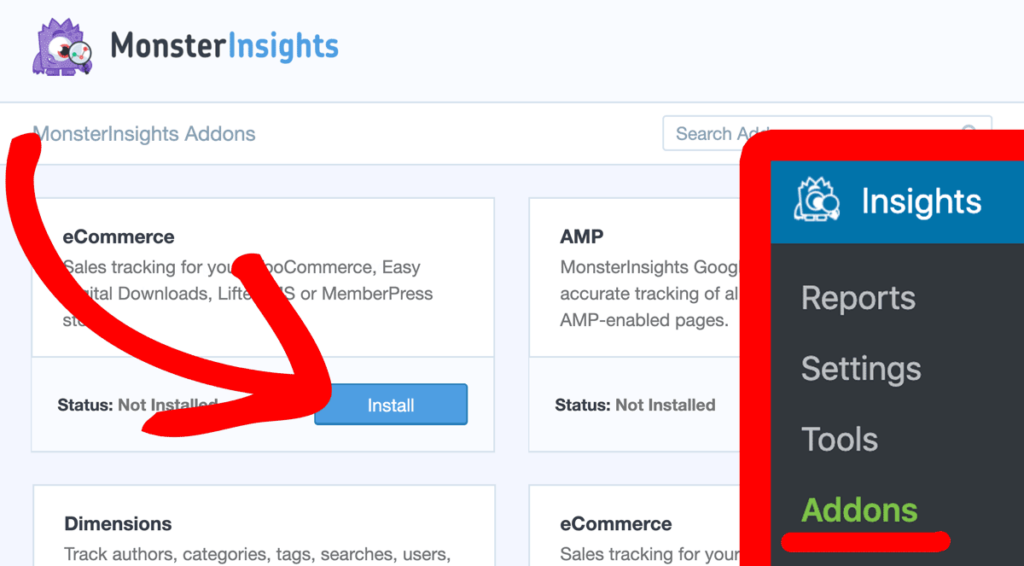 Once that addon is active, go to Insights » Settings » eCommerce.
Now scroll down and you'll see User ID Tracking. Click on the toggle to enable the option and then Save Changes.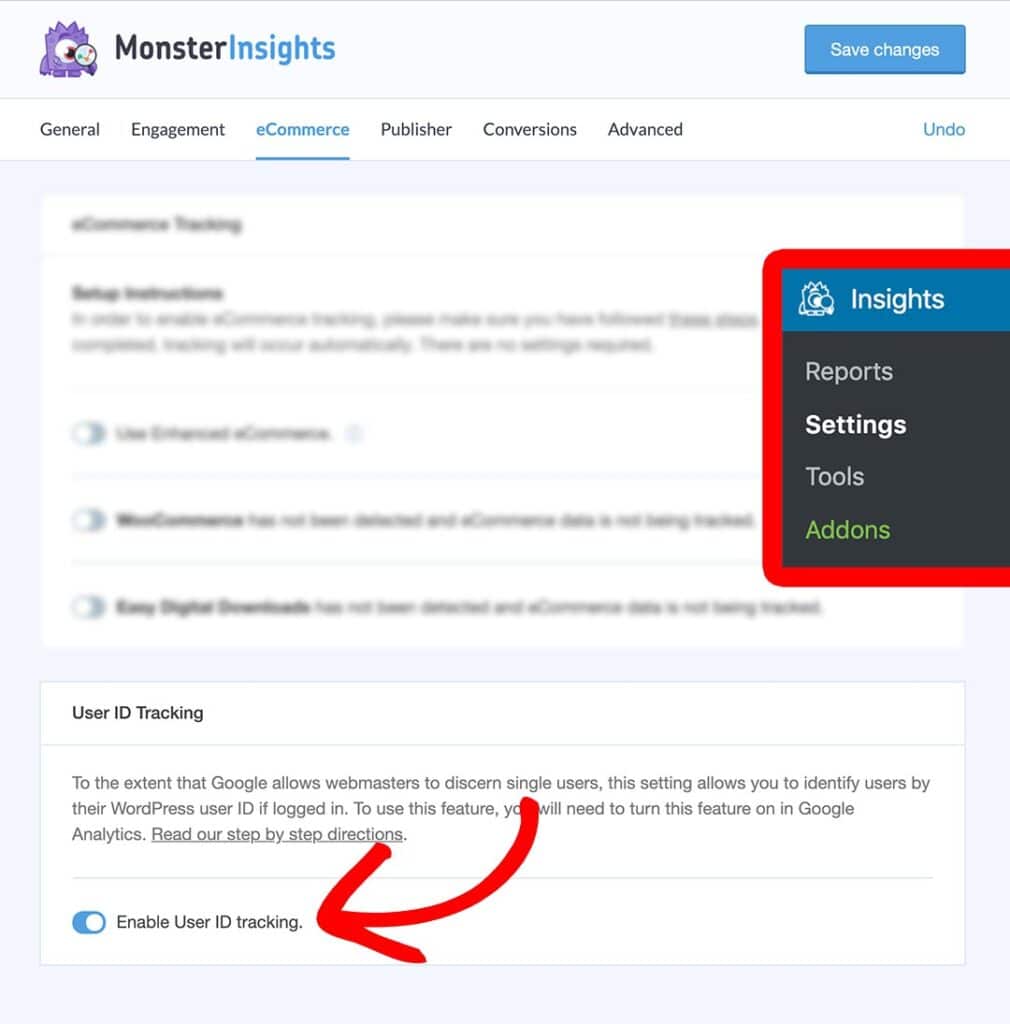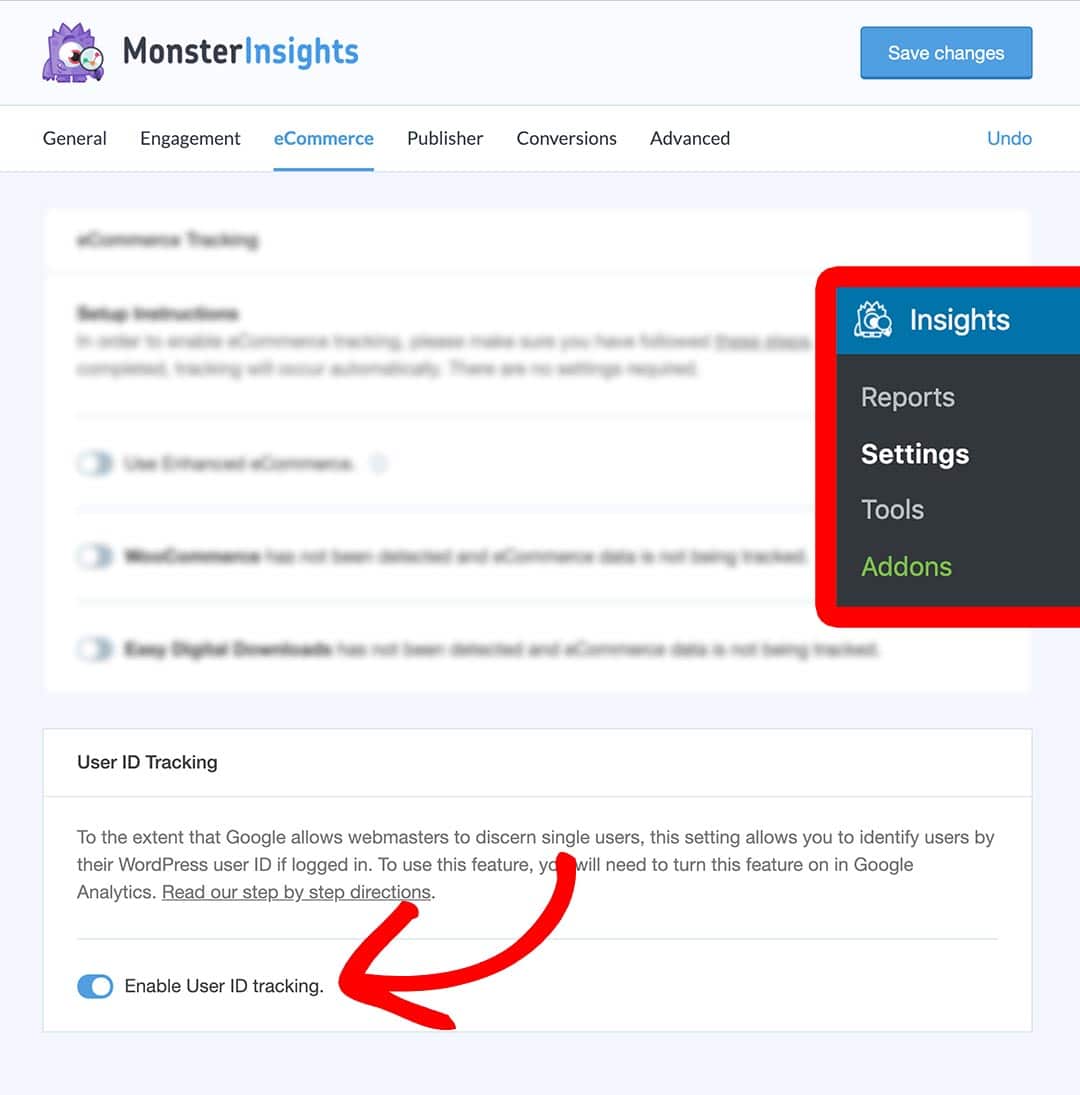 Step 3: Enable User ID Tracking in Google Analytics
With User ID ready for tracking in MonsterInsights, the next thing is it enable it in Google Analytics as well.
To start, login to your Google Analytics account. Then go to Admin, which is located at the bottom left corner with a gear icon.
Next, click on Tracking Info, which you'll see is in the middle column under Property. As you click on Tracking Info, you'll get more options and see User-ID. Click on it to continue.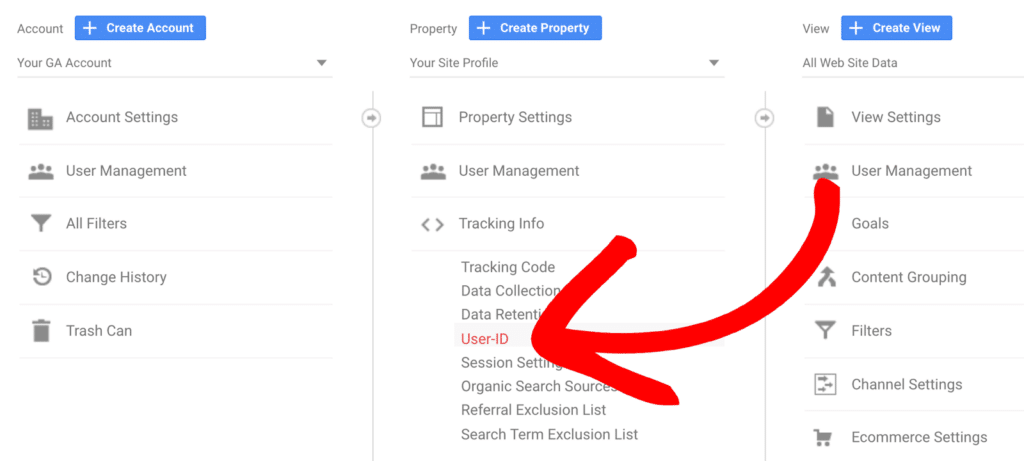 Now, you'll have to agree to the User-ID policy. To do that, simply toggle the switch to ON and click Next step.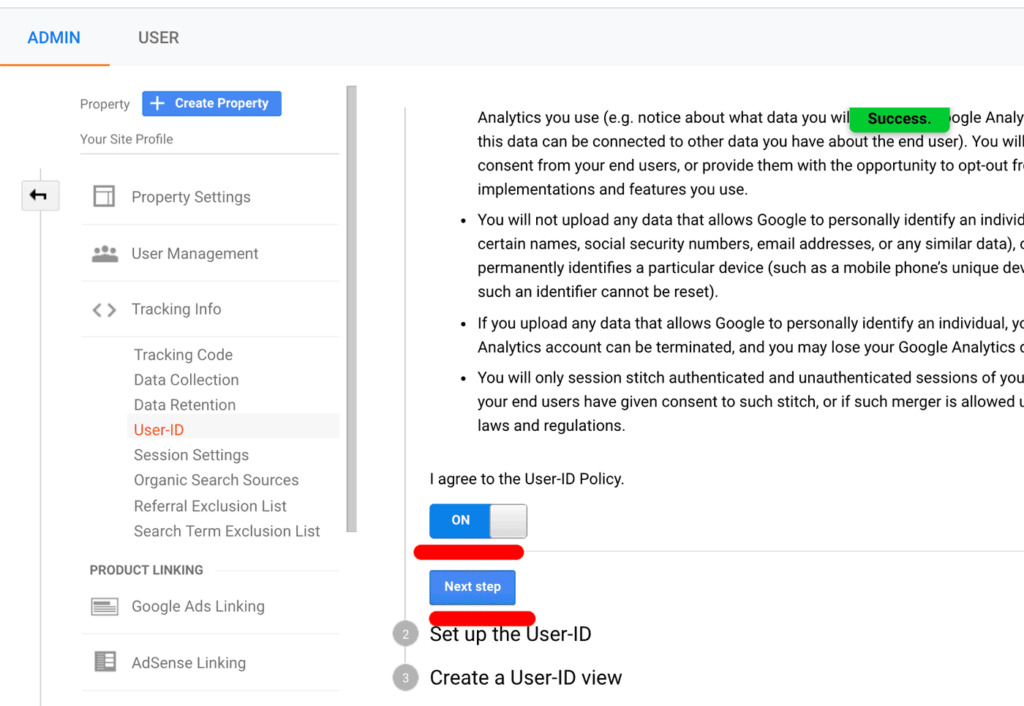 In the next step, Google Analytics will give you a code to enter on your website. But since you've already enabled User ID tracking in MonsterInsights, you don't have to do anything.
Just make sure that the Session Unification option is switched ON and then click Next step.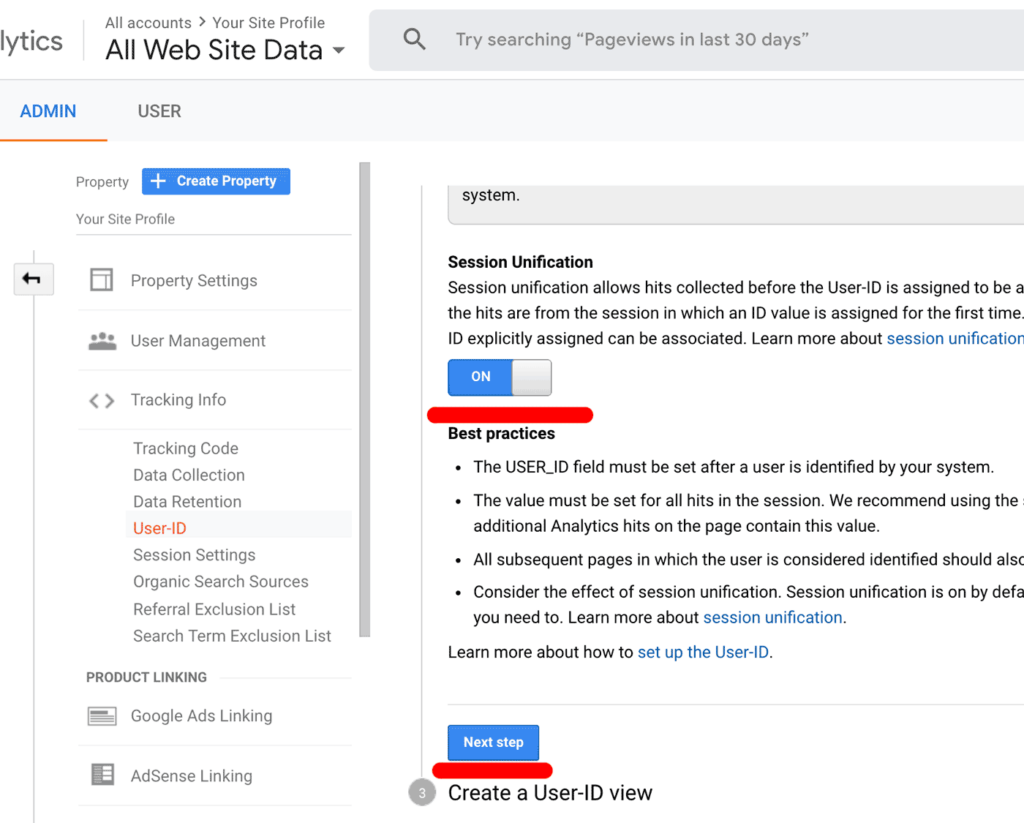 Now, click on Create to create a user-ID for your website.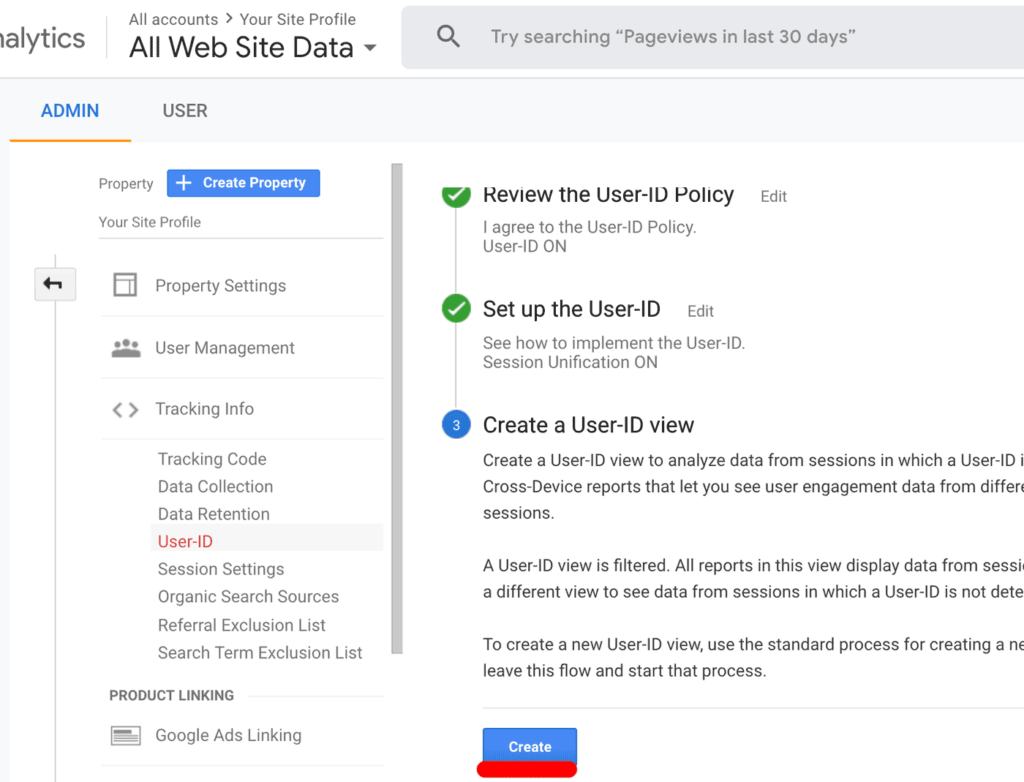 In the next step, you'll have to enter a Reporting View Name. We suggest that you use User-ID in the name as it will help you remember the view for which you enabled User ID tracking.
Also, make sure that you've enabled the option for Show User-ID Reports. Then, click Create View.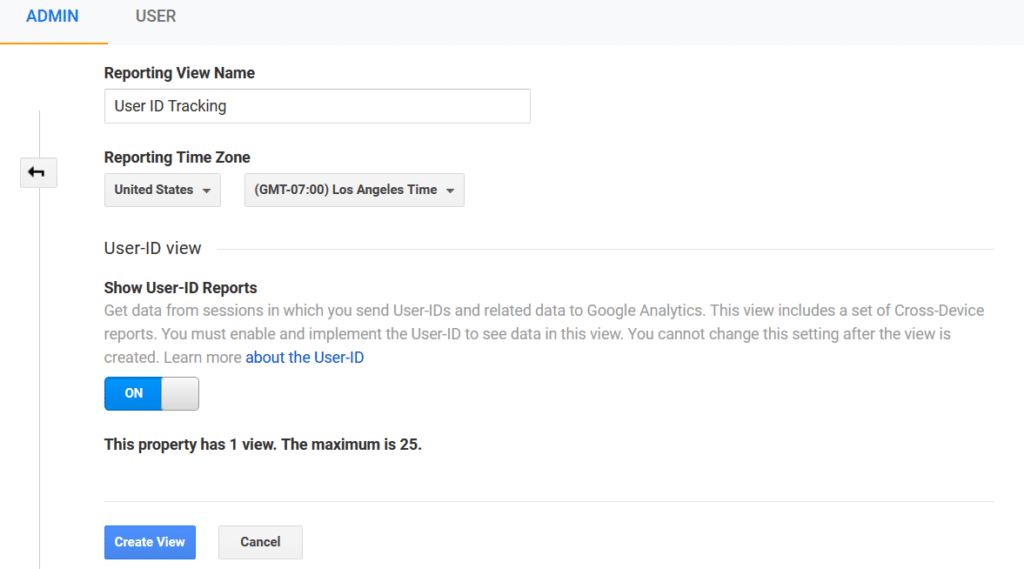 And there you have it, you've successfully enabled User-ID tracking in Google Analytics.
Step 4: View Cross-Device Tracking Reports
After configuring User ID tracking, you can now view your cross-device tracking reports for logged-in users.
Do note that it may take up to 24 hours for Google Analytics to display the data.
To view your report, go to your Google Analytics account and then navigate to Audience » Cross-Device. You'll then see 3 reports to choose from. Each report provides insights about your visitor behavior and how they reached the final goal using multiple devices.
Device Overlap – this report shows a Venn diagram to show the types of devices a user used to engage with your website
Device Path – you can use this report to see the order in which a user used different devices before completing a purchase
Acquisition Device – this report shows whether the visitor converted using the initial device or used another device
Method 2: Cross-Device Tracking Using Google Signals
While using User ID for Google Analytics cross-device tracking was for logged-in users, but what if you want to track all your visitors.
In such cases, you can enable Google Signal in Google Analytics and see which devices a user used to reach the end goal.
Google Signals is a new feature that collects data across multiple devices for users that are signed-in to any of their Google accounts (Gmail, YouTube, etc.).
To enable Google Signals, go to your Analytics account and click on Admin. Next, select Tracking Info under the Property column and click on Data Collection from the give options.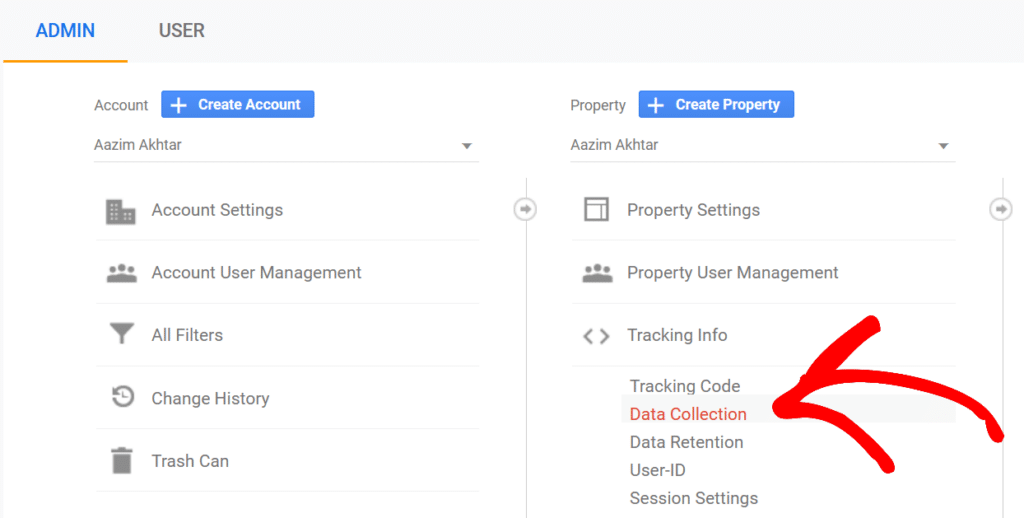 Now click on Get Started button at the top.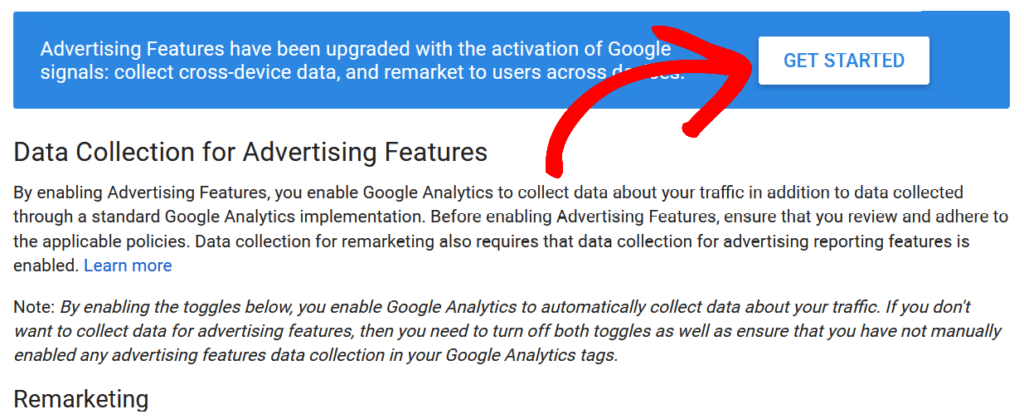 You'll now see a screen where it says Activate Google Signals. Click Continue.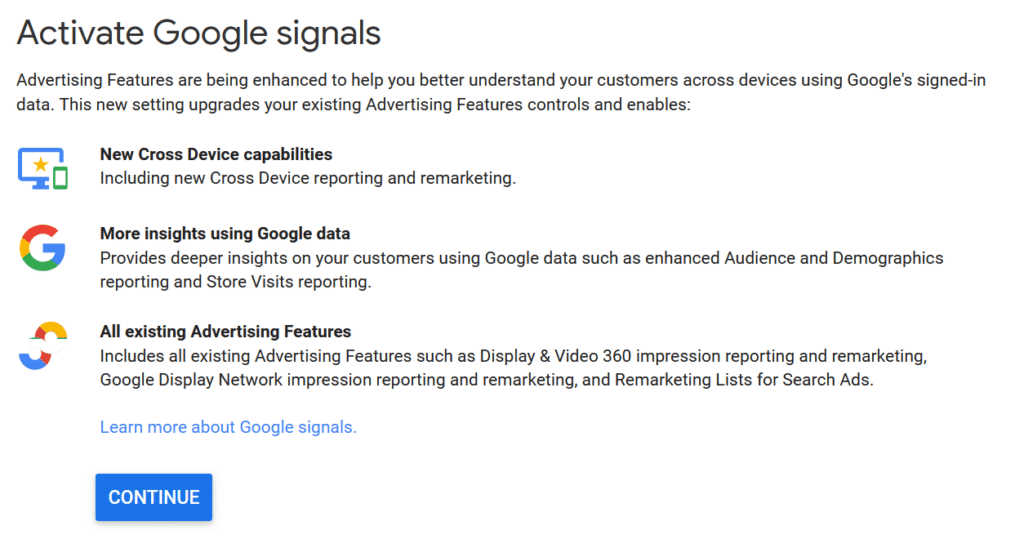 Next, you'll have to select a property for which you want to activate Google Signals. You can activate it for all properties, your current property, or a specific property.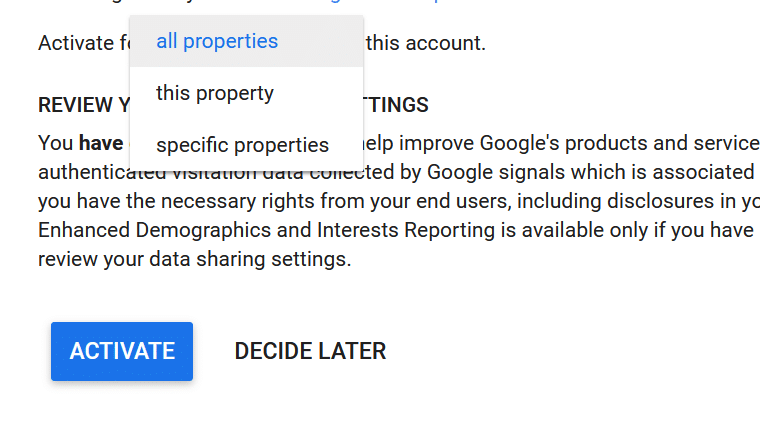 Once you activate Google Signals, you'll see a message saying congratulations. Click Done to continue.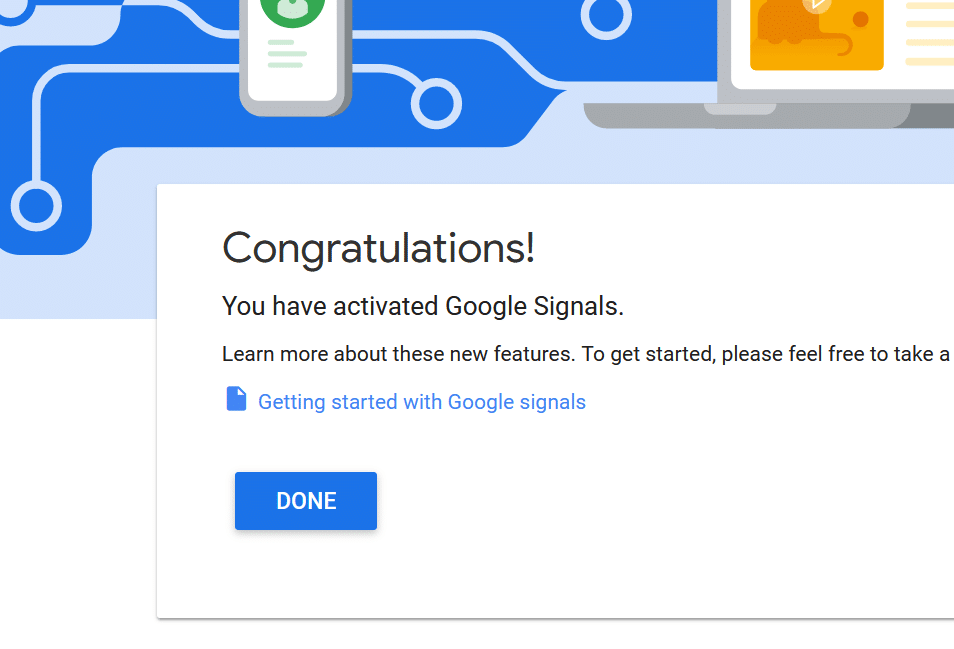 You can now access your cross-device reports in Google Analytics. But one thing you'll notice is that there will a new report called Channels along with the other 3 reports that were under User-ID method.
The channels report will give you information about the performance of cross-device channels as users are exposed to different marketing channels. It will breakdown the metrics into Acquisition, Behavior, and Ecommerce.
You can use the data from the report to see which marketing channel was most effective on which device in converting the visitor.
And that's it!
Using any of the two methods, you can easily track the cross-device behavior of your audience. It helps you optimize your ad campaigns and properly target your visitors.
We hope you liked our article on how to set up Google Analytics cross-device tracking. If you found this post helpful, you might want to go through our beginner's guide to custom dimensions in Google Analytics and how to add Google Analytics to WordPress.
Don't forget to follow us on Twitter and Facebook for more useful tutorials about Google Analytics.