Would you like to filter out your own traffic in Google Analytics? There are several methods for doing so. If you're using a static IP address, you can create an IP address filter to prevent internal traffic from affecting your data. In this guide, we'll show you how to use IP address filter to exclude internal traffic from Google Analytics.
Pros and Cons of IP Address Filtering
Google Analytics is used to track how your potential customers interact with your website. When your Analytics report contains both internal and external visitors of your website, it would become difficult to discern your customers' traffic from Analytics data.
You can stop Analytics from tracking your internal visits by whitelisting your IP address in Google Analytics.
Keep in mind that the IP address filtering is only applicable if you're using a static IP address, an address that doesn't change. A static IP address is normally used if external devices need to know your IP address so they can whitelist yours for security purposes.
Since most regular users do not need to whitelist their own IP, they use dynamic IP addresses instead, which change over time and are assigned by the network when they connect.
Your IP address doesn't travel with you, so if you connect to your site using another wireless network, a static IP address filter wouldn't work. Your activity would still be tracked and counted by Google Analytics.
An Alternative Method to IP Address Filtering
What if you're not using a static IP address? What if there's an easier way to filter out your own visits from tracking?
With MonsterInsights, you can easily filter out your own visits from tracking when you're logged into your site. All you need to do is to specify user roles you'd like to stop Analytics from tracking. It can be set up by navigating to Insights » Settings. Then click on the Tracking tab at the top.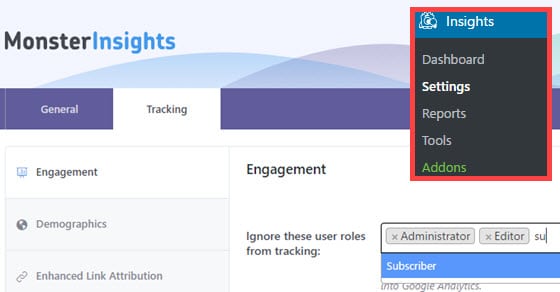 You'll now see the Engagement page where you'll find a field, Ignore these user roles from tracking. Specify user roles you'd like to stop tracking and click Save Changes.
For more detailed instructions, you can read our guide on how to stop Google Analytics from tracking logged in users in WordPress.
If you'd rather create a static IP Address Filter, you can continue reading below.
How to Create an IP Address Filter in Google Analytics
To create an IP address filter, you'll need to know the public IP address you're using. The easy way to find your IP address is by searching what is my IP address in Google.
Once you found it, you can create a filter for your website in Google Analytics.
First, log in to your Google Analytics account, and select the website you'd like to create a filter for.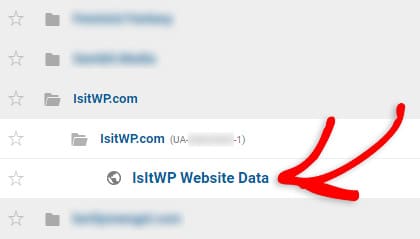 Then, click Admin in the left taskbar.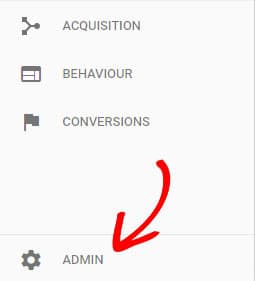 In the account column, click All Filters.

Then, click +Add Filter.

Let's enter the filter name, Internal Traffic Filter.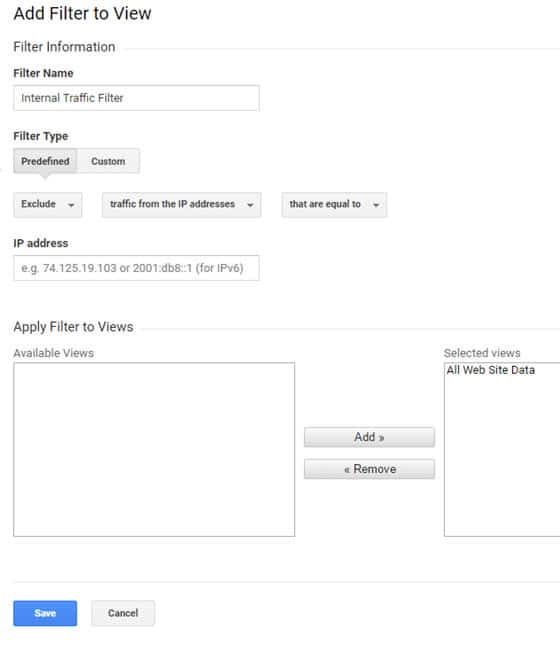 Now leave the Filter Type as Predefined. Select Exclude from the Select filter type dropdown menu.
In Select source or destination, select traffic from the IP addresses.
In the next dropdown menu, you can choose that are equal to.
Enter your IP address in the field below.
In the Apply Filter to Views section, you'll find Available Views. Select All Website Data and then click Add button on the right side. You'll now see that All Web Site data is being added to Selected Views.
Now click Save.
That's it!
You've successfully created a filter to prevent internal traffic from affecting your Google Analytics data.
If you liked this article, you might also want to read how to visualize the users' path through your website by conducting a user flow analysis.
Please follow us on Twitter and Facebook for more free tutorials.