Are you looking for simple yet powerful WordPress podcast plugins? With the right podcast tool and platform, you can start your podcasts in no time.
There are many WordPress plugins you can use to set up and run a podcast. But selecting the best plugin can be tricky since there are lots of options available.
In this article, we've shortlisted the best WordPress podcast plugins to help you create your podcast today!
Why Start a Podcast?
Did you know there are nearly 5 million podcasts right now across the globe? Podcasts are a great way of attracting users and building a community.
They are inexpensive to start and can be made quickly and easily. You can easily promote your brand and your expertise using a podcast, making them a popular choice for marketers.
And once you build healthy relationships with your listeners, you can generate leads to monetize your podcasts. It also helps you uncover new topics, audiences, and reach out to a global userbase.
Now, let's take a look at some of the best WordPress podcast plugins you can use today.
Our Favorite Podcast Plugins for WordPress
PowerPress by Blubrry is the best WordPress podcast plugin you can get your hands on. It offers amazing features and a user-friendly interface. Using its beautiful yet powerful HTML 5 player, you can add a podcast to your WordPress site in an instant.
The PowerPress podcast plugin works with all podcasting apps and platforms, including Apple Podcasts, Google Podcasts, Spotify, Amazon Music, and more.
Other exciting features of PowerPress include:
Free migration and importing of media
Get statistics about podcasts
Embed audio and video podcasts on your WordPress site
Put multiple podcast feeds on one website
Also host with Blubrry to take advantage of publishing media files directly from your own site
Subscribe tools, including a subscribe page and widget
Pricing: PowerPress itself is free, but also hosting your podcasts with Blubrry starts at $10 per month.
Get started with Blubrry today!
Fusebox is another popular podcast plugin for WordPress. It offers a clean layout and lets you create professional podcasts for your website.
The plugin is designed to provide your listeners with a great experience while helping you collect leads. Fusebox comes with an email collection feature, as users can subscribe with a click of a button while listening to your podcast.
Fusebox also offers other powerful features like:
Multiple different sizes and styles of podcast players for your website
Offers social sharing, download, and subscribe buttons
Change and customize the theme to match your podcast's branding
Display unlimited episodes
Display your transcripts with a single click
Listeners can control the speed
Custom sort
Pricing: Fuzebox offers two pricing plans starting from $7.50 per month billed annually.
Seriously Simple Podcasting is one of the best WordPress podcast plugins if you're running a website on a tight budget. It lets you upload podcasts directly to your WordPress site for free.
The plugin is great for beginners as its native WordPress interface, and minimal settings make it highly user-friendly.
Here are some other great features of Seriously Simple Podcasting:
Works great on its own but there are additional perks and features if you're using Castos
Run multiple podcasts on the same website
Create and manage your RSS feed right from WordPress
Display customizable subscribe links
Use custom widgets to create playlists and display them anywhere
Supports video podcasts
Includes free analytics
Pricing: Seriously Simple Podcasting is a free WordPress plugin, but also offers premium packages through Castos that start from $19 per month.
Get started with Seriously Simple Podcasting now!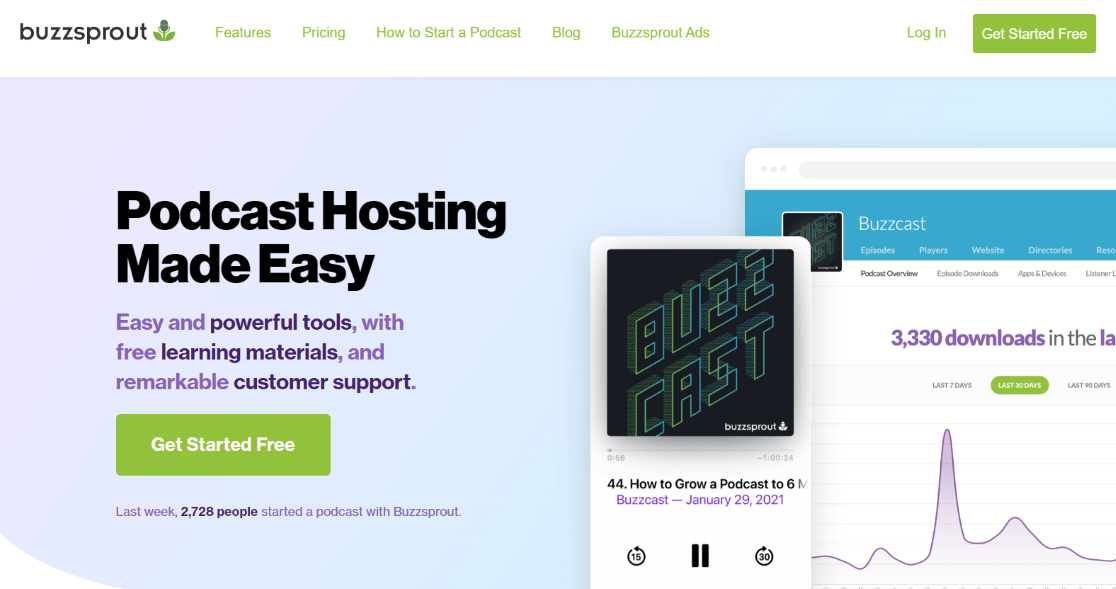 Buzzsprout is one of the best podcast platforms offers a complete premium solution to your podcasting needs.
Buzzsprout is a platform where you can create amazing podcasts and also promote them through different directories. Buzzsprout lists your podcasts on Apple Podcasts, Spotify, Google Podcasts, Stitcher, iHeartRadio, and more.
Plus, it's super easy to use, and you get powerful features likes:
Automatically optimizes your podcasts as they upload
Adds podcasts to popular directories
Embed your podcast anywhere on your site with the WordPress plugin
Get advanced statistics about your podcasts
Beautiful podcast player for your site
Easy transcriptions
Pricing: Buzzsprout offers a 90-day free plan, then starts at $12 per month.
Get started with Buzzsprout today!
Libsyn is a podcasting platform that offers great features and options. Using their WordPress plugin, you can connect your Libsyn account with your WordPress site. This allows you to store and upload podcasts from WordPress to Libsyn, freeing up space on your WordPress server.
There are other amazing features offered by Libsyn Podcasting, and they include:
Create podcast episodes for your WordPress website
Allows automatic migration
Free custom branded audio and video players
Global podcast statistics
Social media scheduling
Create and schedule podcasts on your WordPress site
Pricing: Libsyn prices start from $5 per month with 50MB of storage space.
Get started with Libsyn today!
Podlove podcast publisher is a free WordPress plugin that will help you manage all your podcasts. It lets you create audio and video podcasts instantly. You can even build structured episodes and link them anywhere on your website.
Using the plugin, you can also generate custom podcast pages on your WordPress site. And with its enhanced HTML 5 player, you can provide a rich listening experience to your listeners.
Here are other features of Podlove Podcast Publisher:
Use different templates
Publish chapter information
Multi-format publishing
See how your podcasts are performing with analytics
Beautiful and powerful HTML 5 player
Pricing: Podlove Podcast Publisher is a free plugin for WordPress.
BONUS: 3 Amazing Tools to Grow Your Podcast Faster
After you're done picking awesome WordPress podcasting plugins for your website,  the next step is to attract more podcast listeners and enhance its promotion.
And do to that, we've handpicked 3 easy to use tools that will help to grow your podcast.
MonsterInsights is the best WordPress plugin for Google Analytics. You can use the plugin to track the performance of your podcasts.
It helps you get key insights about how users interact with your podcasts, what actions do they perform, and where to they go after listening to your podcast.
You can grow your subscribers and listeners by having important data from your visitors, thanks to MonsterInsights. Here are other important features of the plugin:
Get Google Analytics reports straight in your WordPress dashboard
Get real-time statistics about your visitors
Video play tracking
Track affiliate links, outbound links, downloads, and more
Conduct A/B experiments with Google Optimize tool
Track eCommerce performance
Automatically track forms on your site
Ads tracking, author tracking, and more
Pricing: MonsterInsights starts at $99.50 per year.
Get started with MonsterInsights today!
OptinMonster is the most powerful lead generation and conversion optimization WordPress plugins. Using OptinMonster, you can capture leads from your podcast listeners and convert them into customers.
You can show pop-ups and FOMOs to attract visitors. And with its exit-intent technology, you can generate leads before your visitors leave your site.
OptinMonster is among the best WordPress plugins and offers other amazing features that include:
Drag and drop builder
Simple yet beautiful pre-built themes
Mobile optimized popups
Convert podcast visitors into paying customers
Create different types of campaigns
Integrate with other popular marketing tools like Drip or Salesforce
Pricing: OptinMonster starts at $9 per month.
Get started with OptinMonster today!
WPForms is the best WordPress plugin for creating forms. Using the plugin, you can create a contact form and build your own community of podcast listeners around a topic.
It helps to get details about your listeners, respond to their queries, and build relationships. WPForms is very easy to use, and you can add forms to your site without any coding.
Here are some brilliant features of WPForms:
Capture email addresses and contact information
Grow your subscriber list
Use polls and surveys to find out what your listeners like
Use its drag and drop builder to create attractive forms
Generate money from your podcast by accepting payments through PayPal or Stripe
Add contact forms anywhere on your site with ease
Pricing: WPForms starts at $49.50 per month.
Get started with WPForms today!
Verdict: What's the Best WordPress Podcast Plugin?
If you're looking for a complete and simple podcast solution, then we recommend PowerPress by blubrry. It's packed with loads of features that will help you create and manage podcasts on your WordPress site.
And you can also create RSS feeds for all the major platforms, so distributing your podcast is also made easy with the plugin.
That's it.
We hope you liked our article on the best WordPress podcast plugins. You can also check out the 45 Best WordPress Plugins to Download Now.
And don't forget to follow us on Twitter, Facebook and YouTube for more helpful reviews, tutorials, and Google Analytics tips.