Are you wondering which social media campaign is performing the best, or which post brought the most engaged visitors to your website? To find out, you'll need some social media analytics tools.
If you're handling social media accounts of your website or your client, then you need a social media analytics tool. They help you measure the performance of your posts, justify the ROI of your ad campaigns, and guide your social media strategy.
In this article, we've shortlisted the 12 best social media analytics tools for marketers. The list includes both free and paid tools, so you can select the most suitable software that meets your business needs.
Best Social Media Analytics Software Shortlist
When you start to look for a tool for social media monitoring, you'll come across so many options that it can be overwhelming.
But to help you out, we've picked some of the best tools you can use. The list includes third-party paid tools along with free analytics services offered by each social platform.
So, click on any software you're interested in and jump ahead to read more.
Hootsuite is the best social media analytics tools you can get your hands on. It's really flexible and works for users of all types. One of the standout features of Hootsuite is its easy interface, as anyone can start using the tool without any trouble.
Using Hootsuite's analytics, you can measure the performance of your social campaigns, find out which posts drive the most engagement, and get insights to improve your ads reach. You can even create custom reports and select from 200 different metrics.
And you can export them as PDF files, Excel spreadsheets, or PowerPoint presentations. Another thing that makes Hootsuite the best is that unlike other tools that are compatible with certain social platforms, it works with all the social channels.
Pricing: You can get Hootsuite for as little as $19 per month with its Professional Plan.
Buffer is a leading social media analytics tool that offers advanced features. You can use it to monitor different social platforms including Facebook, Twitter, and Instagram.
That's not all, you can connect up to 25 social accounts and manage them from a single dashboard. With its analytics tool, you can monitor each account, get in-depth insights about different content and stories, segment your audience based on demographics, and create custom reports.
Besides that, you can use Buffer to schedule posts, create workflows, collaborate on content with other team members, manage hashtags, find out the best posting time, the best type of post, and best posting frequency.
Pricing: Buffer's prices start from $35 per month and comes with a 14-day free trial.
Sprout Social is a complete social media monitoring and management tool. Its standout feature is the cross-channel tracking, as you can see the performance of a single campaign on multiple platforms.
For instance, you can track Twitter link clicks, increase in Instagram followers, and then look at your Facebook page impressions using Sprout Social analytics. You can also see past conversations on Twitter, group performance of multiple channels into one report, and more.
Apart from that, Sprout Social is an excellent enterprise-level solution for marketers, as you can listen, publish, engage, and track your social campaigns using a single dashboard.
Pricing: Sprout Social prices start from $99 per user per month and you get a free trial as well.
Tailwind is the next social media analytics tool on our list and it's specifically designed for Pinterest and Instagram. With the software, you can schedule pins using its drag and drop calendar and track their performance by looking at their impressions, number of followers, and more.
As for Instagram, you can schedule video and photo posts weeks in advance, get hashtag suggestions, and find the best time to publish your content using the SmartSchedule feature to get maximum engagement.
Besides that, you can track the performance of your Instagram posts and see the number of likes, follows, comments, and impressions. The software even offers a browser extension, which you can use to create social media posts from any website.
Pricing: Prices for Tailwind start from $9.99 per month.
BuzzSumo is not your regular social media tracking tool but it's a great software to have. It lets you monitor your competitors, find influencers, track brand mentions, and stay up to date with industry news.
You can enter a keyword and see where your brand is mentioned. That way, you can immediately respond to queries and also monitor your brand reputation. And if you're for influencers, journalists, publishers, and influential blogs for outreach, then BuzzSumo can help you out. It provides a list of people in a specific field and shows their number of followers.
You can also use the tool to find backlinks of your competitors, find the level of engagement of a post on Facebook, look at the number of shares and likes on Twitter and Pinterest, and more.
Pricing: BuzzSumo prices start at $99 per month with its Pro plan, plus you get a free trial as well.
MonsterInsights is one of the best social media analytics tools. It offers detailed reports inside your WordPress dashboard and you can set up social media tracking with just a few clicks.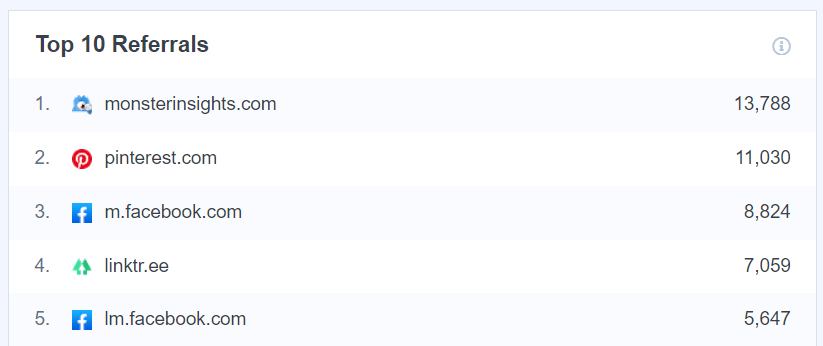 MonsterInsights makes it super easy to set up Google Analytics on your website as you don't have to code. That said, you can do much more and configure advanced tracking that's not possible in Google Analytics by default.
For instance, you can see the most popular file downloads, track form conversions, set up eCommerce tracking, and get insights to grow your revenue. And if you're running a social campaign, then you can create a custom URL using MonsterInsights URL builder.
Pricing: MonsterInsights offers a free plan but if you're looking for more features, then its Plus plan is available for $99.50 per year.
Facebook Analytics is a free social media monitoring tool. If you're an admin of a page, then you can easily access the tool by clicking on the Insights option on the top and see the performance of your page.
You can then view different reports to see how well your posts are doing. For instance, you can track post reach, page views, page likes, story reach, post engagement, videos, and more.
And if you run ads on Facebook, then you can view the performance of each campaign and see the amount spent, reach, post engagements, and link clicks. Using this data, you can optimize your campaigns so you can maximize your ROI.
Pricing: Facebook Analytics is free to use.
Twitter also provides its users with analytical reports for their tweets. In the home screen, you can see the total number of tweets in the last 28 days, total impressions, profile visits, mention, and followers. And you can also get information about your top tweet, top mention, and top follower.
Twitter Analytics also provides data about individual tweets and shows their impressions, engagement, and engagement rate. You can also view the link clicks, likes, and retweets data, so you can improve your social performance on Twitter.
With the social media analytics tool, you can also get reports about video posts and total minutes views. And if you have a website tag setup, then you can track conversions as well in Twitter Analytics.
Pricing: Free for Twitter users.
Instagram Insights is available for Business Account users and you can get insights about your post's performance and ad campaigns.
Using in-app analytics, you can learn how people interact with your business on Instagram. You can get insights such as your follower's age, gender, and location.
The tool also shows which posts and stories performed the best, so you can create similar content to increase your reach. And if you're running paid campaigns, then you can track their performance and check their total reach and impressions.
Pricing: Free to use for Instagram Business users.
LinkedIn is another popular social media platform for professionals. If you have a page set up on LinkedIn about your company, then you can track its performance using the native LinkedIn Page Analytics tool.
It's available for the page's admin and you can use it to see how people are engaging with your organization's page. For instance, you can get your visitor's and follower's demographic data.
Not only that but can use Talent Brand analytics and Pipeline Builder analytics to get more insights about how your campaigns are doing in attracting the best talent to your company's page.
Pricing: LinkedIn Page Analytics is a free in-app tool.
Pinterest also provides its own native analytics tool, so you can see how your pins are performing. However, Pinterest Analytics is only available for business accounts. So, if you want to use the in-app reporting tool, you'll have to convert your personal account to a business account.
What does Pinterest Analytics offer? For starters, you can view your followers and post impressions in a clean dashboard. You can also view your most popular or top-performing pins along with their impressions, link clicks, saves, and pin type.
Pricing: Free, but only available for Pinterest Business Account holders.
YouTube is the leading online video streaming platform. If you're a publisher, then YouTube Analytics is best to track the performance of your videos.
You can view the analytical tool under YouTube Studio. For each video, you can see its average view duration and number of views. Besides that, you can view the total reach of your posts, their traffic source, and impressions funnel.
And under its Audience report, you can track where your viewers come from, their age and gender, and what time they view your video. This data is extremely useful if you're planning on creating region-specific content.
Our Recommendation
With that, you've made it to the end of the guide. Now, you might be wondering, which is the best social media monitoring tool?
Well, if you're looking for a complete solution that lets you schedule posts and gives you insights about their performance, then you can go with Hootsuite. It's really easy to use and has no limitations in terms of supporting popular social media channels.
But if you're not interested in a third party software, then you can use the native analytics of each social media platform.
And that's it!
We hope you liked our article on the best social media analytics tools for marketers. You can also check out our complete guide to Google Analytics for WordPress.
Don't forget to follow us on Twitter and Facebook for more helpful articles about WordPress and Google Analytics.