At MonsterInsights, we've always been listening to your feedback to make it the best Google Analytics plugin ever existed for WordPress.
And today, we're pleased to introduce an improved MonsterInsights eCommerce addon and Project Delight.
In the latest release, we're adding new eCommerce integrations. You can now easily set up eCommerce tracking on websites that are powered by GiveWP and Restricted Content Pro plugins.
That's not all. We've also enhanced the entire experience of using MonsterInsights. Let's dive into the details…
New Integrations for eCommerce Tracking
If you want to grow your eCommerce store, it's crucial to truly understand your audience. MonsterInsights helps to uncover insights about your customer's shopping behavior, so you can optimize your store and drive more revenue.
And today, we're thrilled to announce that we're expanding our list of supported plugins. MonsterInsights now works seamlessly with GiveWP and Restricted Content Pro.
GiveWP is the best WordPress donation plugin that lets you collect donations, manage donors, and build donation forms.
Whereas Restricted Content Pro is a popular membership plugin for WordPress, which lets you offer exclusive content to members, create membership levels, and easily manage users from your dashboard.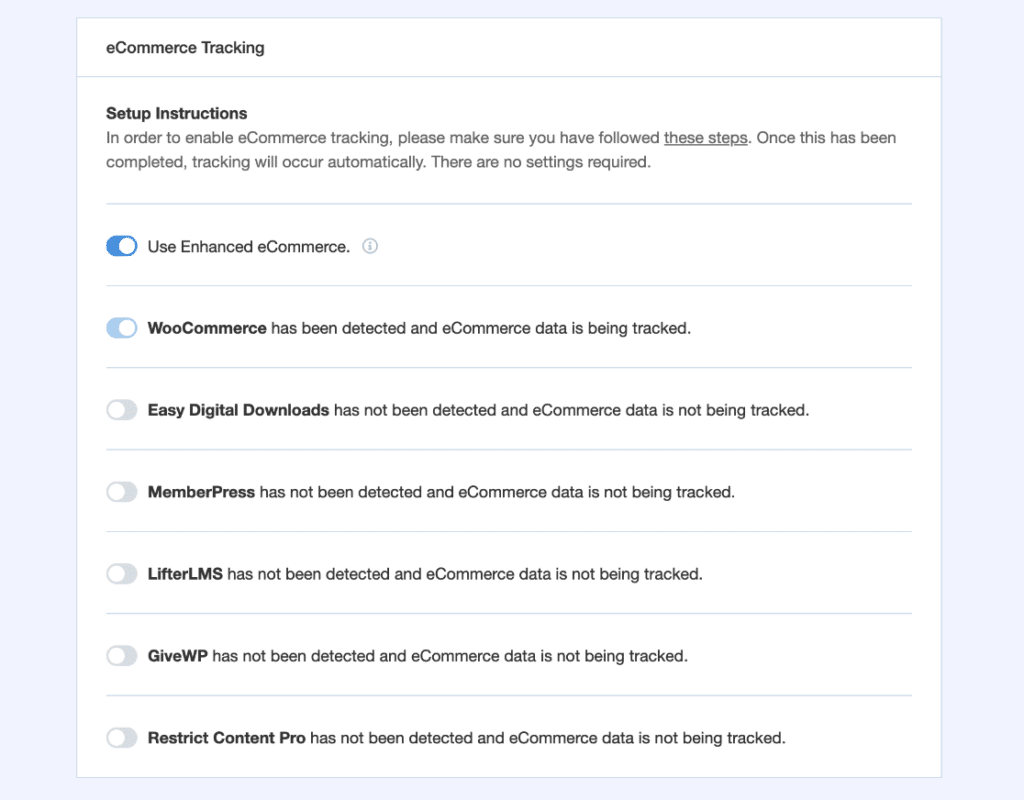 And with these new integrations, it's easier than ever to see how your online store is performing, which strategies are working, and whether or not you need to tweak your approach.
By using the MonsterInsights eCommerce addon, there's no need to edit code or hire a developer. You can track the performance of your GiveWP donation website or Restricted Content Pro membership site in just a few clicks.
Introducing Project Delight Improvements
At MonsterInsights, we pay special attention to your needs and carefully listen to all your feedback.
And in this release, we're thrilled to introduce Project Delight.
The purpose of Project Delight is simple: to make sure that every time you use MonsterInsights, the whole experience is a delight.
And to ensure that you get the best possible experience, we've improved reporting accuracy, our dashboard design, and enhanced compatibility. This way, you can easily find the most important data about your visitors and make informed decisions for growing your business.
For instance, the Contextual Insights feature now makes it super easy to spot reports and settings. It now takes you directly to the feature that's mentioned.
This way, you save time and don't have to click on different reports or settings options to get to what you need. The plugin will scroll and highlight the settings and reports for you.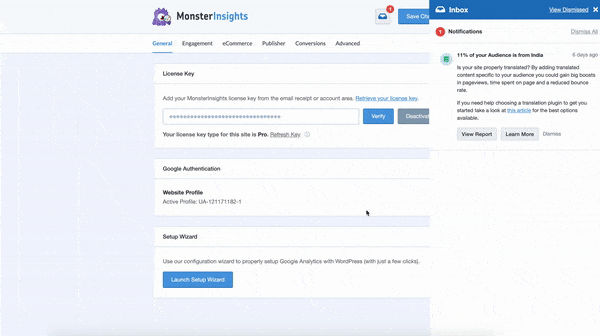 Aside from that, we've also improved the styles for the Popular Posts feature, so they look amazing on your website. The rotation of the posts in the widget is also enhanced.
This provides better exposure for your best content and makes them visible to your audience. As a result, you get to boost user engagement, keep visitors on your site, and create opportunities for internal links for top blog posts.
And that's it for today!
The new eCommerce integrations along with Project Delight improvements are now available on MonsterInsights. So, what are you waiting for? Click here to get started with MonsterInsights today!
As always, we appreciate your continuous support and feedback for making MonsterInsights the best Google Analytics plugin for WordPress.
We've got more exciting new features lined up for you, so don't forget to follow us on Twitter and Facebook for the latest updates.