Ever wish you could see how people are truly interacting with your website? Sessions and bounce rates only tell you so much. How much of your content are they really reading?
With the latest release of MonsterInsights, now you can see how far people are scrolling on your website, so you can get a better picture of your visitor engagement and make data-driven decisions to grow your business.
Let's take a closer look at what's new in MonsterInsights 7.6…
New Automatic Scroll Tracking
Google Analytics has no automatic, native way to set up scroll tracking. But MonsterInsights 7.6 will automatically enable this feature for you – no setup or configuration required.
Your scroll tracking stats can be found in the MonsterInsights Publishers Report, next to the Interests section.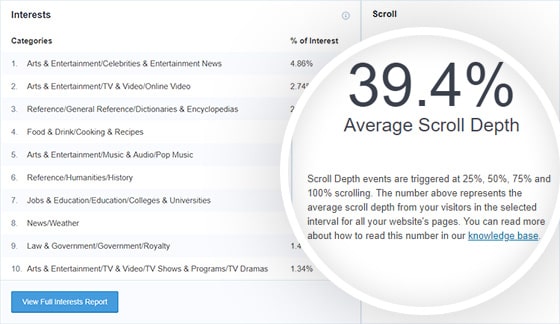 Scroll tracking can not only give you a better picture of how your visitors are interacting with your content, but also help you decide the best place for your important calls to action, ads, and more.
Read our scroll tracking documentation for details on how to use Scroll Tracking and view scroll percentage for each page.
View Page Insights on the Front End of Your Site
MonsterInsights 7.6 includes a new feature call Admin Bar Page Insights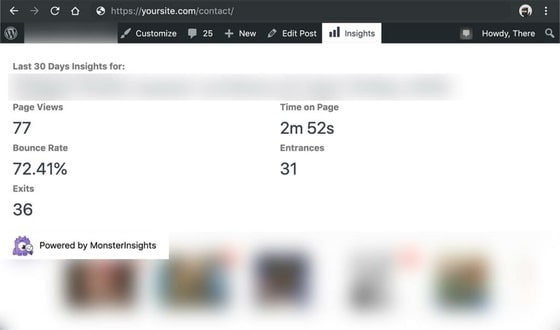 Now you can easily see your last 30 day stats for any page at a glance.
This will make it easier than ever to make content decisions quickly, without having to spend a lot of time generating reports in Google Analytics. Seeing your page stats at a glance will help you:
come up with content ideas based on what your audience loves
decide which content needs to be deleted or optimized to boost your traffic
create the products and premium offerings your visitors are looking for
You can view our admin bar page insights doc for more details.
New – Meet the MonsterInsights Team!
With MonsterInsights 7.6, we've also added a new About page to our plugin menu. The MonsterInsights team is growing fast, and we wanted to take this opportunity to show off the work of the each individual on our team and connect more with our users.
You can see our developers, writers, and support team on the MonsterInsights About page and learn all the insider behind-the-scenes info on MonsterInsights.
After updating to the latest version, you can check it out at Insights » About Us.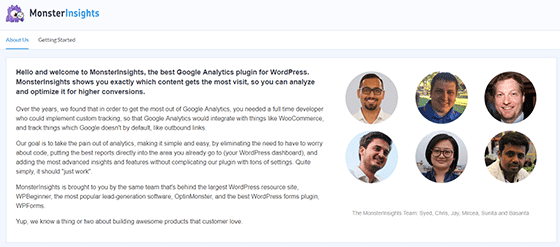 Leave a comment here or reach out and let us know what you think!
That's it for today! We have plenty more amazing features planned for you, so stay tuned for upcoming announcements. Be sure to subscribe to our newsletter and follow us on Twitter and Facebook to be the first to know.