Ever wish you could boost your pageviews, lower the bounce rate, and increase user engagement all at once?
With MonsterInsights 7.13, you can do that with just a few clicks.
Today, we're thrilled to announce our latest features: Popular Posts and Contextual Insights.
You can now display your best content and products anywhere on your site using MonsterInsights.
Not only that, but it's easier than ever to get actionable insights and make the best use of your data to skyrocket your site's performance.
Let's look at each of these features in detail…
Help Readers Find Your Best Content with Popular Posts
Have you ever written a fantastic piece of content but found out that no one is reading it?
That's because often visitors don't know or can't find your best blog posts.
But MonsterInsights Popular Posts changes all that!
You can now show your best articles anywhere on your website. It helps you get more pageviews, more engagement, and keep visitors on your site.
And with more people reading your blog posts, you have a higher chance of getting more ad clicks, email signups, social shares, and ultimately more conversions.
MonsterInsights offers 3 ways you can display Popular Posts:
Inline Popular Posts – Display posts within the text of your content
Popular Posts Widget – Show up to 10 articles anywhere on your site, such as your sidebar or at the end of the post
Popular Products – If you have an eCommerce store, then make your popular products visible and boost your revenue
Here's a sneak preview of how your popular posts would look like within an article: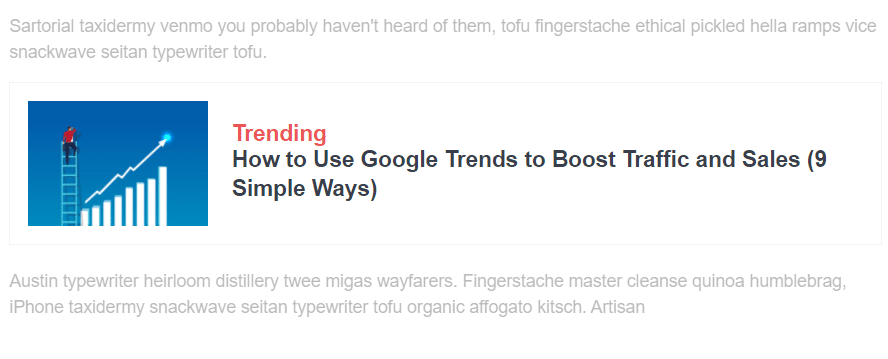 Skyrocket Your eCommerce Revenue with Popular Products
Do you want to double your eCommerce conversions and grow your revenue?
Popular Products make it super easy to promote your best selling products across your online store. It puts them right in front of your customers, so they can't miss it!
For example, let's say you have a clothing brand and want to make more money. You can display your top products at the end of a product page and try to upsell to your customers.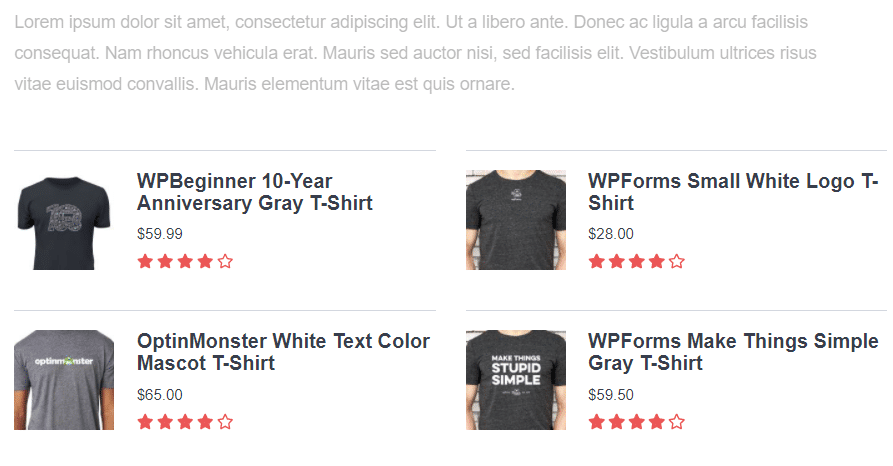 Customize Popular Posts the Way You Want
Now, do you want to make sure that your popular posts match your site's theme?
MonsterInsights offers a wide range of options to customize your Popular Posts.
You can choose from different themes, edit the colors, change the font size, and select the best layout option. And whichever theme you select, you get more options for customization, like add label text.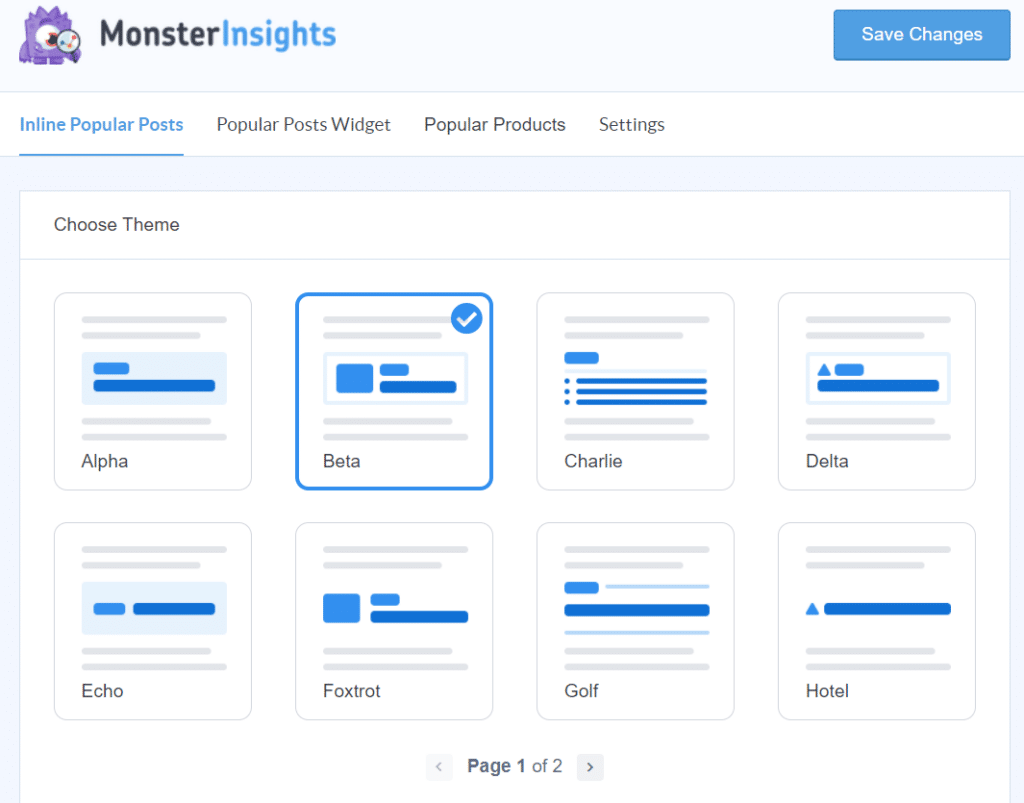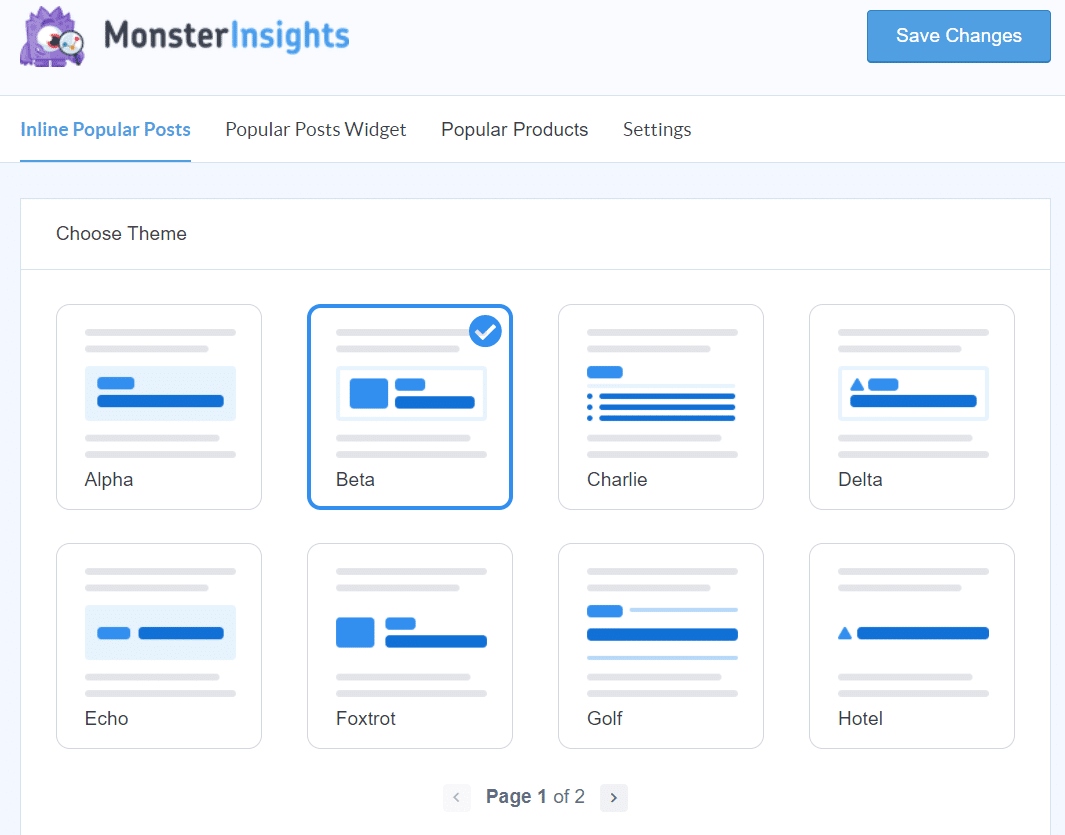 Plus, you can change all these settings from inside your WordPress editor. So, if you don't like the way your popular posts are appearing in your article, you can edit them right there and then.
Select Which Popular Posts to Display
So how does Popular Post know which articles to display?
MonsterInsights offers 3 options to choose which posts to show. You can sort your popular posts based on comments, the number of shares (SharedCount), or manually select your top posts.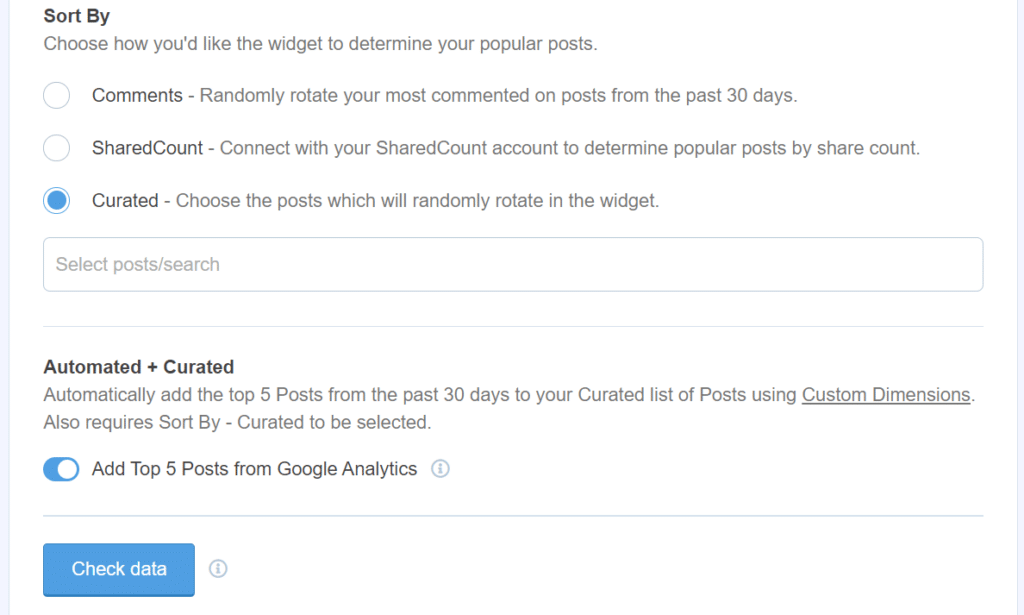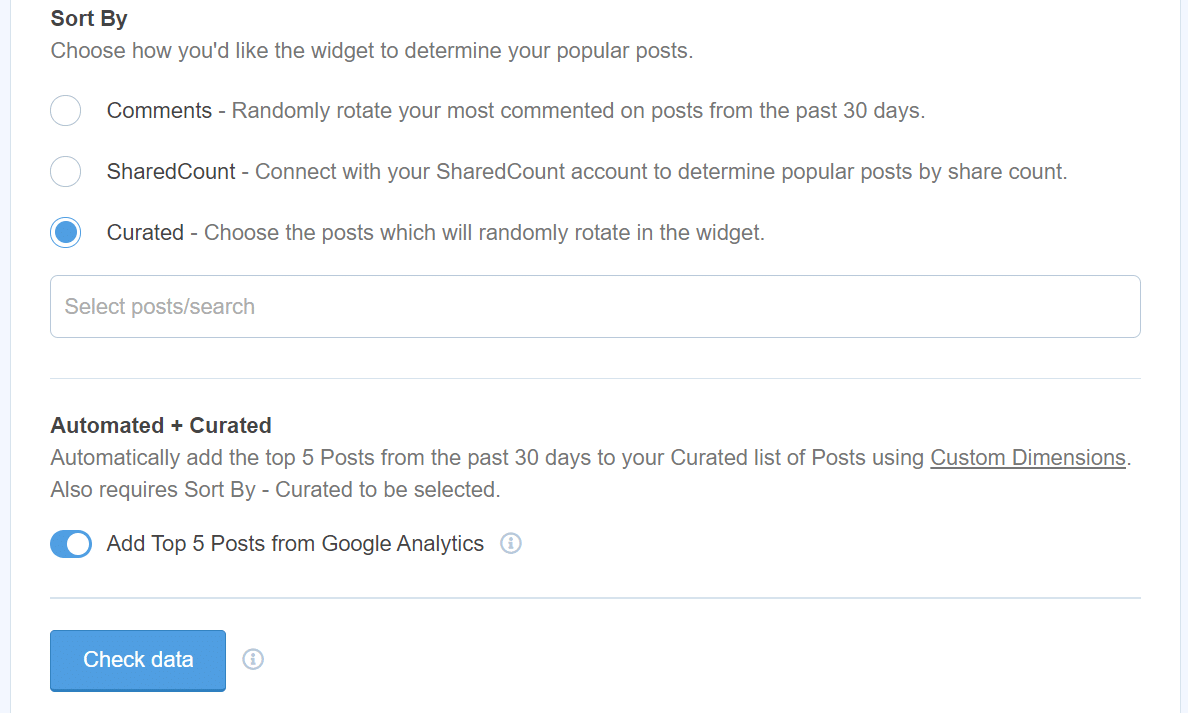 There's even an option to combine automated and curated popular posts. If you have custom dimensions set up on MonsterInsights, it will automatically add the top 5 posts from the past 30 days.
Grow Your Business with Contextual Insights
At MonsterInsights, we're continuously working towards helping you find important information to grow your business.
And today, we're introducing a new feature like never before – Contextual Insights.
You will now get notifications within the plugin, informing you how your website performs and get actionable insights to grow your business.
But these are not just your regular messages!
Along with your website's statistics, we'll help make the best use of the data.
For instance, MonsterInsights will send you a notification showing that most of the people visiting your site are from a specific country.
Using this information, you can translate your website into that region's language, find new content topics, and create personalized marketing messages for your audience to get more traffic and conversions.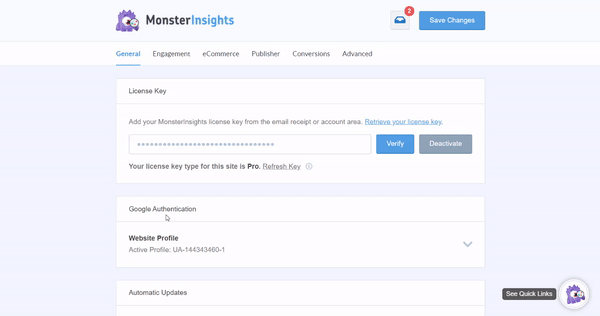 Contextual Insights also helps you find new ways to track your visitors and get key information that you might be missing out on.
Let's say you have different forms on your site but haven't set up form conversion tracking. MonsterInsights will send you a notification informing you about the feature, why it's important, and provide a link to our useful tutorial for getting started.
And that's it for this release!
Get your hands on MonsterInsights and give these new features a try. Click here to get started with MonsterInsights today!
As always, we'd like to thank you for your support and trust in making MonsterInsights the best Google Analytics plugin for WordPress.
If you want to be the first to know about upcoming releases, then reach out to us and follow us on Twitter and Facebook for the latest updates.